13+ Latest Ideas For Indoor Pre Wedding photoshoot
From crazy to cute, romantic to emotional, here are 13+ latest indoor pre wedding photoshoot ideas that will give you some awesome wedding pics.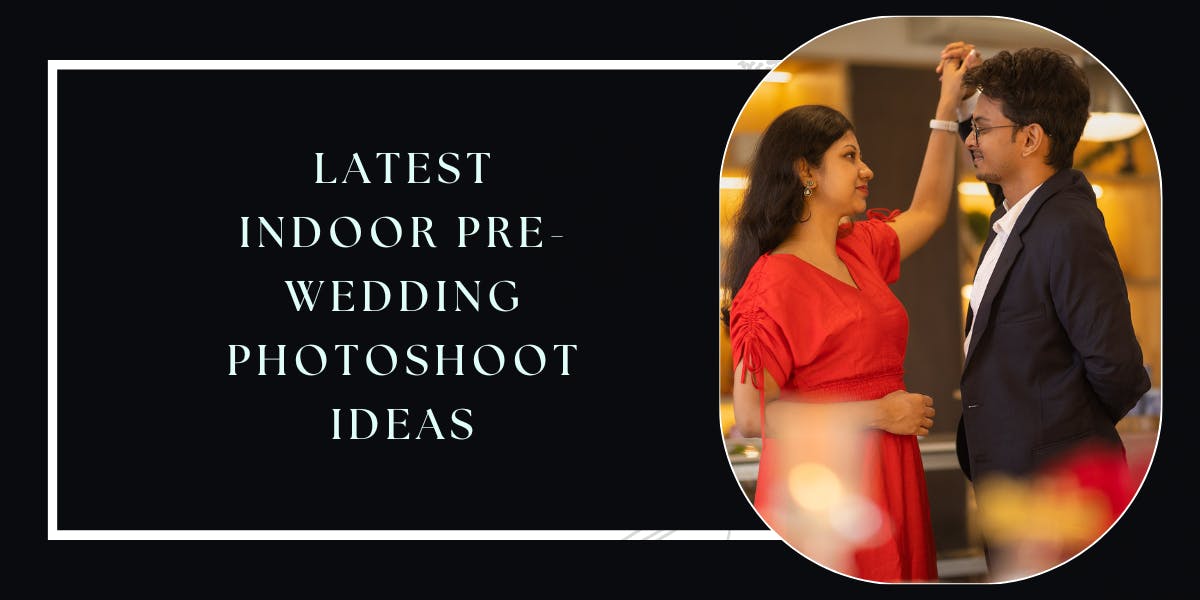 When planning your wedding, it's important to consider all the details that will make your day perfect. One such important decision is to have an indoor or outdoor photoshoot. While an outdoor wedding shoot can be beautiful, an indoor shoot can be more special and has several advantages. The biggest advantage is that you can be sure that you get the desired shot, no matter what; the weather is like. That's why more and more couples are opting for an indoor pre wedding photoshoot in kolkata. It can add a lot of variety and personality to your wedding album.
Make sure to work with a wedding photographer who knows how to make the most of indoor photo shoots.
Check this amazing guide to find out some trending indoor pre wedding photoshoot ideas. And turn your wedding album into a wonderful collage of magical moments.
1. A Floral Frame Can Add More Beauty To An Adorable Pre-Wedding Pose
A floral photo booth adds life to your indoor pre-wedding photography. A floral photo frame is a perfect prop to make your cute couple pic more beautiful. You can wear a formal suit and gown to complement each other in the pre-wedding photograph.
Recommended: Amazing Beach Pre-Wedding Photoshoot Ideas That Have To Be Saved!
2. Capture The Romantic Dining Moments With Your Soulmate
What can be more romantic than taking your love on a memorable date? Most couples think that a romantic date can happen only in five-star hotels. But you must take inspiration from this lovely couple. They have made their house an ideal place for shooting a memorable date night.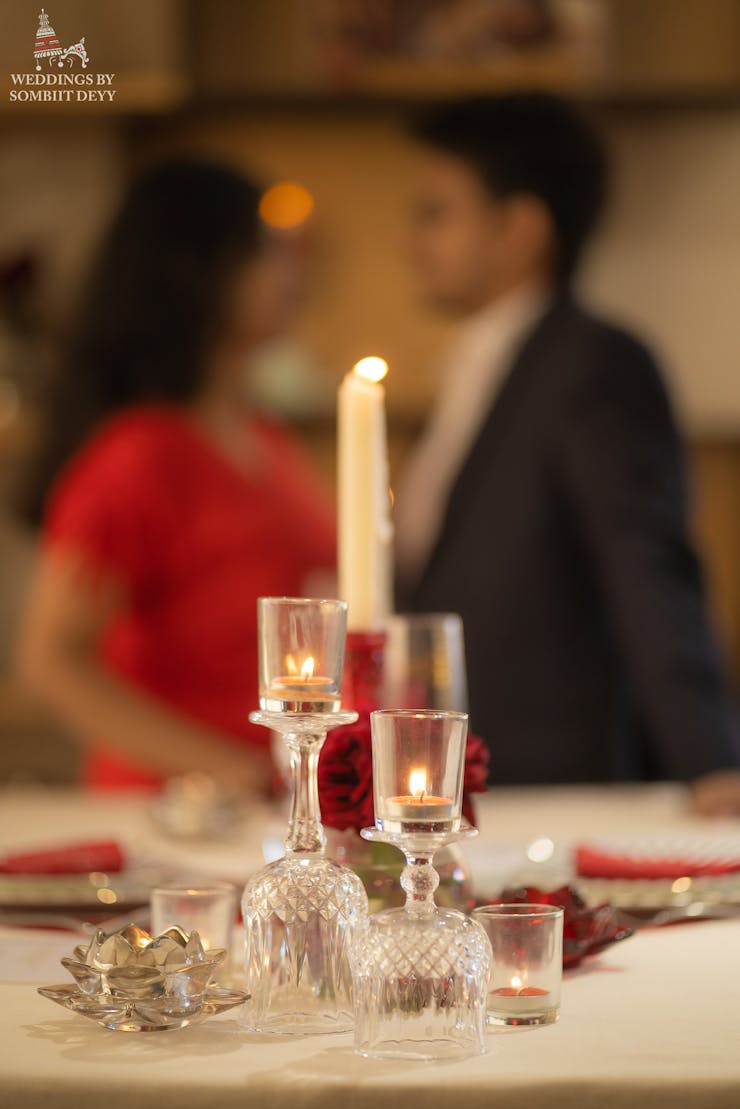 Must Read: 10+ Beautiful Pre Wedding Shoot Places In Kolkata
3. Say Cheers To Celebrate The Magical Moment
This is one of the most fascinating poses that become popular in pre wedding photography in Kolkata. This romantic pose shows the chemistry you two share in real life. Celebrating the happiest moments of life with signature drinks is a picture-worthy shot.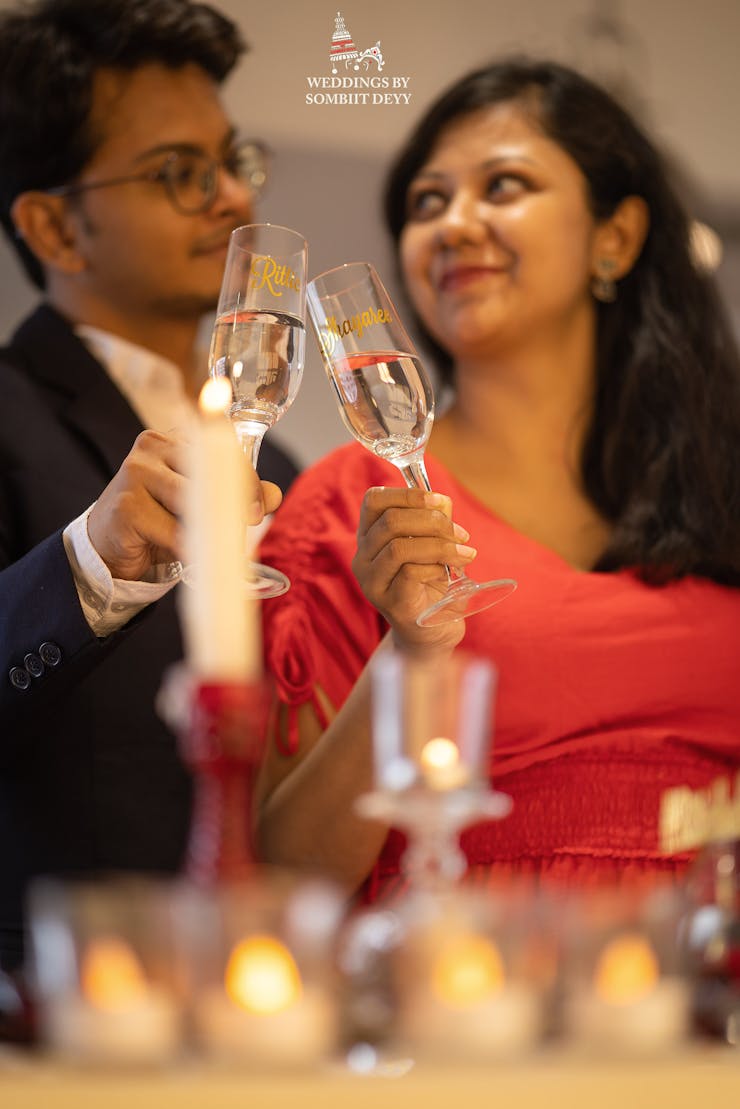 See More: Top 12 Beautiful Pre Wedding Shoot Dresses For Couples In 2022
4. Bring Out Your Inner Chef During Indoor Couple Photoshoot
Are you looking for a theme-based pre-wedding shoot? Now you don't need to wonder outside to capture the cinematic pre-wedding poses. You can try a unique shoot inside your kitchen to showcase your cooking talent. And frame it in some sweetest memories.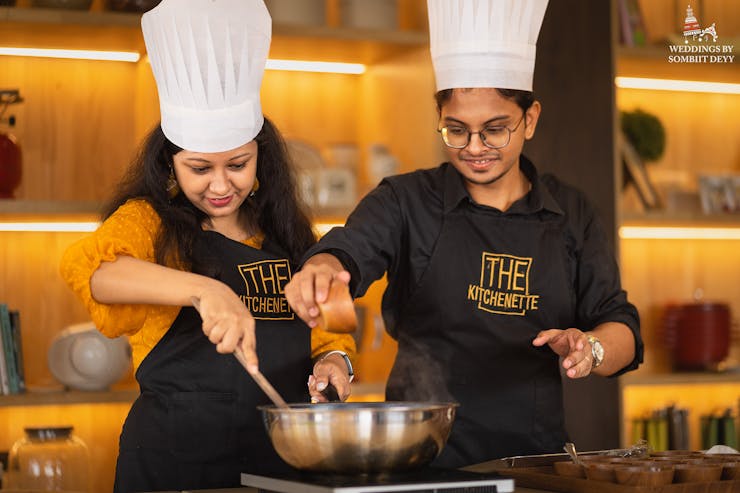 5. Shoot With The Dramatic Curtains To Click The Most Dreamy Shoot
If both of you are great film lovers then you can try a filmy pre-wedding pose to get a dramatic shot. This kind of indoor pre wedding shoot idea can help you to recreate the scene of vintage Bollywood films. Try to opt for a traditional wedding outfit to get the best effect in this dramatic shot.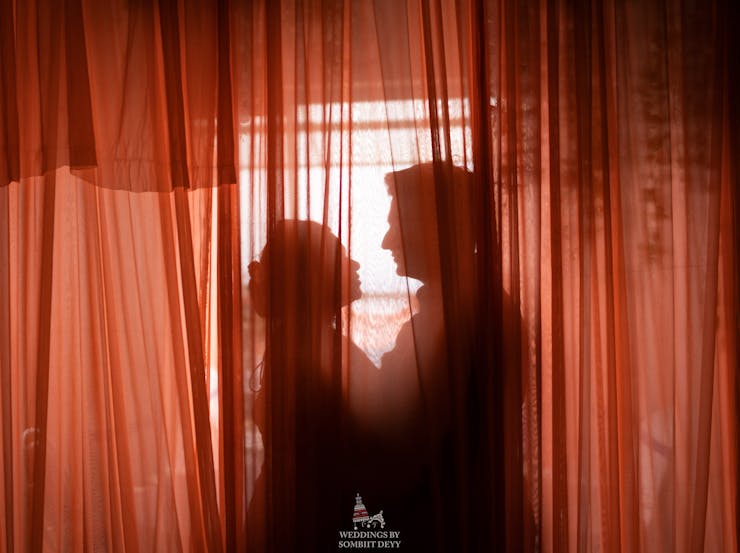 6. A Romantic Gaze Is One Of The Best Indoor Pre Wedding Photoshoot Ideas
You can try this pre wedding photoshoot indoor pose to tell a beautiful love story. Sometimes all you need to look into the eyes of each other to ignite the spark in your hearts. This is one of the simplest pre-wedding shoot ideas to express your innermost feeling.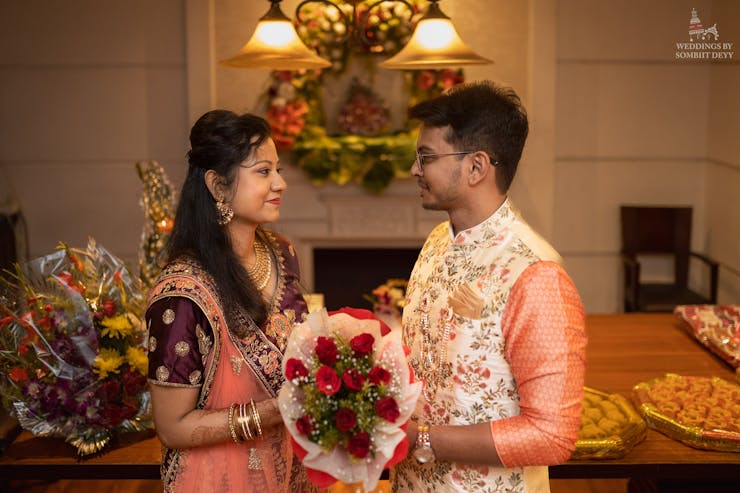 7. An Artistic Mirror Shot Can Enhance Your Whole Pre Wedding Shoot Indoor
Mirror not only reflects your beauty but your emotions also. A couple of mirror shots are the most beautiful ones to try in pre-wedding photography. This creative mirror pose captures the true essence of the couple's love beautifully. What can be a more creative way to preserve your special memories?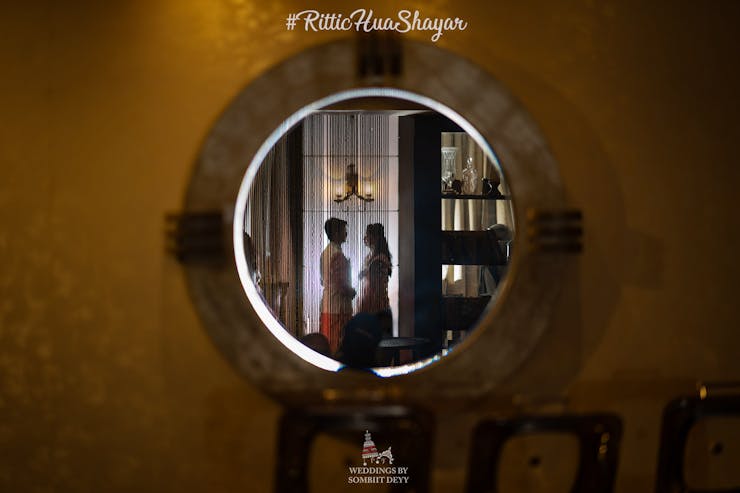 8. Your House Courtyard Can Help You To Get The Most Fantastic Couple Shot
This dramatic couple silhouette adds a magical effect to your pre-wedding picture. This artistic picture will look no less than a magical moment from a feature film. You can make use of your house courtyard to shoot such a beautiful shot.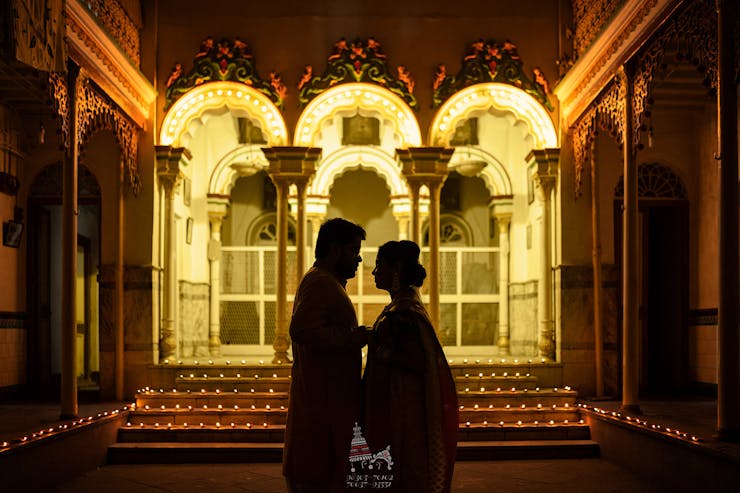 9. The Staircase Can Add A Extra Charm To Your Indoor Photoshoot
This is one of the epic couple photoshoot ideas indoor that celebrates the romanticism and richness of our vibrant culture. Props like earthen lamps can enhance the whole effect of this couple's pose. Grooms can opt for a traditional sherwani to complement the ethnicity of their bride.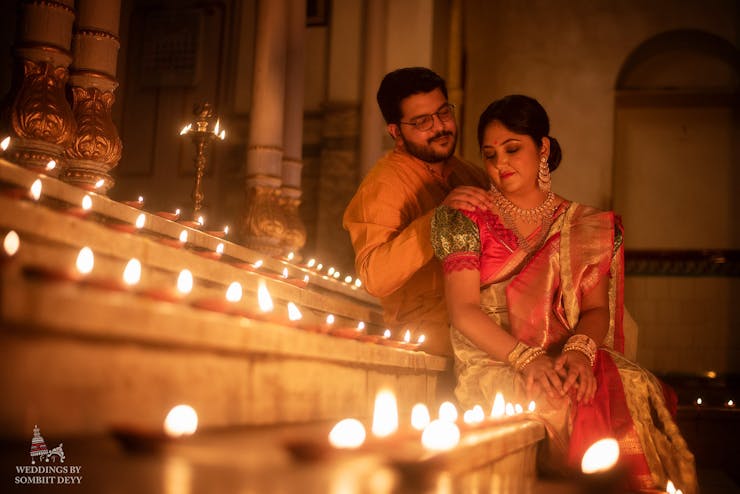 10. Make Use Of Traditional Props In Your Pre Wedding Indoor Photoshoot
If you love to celebrate togetherness in a traditional style then you must opt for this classic pose. Adding a traditional prop like a temple lamp can offer you wonderful memory to cherish for life.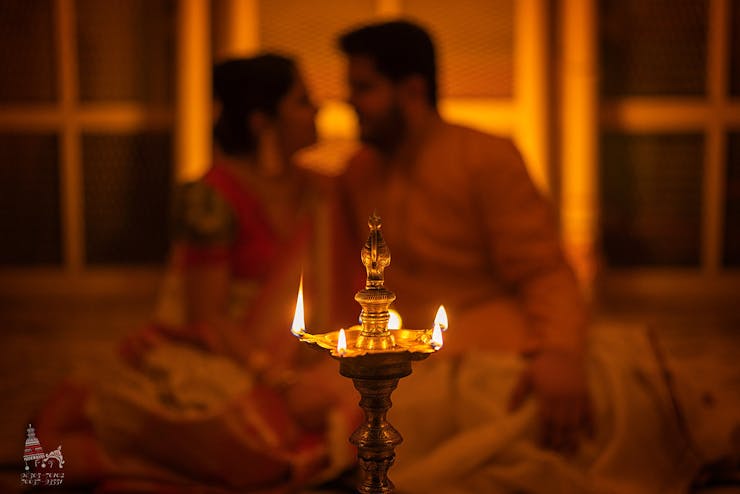 11. Decorative Props Can Turn The Entire Moment Into A Magical Tale
Having a pre-wedding photoshoot at your engagement venue can also offer you some fabulous frames. An indoor couple photoshoot poses with decorative props can give you beautiful pictures. This bride's pastel outfit and stunning hairstyle are the best match for a romantic shot.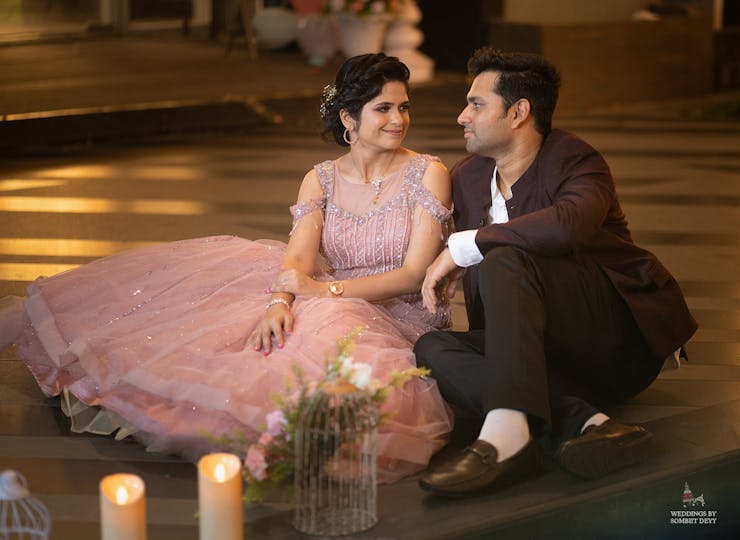 12. Feel The Immense Love Captured In This Candid Couple Shot
The balcony of your house is the best place to shoot the most romantic pre-wedding pictures. This is the place where you might have spent most of your time imagining your future love. Hence you must use this wonderful place in your house to click some memorable shots of your love story.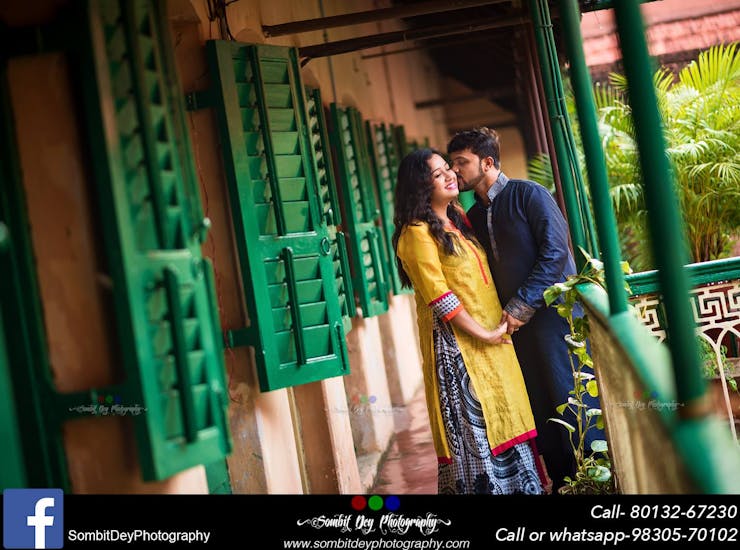 13. A Mesmerizing Twirling Pose Is An Evergreen Pre-Wedding Pose
Not to forget about this fantastic twirling pose for an indoor photoshoot. You can choose to wear an outfit that suits your personality. This dancing pose can add a dash of grandiosity to your pre-wedding picture. You can capture the image in your garden area or front of your house.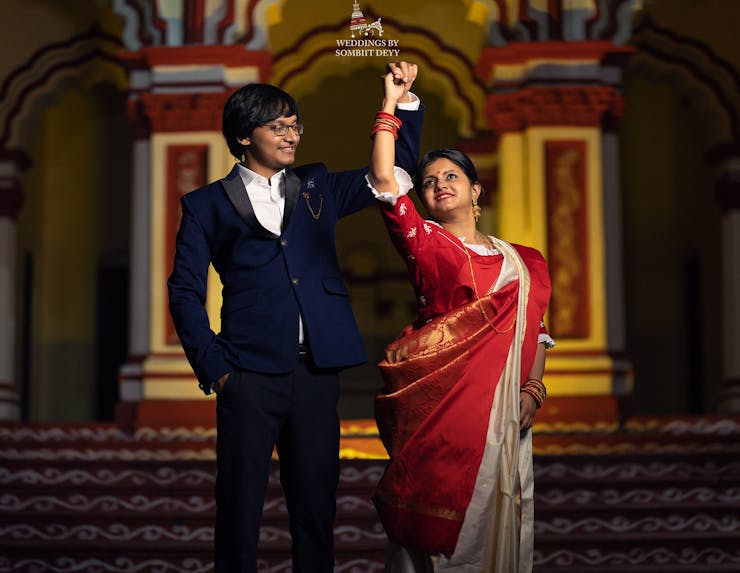 14. A Glimpse Of A Pure Love In A Classic Window
What a creative way to capture the magical moments of life. This adorable couple has decided to make a beautiful memory on their house window. Make sure to maintain eye contact to bring your real emotions to the colorful canvas. This soulful picture will provide you with the best memory of life.