Trending Bengali Bridal Nath Designs [2023]
Indian bridal nath designs are the most beautiful and magical accessory worn by a bride on her wedding day. So here are different styles of nath designs for you.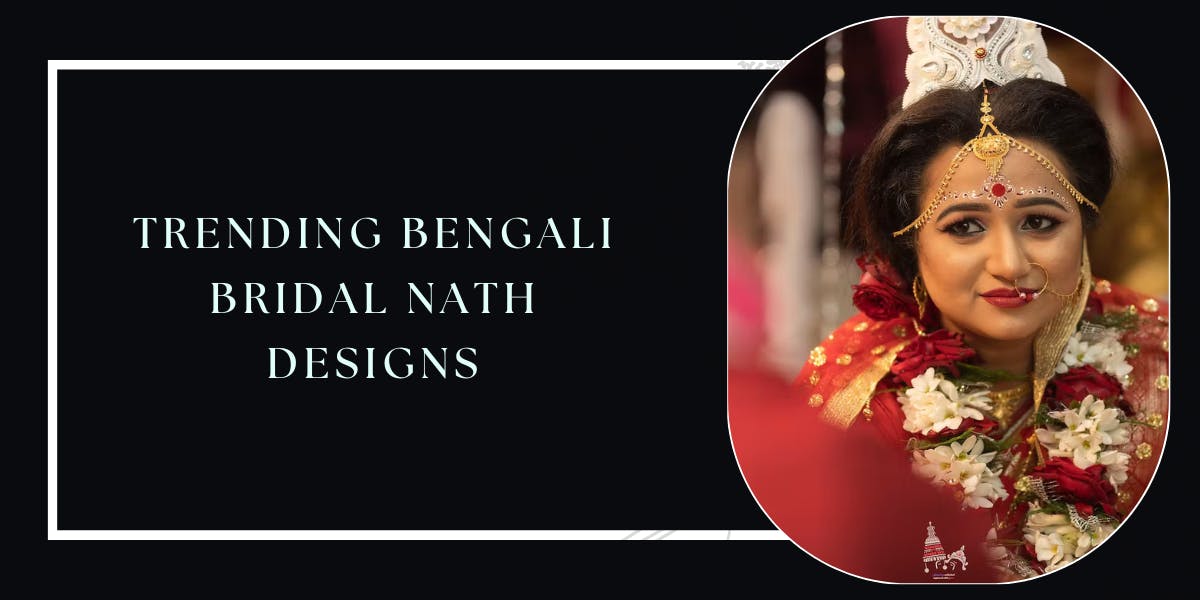 Indian bridal nath design are the most beautiful and magical accessory worn by a bride on her wedding day. We believe that a simple nath design can make or break a bride's wedding look. This bridal nath designs gold is a delicate piece of jewelry. This has been popular for centuries, and almost every girl imagines wearing it on her wedding day. Even amongst Bengali wedding photography, this is very popular. Because this piece can elevate the look of the bride. But, before you decide to bring one to your wedding, make sure you're aware of all the bridal nath hacks and tricks. For your ultimate wedding look with nath bridal jewelry, you can check some photos taken by the best wedding photographers in Kolkata.
You might be worried about whether you'll be able to carry a Bengali bridal nath or not, whether the bridal nath design latest will match your personality or not, and whether it will go with your outfit because let's face it. No girl wears naths every now and then. You can select from a number of bridal nath designs, such as Maharashtrian, Garhwali, or even Kundan styles, and they will instantly improve your bridal appearance. Candid Bengali wedding photography's personal favorites are the oversized Nath designs over the minimal ones. See which ones are ideal for you:
All the types of Nath Designs for Brides
1. The Traditional Bridal Naths
A simple bridal Bengali nath design is the safest option for brides who prefer a minimalistic and elegant look for their wedding day. It creates a lovely look with minimal embellishments without being too daring. A simple gold nath design like this is a great option for brides who are new to bride nath design as well as guests looking for an eclectic look.
Read More: All About trending Matha Patti For Bengali Bride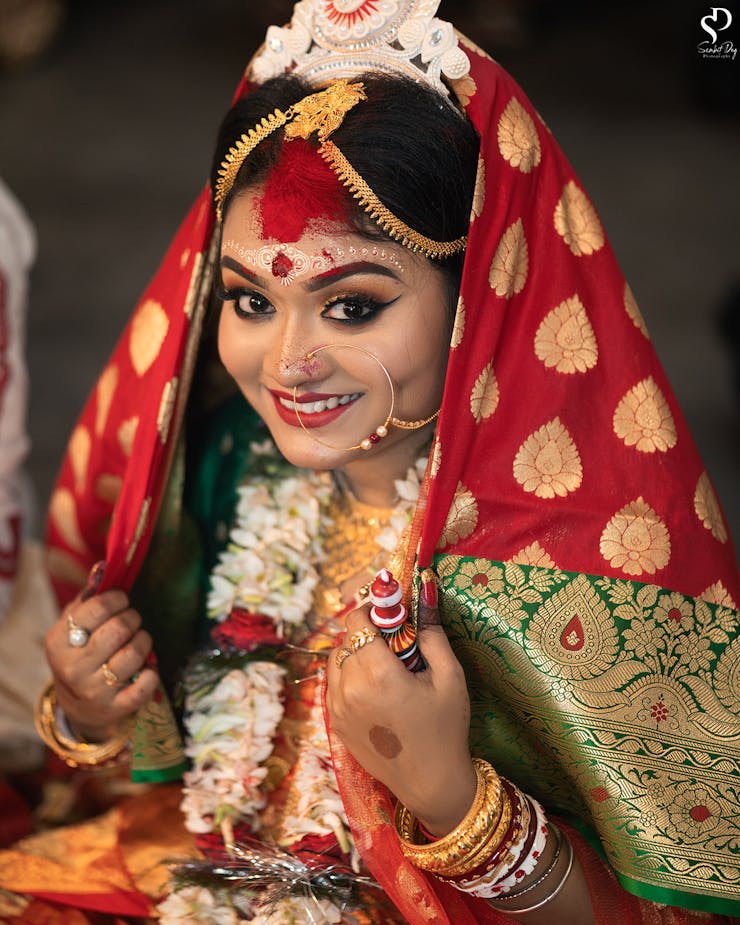 2. Minimalistic Nath Design
If you don't want to wear heavy bridal jewelry on your wedding day, a simple hoop as your bridal nose ring designs is ideal for minimalist brides. This gold nath design is ideal for the bride and her bridesmaids and will enhance your overall look. Your simple bridal nose ring gold can be combined with minimalistic stone or pearl detailing and delicately encrusted chain string.
 Recommended: All About Traditional Bengali Wedding Jewellery Collections For 2022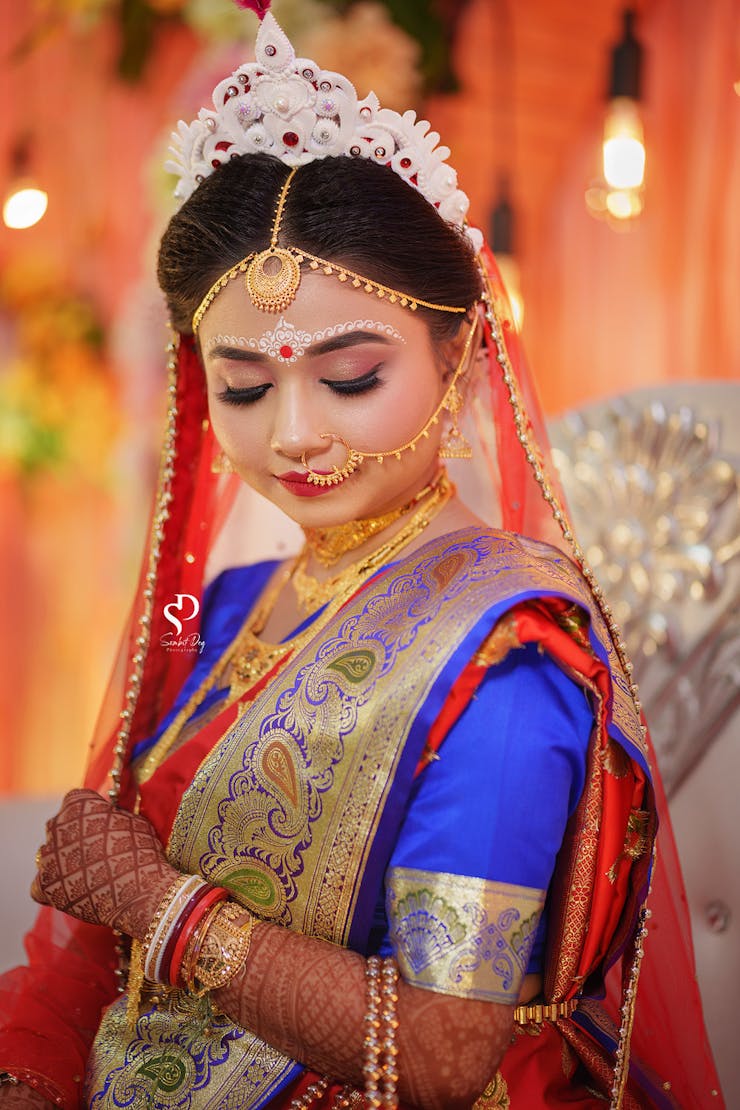 3. Gold Nath Design
An Indian bridal look is never complete without a touch of gold, whether it's a gorgeous set of jewelry or a glowing bridal makeover. Choose a stunning bridal nath design gold to add beauty and charm to your regal avatar to cast magic through your wedding day looks. With so many trendy designs for millennial brides available today, nath designs for bridal in gold can be worn by both the bride and her wedding guests and exude elegance.
Also Read: Trending Mangalsutra Designs for the Modern Bride of 2023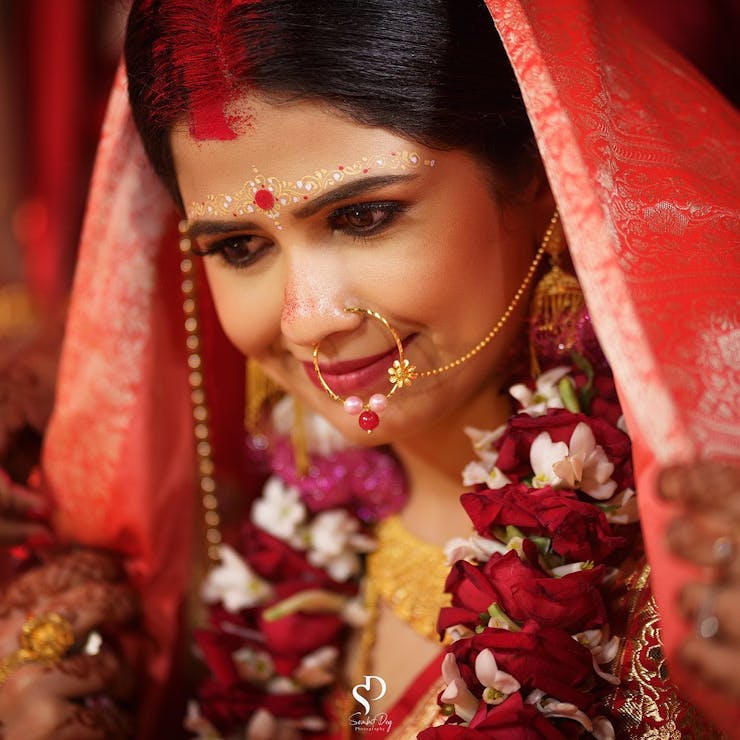 4. Pin Nath Design
Brides today select eye-catching jewelry designs to complete their bridal look. Instead of the OTT newest bridal nath designs, you can always choose modest nose pins if you want something different but still gorgeous. It not only looks effortlessly stylish, but it also perfectly balances out your other heavy jewelry pieces. This lovely little trinket can be worn after the wedding with a variety of outfits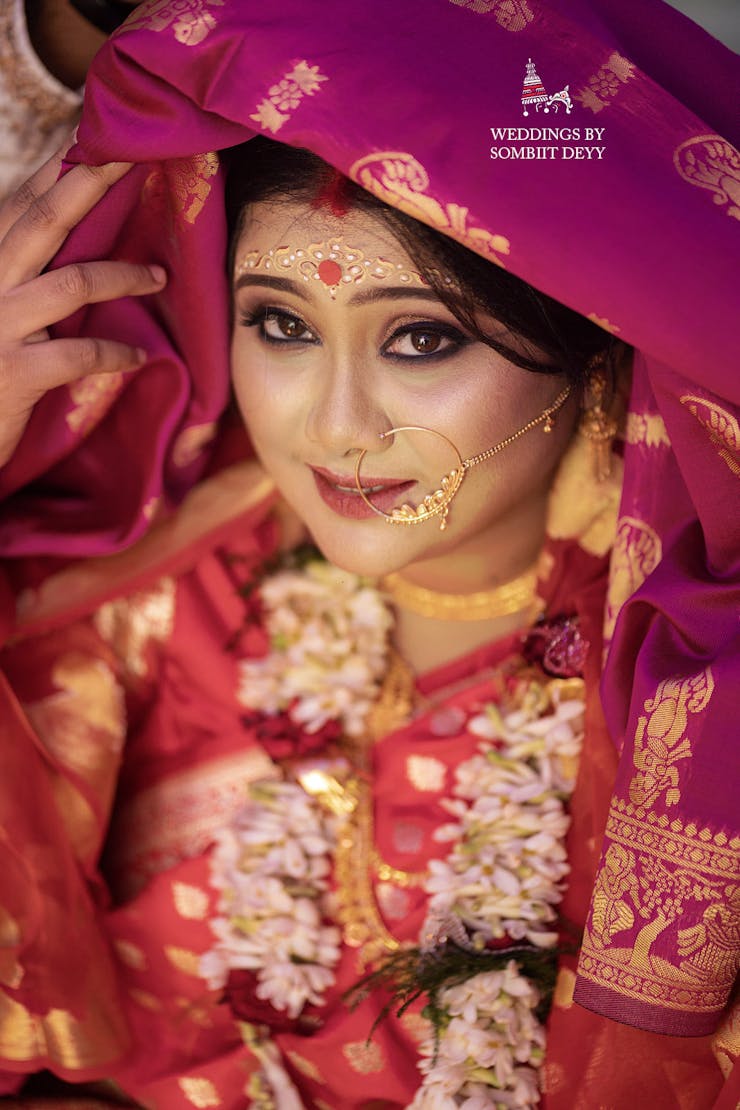 5. Pearl Nath Style For Bengali Bride
This is a very elegant and reasonably priced bridal nose ring design to wear. This nath is adorned with pearls and can appear elegant and delicate. It can draw attention due to the sheer complexity of the pearls and the design. It looks great with a Kundan set of jewelry. Pearl nath designs simple, and are frequently worn by both Punjabi and Rajasthani brides.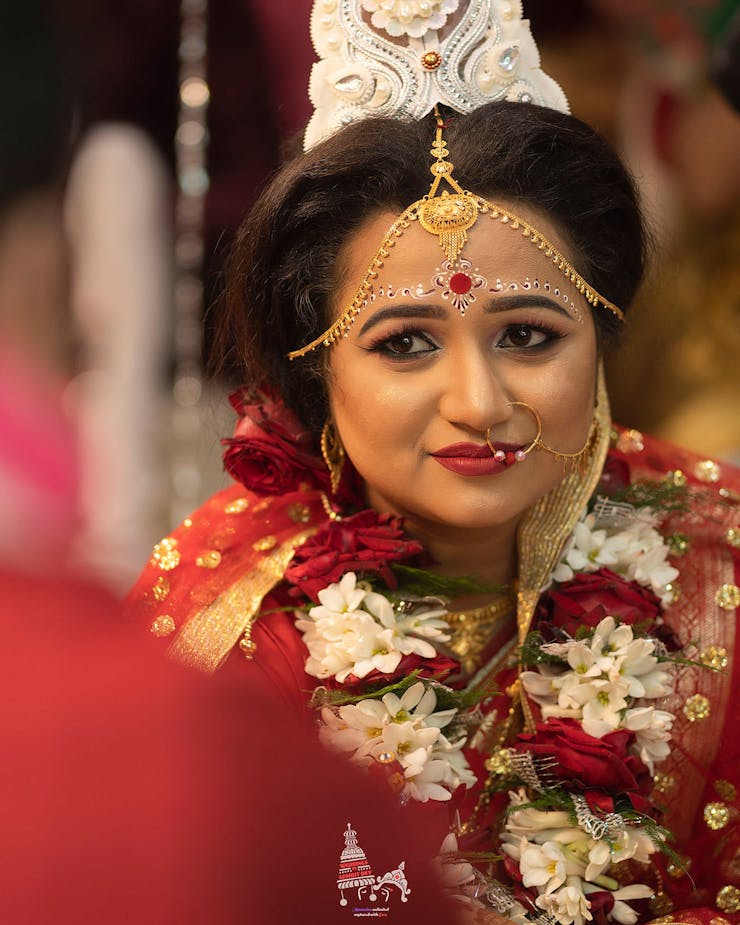 6. Multi-Chained Bengali Bridal Naths
Do you want an eye-catching nath bridal nose ring? Then go for the multi-chained naths. The best part about these gold wedding nath design is that they don't have to be too heavy to draw attention. It just catches people's attention with the multi-chain quality. This type of Bengali nath design can go with any type of jewellery, depending on what is prominent in it.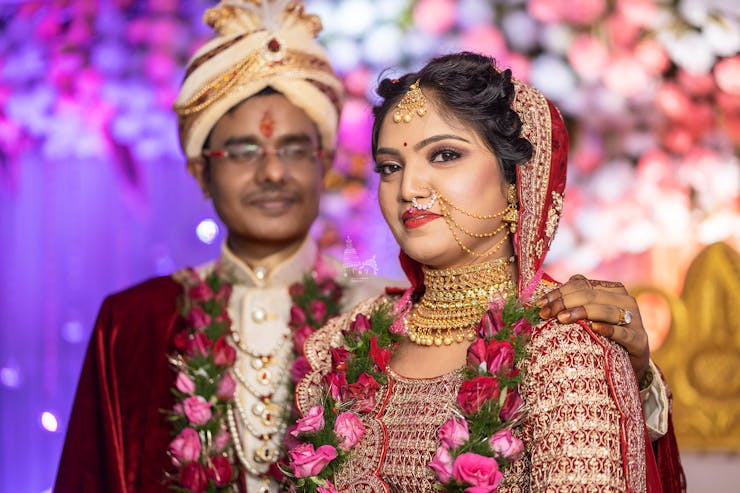 7. Glamorous and Bold Nath Design for Bride
The size of this wedding nose ring speaks for itself. In fact, an ornament like this looks more like a bangle than just the latest nose ring design for the Bride. An accessory like this is worthwhile because weddings are once-in-a-lifetime events. The size is huge, and the pictures would stay throughout your life. That is exactly the reason why most Brides might opt for it for their Bridal beautiful nath design.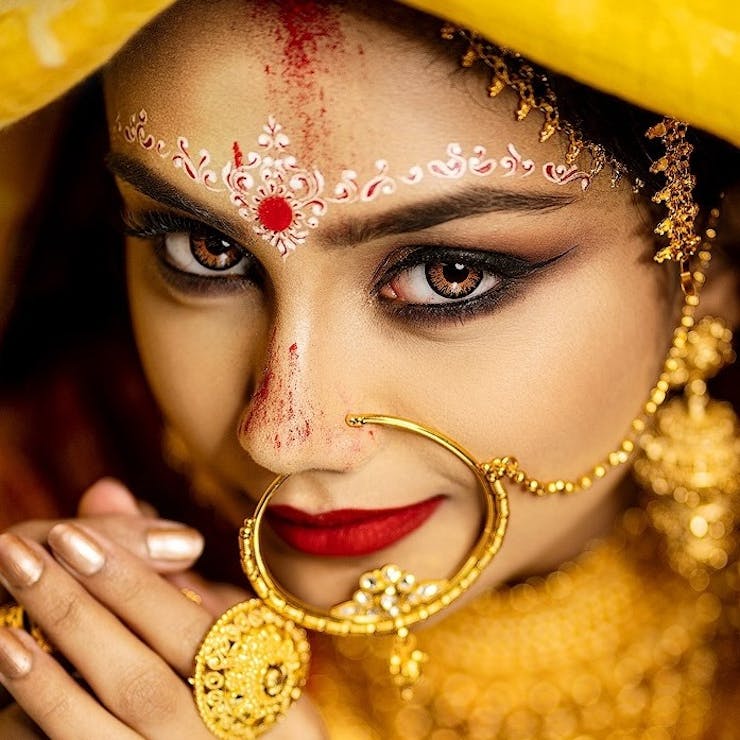 8. Royal Bengali Bridal Nath Design
Once you have a Rajputi nose ring in your wedding outfit, you are confident in your stunning appearance. This substantial nose ring will go well with your expensive jewelry and fancy clothing. On your special day, you can feel like the Maharani with the help of this royal wedding jewelry for bride.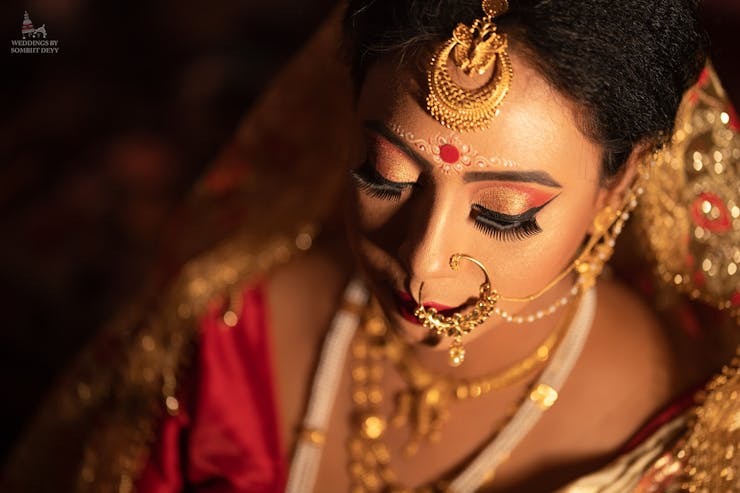 Simple bridal nath is an extremely important part of your outfit, and if you get it right, people will forget about it for a long time. If we haven't already burst your bubble about how simple this decision is, we'd like to add that you must ensure that your bridal nose ring design gold complements your look while also not causing you too much pain in the end. We want our brides to feel like they're on top of the world as they dance the night away! It is your day, and you must make the most of it.