All About Traditional Bengali Wedding Jewellery Collections For 2022
Check here a stunning collection of traditional bengali wedding jewellery to match the ethnicity and elegance of your gorgeous bridal saree.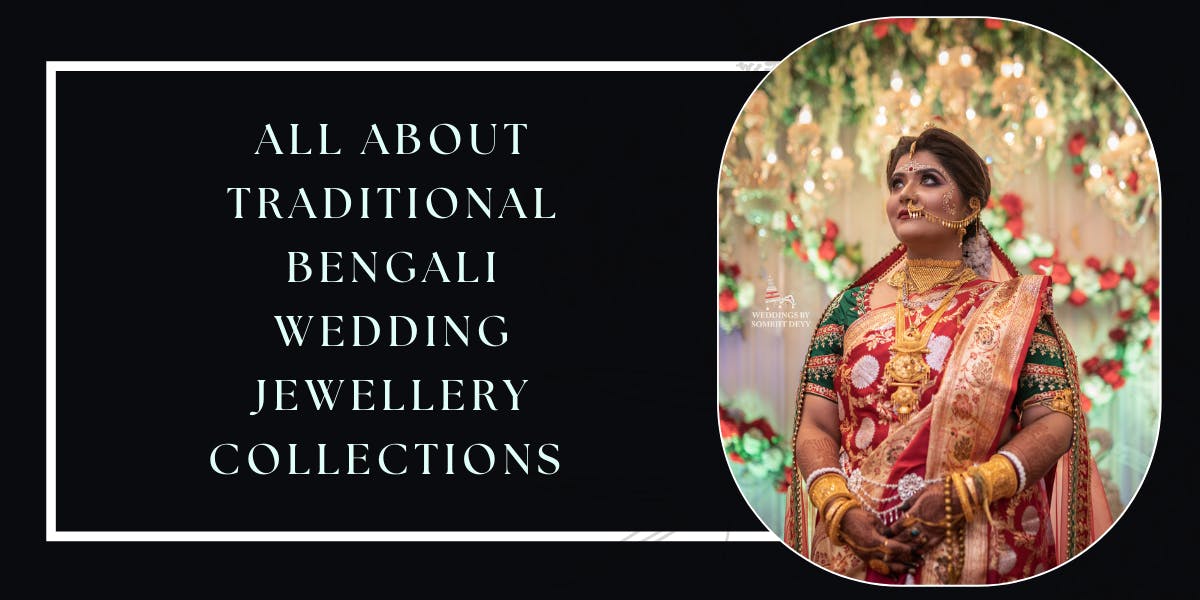 Bridal jewelry not only enhances the beauty of a bride but also plays a symbolic role in Indian cultural weddings jewelry symbolizes the ethnicity and spirituality of a bride. Yet there are many metals and gemstones like silver, platinum, Kundan, and diamond that are used to make bridal jewelry in our country. But the star of a traditional wedding has always been a piece of gold jewelry. Nothing can match the elegance and charm of this precious metal. Just like any other region of India, Gold jewelry holds tremendous importance in Bengali weddings too. The practice of wearing gold jewelry at a Bengali wedding is a century-old tradition. Banarasi sarees and gold ornaments are an integral part of the classic look of the Bengali Bride. A passionate bengali wedding photography never leaves the chance of capturing the fascinating look of a Bengali bride through his camera. We can never imagine a Bengali wedding without a bride dolled up in traditional gold jewelry. The graceful designs of this precious jewelry can offer you a divine look on your special day.
Here is a quick traditional bengali wedding jewellery guide that will add a traditional vibe to your wedding day look.
1. Classic Headgear – Tiara
No Bengali bridal look is complete without a golden tiara that adorns her forehead. These golden tiaras are an old-world charm that is worn at the middle parting of the hair. A bridal tiara comes in various beautiful designs like flowers, butterflies, sun, and moon. This elegant piece of hair jewelry is designed to radiate the royalty and ethnicity of a Bengali bride.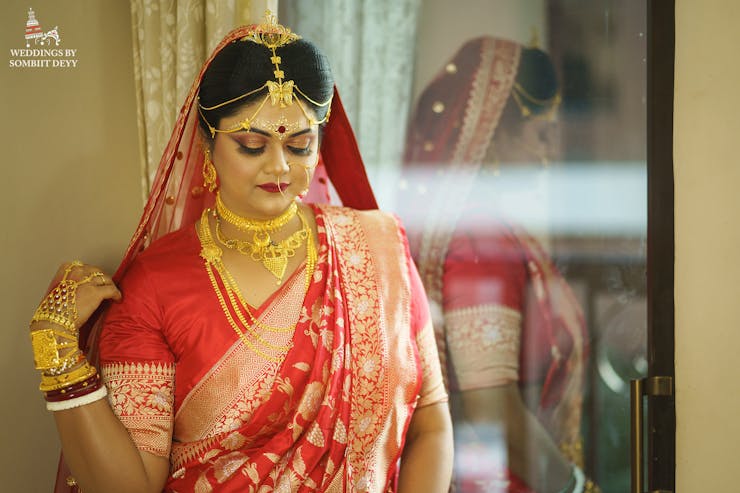 Recommended: 15 Awe-Inspiring Bengali Bridal Haldi Look For Glamorous Brides
2. Traditional Bangles – Shakha, Pola & Noa
This beautiful trio of traditional bangles is known as Shakha, Pola, and Noa. The red one is made of corals and the white one is made of conch shells. These three bangles are worn together by a bride before her wedding day which symbolizes the married status of a woman. Look for the best wedding photographers in kolkata who can turn your bridal images into dreamy wedding portraits.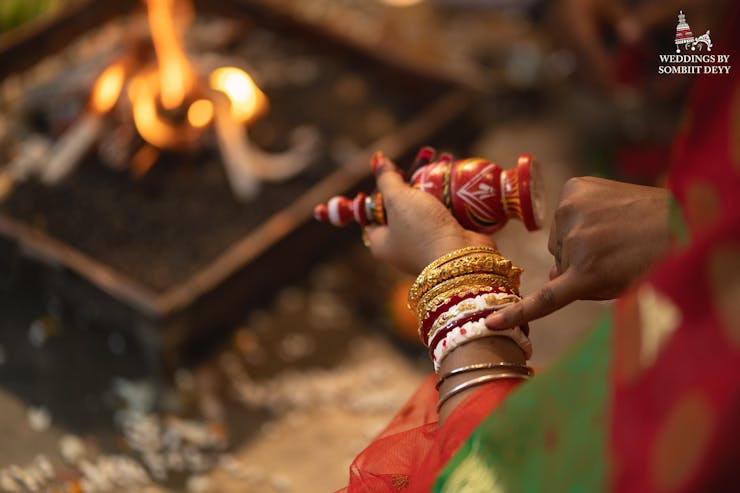 Also Read : 20 Important Bengali Marriage Rituals You Must Know About
3. The Stringed Nose Ring – Nath
A nose ring is known as Nath in Bengali culture. These beautiful nose ornaments are crafted out of pure gold and attached to a delicate chain that hooks onto the hair. A golden Nath is the most charming facial highlight of a traditional Bengali bride.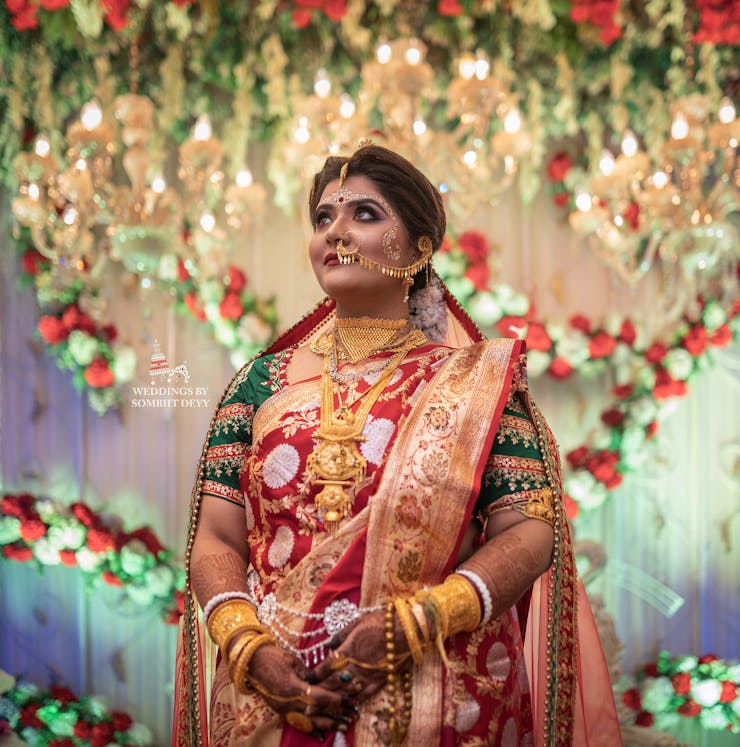 4. An Antique Necklace – Pati Haar
Another captivating traditional bengali bridal jewellery is the beautiful Pati Haar. This gold necklace is an exquisite piece of old craftwork. In the olden days, this wonderful necklace was worn by affluent Bengali women to represent their wealth and status.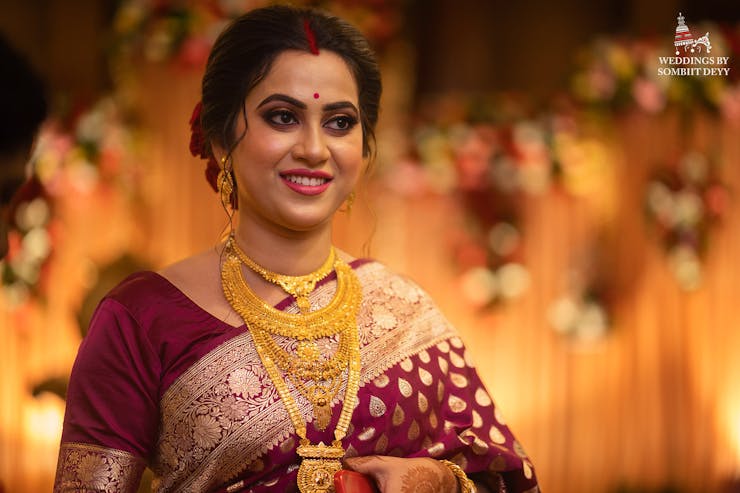 5. Floral Finger Ring – Angti
Gold rings are essential elements of the Bengali bridal look. These antic rings can increase the beauty of traditional mehndi designs worn by the brides. A gold ring is usually worn on the fourth finger or the middle finger that is connected to the heart through veins. That is believed to be the vein of love.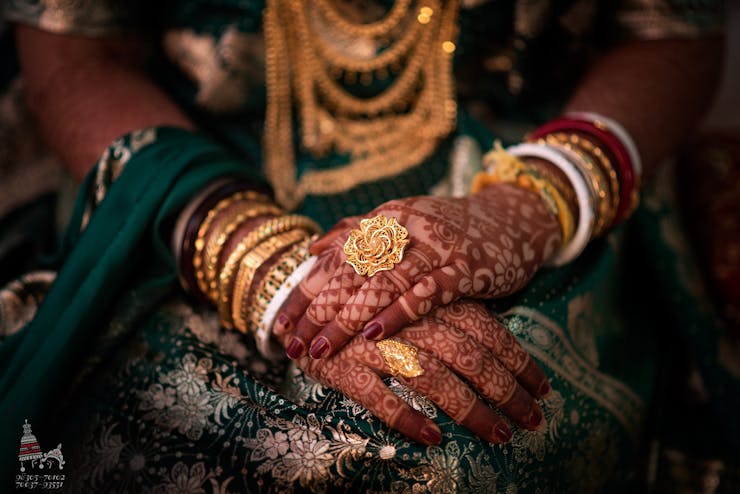 6. Precious Layered Necklace – Saat Noli Haar
The most prestigious gold necklace for wedding is a Saat Noli Haar. This layered necklace is heritage jewelry that is passed on from generation after generation. This luxurious necklace is divided into 5 or 7 tiers with a beautiful locket design in between.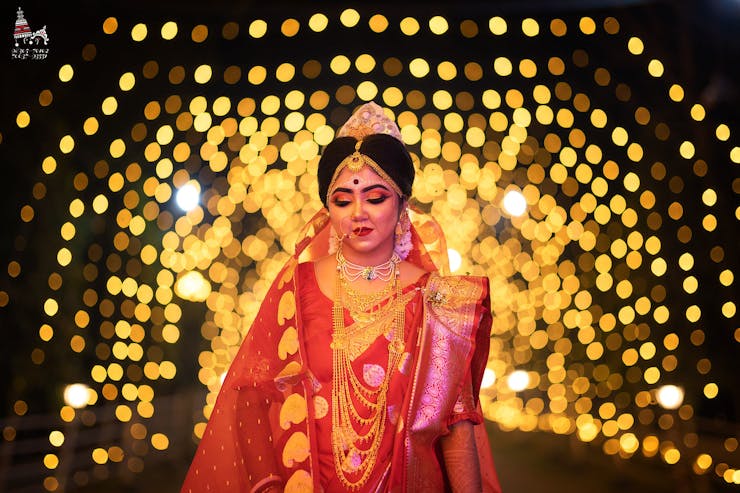 7. A Gorgeous Gold Anklet – Nupur
Nupur is golden anklets worn by the Bengali bride. This simple bengali bridal jewellery for feet can enhance your overall look. The little jhumkas attached to the delicate chain of gold produce a sweet and melodious sound that pleases everyone. This divine anklet can transform your adorable feet and provided a subtle and elegant look.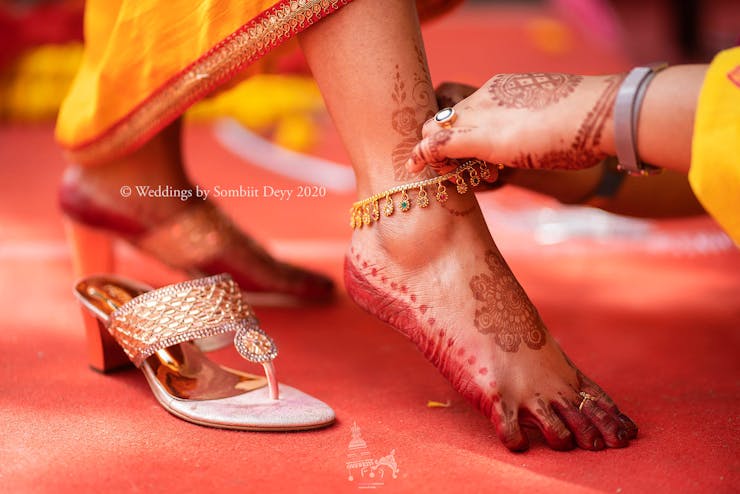 8. Crown Of Bengali Bride – Mukut
The golden crown is an antic design inspired by the British empire's crown. Bengali brides adorn their stylish hairstyle with this precious hair accessory. This bengali jewellery is made of pure gold and sometimes also studded with jams stones. The main purpose of this bridal headgear is to keep the bridal veil in the proper place.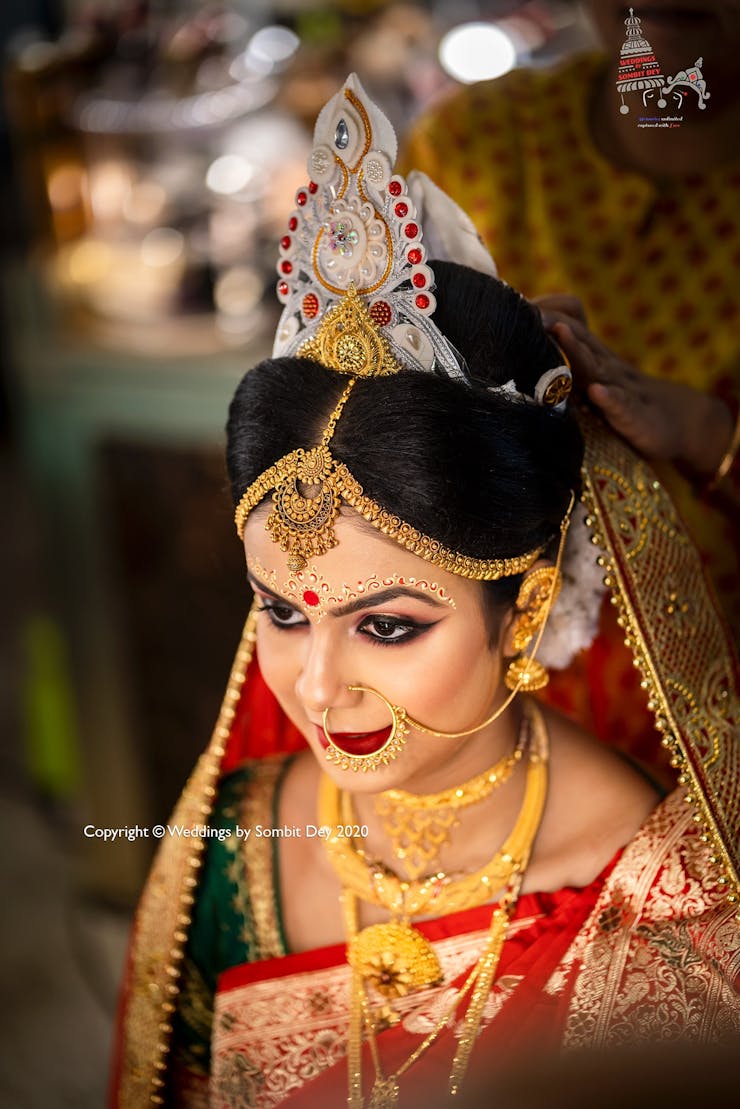 9. Stringed Ear Rings – Jhumko
 This classic earring is a perfect combination of fashion and tradition. The layered earrings carved in a beautiful structure give you an immense feeling of being special on your wedding day. These royal earrings are one of the finest gold jewelry in bengali bridal jewellery collection.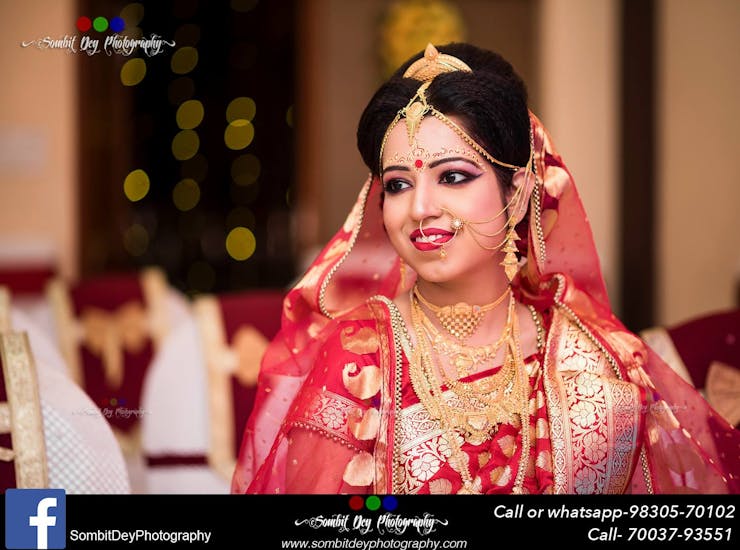 10. Astonishing Hand Trinket – Ratanchur
Ratanchur or a hand harness is a beautiful piece of gold jewelry worn by the Bengali brides on the back of the palm. This bengali bridal hand jewellery is usually worn on the wrist area which spreads through the entire palm and also embellishes the fingers beautifully.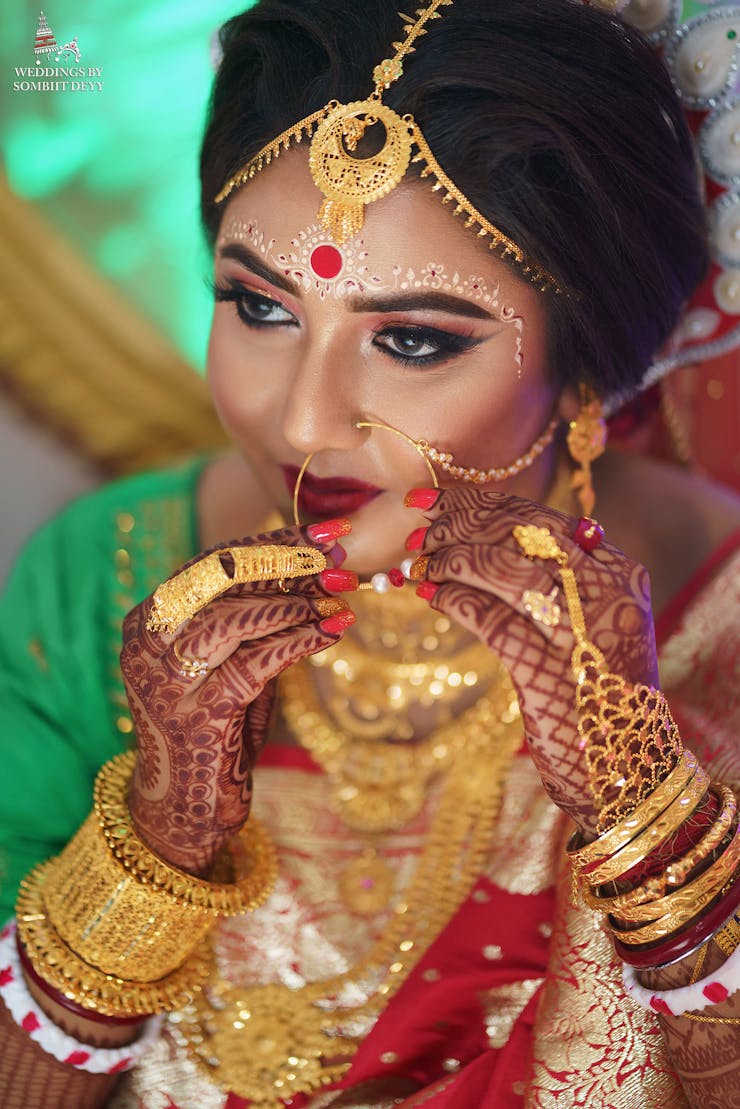 11. Statement Bangles – Bauti
Golden bangles like Bauti accentuate the beauty of the bride and takes it to another level. Beauti is a gold jewellery for bengali wedding that is minimalistic in design and can be worn by the brides regularly. 
12. The Graceful Bracelet – Mantasha
Ask any Bengali bride about a Mantasha and she will reply – "The richest bangle with antic finish". These chunky hand bracelet is made of pure gold and designed intricately. It contains a golden chain that looks similar to a bracelet design.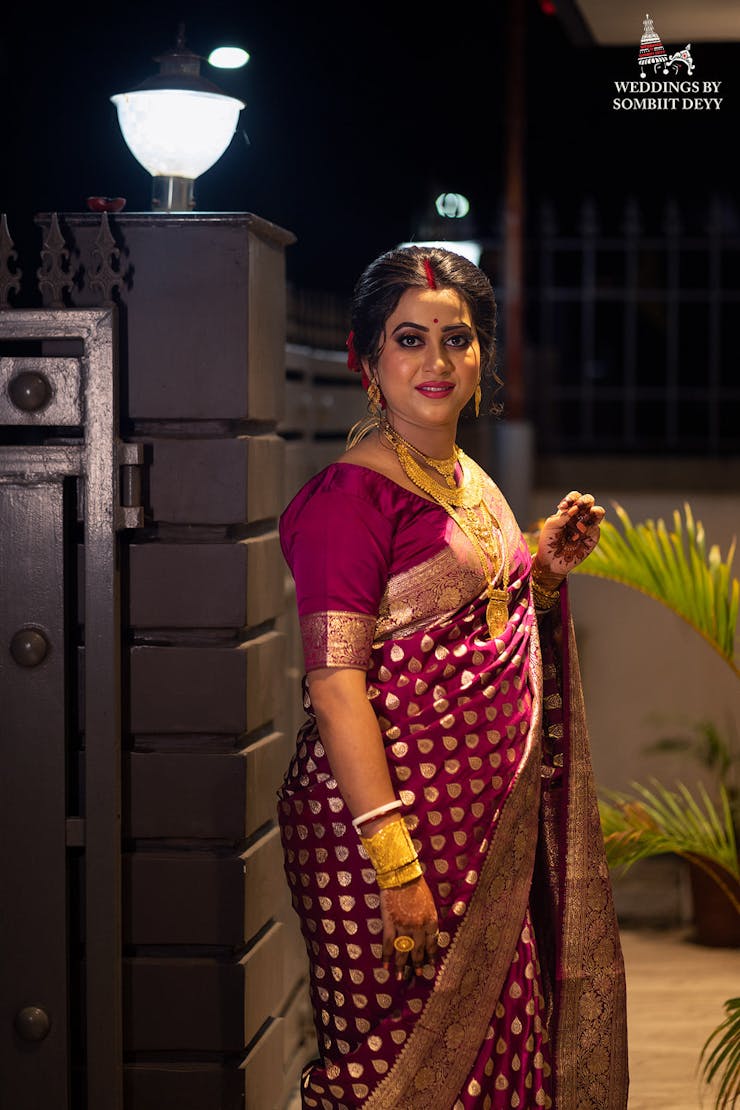 13. Stylish & Belky Choker – Chic
A choker necklace is very popular in Bengali weddings due to its stylish and contemporary design. This well-crafted piece of bengali bridal gold necklace works wonders on your bridal appearance. It also accentuates the beauty of your gorgeous Banarasi saree and adds a royal taste to your look.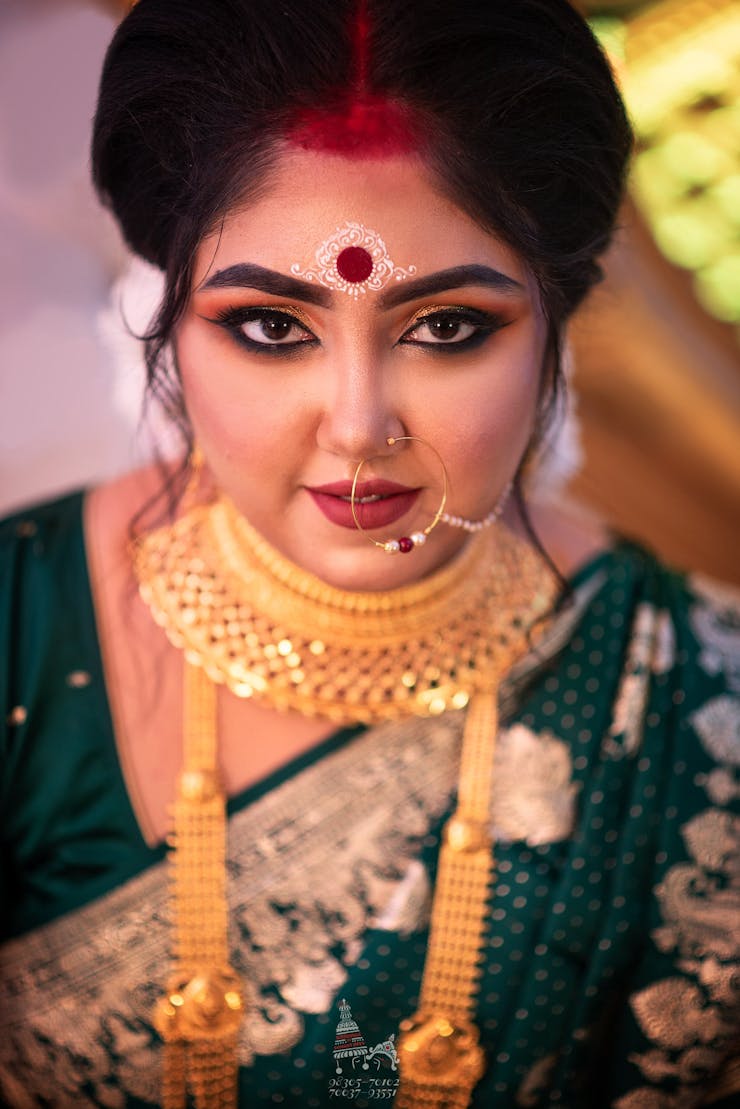 14. Waistband With Tassels – Kamar Bandh
What can be a more sensuous piece of traditional gold jewelry than a classy Kamarbandh? The golden waistband is a delicate layer of chain that includes multiple golden tassels. This beautiful piece of jewelry can highlight your stunning attire and accentuates the beauty of your waistline.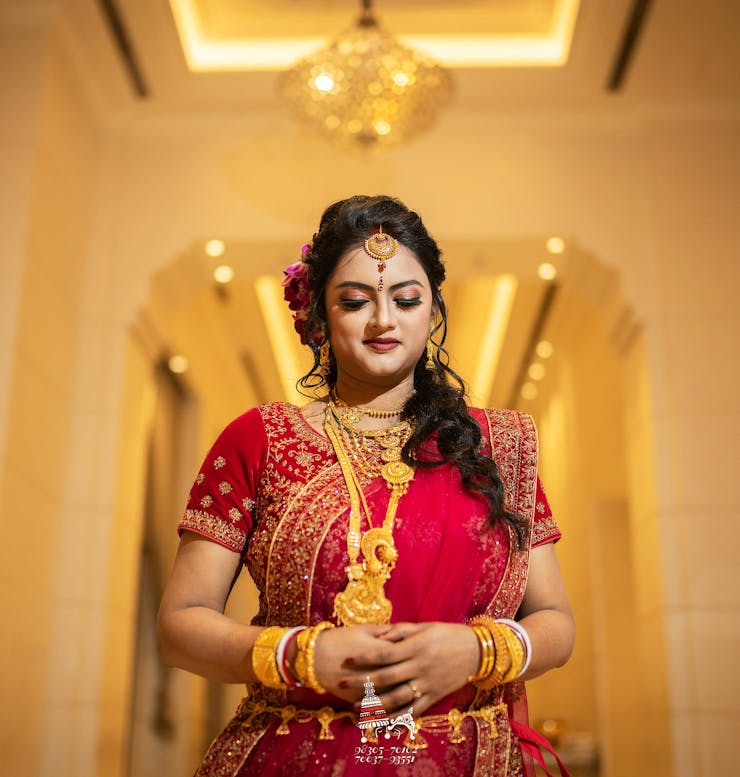 If you find this guide helpful for your wedding day look then bookmark these elaborate designs of gold jewelry to make a style statement on your wedding day.