15 Awe-Inspiring Bengali Bridal Haldi Look For Glamorous Brides
Make your Gae Holud or Haldi ceremony look the most cherishable one with these stunning bengali bridal haldi look in this wedding season.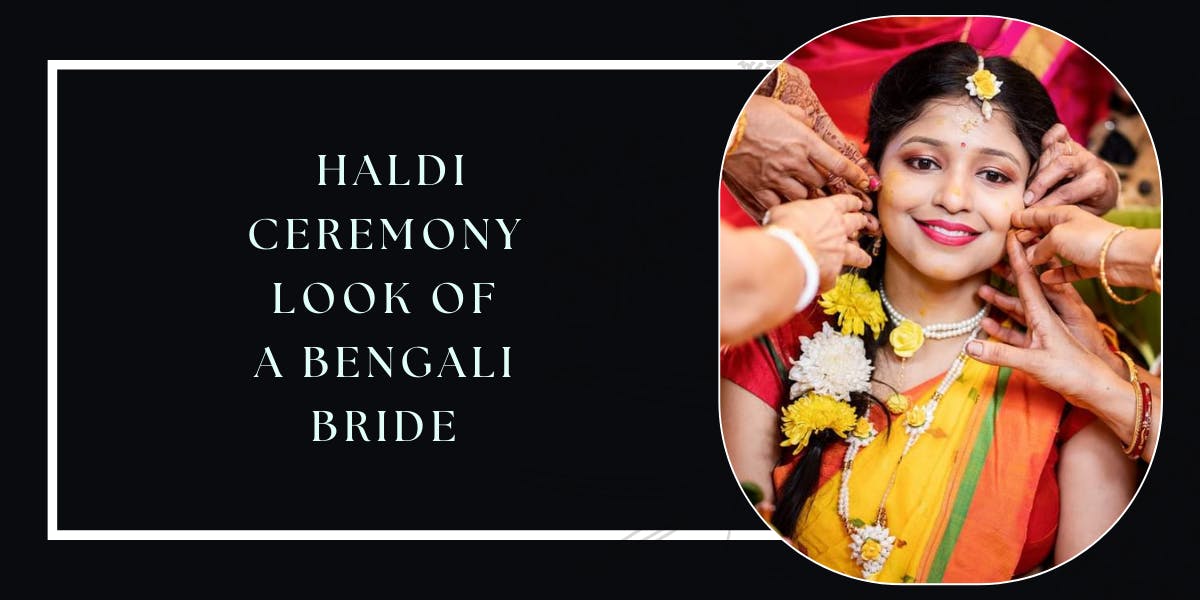 Haldi ceremony is a very delightful event in traditional Bengali weddings. This exciting ritual is usually a homely celebration performed in the presence of closest friends and family members. Laughter, joy, and the auspicious color of Haldi all around make this ritual a unique blend of tradition and fun. And ritual is a unique blend of tradition and fun. And to make this joyous event memorable, you need to hire one of the best wedding photographer in kolkata. After all, these are the memories you will cherish forever and would like to share with your close ones. 
Bengali brides have come a long way to experiment with their most gorgeous Gae Holud look. From traditional sarees to modern outfits, Bengali brides are making style statements in their wedding look. With our years of experience in creating beautiful wedding tales, we came across some Bengali brides whose captivating Haldi looks have left us awestruck. So, here we are sharing some of the most beautiful bengali bridal haldi look that can add glam to your bridal look.
1. A Stunning Bride In Two Contrasting Shades
This lovely bride shows us how to turn your traditional outfit into a most charming one for a Haldi bridal pose. Here the bride has gone on a printed cotton saree in vibrant hues like red & yellow which is perfectly paired with her beautiful artificial floral jewelry.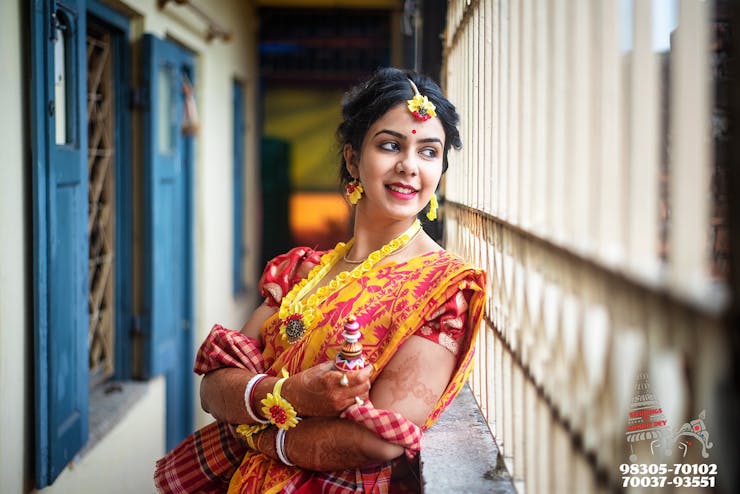 Recommended: 20 Important Bengali Marriage Rituals You Must Know About
2. A Pretty Bride In Simplistic Look
Simplicity always wins hearts, whether it's a pre-wedding shoot or a pose for a delightful Haldi event. We must praise the talented bengali wedding photography to capture this bride's simplistic look amidst lush greenery perfectly in the pictures. A cotton saree in yellow color with a silk border is always the most popular choice among brides for Haldi events.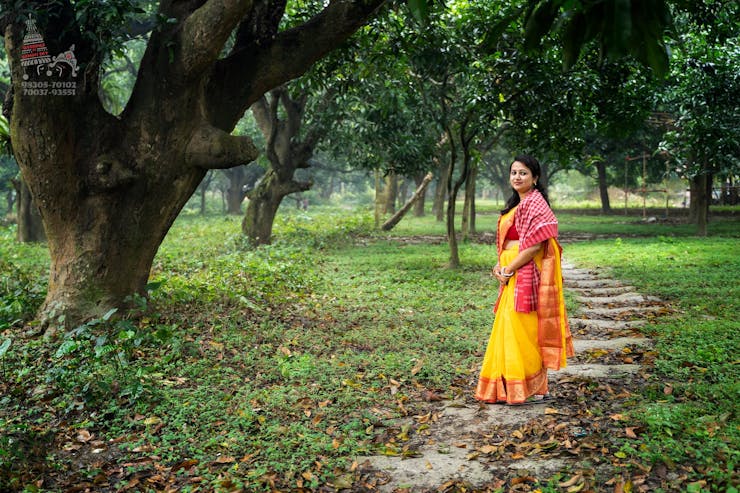 3. Stylish Avatar Of A Chic Bride In Thread Work Saree
A yellow printed saree with a dark green blouse is truly a unique option for a super stylish Haldi look. The thread work in various colors on a yellow saree makes it an alluring option for modern brides. Also, make sure to book the best wedding photographers in kolkata to capture your stylish avatar perfectly in the picture frames.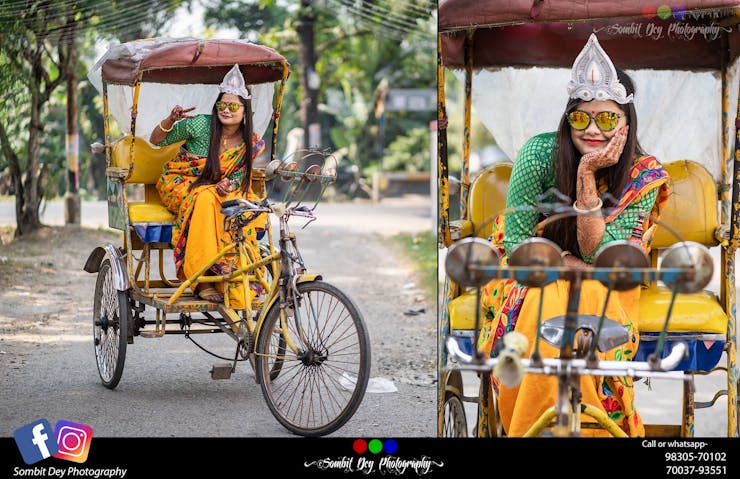 4. Wonderful Combination Of Bootidar Work Outfit And Gold Jewelry
Many brides might find this yellow cotton saree and red blouse the most simple and common option for a memorable Bengali Haldi ceremony. But trust us the wonderful combination of yellow and red if paired with statement gold jewelry always stands as a classic modern bride haldi look for bengali bride.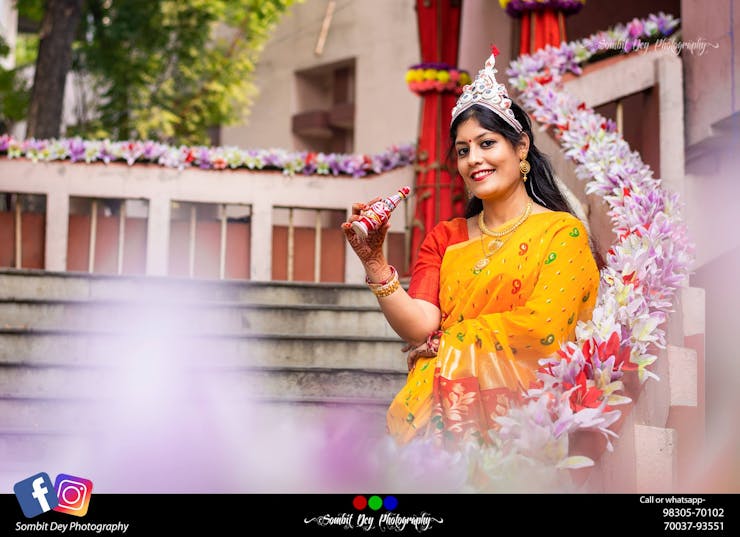 5. The Elegant Touch Of Flowers And Pearls
Not only your bridal dress but your jewelry can also make your wedding pictures the most captivating ones. Look at this bride's fabulous jewelry made of pearls and artificial flowers which have been perfectly contrasted with the original flowers in her hair. This haldi ceremony bridal look offers a special charm to every bride.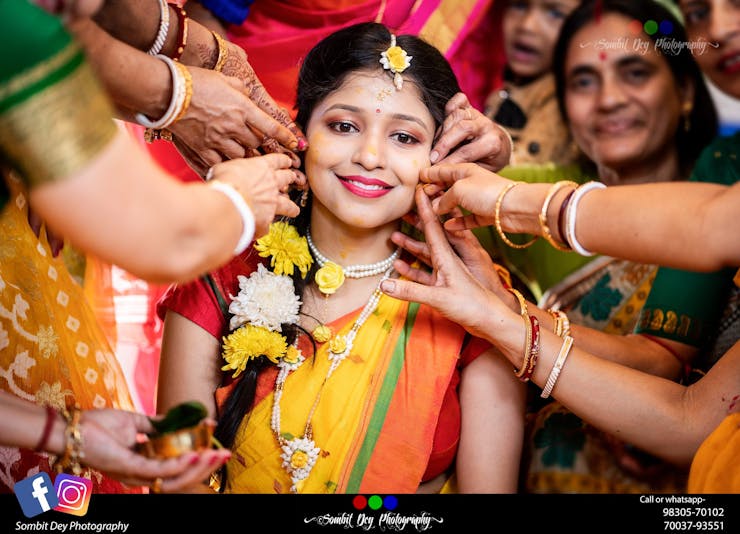 6. A Floral Extravaganza For Haldi Day
Here comes another mesmerizing modern bride haldi look for bride. Right from her floral print blouse, beautiful yellow saree, and extraordinary floral jewelry is truly an alluring combination for the Haldi ceremony. Floral jewelry is made with fresh flowers and leaves a beautiful fragrance all around that pleases everyone.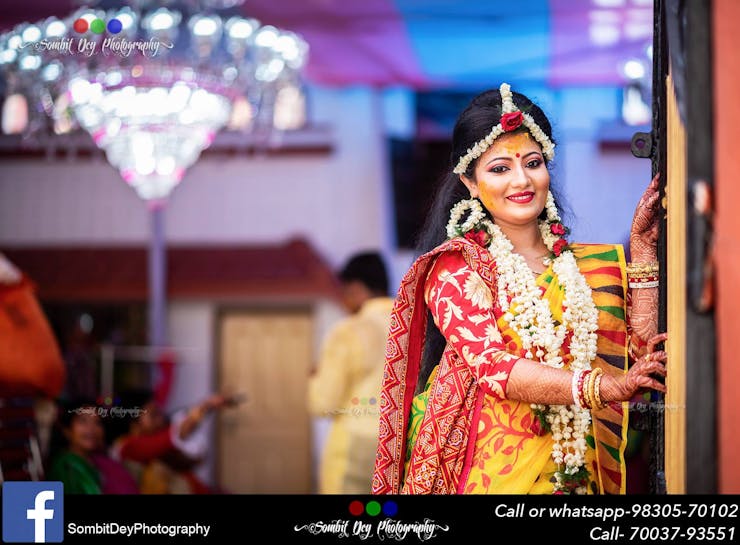 7. Ditch The Yellow And Try The Serene White & Red
Who says a bride must wear only a yellow saree on her Haldi day? Take inspiration from this gorgeous Bengali bride who has opted for a white saree with red borders to make a great fashion statement in her special event. This haldi ceremony saree is one of the best choices for a fashionable and dreamy Haldi look.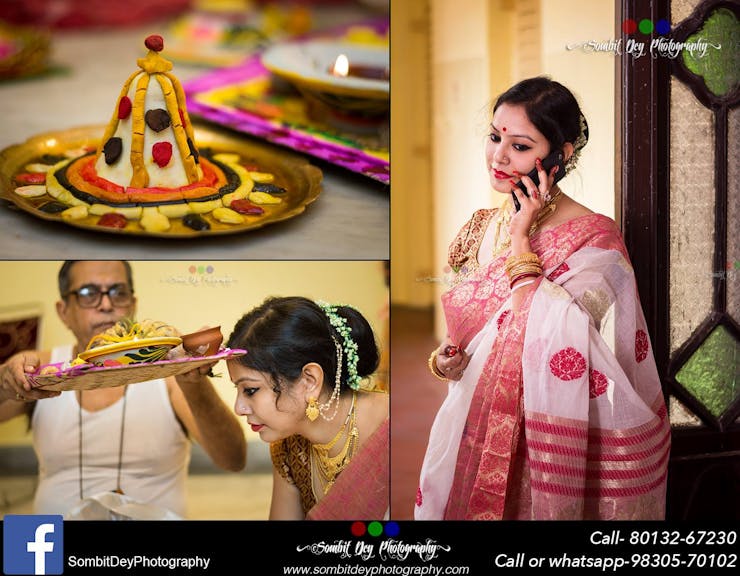 8. A Unique Look In Creamish Red Saree
Keeping it all simple this bubbly bride has opted for a creamish red saree with minimal jewelry and a no-makeup look. This gorgeous Haldi ceremony outfit is beyond pleasing.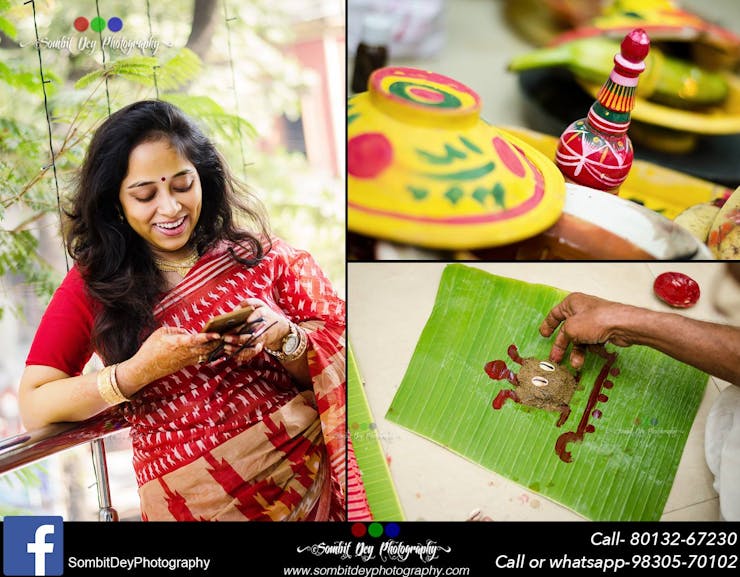 9. A Contemporary Look Of Gorgeous Brides
We love how this classy bride has paired her yellow saree and green blouse with statement jewelry to create a regal look in the pictures. The pearl embedded mang tika and chandbali earrings are providing a surreal look to this adorable bride.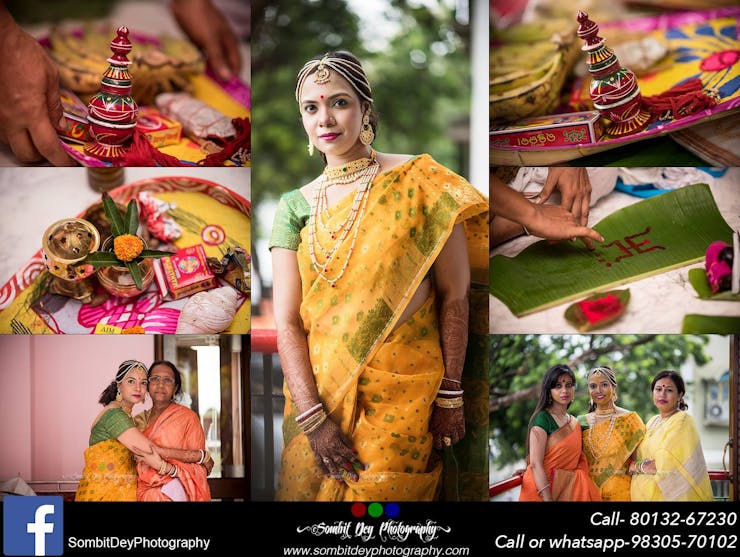 10. Traditional Vibes In Haldi Ritual
If you think that you want to try the traditional Gae Holud bridal look in your Haldi ceremony then take inspiration from this charming bride. A yellow saree for haldi for bride is the most traditional option that can be paired with fresh floral jewelry to make your modern bride haldi look more lively and radiant.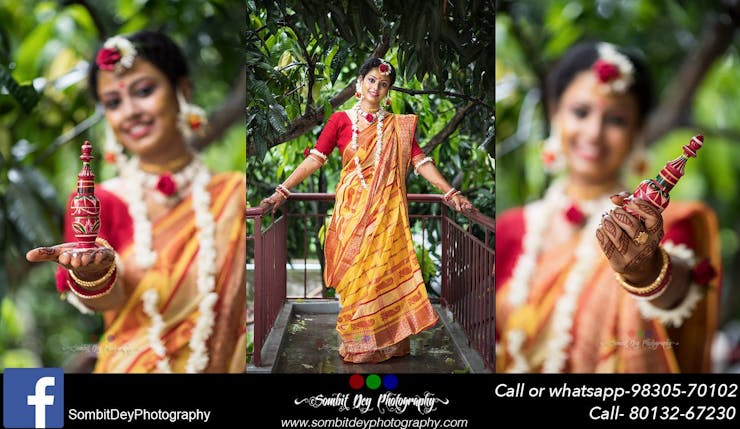 11. The Glorious Look In Sun Shine Yellow Saree
A sunshine yellow saree is a very beautiful bride haldi ceremony dress that you can opt for a vibrant Haldi event. The delightful look and brighter shade of this wonderful outfit are simply gorgeous and make your Haldi ceremony pictures more brighter and splendid.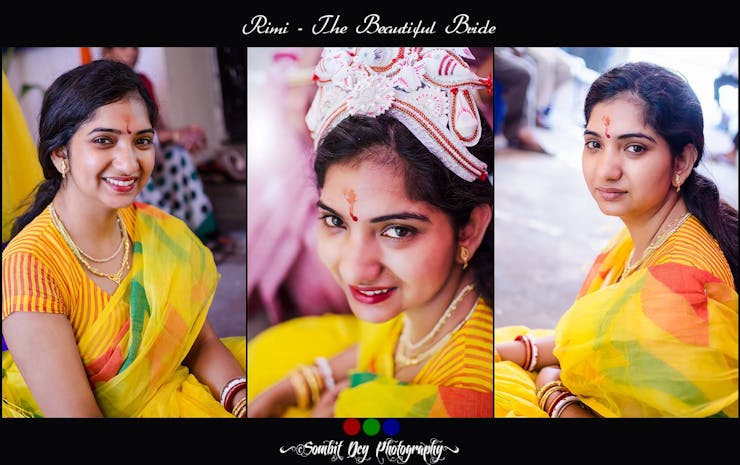 12. Cape Blouse & Long Skirt For Modern Brides
The mustard layered skirt with a stylish cape blouse is the latest haldi dress for bride. This gorgeous bride has opted for a minimum jewelry look to be the most stylish bride in her wedding pictures. Her simplicity and beautiful smile have truly won our hearts.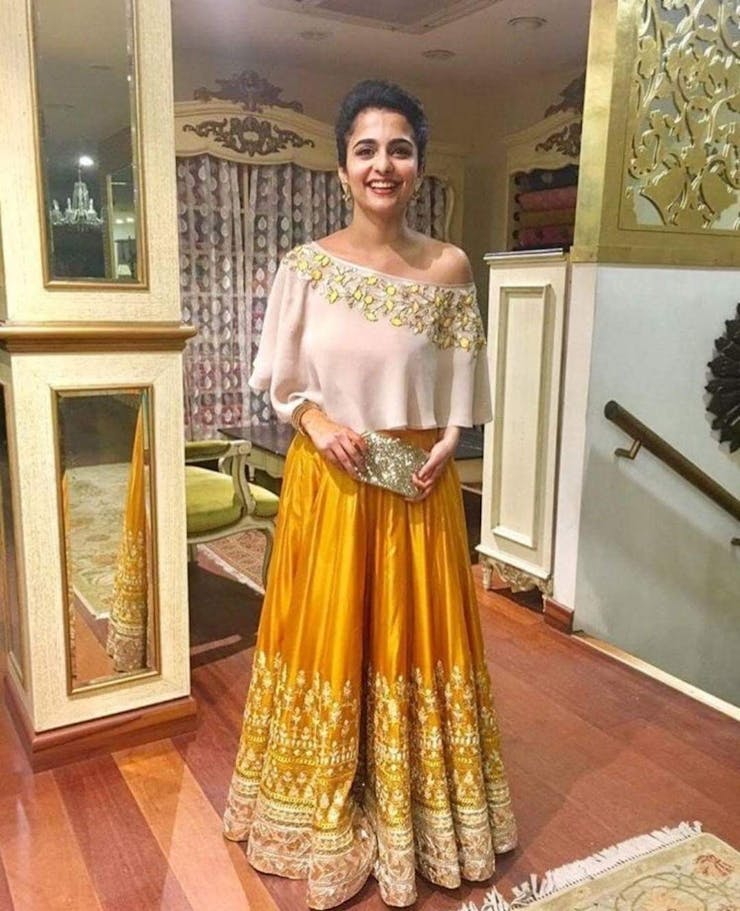 13. The Charismatic Shine Of Colorful Lehenga
This glamorous bride has brought her Haldi look to life with her colorful floral lehenga and dazzling blouse. The sequence in her gorgeous outfit is one of the perfect options for a wonderful haldi ceremony dress for bride.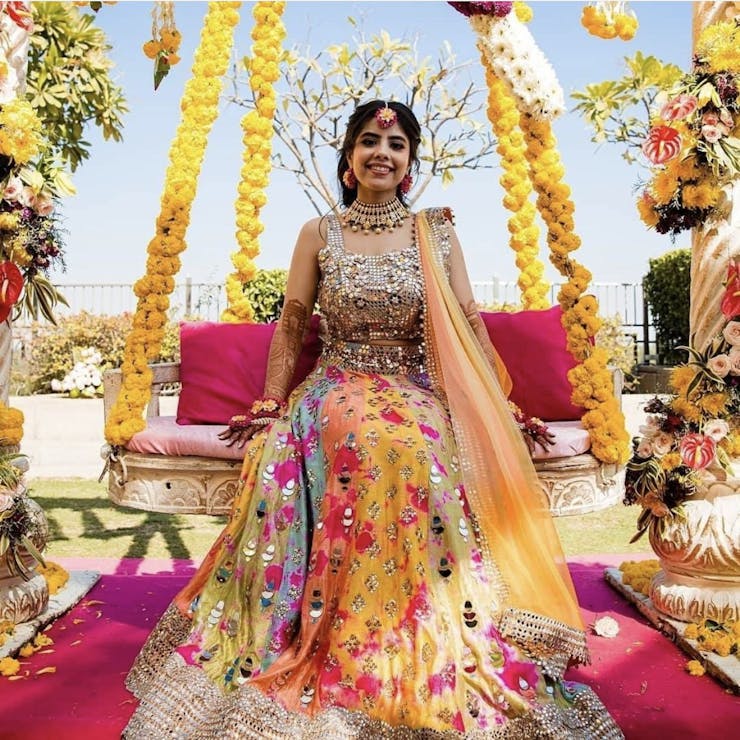 14. Breezy Lehengas Are Always Wonderful
Wearing a breezy yellow lehenga at your Haldi ceremony is another wonderful choice to enhance your bridal look in wedding pictures. Look at this bride who has worn a sleeveless blouse with beautiful embroidery and tassel work to complement her gorgeous floral jewelry and lehenga.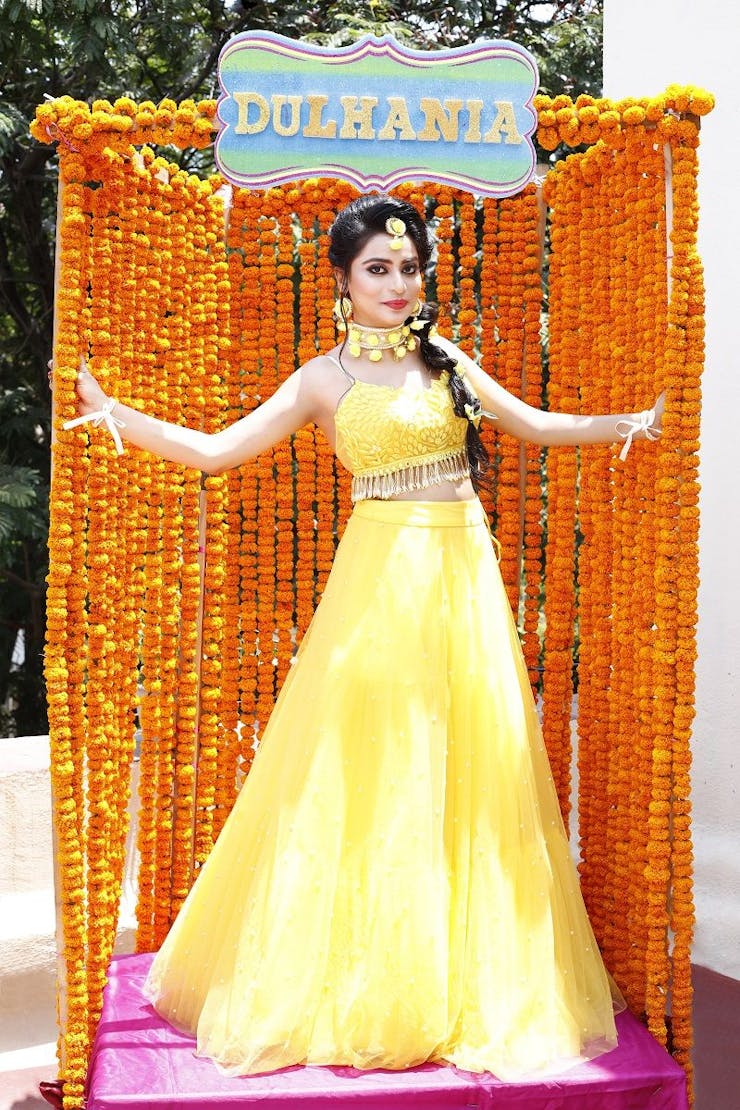 15. A Dreamy Haldi Look In Brighter Hues
Now this one is the most dreamy Bengali bridal Haldi look that you can try for summer weddings. Brighter hues like white, pink, or turquoise blue are some popular choices among modern brides for celebrating the coolest Haldi event.