Trendy Bengali Bridal Hand Jewellery for a Stunning Look
Wedding hand jewelry is a classic accessory that glams up bride's look. To know more read this gold Bengali design of hand jewellery advice blog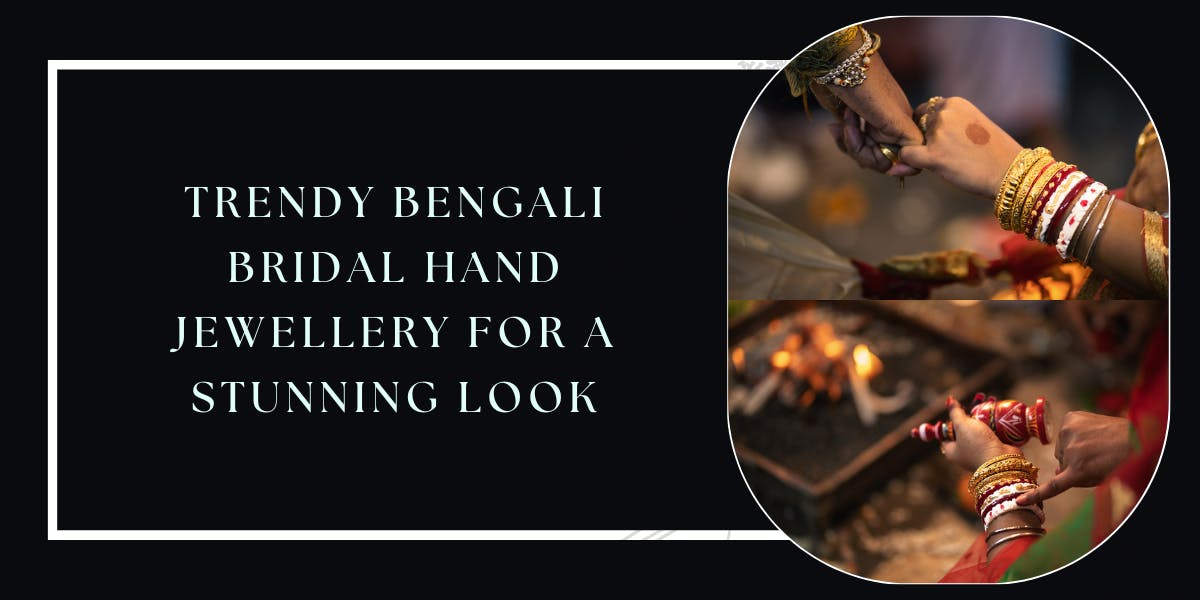 Bengal has always been regarded as a state full of intelligence, culture, and strong women. When it comes to fashion, traditions, and culture, the location has its own taste and flair.
Have you or any photographer of Bengali wedding photography ever considered what the most interesting part of a bridal look is? Wedding hand jewelry is a classic accessory that glams up your look. All Bengali brides wear a set of hand jewelry, which gives them a unique look. Best wedding photographers in Kolkata is able to click those amazing look of Bengali bride with those hand jewelry.
In addition to gold rings and bangles, modern brides are choosing different types of bengali bridal jewellery. The bride's exquisite hand jewelry adds to the attractiveness of the Bengali wedding photos clicked by candid Bengali wedding photography.
Recommend: All About trending Matha Patti For Bengali Bride
So, read this gold Bengali design of hand jewellery advice blog if you haven't yet selected the ideal hand jewelry.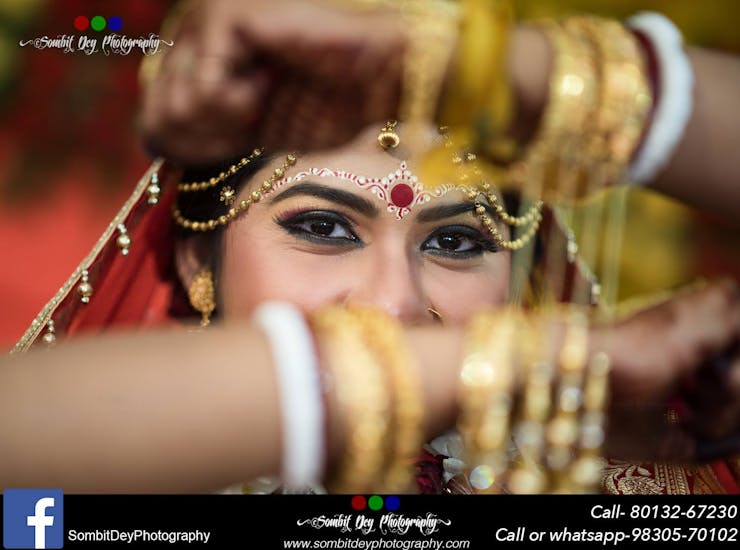 1. Angti- The Bengali Rings for Bride
Similar to the "Kaanpasha," these bengali gold ring design are shaped like a round "dhaal" or "crest" and are typically worn on important occasions. These finger Bengali gold ring can occasionally be smaller and more comfortable to wear every day. Brides are encouraged to wear an intricately carved golden Angti after their engagement ceremony.
Recommend: 13 Modern & Trendy Flower jewellery Ideas For Bride
2. Bauti- Gold Bangles for Bengali Bride
One type of Bengali gold bangles for Bengali Women's Weddings, also known as Baoti or Bauti. This ancient bengali gold bangles design style has been extremely well-liked for the past 200 years and is also known as Baoti or Bauti. To keep the curve of the gold bangle, they are generally filled with lac.
Recommend: Bookmark These Bride Getting Ready Photos For Your D-Day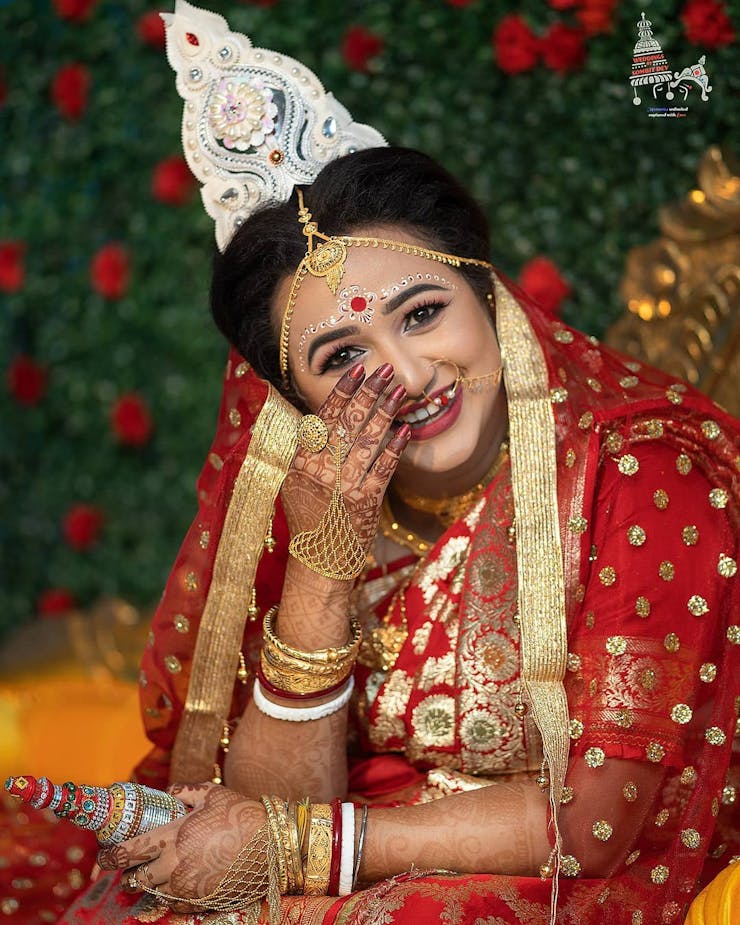 3. The Elegant Bracelet - Mantasha
Any Bengali bride will describe a Mantasha as "the finest bangle with antic finish" if you ask about one. These heavy hand bracelet design feature an ornate design and are made of pure gold. It is a gold hand bracelet with ring that has a bengali bracelet-like look.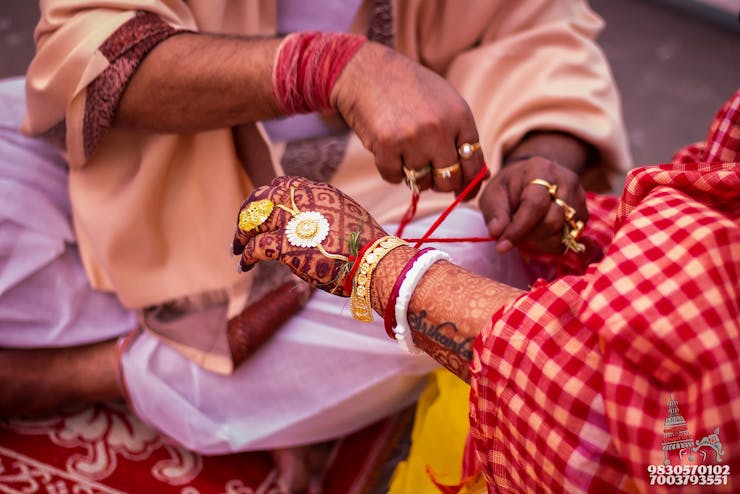 4. Bala
The most interesting type of jewelry worn by Bengali women is called bala, which are golden bengali wedding bangles. These lovely traditional bengali wedding jewellery, which come in a variety of styles, give your hands a charismatic appearance. During the wedding ceremony, this traditional Bengali hand bangle is frequently passed down from the mother or mother-in-law. These substantial gold bengali hand jewellery are decorated with floral patterns. The single-piece balas or bangles in bengali are typically worn in pairs.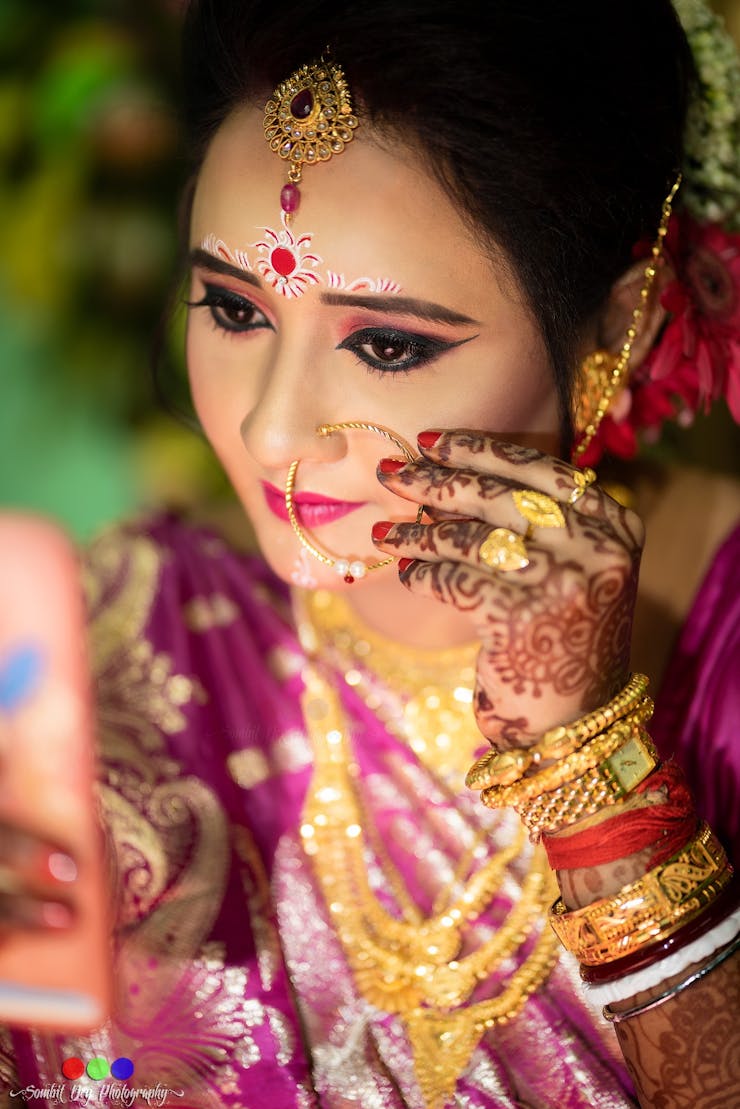 5. Ratanchur- Adaption of Culture
Bong brides adorn their palms with Mehendi and other ornaments, adopting the tradition from other cultures. Even so, the Ratanchur was traditionally used to adorn the bride's palm. This bengali gold bracelet design is a style that joins one to four rings with one to four fingers each to a bracelet-like style, essentially to adorn the rear of the palm. Nowadays, it's not required to obtain gold hand bracelet exclusively through gold. You can always choose cheaper replica jewelry.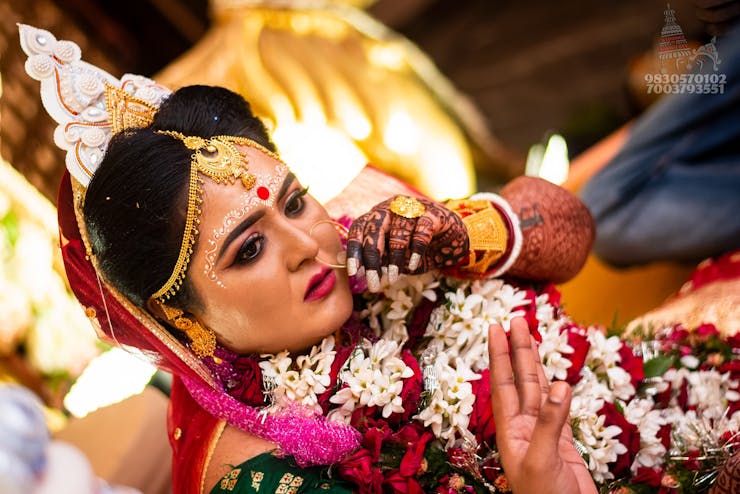 6. Chur- The Broad Single Piece Bangle
The chur is a broad, one-piece hand bracelet gold design or bridal hand bangles. Its lovely charm gives you a beautiful look. This traditional bangle, an heirloom piece of hand gold jewellery, highlights the bride's wrist with its beauty and wealth. Although they come in pairs, you can also purchase a single "chur" depending on your needs and finances. The amount of gold utilized to create a "chur" wedding hand bracelet can reach an incredible 50 gms!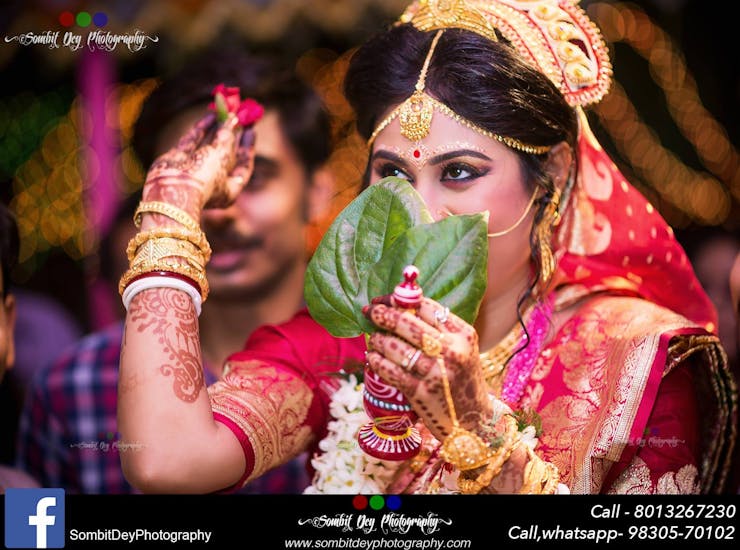 7. Kankan- The Grand Bangle
Some women will select Kankan, a typical traditional bridal hand bracelet-engraved gold patterns that are often filigree in design. Many women prefer this classic kind of bengali design gold hand bangle because they make a great and special impression on their wedding days.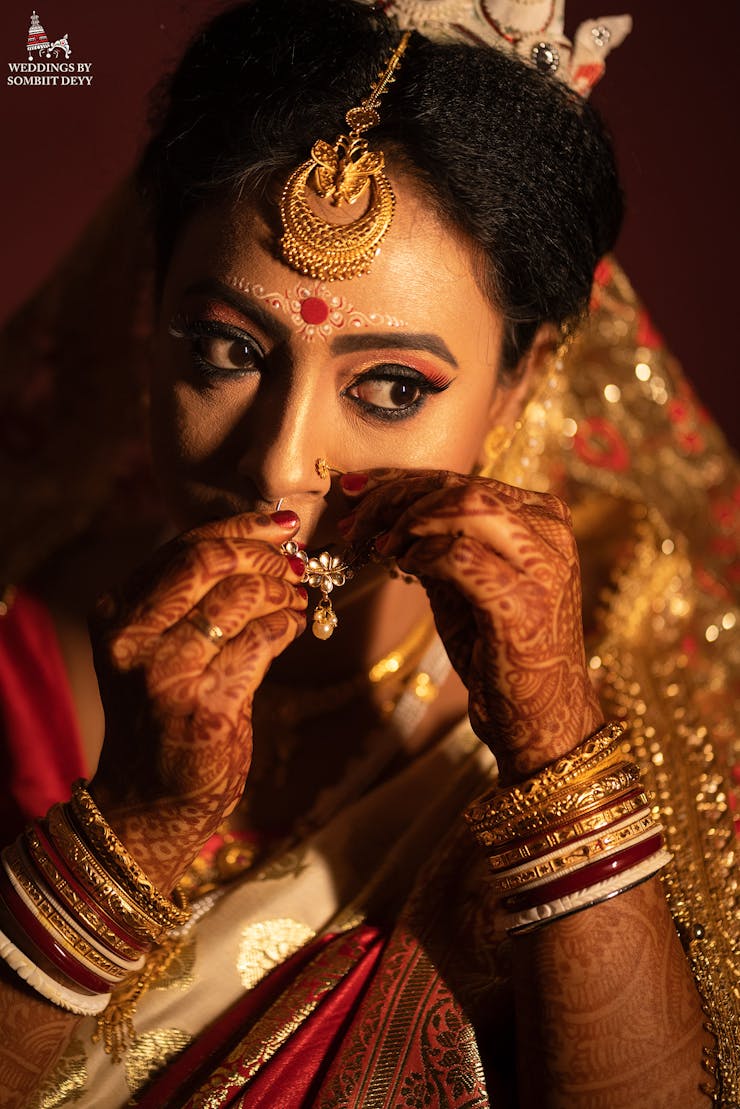 8. Sankha Pola Noa- The Three Bridal Bangles
A Sankha Pola Noa is an essential element of the Bengali bridal look. The Bengali bride dons these white and coral bangles on the wedding day. The married status of a Bengali woman is represented by these coral bangles and noa, which are similar to an Indian mangal sutra. This important traditional Bengali bridal jewellery has gold designs on it as well.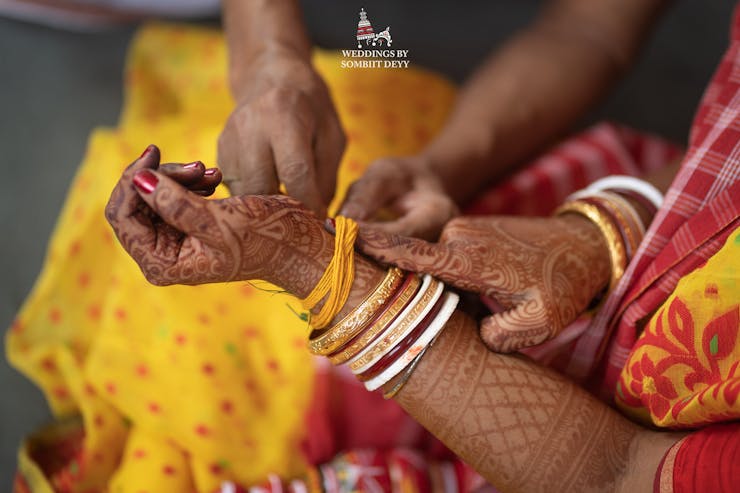 9. Socket Bala- Another Traditional Piece
With the growth in gold prices, there has been a substantial revolution in the designs of gold jewellery hand design. One result of this is this socket bala. Typically, they are solid-design gold strips framed in bronze sockets, much like hand ornaments for bride. These resemble the conventional solid gold Bala but cost less since bronze was used instead.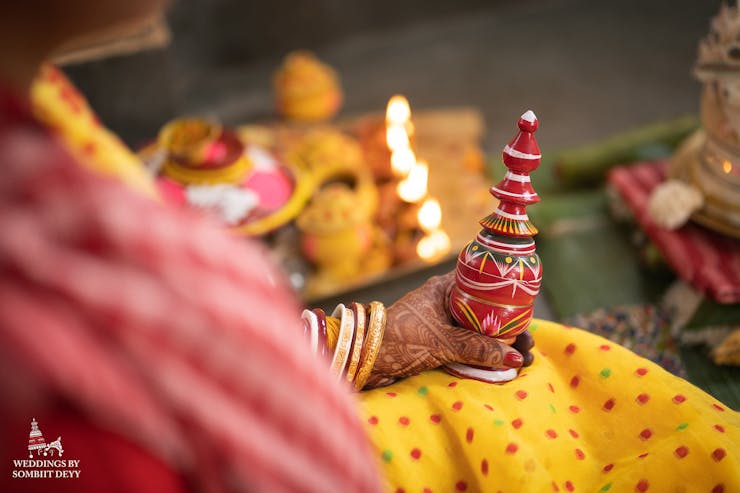 10. Thin gold bangles- Churi or Chudi
While big, clunky bangles are lovely, all brides choose for smaller, thinner gold gold hand jewellery design known as Churi or Churi for everyday use. Bengali women frequently wear gold bangles, although the majority of Indian women would choose for this thin bengali jewellery gold.
11. Ananta-Armlet
Bangali brides love armlets, and they often use them on their wedding day. Although the number of gold hand jewellery for wedding armlets purchased these days has decreased because to growing gold prices, many people proudly wear ananta that they inherited from their mother or grandmother.
12. Royal Diamond Rings
Nothing compares to the elegance and simplicity of a diamond bengali wedding ring. These traditional wedding or engagement rings are timeless accessories for brides. Our hearts have always been won over by their exquisite craftsmanship, dazzling cut, and gorgeous sheen. The icing on the cake would be a diamond hand ring design with a hint of gold. The best thing about a diamond ring is that it looks good with both ethnic clothing and clothing in a western style.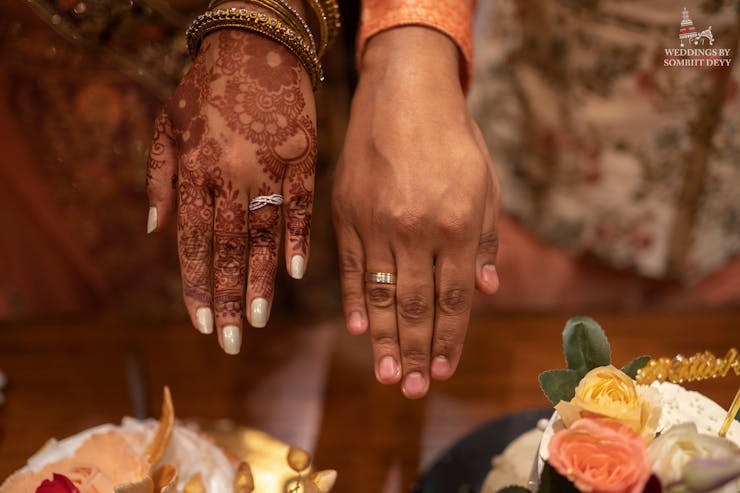 13. Bright & Bold Floral Corsages
Flower corsages, commonly referred to as haathphool, are a popular hand bracelet with ring for bride during haldi ceremonies. This adorable mehndi accessory pairs beautifully with a vibrant lehenga or saree for Haldi. It is made with artificial flowers and tiny beads. Your overall bridal outfit can be given a lot of grace by the lovely purple and yellow flower combination.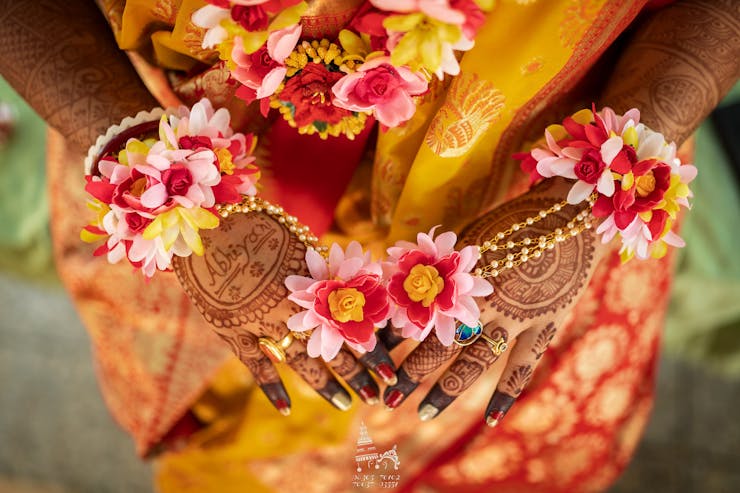 14. Captivating Bridal Bracelet
If you want to add sparkle to your hands, a hand bracelet jewellery for bengali bride like this one can help you achieve your goal. These diamond jewellery design for hand will be more than enough to make you the star of your wedding festivities. This stylish and lovely hand jewellery, made of rhinestones, lets you stand out. To achieve a beautiful and fashionable style, pair it with a lehenga or wedding gown in a soft colour.
You just received a "crash course" in the names and varieties of Bengali bridal hand jewelry! You can also experiment with combining a few different pieces of jewellery.