Bookmark These Bride Getting Ready Photos For Your D-Day
Unique bride getting ready photos can help you create timeless memories of your wedding. Get ideas from these bridal poses to make an iconic wedding album.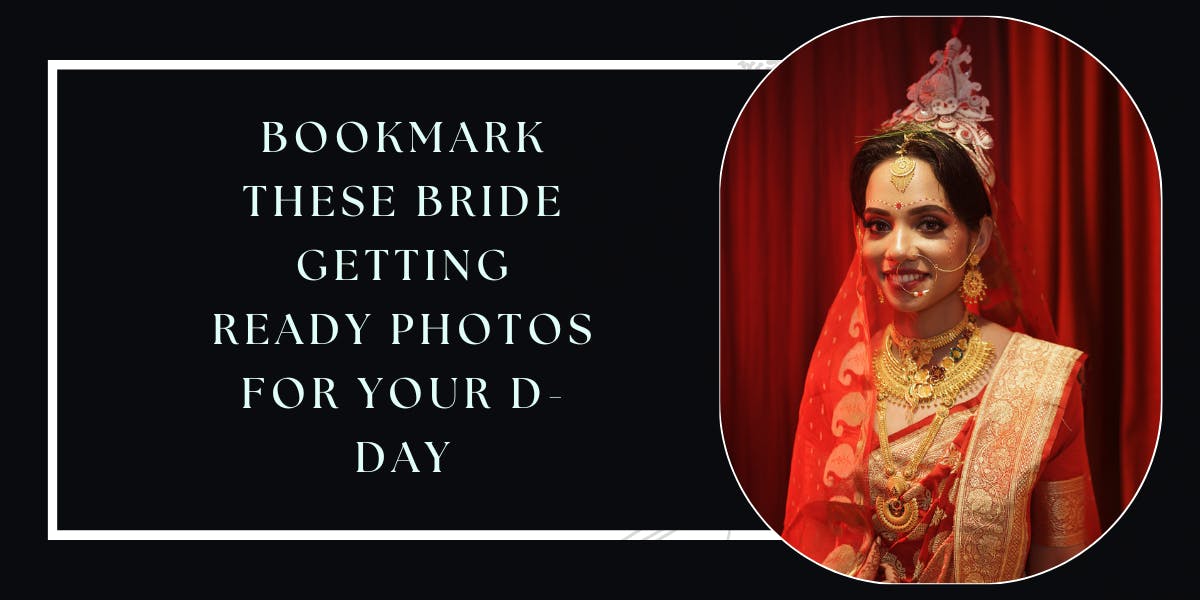 Few moments in a woman's life are as special as her wedding day. It's a day when she is surrounded by her closest friends and family, all there to support her as she enters a new phase in her life. It's important to document this once-in-a-lifetime event with beautiful photos. And while there are many different types of wedding photos to choose from, bride getting ready photos are some of the most important. They are a way for the bride to document her beautiful journey from a single lady to a married woman. These pictures can also help the bride to remember how she felt on her wedding day. This is why brides often choose the best wedding photographers in Kolkata to document the entire journey. A professional photographer can capture the beauty and excitement of the bride. These brides getting ready shots is a great source of inspiration for future brides.
1. Adjusting The Jewelry Pose
Though the bride will have various pictures in her bridal jewelry throughout the day; be sure to capture some bridal jewelry shots. These splendid bridal poses with signature jewelry can complete your album flawlessly. Make sure to hire a professional photographer in Kolkata for wedding photography to get the best pictures.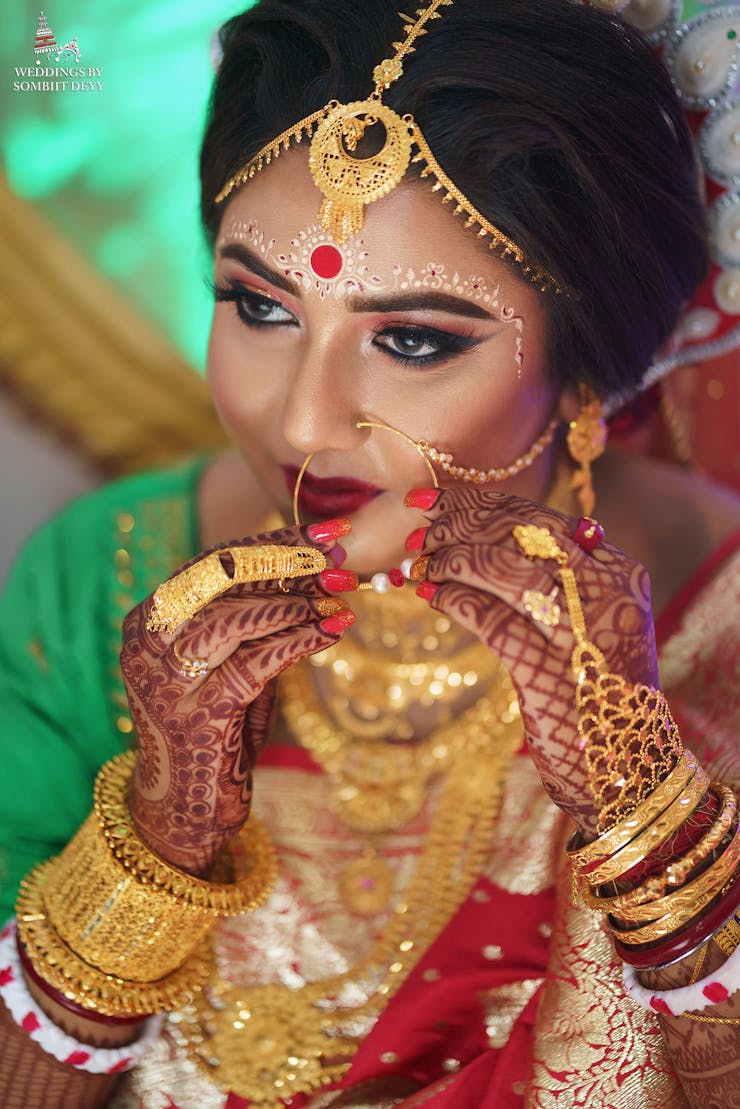 Recommended: 13+ Latest Ideas For Indoor Pre Wedding photoshoot
2. Flaunting Her Bridal Necklace
The glorious transformation of a pretty girl to the most enchanting bride is a moment of great joy. This bride flaunting her bridal necklace is reflecting her sense of style in the pictures. You can also try such creative brides getting ready poses to make an artistic wedding album.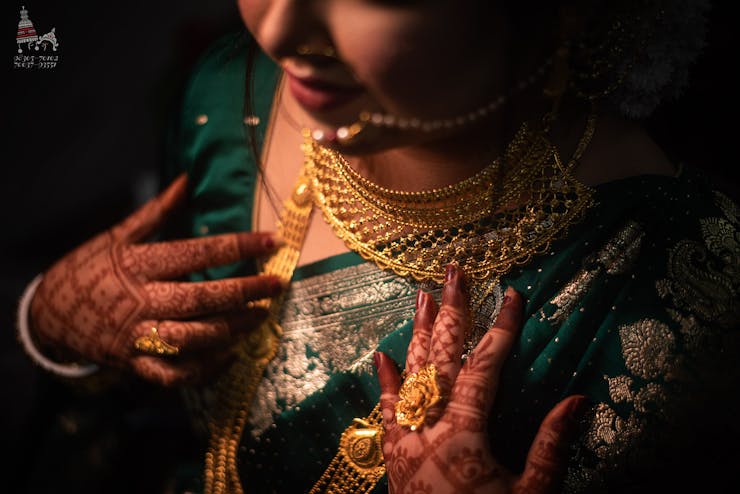 Must Read: Closeup Bengali Bridal Pose Ideas For Upcoming Wedding
3. The Final Look In Mirror
You need a variety of poses to turn your wedding album into a creative collage. It's a great idea to get some splendid shots in front of your mirror. Every bride wishes to see their first look as a bride in the mirror. This can be a great moment to capture a beautiful memory while the bride getting ready for wedding.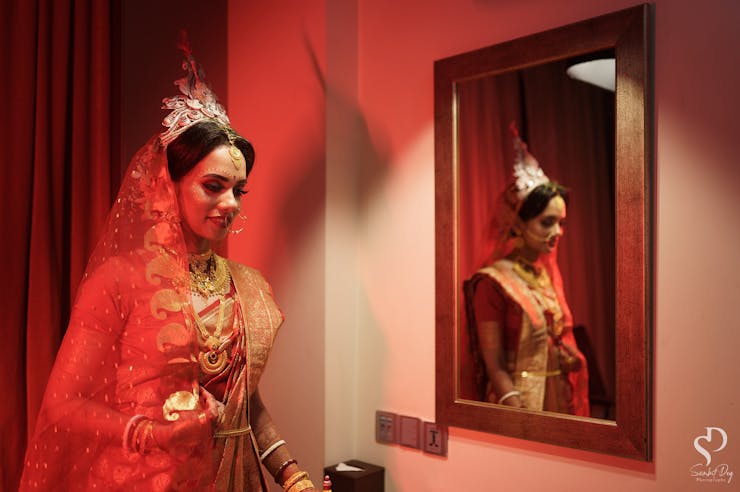 4. Applying Alta Pose
Make sure that the traditional Alta-wearing ritual is a part of your getting ready for wedding pictures. Alta is a significant part of a Bengali bridal look. Hence, you can capture the beauty of the bride's feet while applying the red Alta to candid frames. These getting-ready photos can be the most cherishable moments of your big day.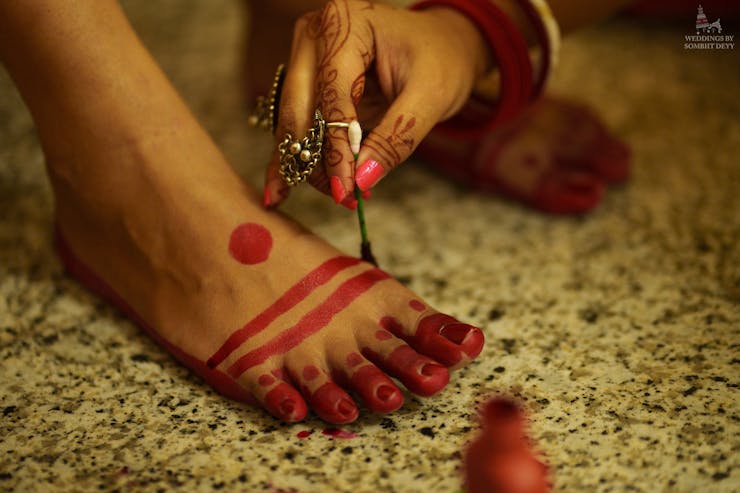 5. A Stunning Shot With Wedding Outfit
As the bride gets dressed in her gorgeous wedding lehenga, it's time to snap pictures of her Cinderella moments. These are the most beautiful shots of a wedding day getting ready outfit. You can simply pose with your wedding outfit to create a lifetime memory of the magical moment.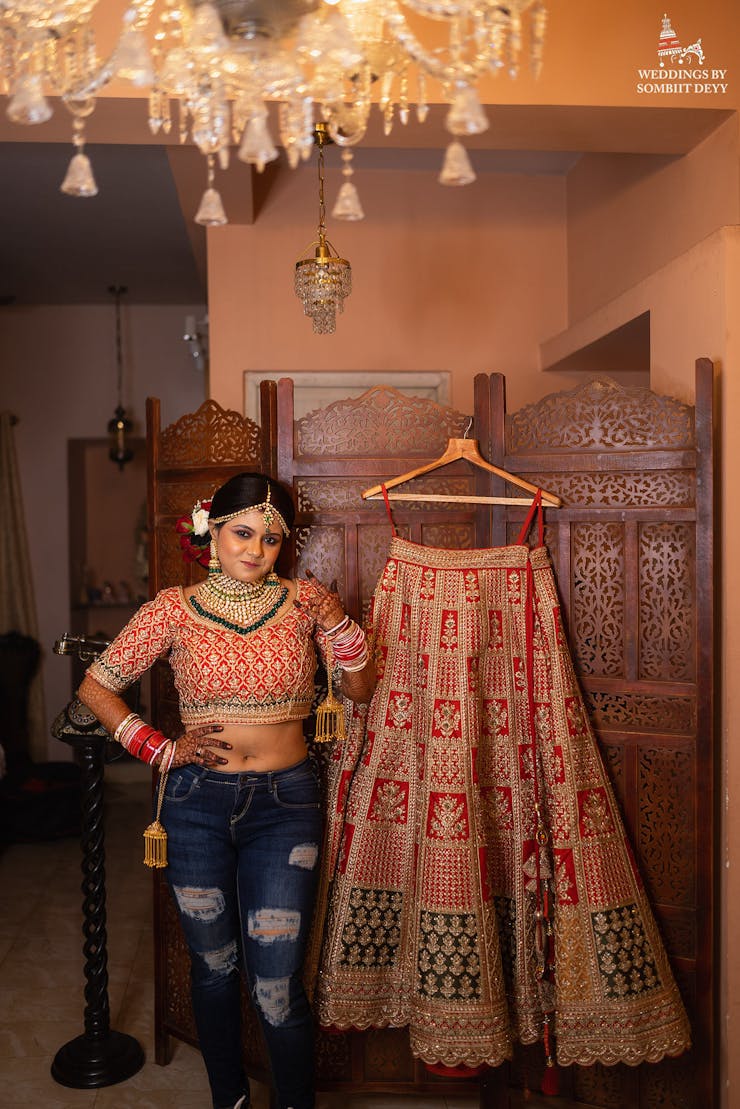 6. Crowning Her Head With Bridal Mukut
Bridal photos are the highlight of every wedding album and so are the pictures of Bengali bridal mukut. A traditional bridal mukut when placed on the bride's head makes her look like a real queen. These splendid getting-ready photos are the easiest way to glam up your wedding album. Try placing the mukut on the head to capture a beautiful shot of the bride before her wedding moment.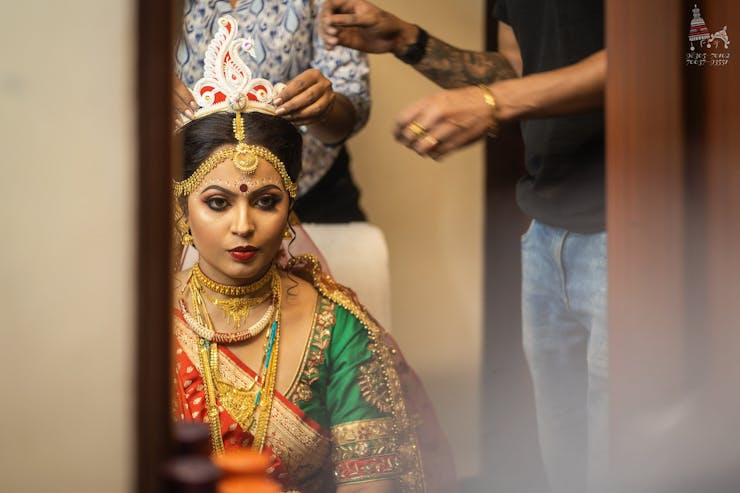 7. Final Touch To The Bridal Bun
The bridal hairstyle can make or break her entire look on the wedding day. This is why brides spend most of the time choosing the perfect hairstyle. It is important to capture the final look of the bridal hairstyle to showcase how she transforms into a beautiful bride. You can ask your photographer to be a little creative while capturing these getting ready shots for the bride.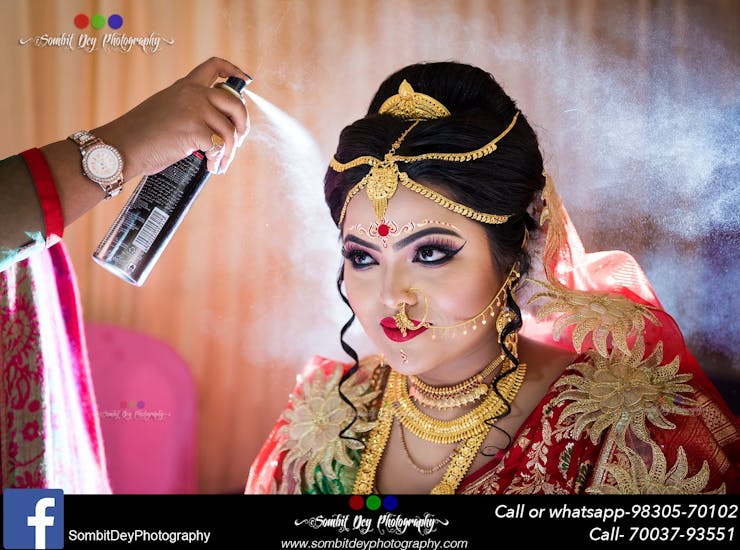 8. Adorning Her Forehead With Kalka Art
The beautiful Kalka art drawn over a bride's forehead is the specialty of the Bengali bridal look. The stunning white and red Chandan art designs can transform her into a glamorous one. The bride's bindi design reflects her marital status as well as her real beauty. Hence you must include these bridal bindi poses in your getting ready wedding photos.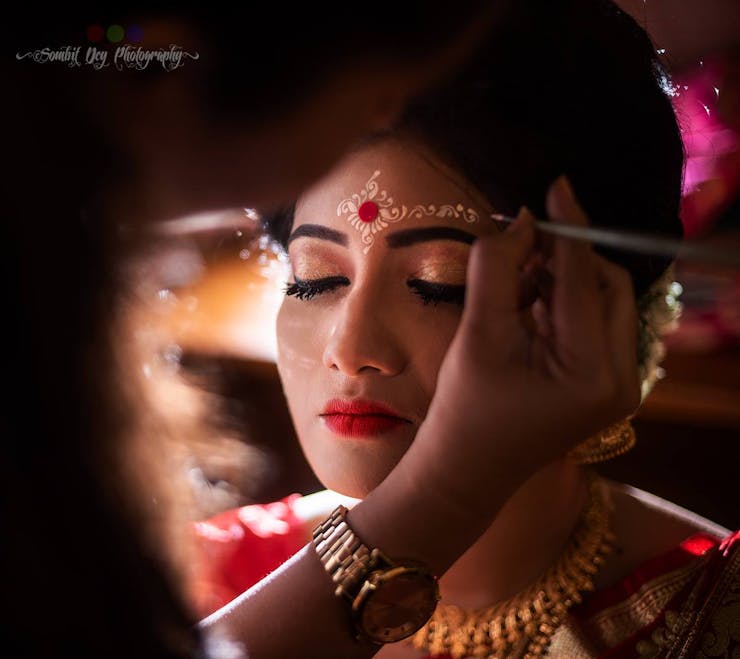 9. The Perfect Mehendi Shot
What is a wedding album without some astounding mehndi shots? While celebrating your mehndi ceremony make sure to click some beautiful mehndi pictures. These creative shots will remind you about the beautiful journey of your wedding. Ask your photographer to focus on the little details of the stunning mehndi design so you can remember this forever in life.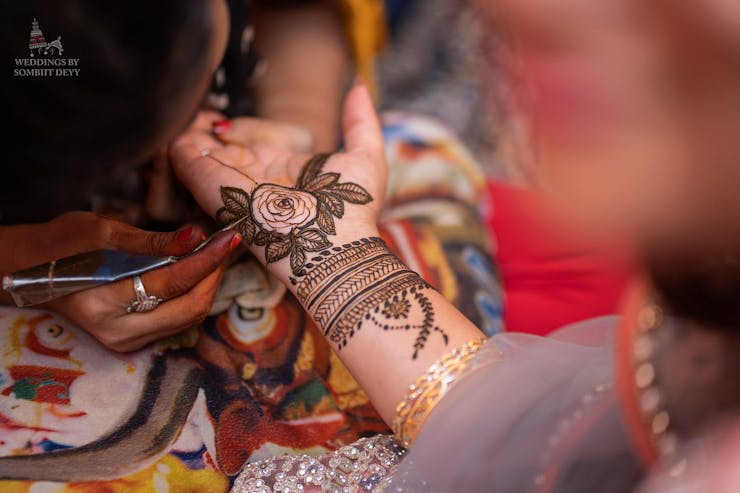 10. A Vintage Shot With Bridesmaid
Bridesmaids play an important role in the wedding from getting her dressed to accompanying her towards the wedding aisle. Hence, make sure to document those wonderful moments with your bridesmaid. These Indian bride getting ready for wedding pictures contains the natural emotions and beauty of the bride.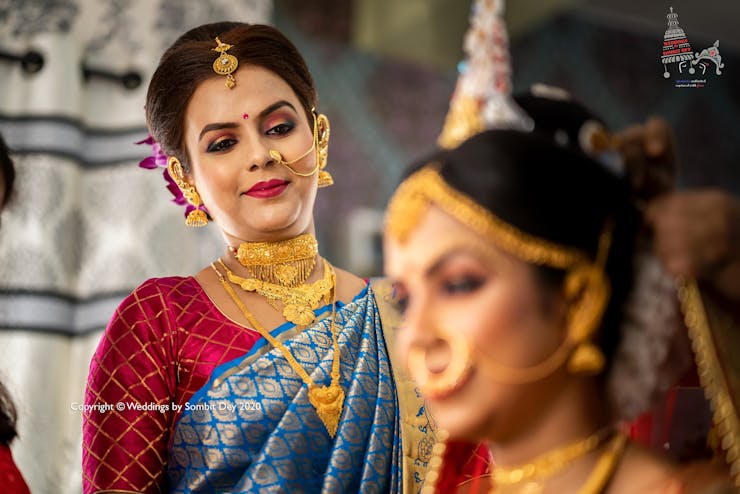 11. The Dramatic Veil Shot
You wouldn't like to miss the dramatic veil shot as it captures the glory and beauty of your wedding look. This classic shot will allow the bride to stand out in the image. It captures the genuine emotions of the bride that creates some stunning images. Gorgeous wedding dresses for bride and her stunning veil play a special role in capturing a priceless bridal shot.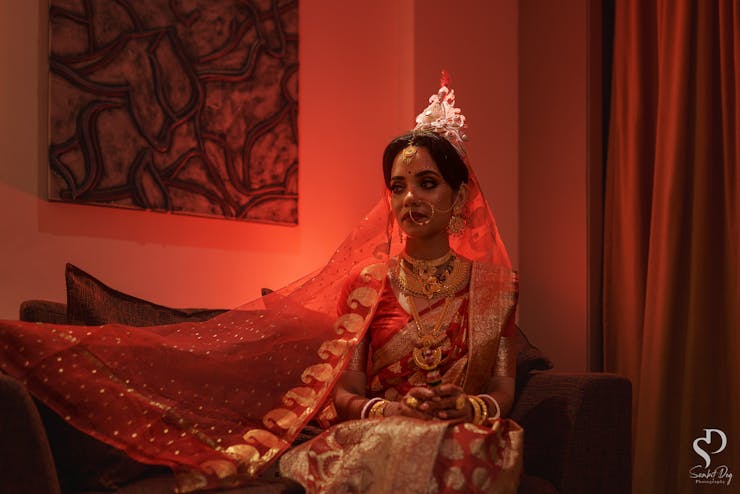 12. Placing The Gorgeous Veil
Another incredible pose to preserve your wedding memory is the placing of a bridal veil. This splendid pose can add a little bit of creativity to your wedding album. You can ask your bridesmaid to help you click a captivating shot with your bridal dupatta. This eye-pleasing picture will always remind you of those wonderful moments.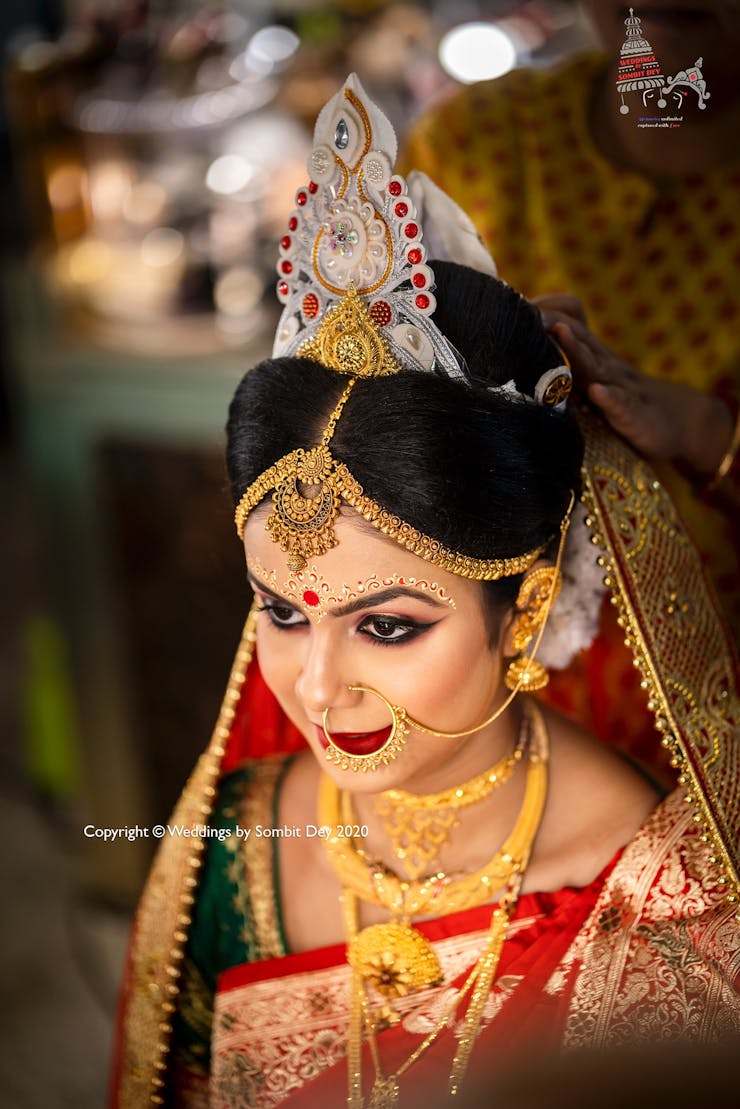 13. Drawing The Alluring Eyes
Bengali brides are famous for their Banarasi sarees and captivating bridal makeup. From the red lips to the dramatic eyes every element plays a special role in transforming her into a glamorous bride. Hence, it is very important to click some amazing beauty shots that will add grace to your wedding album.