Closeup Bengali Bridal Pose Ideas For Upcoming Wedding
Your wedding photos are the best memory of your life. We have listed here some incredible bridal closeup poses that can give you the best bridal portraits.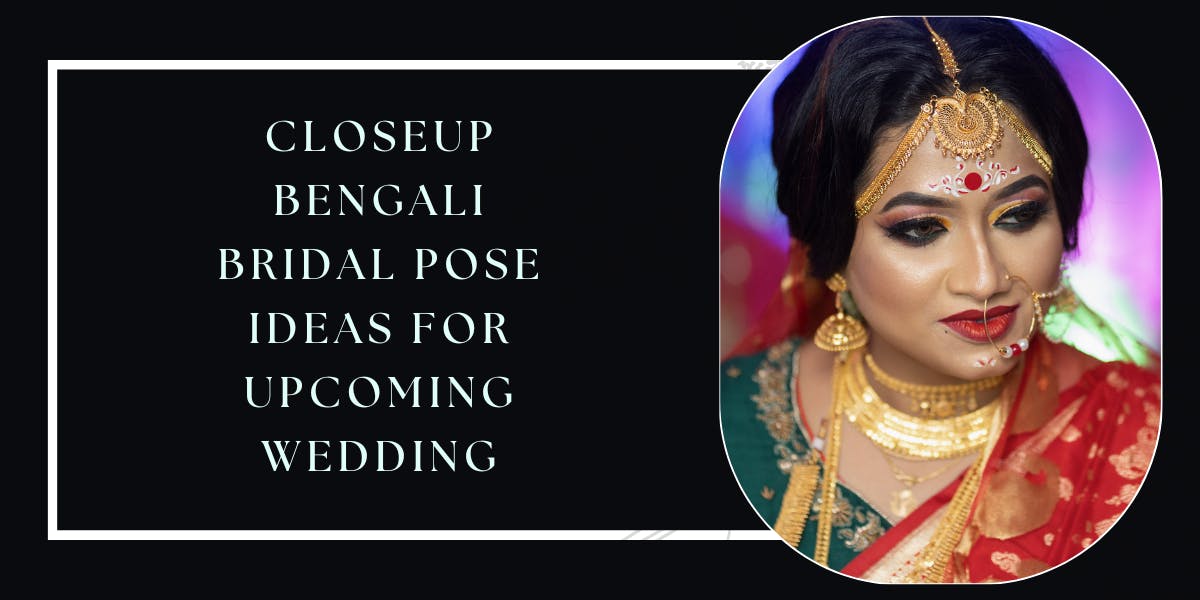 Bridal photography can help you to capture the most intimate moments of the wedding and immortalize them for years to come. The closeup shots of brides are very popular in bengali wedding photography. This kind of pose captures the whole beauty and emotions of the bride in picture frames. Solo poses of brides are an artistic representation of the gorgeous bridal look. You can create beautiful memories by posing like a drama queen at each moment of your wedding. No matter what wedding function it is, you can click close-up shots of each affair in a dramatic way.
If you're a camera-friendly bride then you came to the correct place. We dedicate this blog to all the pretty brides who are looking for some exceptional bridal closeup pose for their D-day.
1. A Top Angle Pose
The captivating charm of this beautiful bride has been captured well in the picture. These top-angle bridal poses have a unique charm in them that captivates our hearts. The soft makeup look of the bride looks so beautiful in the picture frame.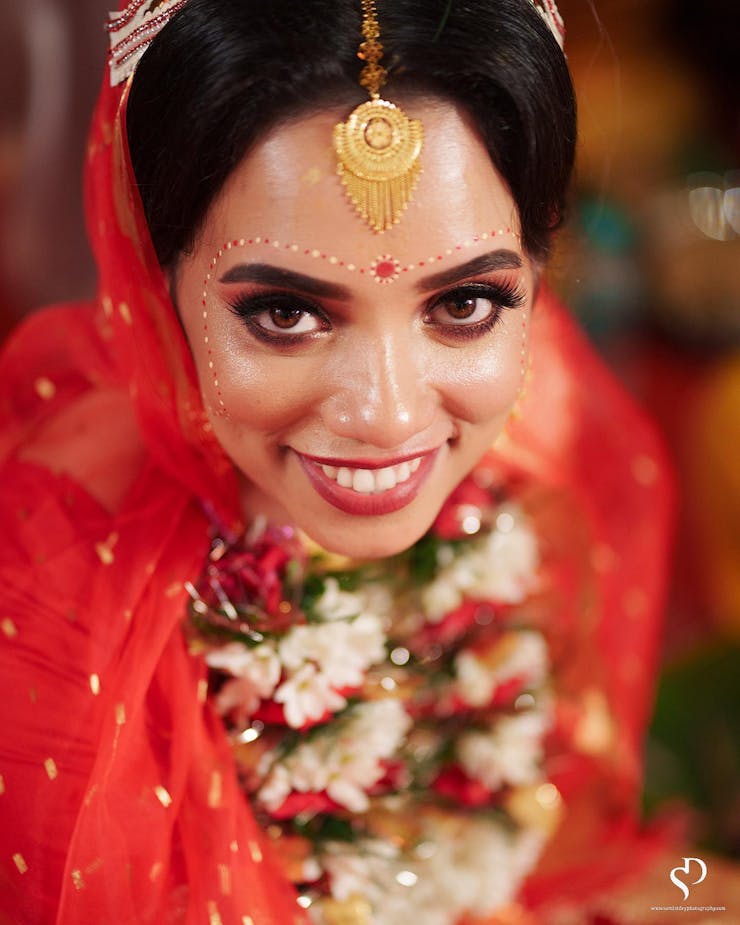 Read This: Top 15 Stunning Poses For Pre Wedding Photoshoot Ideas
2. Those Dramatic Eyes
Bookmark this bridal pose for a magnetic wedding portrait. This bride's dramatic eyes are the main attraction of the wedding photo. This kind of bridal portrait with a dramatic touch is a popular choice in bengali wedding photoshoot. Clicking this wonderful pose can capture all the rich appeal of your bridal look very well.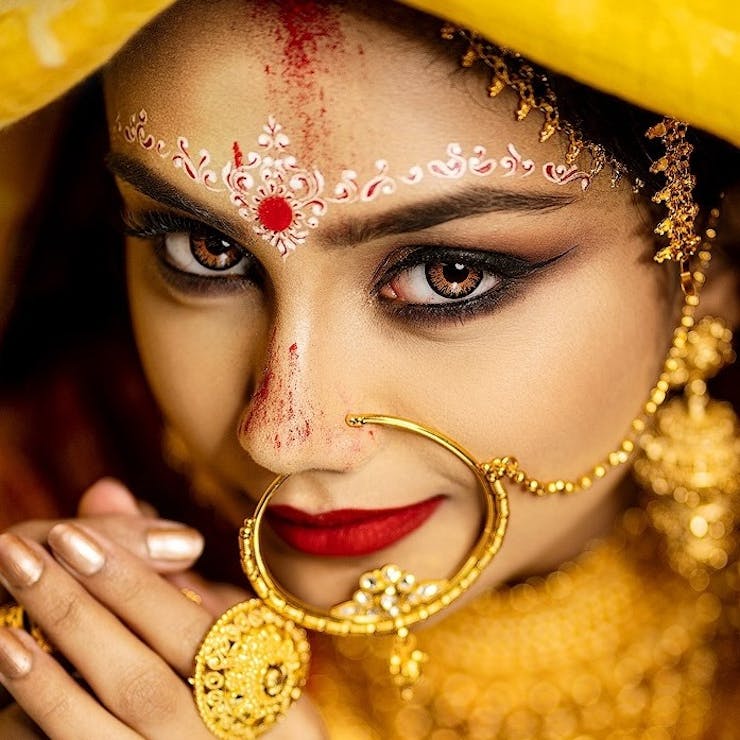 See More: 13 Stunning Reception Look For Bengali Bride In 2022
3. A Coy Bridal Closeup Pose
There are many splendid poses to try for a wedding bridal photoshoot. But certain poses always leave a great impact on hearts. This traditional bride given a shy pose in front of the camera is looking too gorgeous in the picture. A coy bride pose is one of the most breathtaking traditional bridal poses that never goes out of style.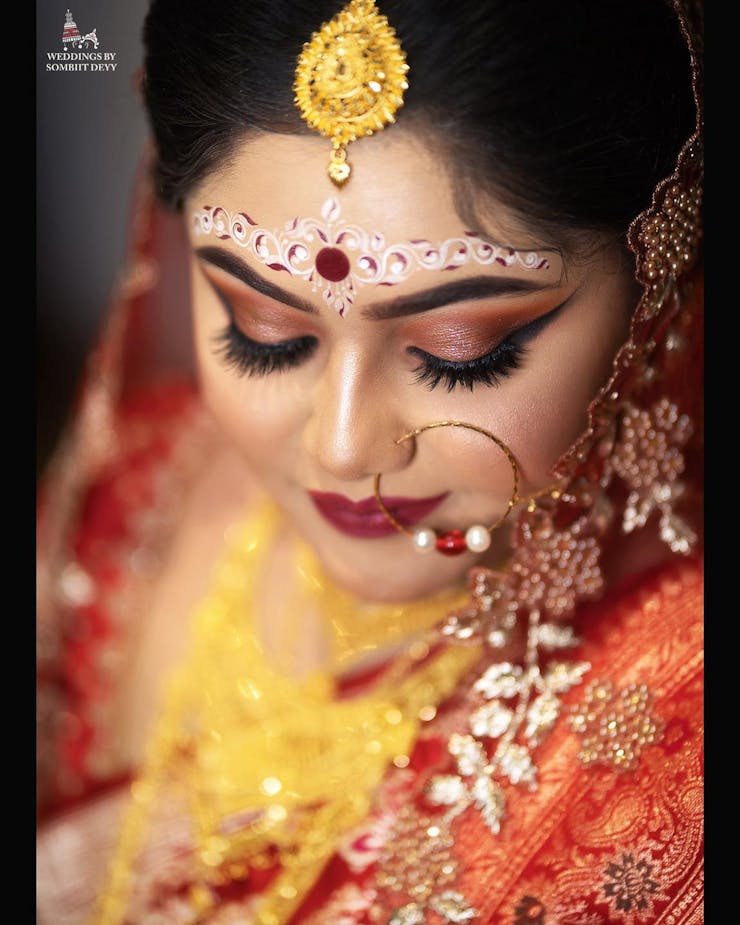 4. A Bridal Closeup Shot With Stunning Jewelry
Closeup bridal shots captured with traditional gold jewelry carry the richness of our vibrant culture. Clicking pictures with bridal jewelry is another great bridal portrait ideas for you,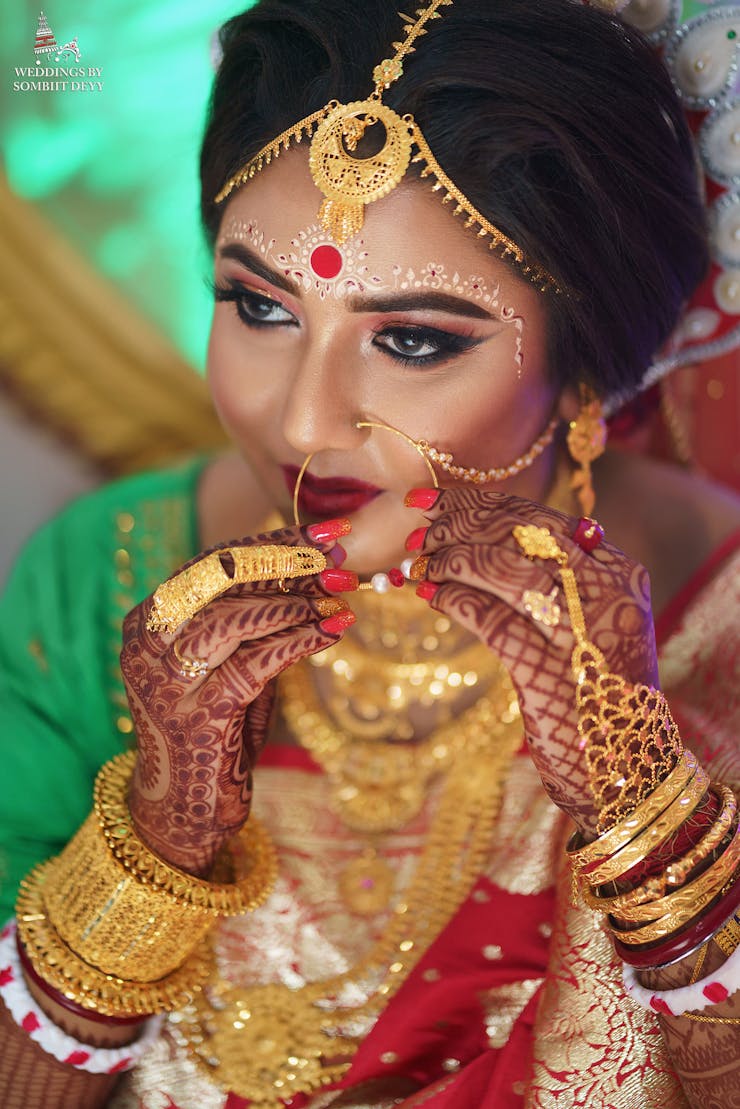 5. The Vibrant Haldi Pose
How can you miss the colorful haldi pictures? It can make your wedding albums filled with happy emotions. The glowing face and hearty laugh of this bride add extra beauty to this bridal portrait. The tiny water drops have made this bridal pose more beautiful and full of life.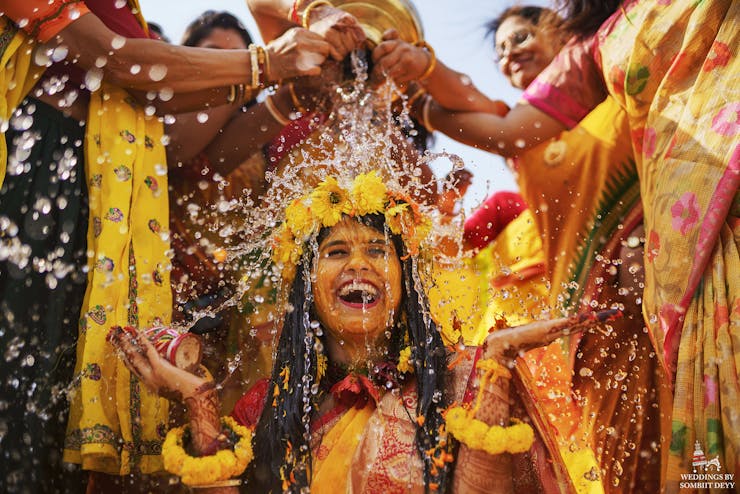 6. Look Back With A Smile
Here is another wonderful bride closeup photography that is offering an artistic interpretation. This bride looking behind the camera is looking like a real divine figure. The photographer has captured her beautiful smile and elegance altogether. Shortlist this angular pose to add a unique photo to your wedding album.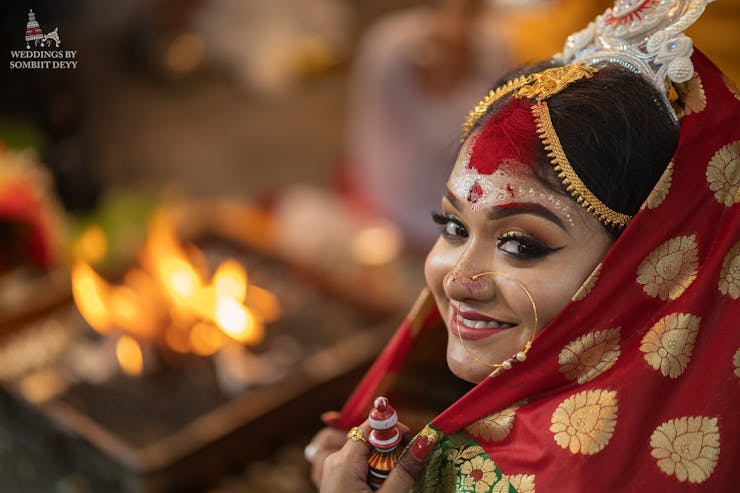 7. A Dreamy Sindur Daan
Sindur Daan is the most emotional moment in a wedding that changes the life of the bride forever. Such magical moments must be preserved to create an everlasting memory of a grand affair. The closed eyes and bridal glow on her face depict all her feelings and emotions in the frame.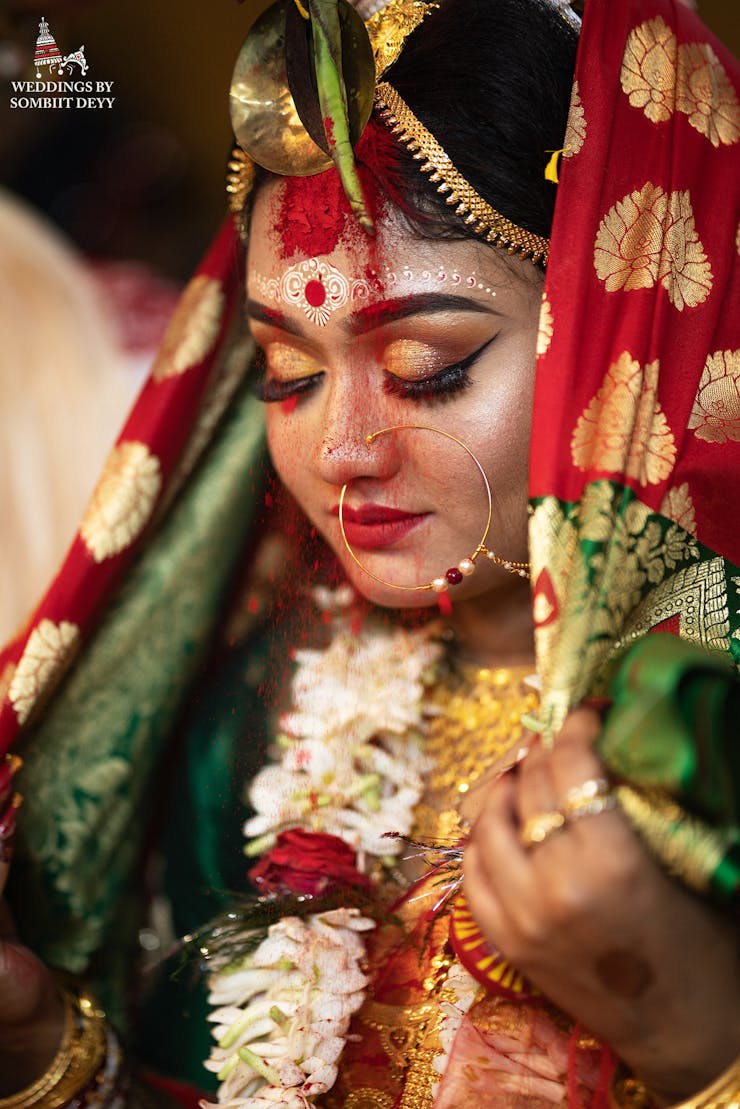 8. Flaunting The Necklace
This pretty bride flaunting her gorgeous necklace is setting an example for all the new-age brides. Flaunting your bridal jewelry is a popular trend. But this bride flaunted her wedding necklace with all grace and style.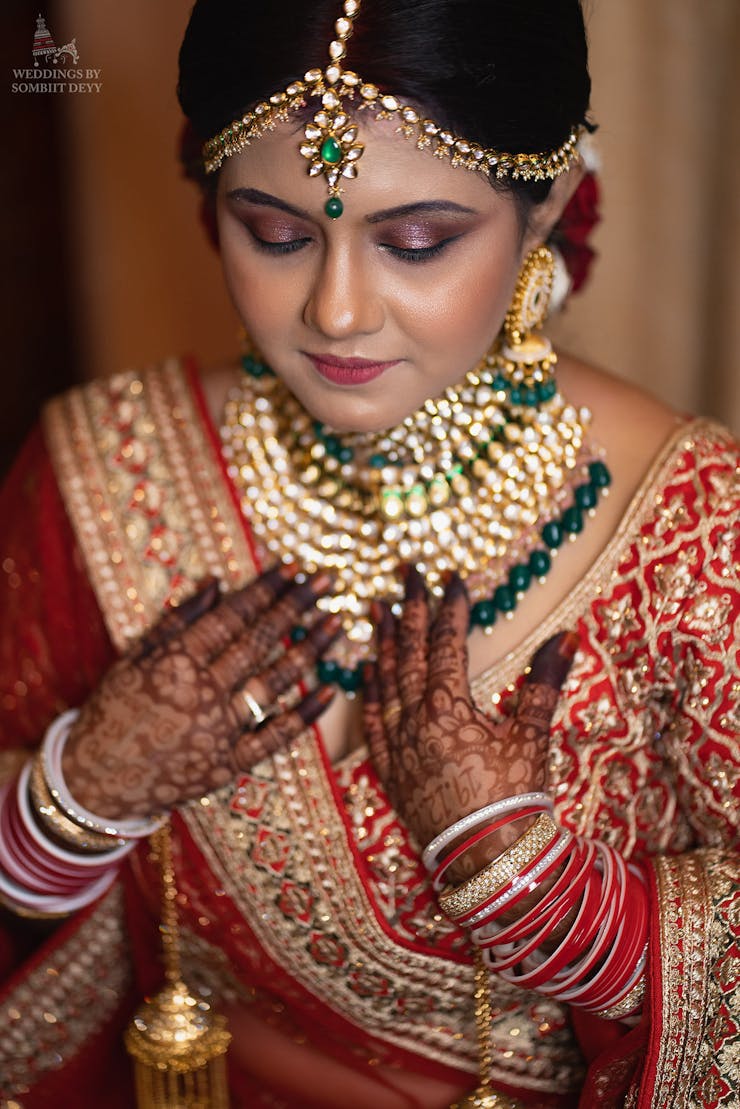 9. A Cheerful Pose For Bridal Portrait
A cheerful bride never fails to impress us with its elegance and simplicity. Marriages are all about joyful moments and happy vibes. Hence, you should make an effort to express your happiness in a classic style.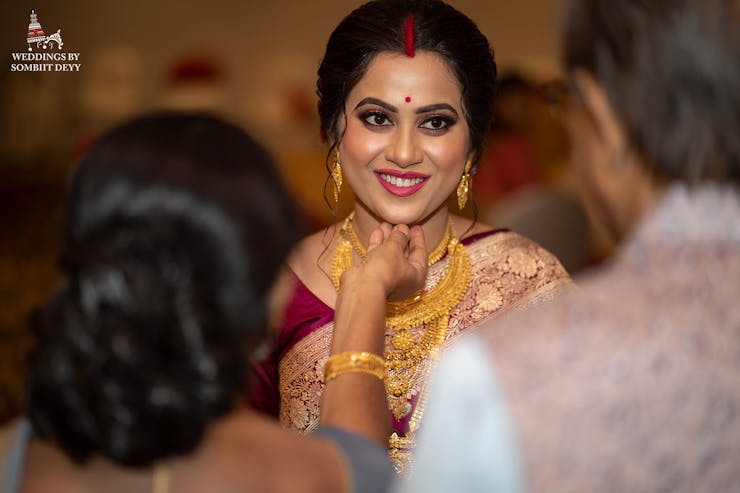 10. What About The Mehndi Pose?
Out of many wedding bridal poses this one has something special. The captivating mehndi pose of a gorgeous bride has an aesthetic charm in it. Isn't this Bengali bride looking drop-dead gorgeous in her stunning outfit? Such splendid mehndi poses make a special corner in people's hearts.
11. Beauty Inside Veil
Bookmark this bridal pose if you are going to wear a traditional Banarasi saree on your wedding day. Bridal veils are the best prop for getting a dramatic bridal portrait. A bride inside the veil looks no less than an eternal beauty with all elegant charm.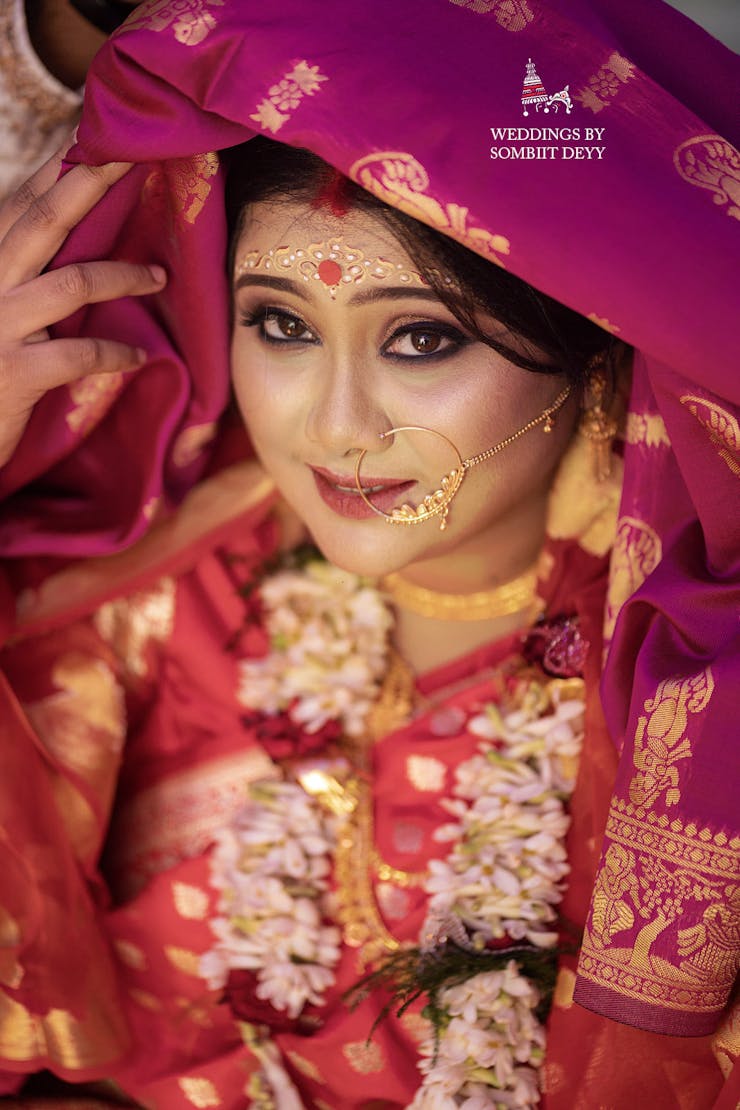 12. A Swagger Bride Closeup Shot
If you are a chirpy bride who wants to slay a stylish bridal look, then this closeup shot is the perfect pose for you. Add a dash of sweetness and style while posing in front of the camera to get a wonderful bridal portrait like this.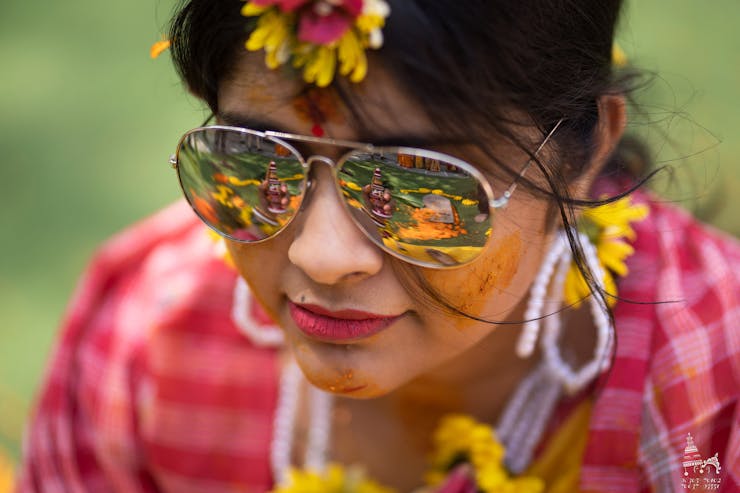 13. Classic Bridal Pose
The facial expressions of classic brides always make splendid portraits. Make sure to keep your eyes in the downward position to get a perfect shot of your gorgeous wedding day looks. And let the photographer do all the magic to bring out a fabulous bridal photo.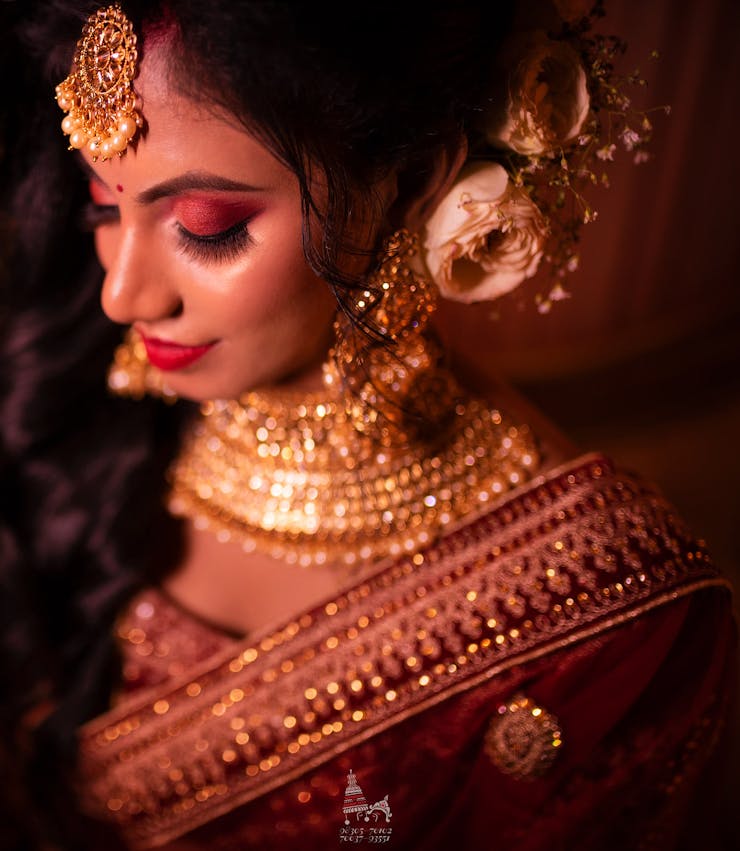 14. What A Beautiful Mirror Reflection!
Every bride loves to adore their bridal beauty in front of the mirror. But what if you can make amazing bridal pictures using beautiful mirrors? This creative pose of the bride and her reflection is such a picturesque shot to try on the wedding day.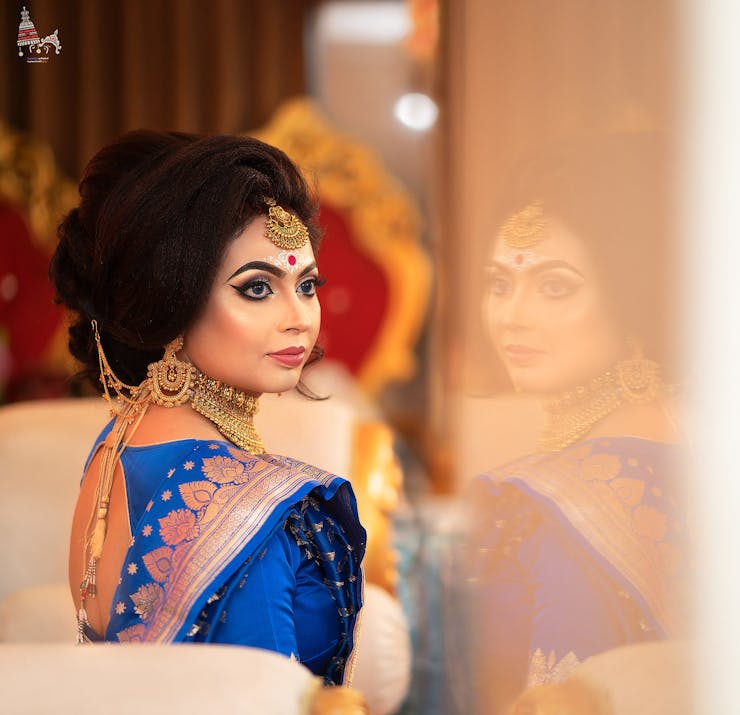 15. An Elegant Bridal Pose
Posing with traditional props is an old-world charm in Bengali weddings. Using these elements can make your bridal pictures more lively and beautiful. Such bridal portraits carry the essence of a cultural wedding.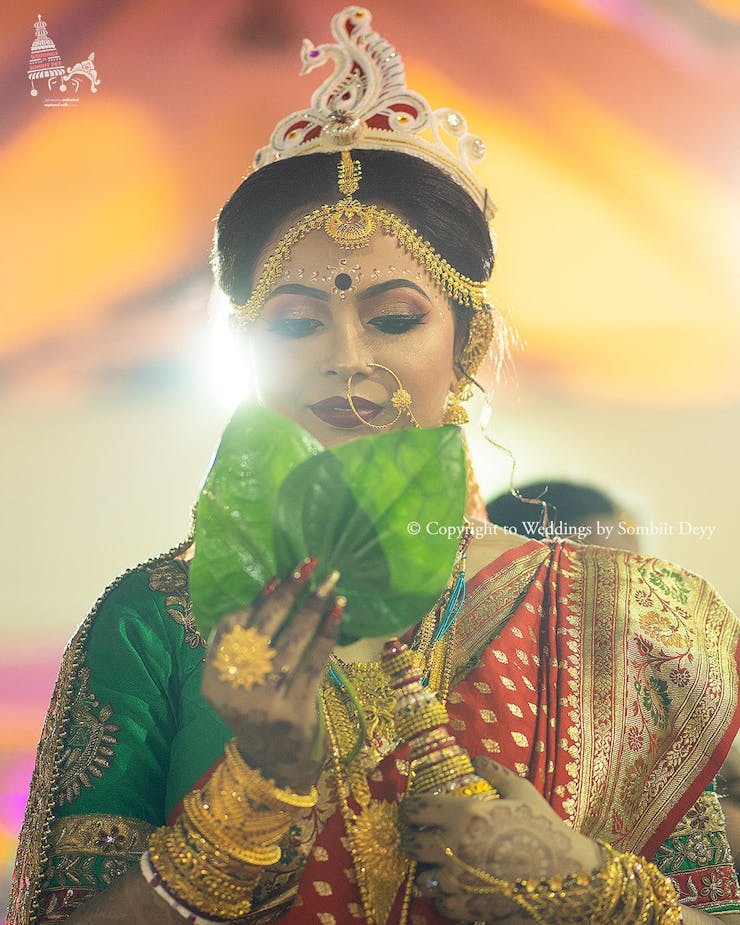 16. A Dreamy Bridal Pose
A beautiful bride in her reception look never fails to give you a handful of amazing bridal pictures. To make the picture more interesting you can add a dramatic angle to the bridal pose. Keep your hands on your cheeks in a manner that may feel like you are dreaming of your beautiful married life.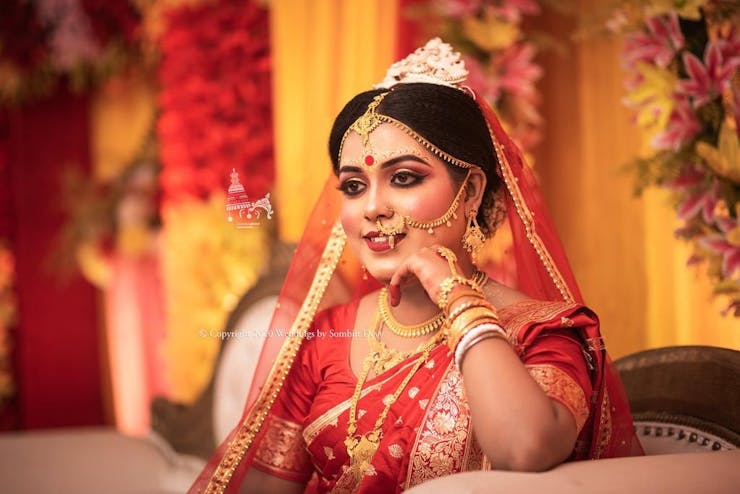 17. Pose Like A Gorgeous Diva
Take inspiration from this gorgeous diva who has flaunted her radiant bridal makeup. This kind of bridal pose can be clicked during the bridal makeup session. These bridal photos will always remind you of your special day.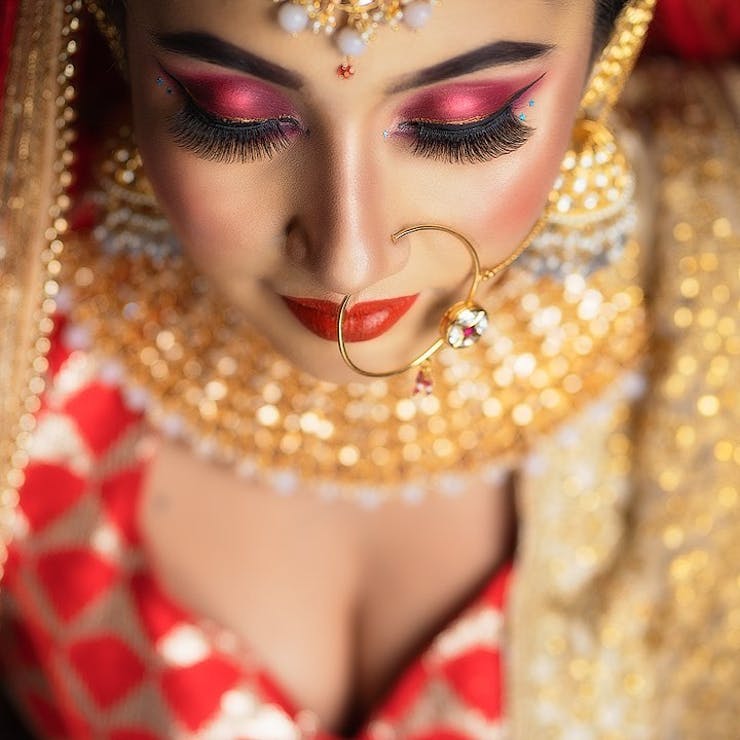 18. Captured With A Divine Backdrop
A traditional backdrop or divine architecture always looks stunning in bridal pictures. This is a creative bridal pose that portrays bridal beauty and her divine aspects. You can also try this kind of bridal solo pose to get a unique wedding picture.