Top 15 Stunning Poses For Pre Wedding Photoshoot Ideas
Pre-wedding shoot is a great way to capture the togetherness of couple. Here're some unique poses for prewedding photoshoot to make a beautiful love story.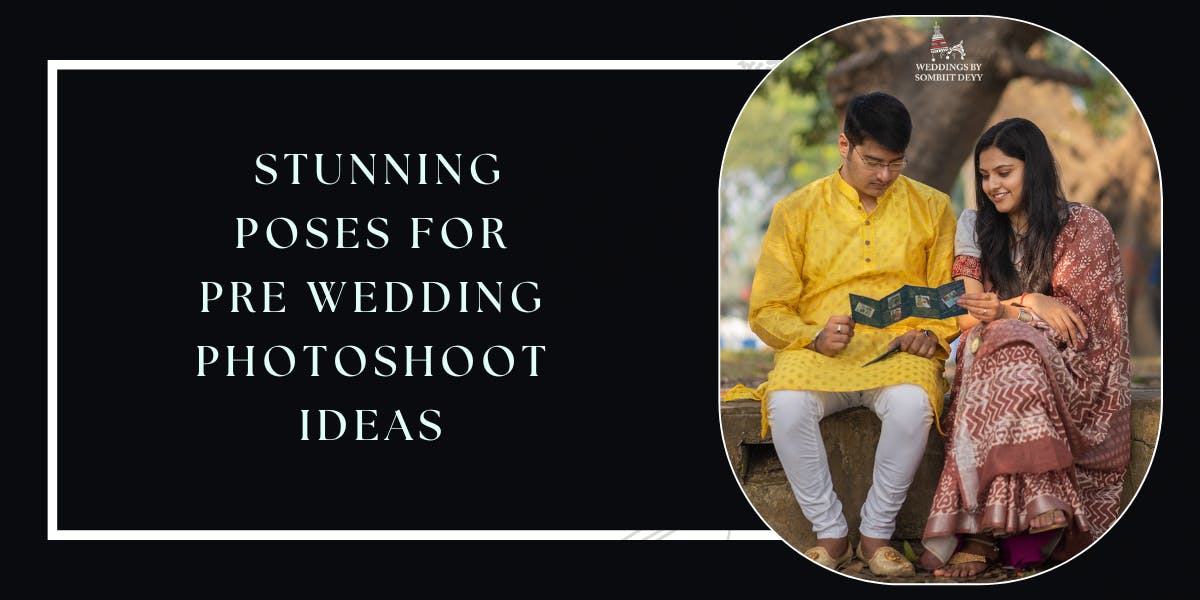 A pre-wedding shoot is the latest trend that provides some beautiful pictures of the couple. A professional photographer in kolkata for wedding photography can give you the best wedding portrait. It allows you the celebrate the beginning of new life in a unique manner. A perfect pose can help you create some beautiful lifetime memories. Every couple wants to share their pre-wedding stories on social media in a creative manner. Choosing a perfect outfit and location for your pre-wedding shoot is important. But you also need to put some serious effort into deciding on a pre-wedding pose to capture the best pre-wedding pictures. We have shared below some creative poses for pre wedding photoshoot. Read this blog and bookmark the best pose to make a romantic pre-wedding teaser.
1. Chef Of The Year Couple Love Story Are Unique Poses For Pre Wedding Shoot
A photoshoot of a couple in the kitchen is the most unique pre wedding shoot in kolkata. If cooking comes under your hobby or interest then this pre-wedding shoot is the best option for both of you. This kind of pre wedding photography in kolkata make your wedding album super unique.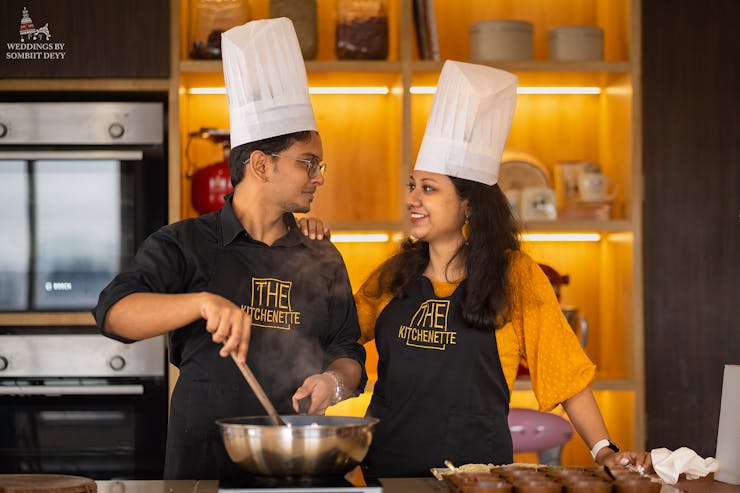 Recommended: 14+ Latest Bridal Haldi Poses For Every Bride-To-Be
2. Let The Eyes Meet To Create A Cinematic Tale
This is one of the best poses of pre wedding shoot which gives natural and romantic results. Looking into each other eyes in the picturesque backdrop can portray the perfect chemistry between the two of you in pictures. This picture reminds us of a romantic scene from a Bollywood movie.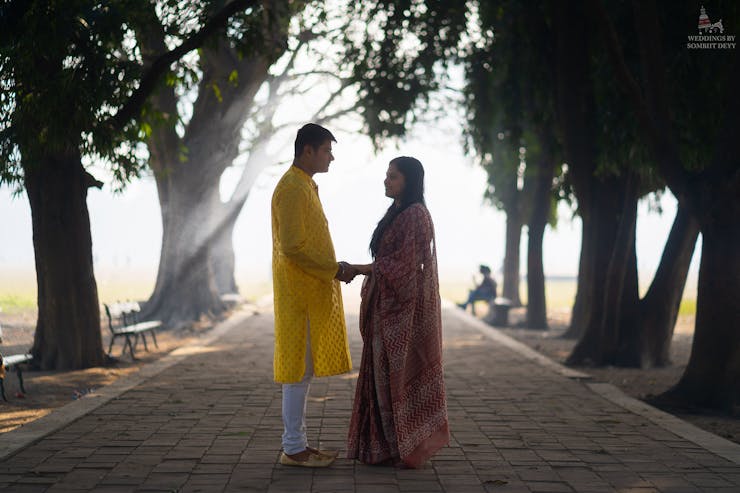 Read this: 12+ Reception Dress For Bengali Groom For The Most Charming Look
3. A Romantic Forehead Kiss For Intimate Shoot
Kissing the forehead of your love portrays the innermost feeling of love in pictures. This romantic pre-wedding pose speaks more than a thousand words. This couple posing with a picturesque backdrop is making us go wow on their pre-wedding picture.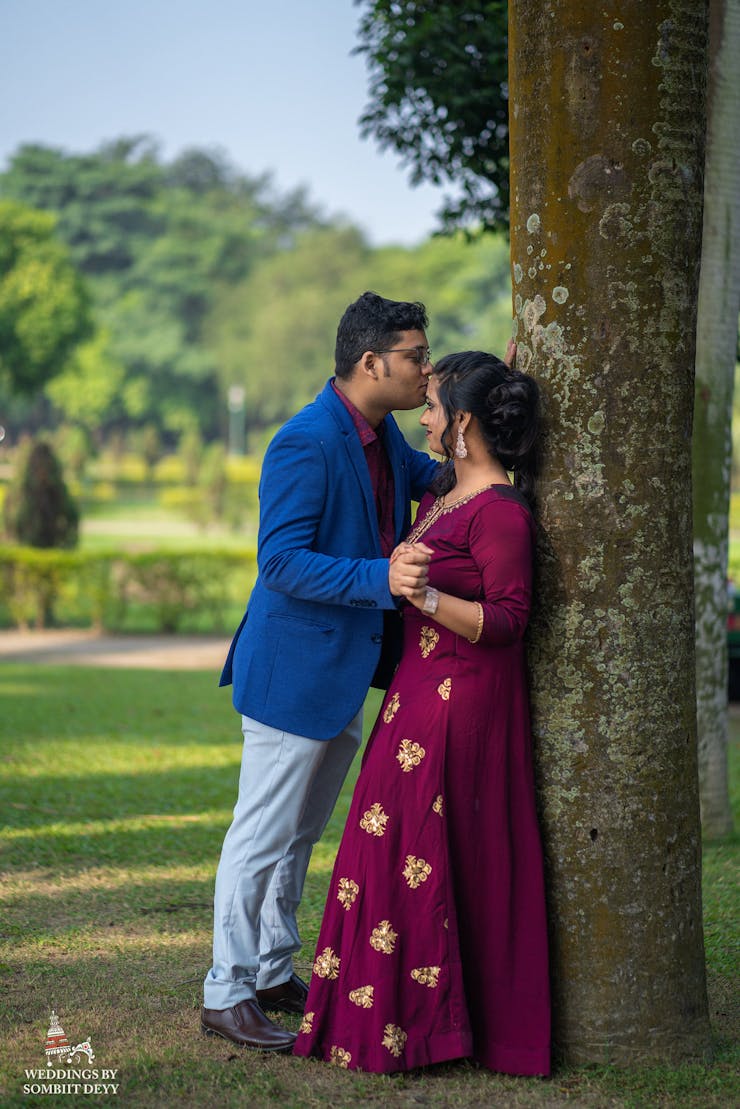 Also Check: 12 Amazing Bengali Bridal Banarasi Saree For Stunning Brides
4. With A Beautiful Backdrop Behind
What can be more beautiful than this spellbinding pre-wedding photo pose? The pre-wedding shoot poses in saree always look beautiful in the pre-wedding photography. The couple posing in front of a lush green field is looking charming and beautiful. The mesmerizing beauty of white grass flowers is a beautiful prop to add to the pre-wedding shoot.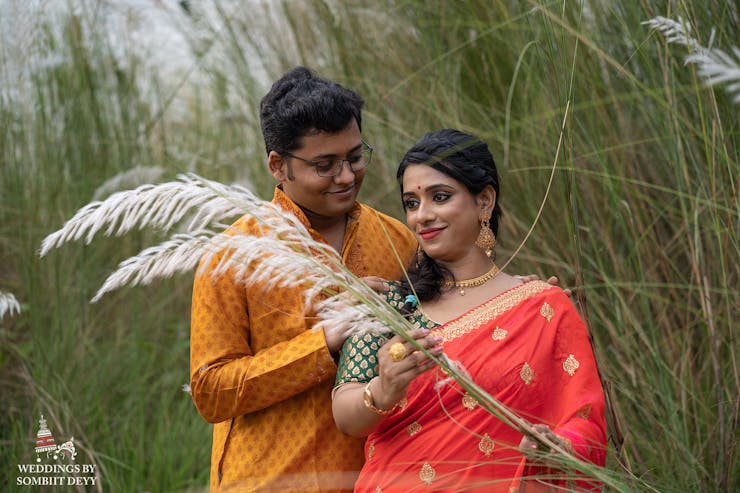 5. A Brightening Story For The Traditional Couples
Traditional props can add a wonderful charm to your pre-wedding shoot. These are the most unique and beautiful pre-wedding photoshoot poses to look at. Such mesmerizing pose will represent your cultural beliefs in the frames very well. This pre wedding photoshoot poses in saree look more beautiful and dreamy.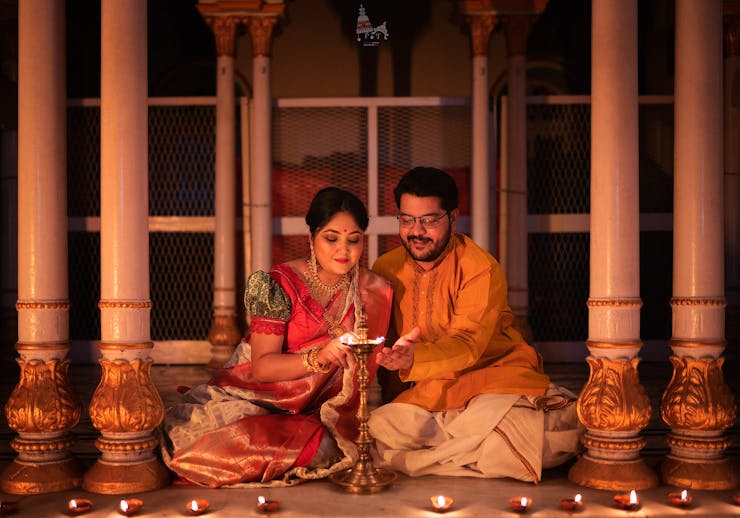 6. Pre Wedding Photoshoot Poses Amidst Vintage Charm
Isn't this beautiful couple picture narrating their love story in thousand words? You can choose the oldest monument or historical buildings to create a dramatic pre-wedding story. The vintage charm of the oldest architecture makes the picture full of life. Isn't the pre wedding shoot poses in saree looks more dreamy?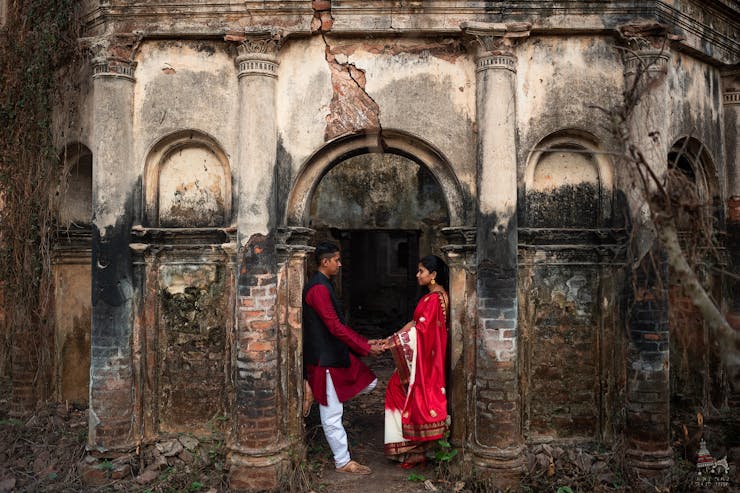 7. Romantic Silhouettes Are The Most Creative One
The sunset silhouette is the most mesmerizing picture to watch. These creative pre-wedding photoshoot poses are one of the best ways to capture your romantic love story. This kind of pre-wedding photograph is no less than a dreamy wedding teaser. This is the most creative pre wedding photoshoot poses for couple photoshoot.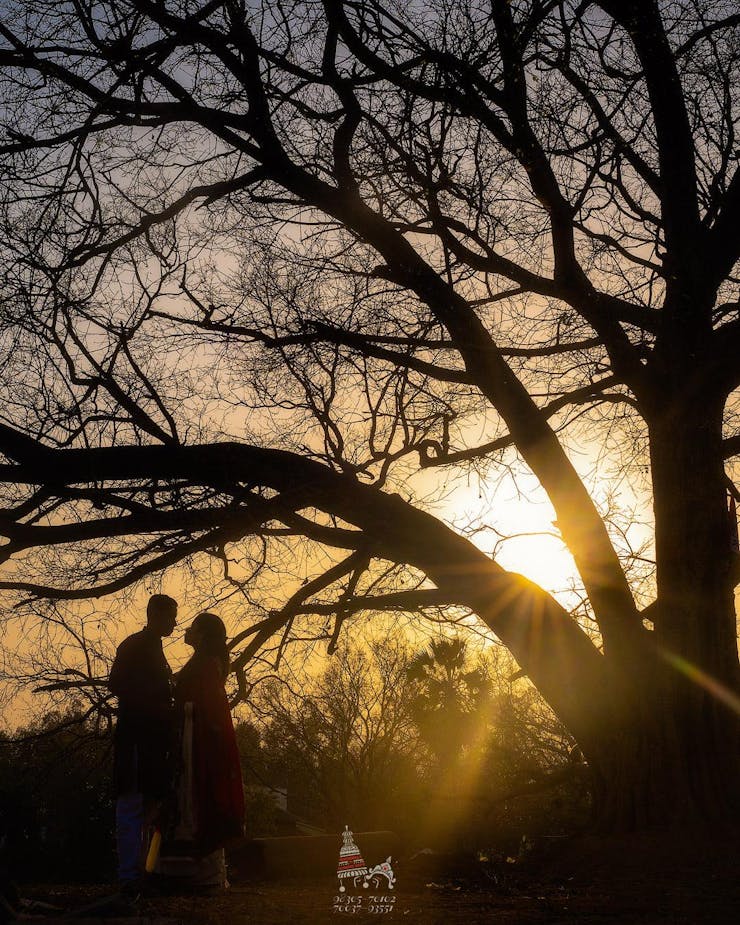 8. Create A Dramatic Story With A Sunset Backdrop
Every view of nature can add a unique twist to your pre-wedding photography. A dramatic sunset at a wavy sea beach can add a surreal feeling to your pre-wedding shoot. Wearing a dreamy gown and formals can make the picture look whimsical and romantic.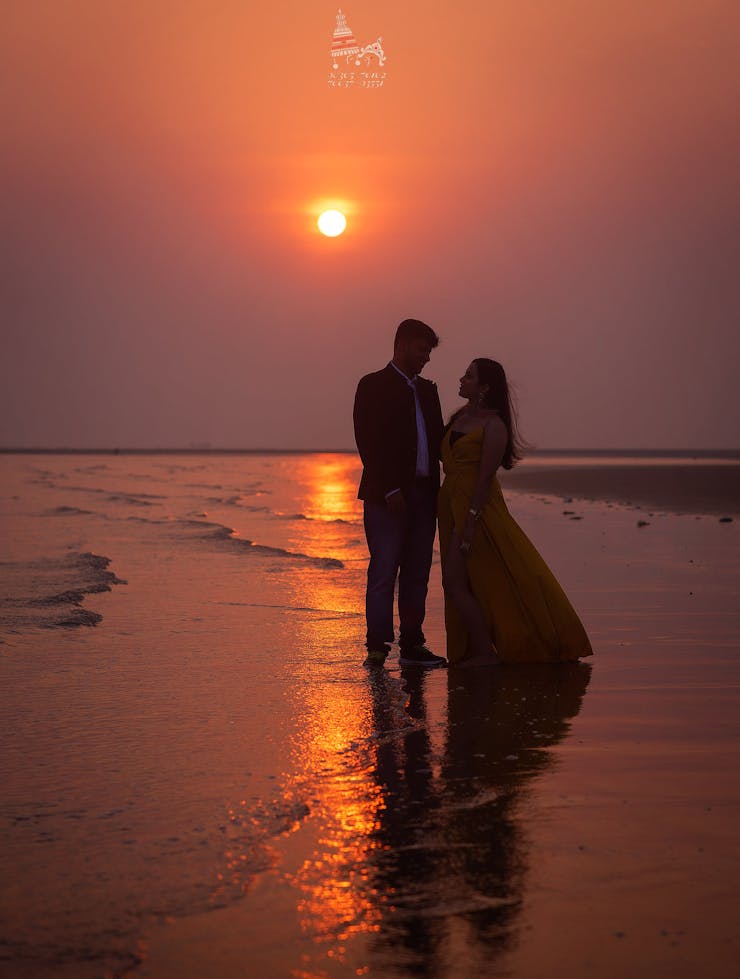 9. The Love Bird Poses For Pre Wedding Photoshoot Looks Beautiful
Take your pre-wedding photography a notch higher by including some adorable elements in it. This pretty couple has decided to create their pre-wedding story with the cutest love birds. This kind of lovely pose creates some beautiful memories of your life.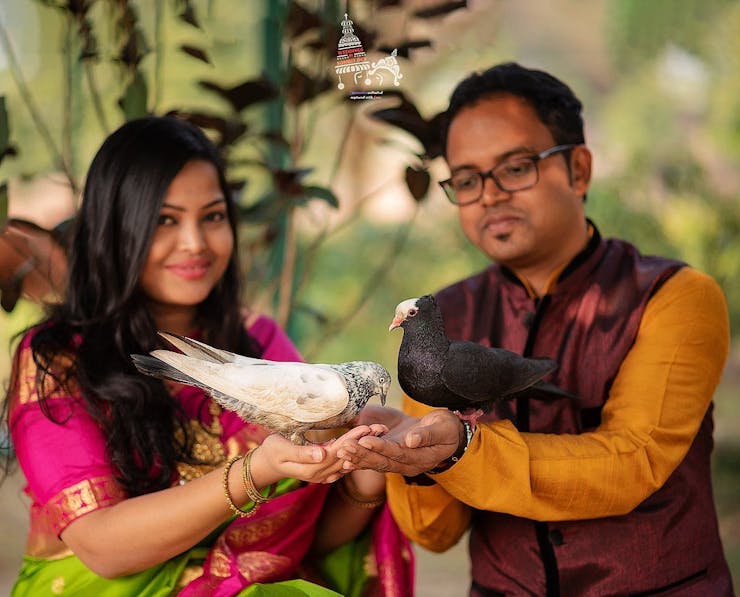 10. A Unique Pose For The Best Wedding Teaser
Who said that you need a grand cruise or a wooden boat to perform the evergreen titanic pose? Take a cue from this stunning couple who has recreated the iconic movie pose in their photoshoot. The uniqueness and beauty of such a wonderful location add an extra charm to their romantic photo shoot pose.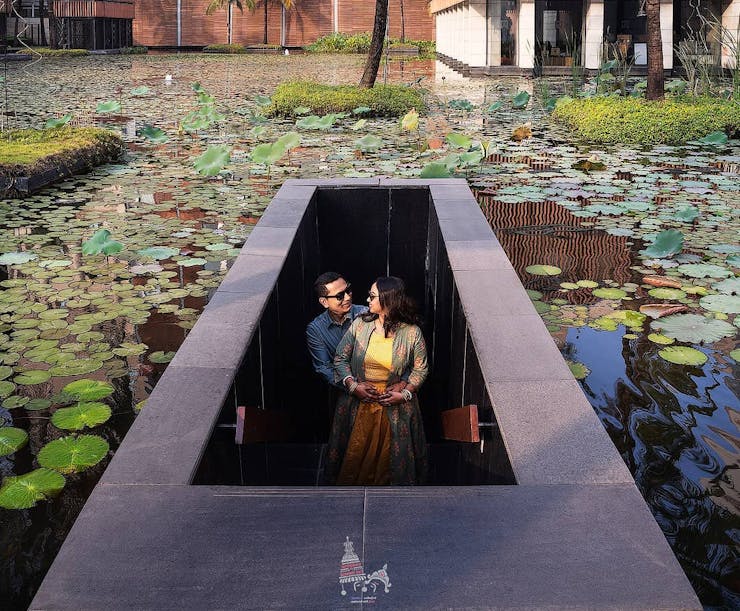 11. Love Happening In The Monsoon Rain
If both of you enjoy the rainy season then you must opt for the most romantic pre-wedding photoshoot in the rain. The lush green trees, romantic hills, and dreamy rain can make the entire set go magical. The existence of love in the air can offer you some jaw draping pre-wedding pictures.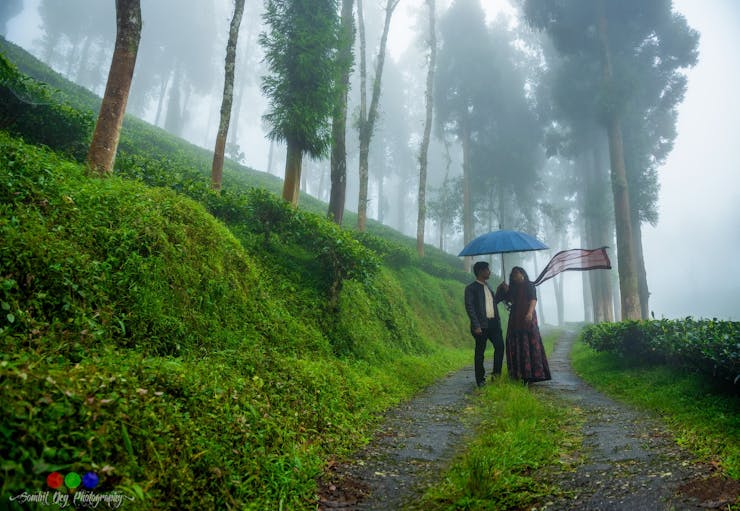 12. An Elegant Love Story Creates Fascinating Tale
Here is another romantic couple story that will resonate with how happy the feeling of love is! The dry leaves blowing in the air create a magical scene for the pre-wedding shoot. The blushing face of the couple will make the pre-wedding photography look more romantic and beautiful.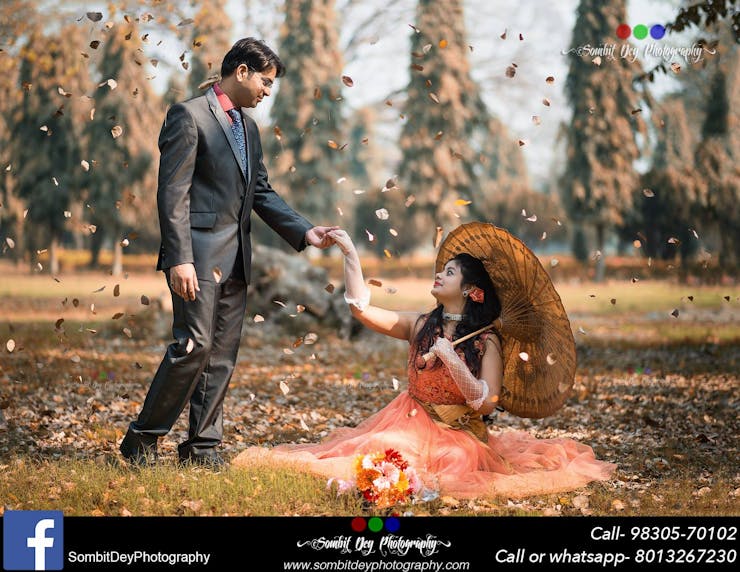 13. Magical Rain Drops Poses For Pre Wedding Photoshoot Adds A Romantic Vibe
Tiny rain drops on a dark night are the most romantic couple poses in a pre-wedding shoot. This lovely couple trying to create a Bollywood movie scene looks romantic in the picture. This is the most blissful way of capturing the togetherness of the couple.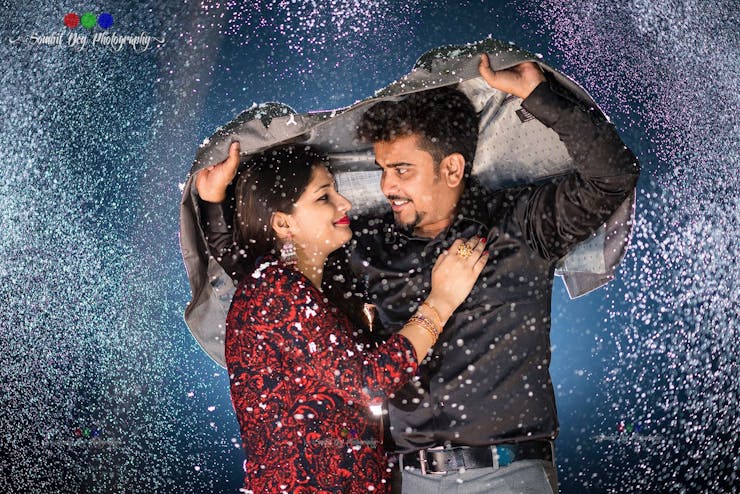 14. Announce Your Wedding Date To The World
One of the latest trends in pre-wedding photography is announcing your wedding date. Highlighting the wedding date on your hands is a unique way to announce to the world the beginning of a new chapter in your life.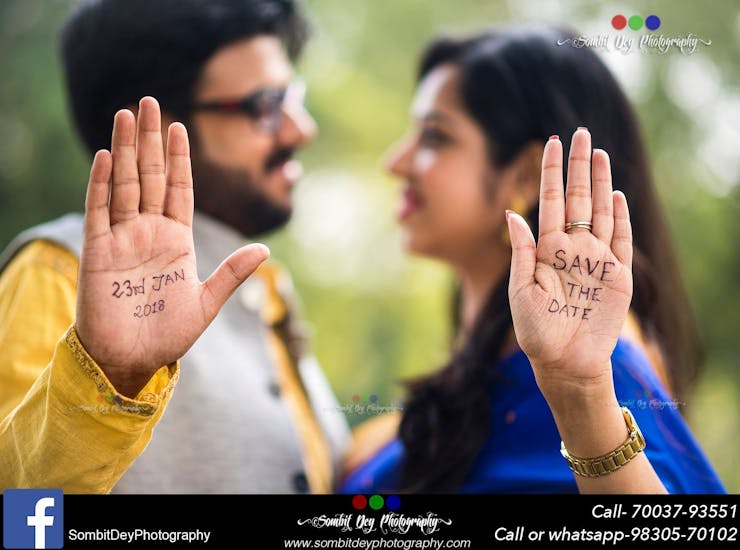 15. A Candid Pose For Fun-Loving Couple
The last one on this list is for the fun-loving couples. Isn't this adorable couple looking cute and funny in their pre-wedding picture? Adding such fun activity to your pre-wedding shoot will bring a smile to your face.