12+ Reception Dress For Bengali Groom For The Most Charming Look
Wondering what to wear at your wedding reception? To ease your worries we have compiled a list of 13 most fashionable reception dress for bengali groom.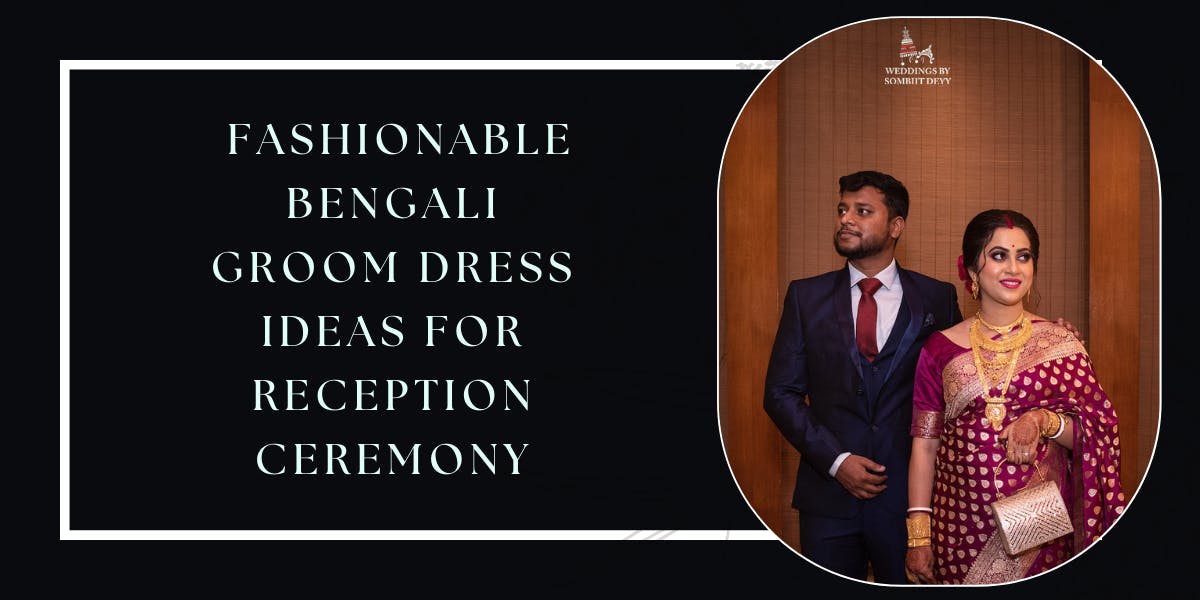 Most of us believe that only brides are the highlight of a Bengali wedding. But now the time has come to reconsider this matter. Bengali wedding photoshoot is excellent proof of how Bengali grooms are making a style statement at the weddings. We always give major priorities to the bridal look and outfit. We always give major priorities to the bridal look and outfit. But what about the groom? After all, they also have equal rights to get compliments for their most charming wedding look. It will be a total injustice to ignore the regal charm, dashing outfit, and spectacular look of a Bengali groom at his reception ceremony.
Modern Bengali grooms are leaving no stone turned to being the most handsome groom on their special night. They are experimenting with their look to match the style and glamour of their brides. Gone are the days when Bengali groom outfit options were limited to traditional dhoti and kurta. With changing times, Bengali groom has upgraded their fashion in wedding outfits. So, here we present some of the most stylish reception dress for bengali groom that will make you the star of the event.
1. Blue Bandhgala Set With An Embroidered Stole
You can't go unnoticed in a royal outfit like Bandhgala. This royal outfit is a wonderful fusion of ethnic style and western cuts. This stylish outfit is an Indian regal fashion for a Bengali groom. Here the groom has given a classy twist to his royal blue Bandhgala suit by taking an embroider stole with it.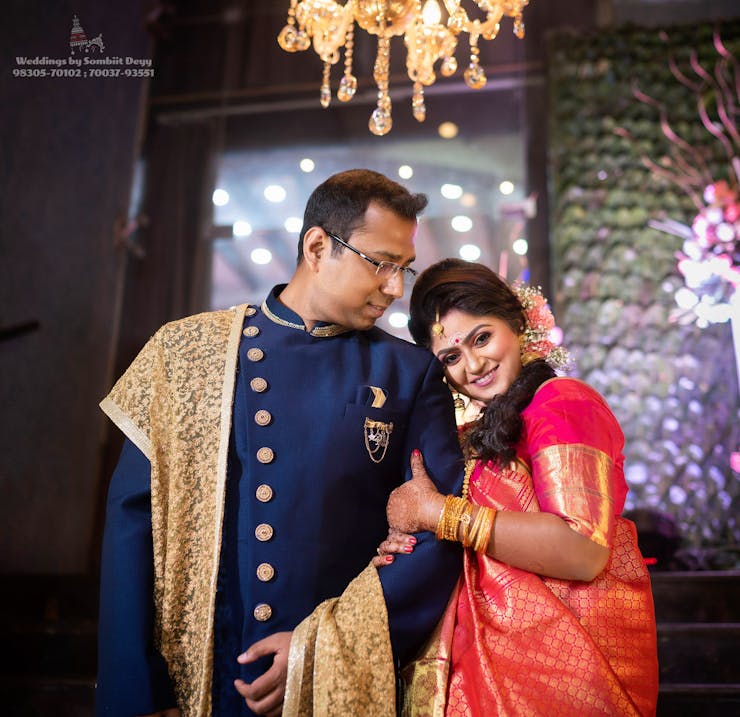 Must Read: 20 Important Bengali Marriage Rituals You Must Know About
2. Stylish Metallic Kurta
Wearing a metallic outfit at an Indian wedding is a new fashion trend. A metallic kurta is a stylish pick for the new-age groom. Its glossy shades and intricate designs are sure to make the groom look sharp and handsome as ever. This copper-shaded kurta is complementing the aura of a big fat Indian wedding. A passionate photographer in kolkata for wedding can help you to capture your charming look in beautiful and dramatic wedding portraits.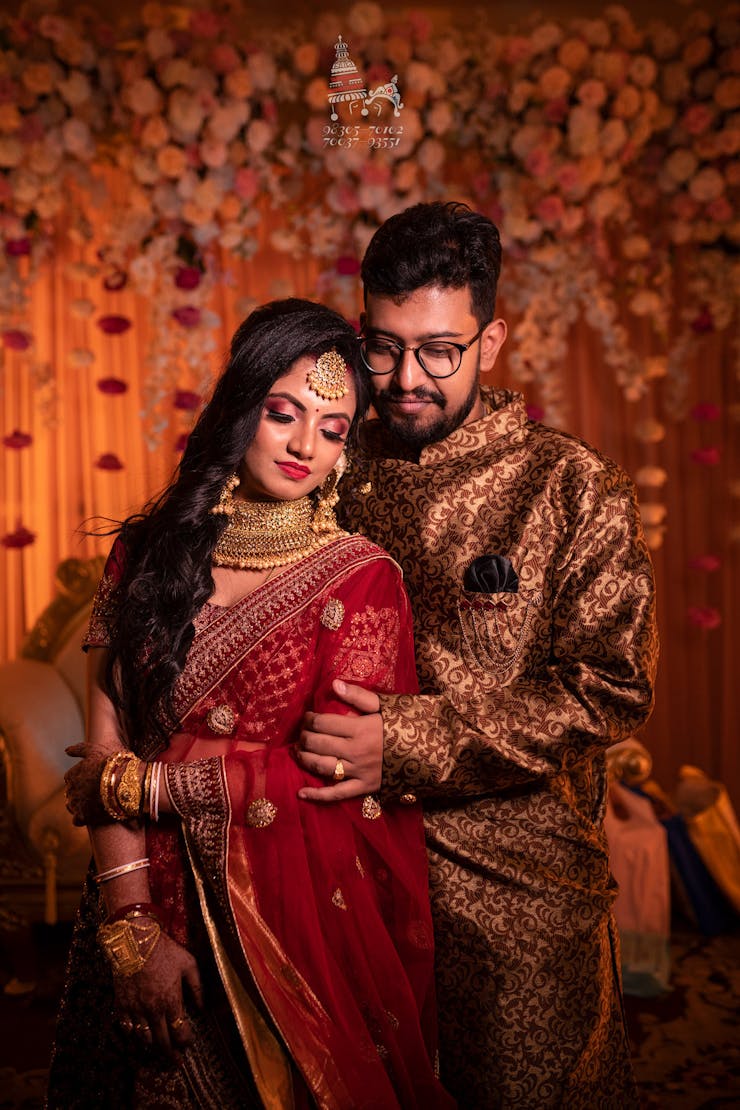 Also check: 12 Amazing Bengali Bridal Banarasi Saree For Stunning Brides
3. The Timeless Sherwani Look
Nowadays, Bengali grooms are experimenting with their charming looks and wedding outfits to look all dapper on their D-day. They are ditching the traditional outfits and opting for designer sherwanis. An embroider sherwani like this one in the picture can grab all the eyeballs. This Indian reception outfit is a perfect pick for the millennial groom.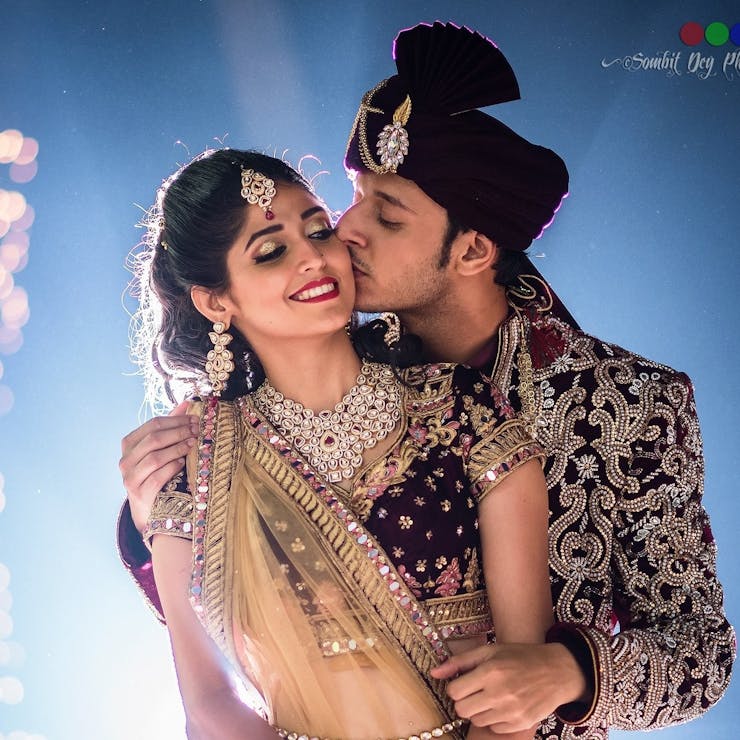 4. Steal The Show With Achkan And Stole
Sometimes simplicity is the best choice to leave a great impact on people's minds. This Bengali groom proved this statement very well on his reception night. Wearing a simple and sophisticated achkan can make a style statement in your reception ceremony. Pairing this reception outfit for groom with a contrasting stole gives you a glamorous look with a sense of sophistication.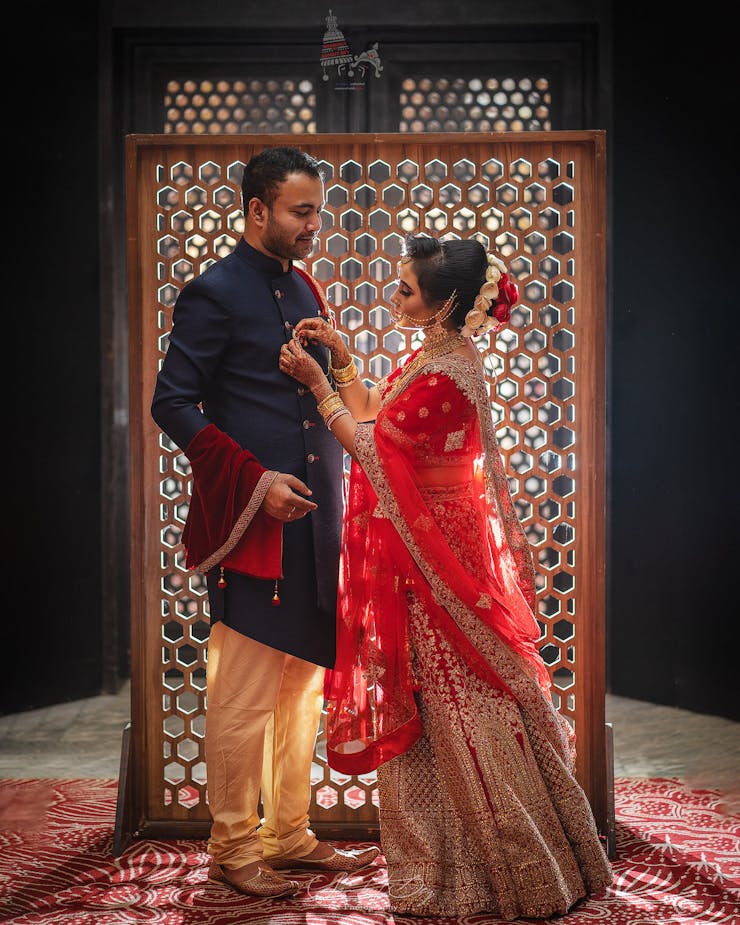 5. A Printed Sherwani
A printed sherwani is another classy choice for the charming reception look for groom. This kind of printed sherwanis is the best choice for summer weddings. The contrasting shades of bold and metallic hue topped with floral prints and motifs offer you an imperial look on the reception night.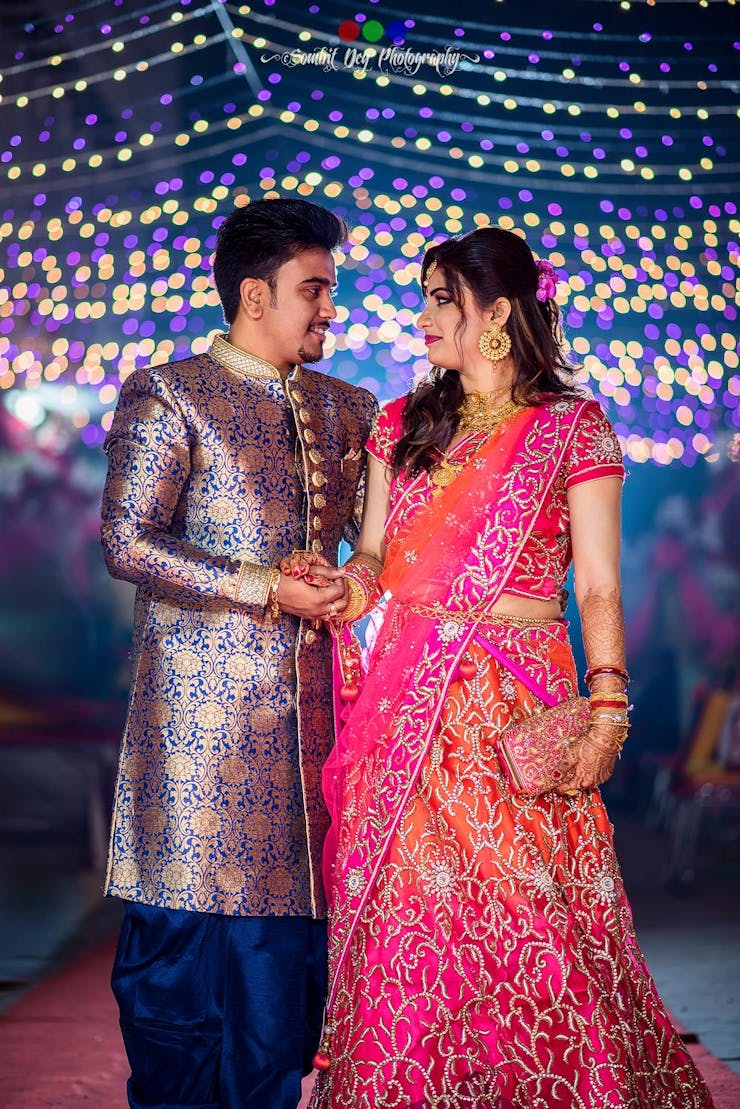 6. Regal Vibes Of Velvet Galabandh
Velvet Bandhgalas are the perfect reception dress for groom to stay warm in winter. A groom's outfit like a red velvet Galabandh can bring masculine sophistication and elegance to your reception look.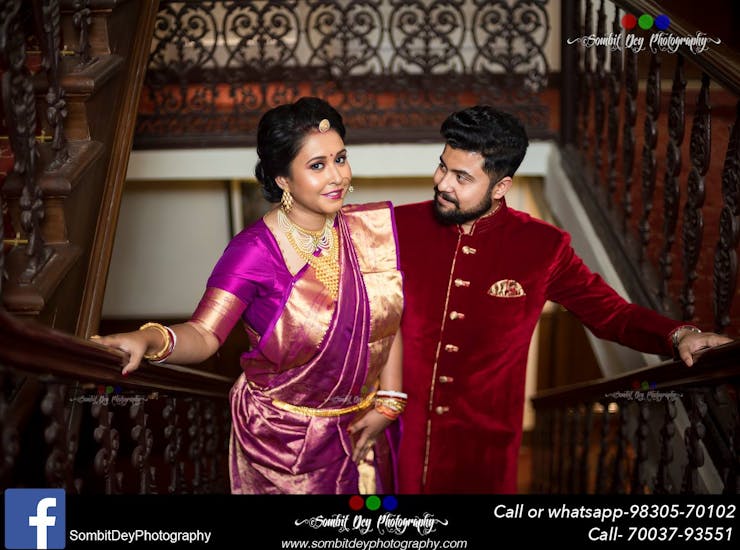 7.  Shades Of Maroon
Color combination in a wedding dress is the latest trend that can be seen in Bengali weddings these days. Loving this experiment of pairing bold shades like maroon in wedding outfits. This color coordination is sure to have all the attention on your reception night.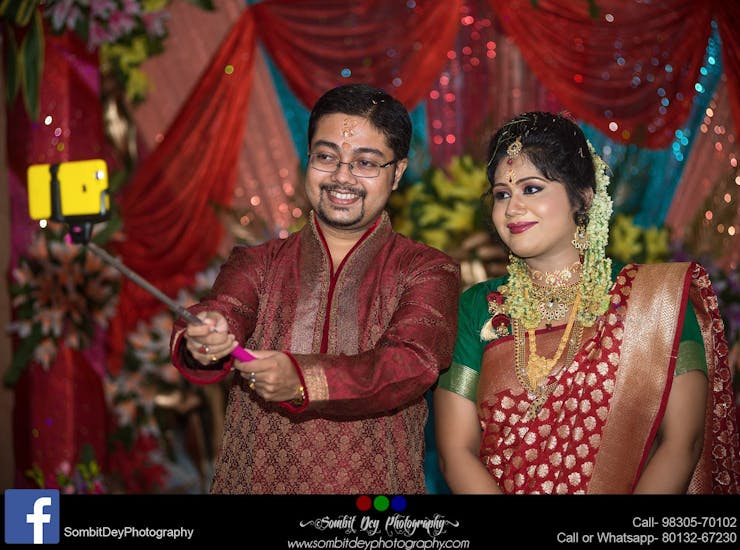 8. Turquoise Sherwani & Creamy Stole
This bengali reception groom dress adds glamor to the Bengali groom's personality. The cream color stole with golden beats embroidery is adding a regal vibe to this handsome groom look. Vibrant shades like turquoise are a unique one to try on a classy reception ceremony.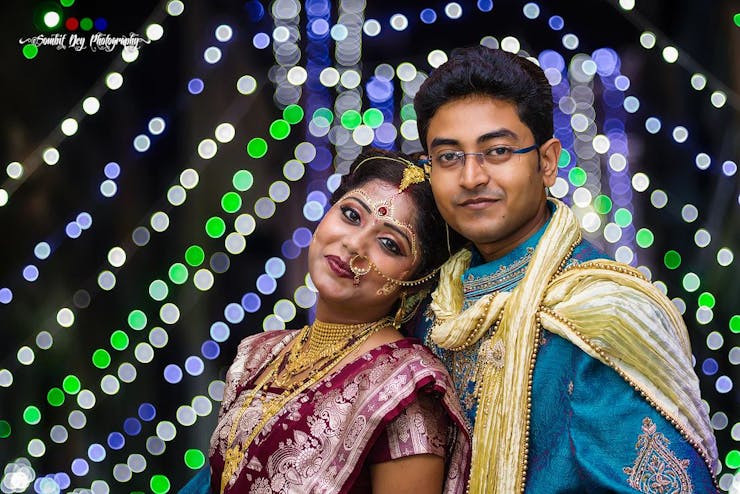 9. Make A Statement With a Greyish Bandhgala Suit
This is the most charming and extraordinary look on this entire list! This Bengali groom flaunts his stylish Bandhgala in a lighter shade of light grey. The Bandhgala flaunts thread works in various shades with an embellished collar and buttons. The simplicity and elegance of this charming glow is making his look even more special.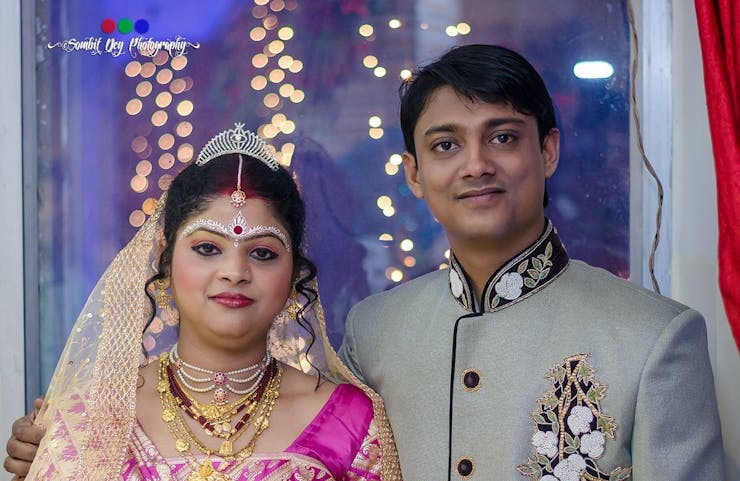 10. Classic Look Of Dhoti & Kurta
Owing to the grace and style, the fantastic pair of traditional dhoti and designer kurta is a perfect choice for your reception ceremony. This kind of wedding reception dress for groom never goes out of style. A metallic kurta and beige dhoti when paired with a stylish stole make a statement in wedding events.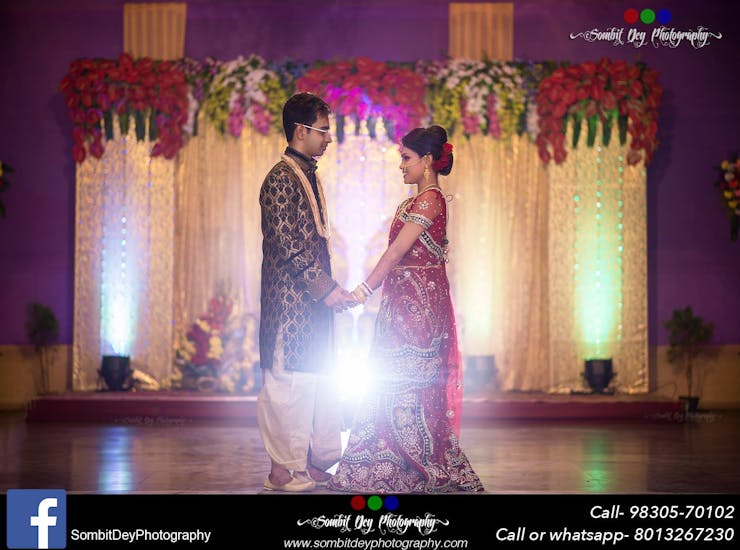 11. Mustard Yellow Kurta & Dhoti
A mustard yellow kurta with a traditional dhoti is an offbeat choice for a Bengali reception ceremony. The simplicity of this traditional attire speaks volumes in wedding pictures. Pairing this mustard kurta with a cream dhoti is a perfect choice for stealing the limelight of the show.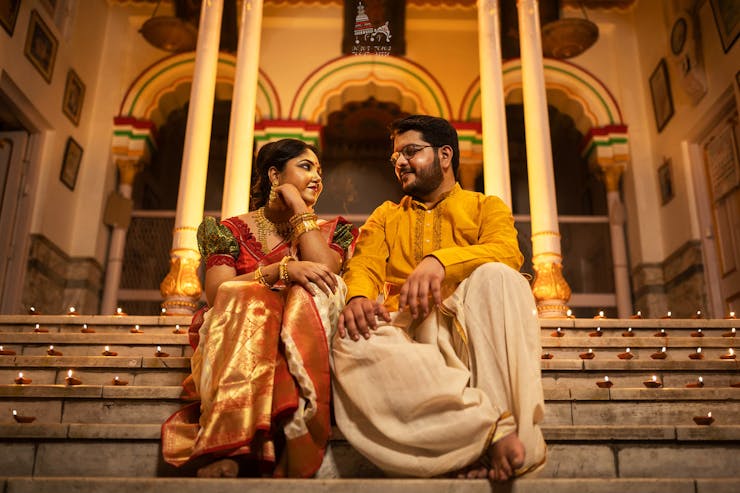 12. The Stylish Formals
Nothing beats the elegance of stylish formals. This is one of the best wedding dresses for men that will make you feel like a regal prince. The ideal combination of a blue suit and red tie can add a touch of class to your stunning groom's look. Wear a classy watch and black shoes with this groom's outfit to look more desirable.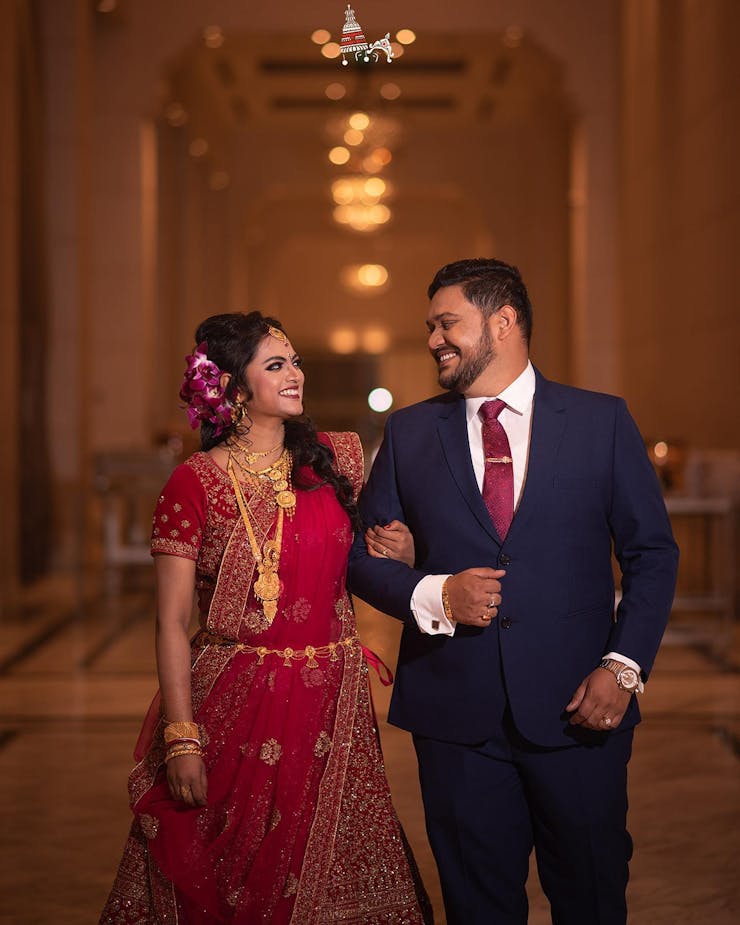 13. Evergreen Look Of Black Suit & White Shirt
The classic look of a man in white and black formals is a perfect fit for wedding events. This stunning wedding dress for men is a popular choice among many Bengali grooms. The classic black tuxedo with a white shirt is a show-stopper outfit for your special night.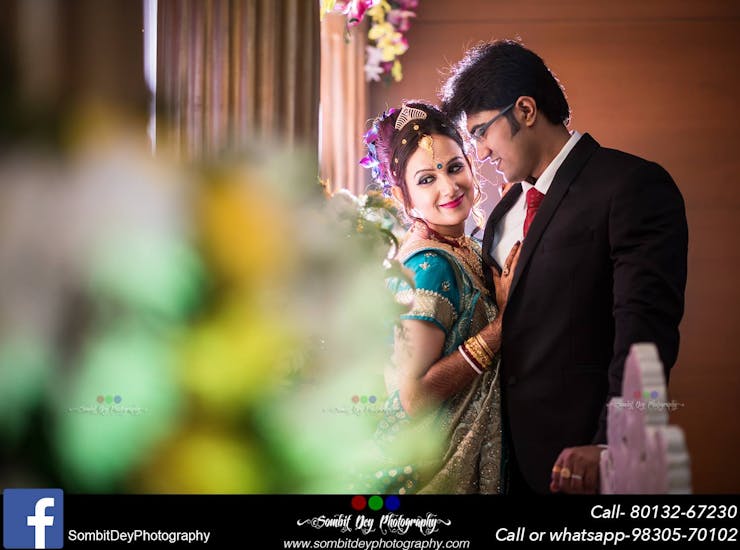 Now you know all the fashionable outfits that Bengali grooms are opting for their reception ceremony. So, we hope that you will also find a perfect one for your special event.