12 Amazing Bengali Bridal Banarasi Saree For Stunning Brides
Explore here some most beautiful bengali bridal banarasi saree to look like a sophisticated & graceful bride at your wedding event.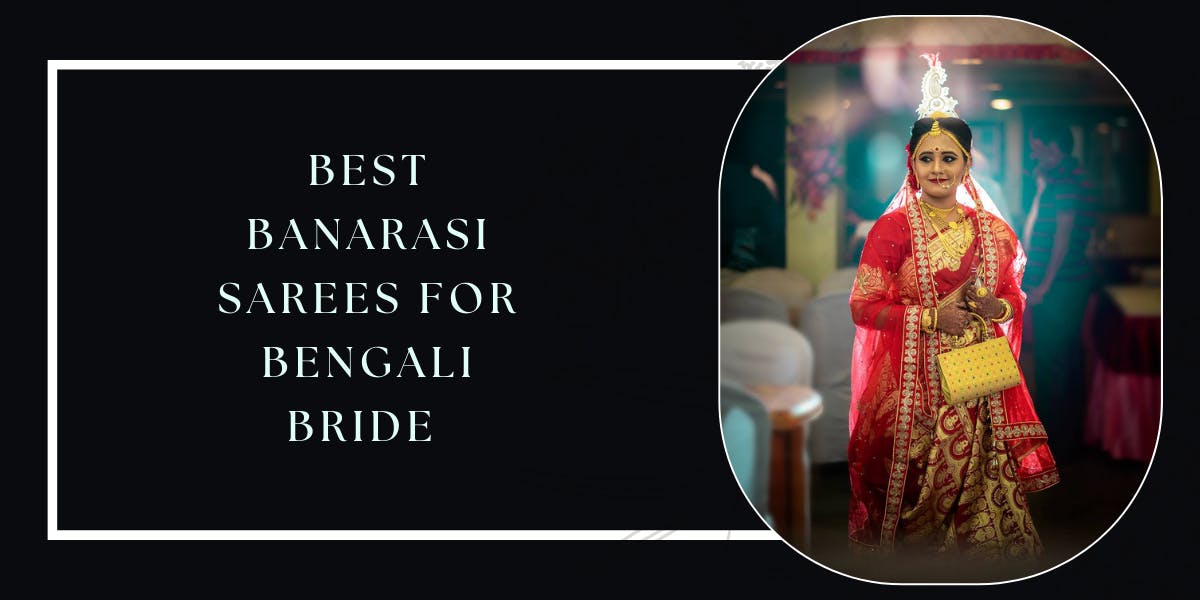 Originated from the holy city of Banaras, the lavish Banarasi saree has been a part of the Bengali Bridal trousseau for years. These beautiful silk fabrics are the first love of almost every Bengali bride. Banarasi sarees are considered one of the finest saree in India. Made entirely of the finest silk, the Banarasi saree is decorated with intricate gold and silver designs. From the very beginning, the ladies of the zamindari house in Bengali used to wear this luxurious saree to get a royal feel. The popularity of this six-yard stunning saree has made it a fashionable choice not only in Bengal but among women across the world also. However, there are still many debates on its origin. The mention of this saree is found in the Vedas. Whereas it becomes a famous fabric in India during the Mughal era.
Whatever may be its place of origin but we must admit the fact that a Bengali bride looks ethereal in a Banarasi saree. A beautiful bride in a Banarasi saree makes bengali wedding photoshoot more spectacular. So, today, we are opening up a beautiful collection of Banarasi saree that will surely inspire you for a stunning wedding day look.
1. A Creamish Red Banarasi Saree
This beautiful combination of creamish red Banarasi saree is truly breathtaking. The impressive design on the saree border is looking beautiful with the contrasting blouse. This creamish red silk saree is a popular choice among Bengali brides for their pre-wedding events. As one of the best wedding photographers in kolkata, we always try to capture the true essence of wedding moments which looks more beautiful in ethnic wear like silk saree.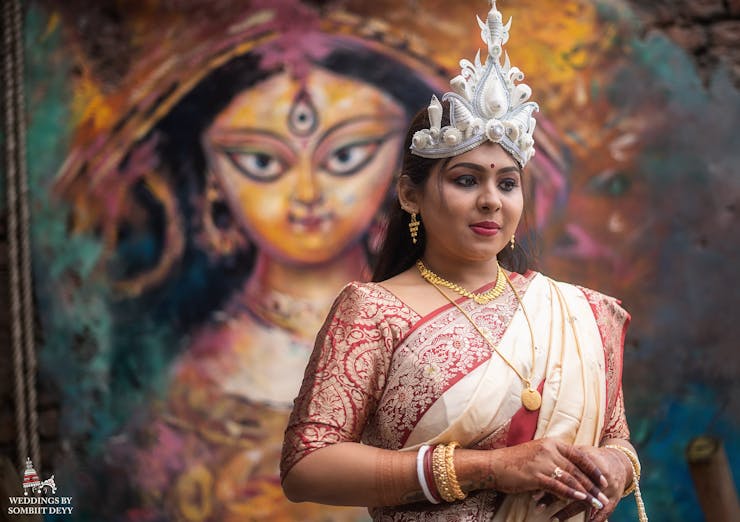 Recommended: 15 Awe-Inspiring Bengali Bridal Haldi Look For Glamorous Brides
2. The Pretty Bride In Beautiful Combination Of Red & Green
Nothing can beat the glamour factor of a Banarasi saree in a red and green combination. Pairing this gorgeous saree with gold jewelry provides you with a look of a beautiful goddess. Our beautiful bride has chosen a contrasting shade fabric handbag to complement the beauty of her glamorous outfit.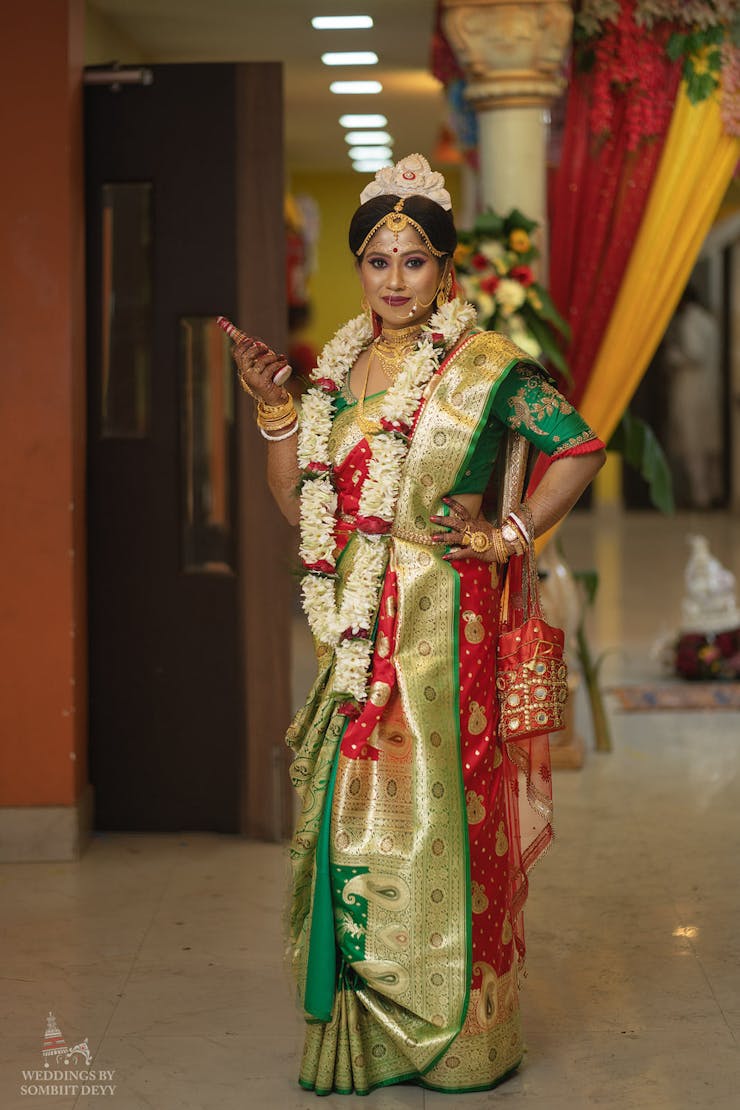 Also Read: 20 Important Bengali Marriage Rituals You Must Know About
3. Gorgeous Deep Magenta Hue Look So Elegant
This beautiful magenta saree with intricate silver designs is bound to grab the attention of everyone around you. The deep shade of magenta is looking wonderful with the classy gold jewelry. Wearing this darker hue silk fabric on reception night will offer you the most gorgeous bridal look in saree.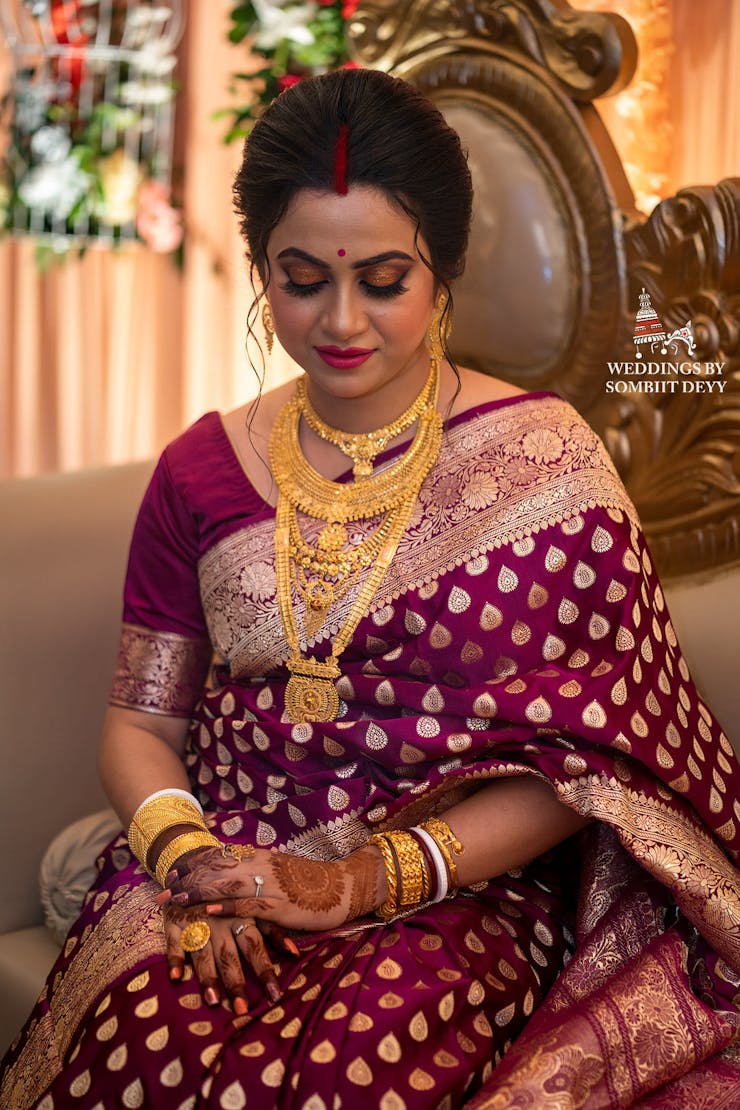 4. Divine Look Of Traditional Red & Gold Banarasi
The most popular choice for a Bengali wedding is a red Banarasi saree. The color of love when combined with the color of wealth and glory - "gold" gives you a mesmerizing result on your wedding day. Here the bride has opted for a traditional saree look for wedding which is making her an epitome of beauty in this bridal portrait.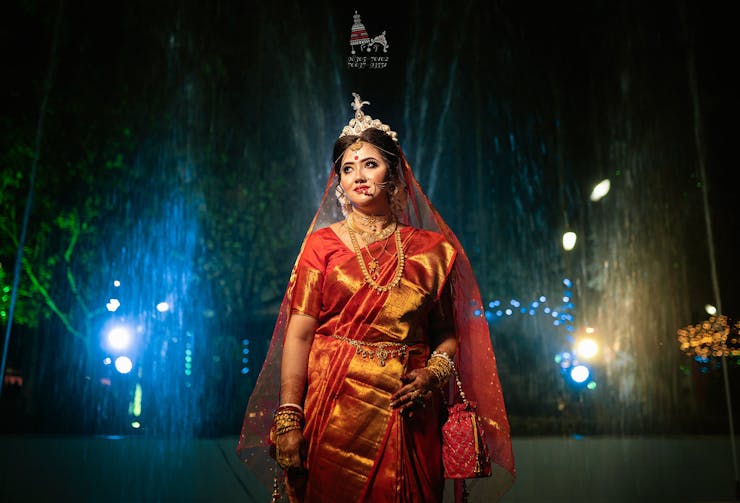 5. Angelic Contrast Of Pink & Cream
The color pink is favorite of many brides because of the soft element and elegance offered by this color. A spectacular combination of pink and green shades in a Banarasi saree looks no less than a match made in heaven together.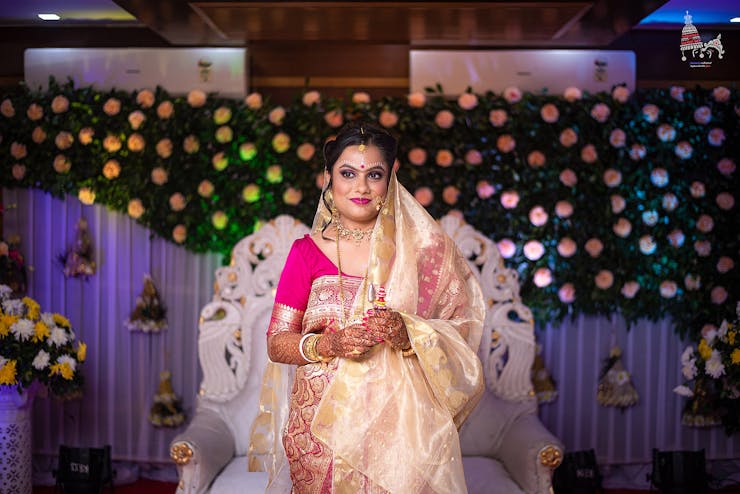 6. Most Beautiful Look Of Blue Banarasi
A light blue Banarasi saree for a Bengali wedding is an unusual option for your special day. The silver brocade work all over the saree adds a certain amount of charm to your bridal look that can't be ignored easily.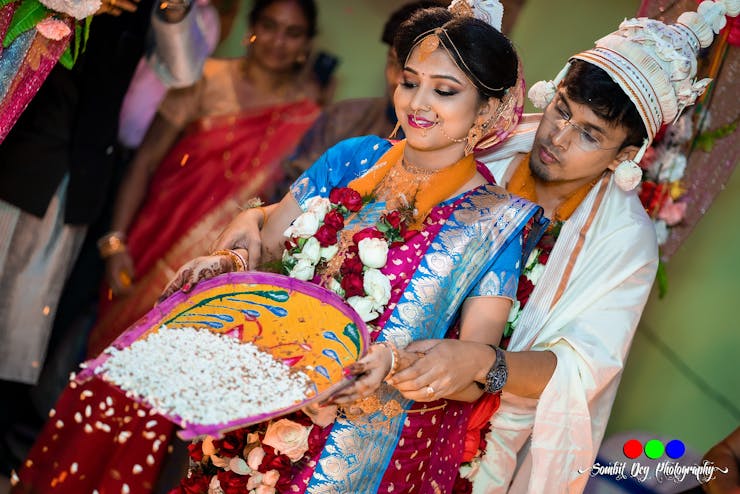 7. Wonderful Betel Leaf Design On Crimson Red Banarasi
Another bengali bridal red banarasi favored by numerous Bengali brides for their wedding day is a red Banarasi with golden leafy motifs. The excellent grace of this eye-catchy golden motif all over the red Banarasi makes it a masterpiece of art.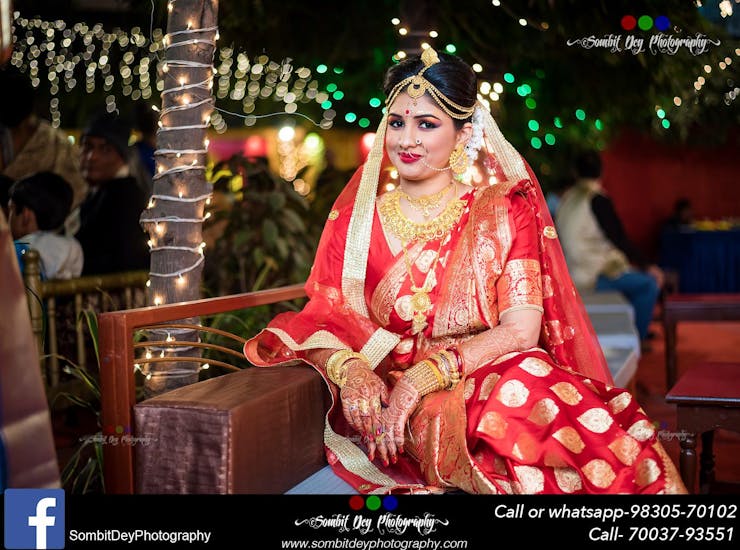 8. Dreamy Magenta Banarasi
This pretty magenta Banarasi with golden embroidery is another great pick for your wedding day. We must take a minute to admire the choice of this adorable bride regarding her bridal jewelry in gold and diamond combination which is perfectly complementing her stunning banarasi saree look for wedding.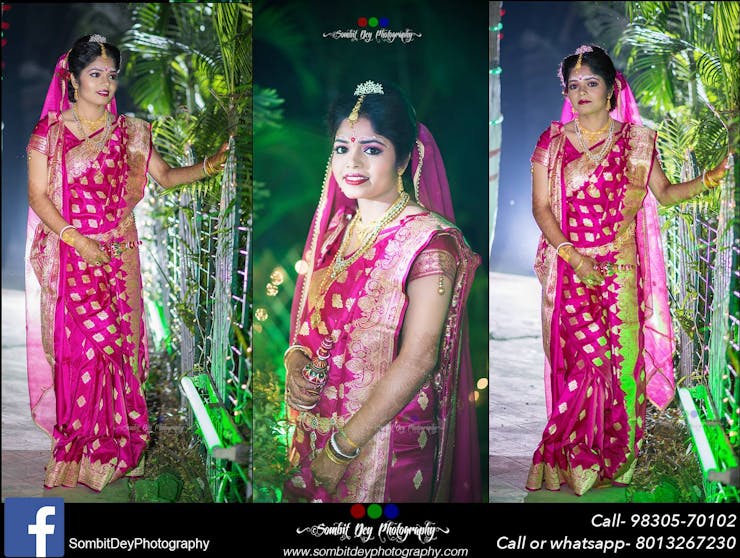 9. The Magical Vibes Of Purple Hue
Here the bride has made an unconditional choice by ditching all the traditional colors and opting for a unique shade like purple for her wedding night. The intricate designs on the saree border and the leafy motifs in between make it an utterly gorgeous outfit for Bengali bride.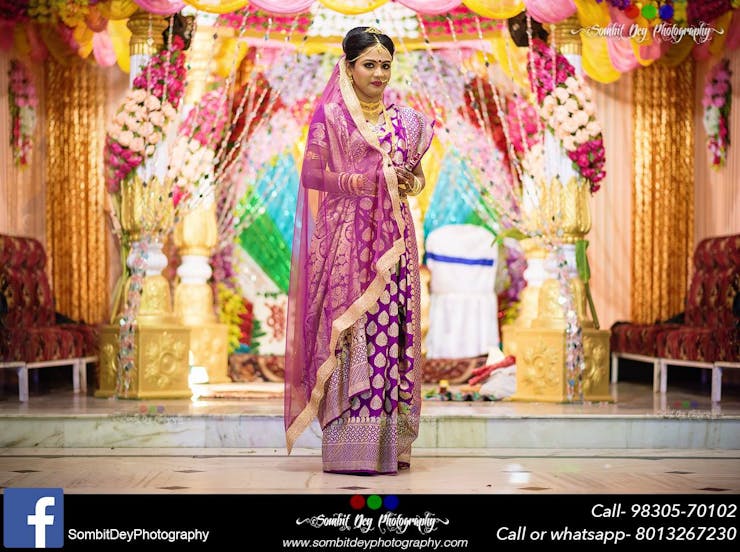 10. A Dark Green Banarasi With Golden Motifs
Did you ever think that a forest green banarasi saree looks so exotic on a bride? This pretty bride has complemented her beautiful saree with pearl and gold jewelry and an off-beat Chandan bindi design in white and green. These quirky combinations in a bridal look can simply leave your guests awestruck.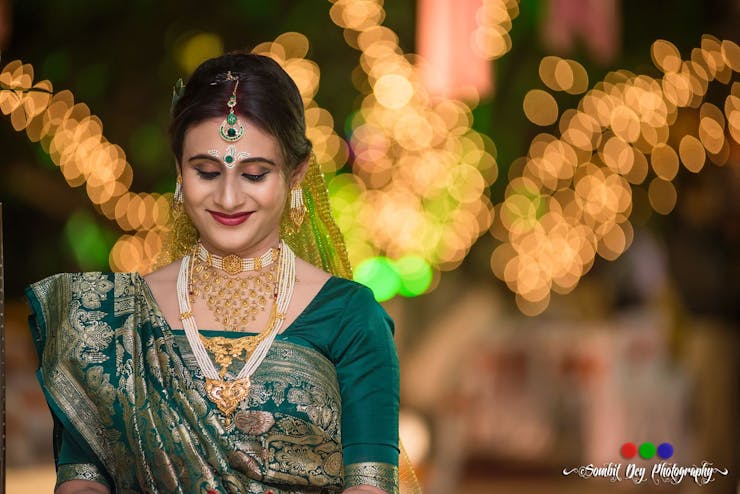 11. A Mustard Yellow Is An Unconventional Choice
Bright shades like yellow are considered auspicious for the Haldi ceremony look, but a mustard yellow shade is an amazing one in banarasi saree for bengali wedding that is a perfect choice for an intimate wedding. This sunshine yellow banarasi saree is contrasted with a purple blouse with golden motifs which is making an unique combination. The stylish bun and statement jewelry of the bride accompanied by her dazzling smile is making this bridal look more beautiful.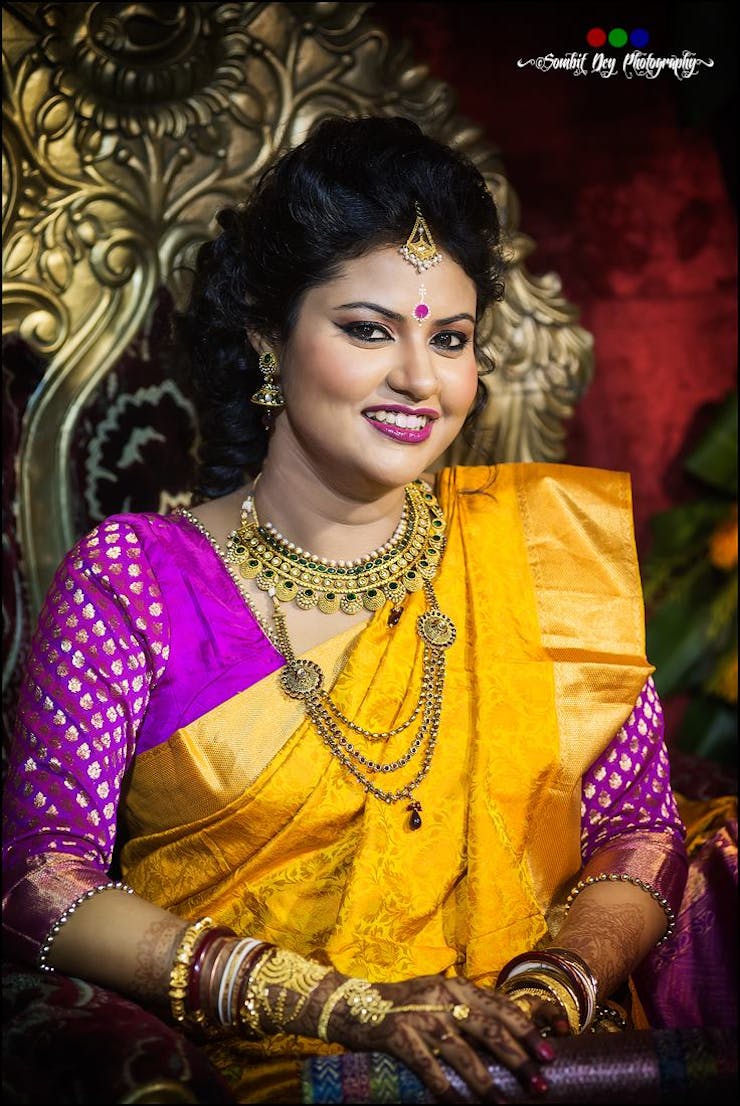 12. Maroon Banrasi Never Goes Out Of Style
What a magnificent look this gorgeous bride in banarasi silk saree for wedding sports! This bridal look in maroon banarasi is much more subdued but elegant. Flaunt your maroon banarasi with a heavily embroidered pallu in a golden Gotta Patti work design to enhance the beauty of this gorgeous wedding saree. Her stunning Chandan bindi design and traditional gold jewelry with heavily kohl eyes and contoured chicks is offering a traditional bride look in this wedding portrait.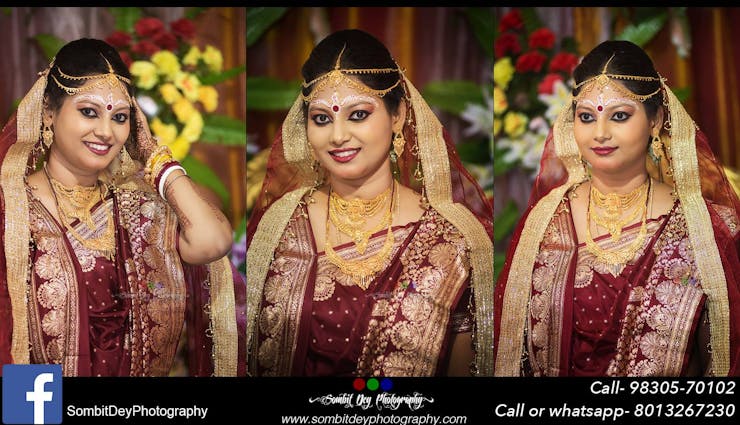 Banarasi sarees are available in various shades and designs that you can pick up according to your personal preference. Look for design slides paisleys, polkas, leaves, and vines to get the most amazing Banarasi saree look on your special day. So, these are some most beautiful bengali bridal banarasi saree ideas that you can try for your wedding day look.