14+ Latest Bridal Haldi Poses For Every Bride-To-Be
Preserve the sweetest memories of your Haldi ceremony in candid pictures. Check here the latest bridal haldi poses to click your true emotions in pictures.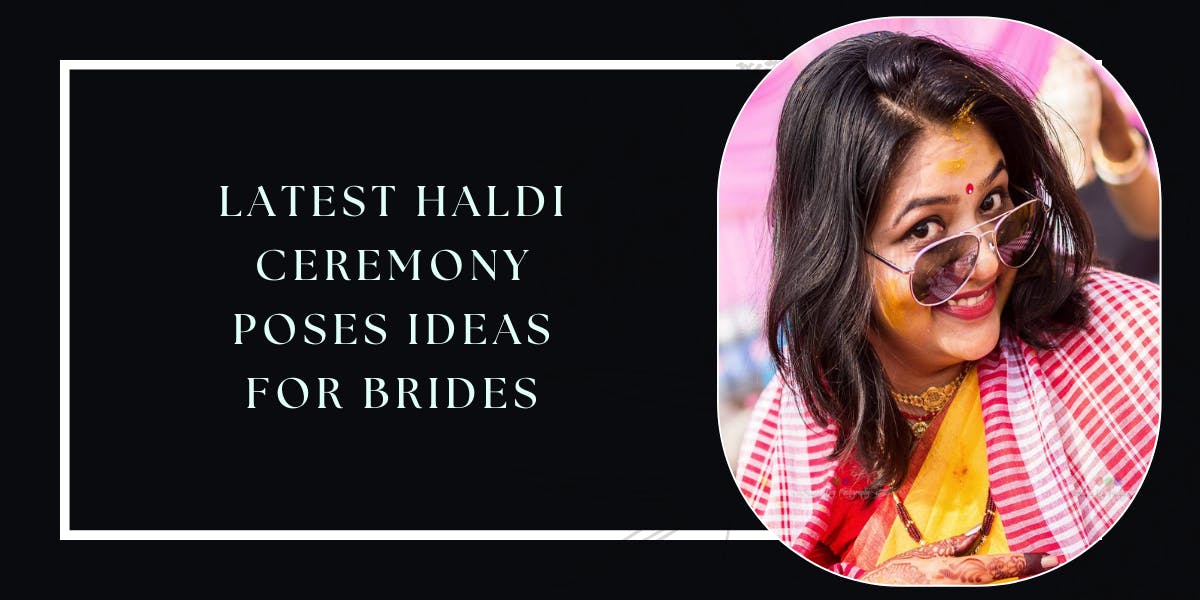 We all know about the beautiful and auspicious ritual of the Haldi ceremony in an Indian wedding. While all wedding rituals have special importance, the Haldi function is the most unique and joyful one. With all the laughter, leg-pulling, and traditional color of Haldi, begins the happy celebration. The vibrant color yellow when applied to a bride enhances her bridal glow. The brides wearing yellow costumes and stunning jewelry look beautiful in pictures. These days capturing the natural beauty of bride and groom has become an important part of candid bengali wedding photography. Along with that modern brides wants to preserve the playful moments of their Haldi function. They want to get clicked with their friends, family, and props while posing for Haldi pictures.
If you are also looking to create fun-filled Haldi event memories that will engulf you in a wave of emotions, then check out this wonderful collection of 15 bridal haldi poses.
1. An Unique Haldi Pose
This bride has conveyed the divinity of a woman through her haldi photo pose. The backdrop of 10 human hands is a great message of a women's ability as a strong person and a multi-tasker. This unique pose is already doing rounds on the internet. If you are planning to opt for this kind of unique haldi function single Haldi poses, then make sure to hire the best wedding photographers in Kolkata.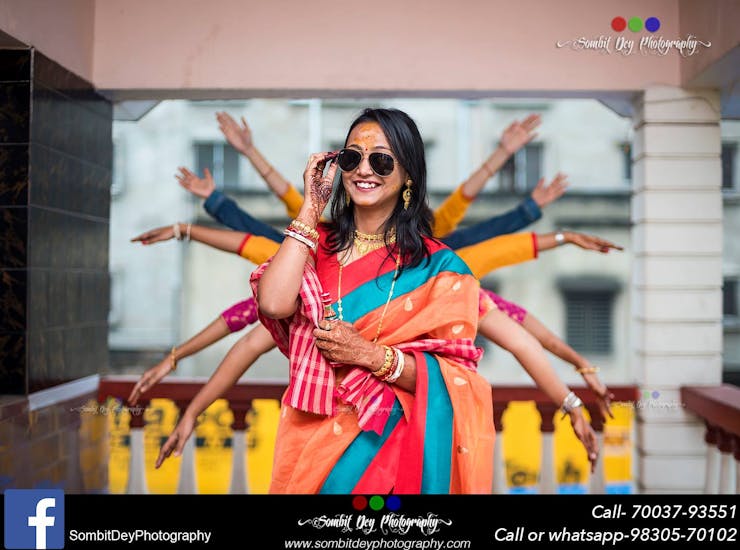 Recommended: 15 Awe-Inspiring Bengali Bridal Haldi Look For Glamorous Brides
2. Dreamy Haldi Pose
This is the best haldi picture that you can have in your wedding album. Holding a beautiful umbrella in a rainy season in your house garden is definitely going to capture a lot of attention. Capturing a haldi function single haldi poses in a garden area where you have spent your entire childhood, can offer you some sweetest memories of your whole life.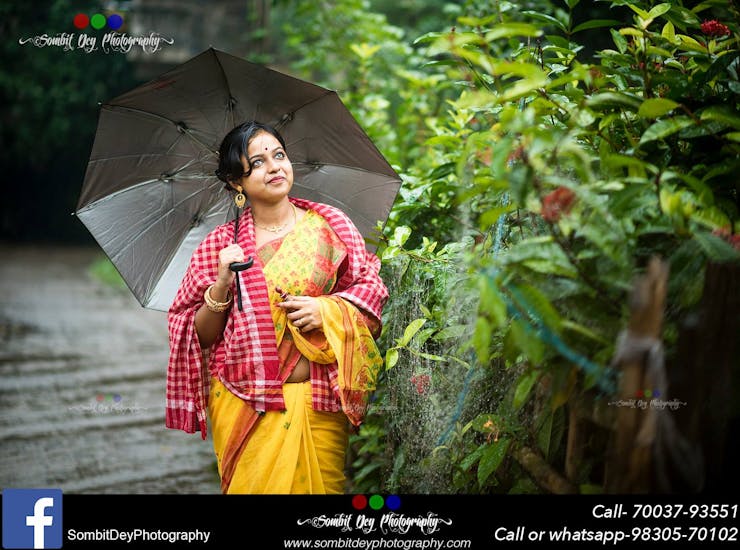 See More: 12 Amazing Bengali Bridal Banarasi Saree For Stunning Brides
3. The Trendy Selfie Pose
Selfie poses are taking the momentum now. These are the most stylish haldi ceremony photo poses that you can try during a joyous Haldi celebration. This stylish bride taking a selfie is a great inspiration for many young brides.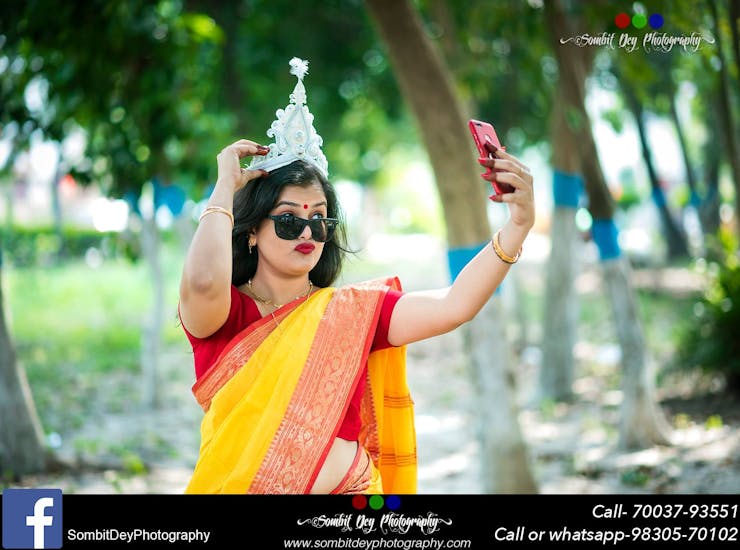 4. Haldi Applying Pose – A Must One
Capturing the holy bath of the auspicious Haldi ceremony is the most beautiful one. These bridal poses for haldi capture the beauty of the auspicious ritual and charm of the Haldi bride together. So, including this kind of pose is a great idea to create wedding memories.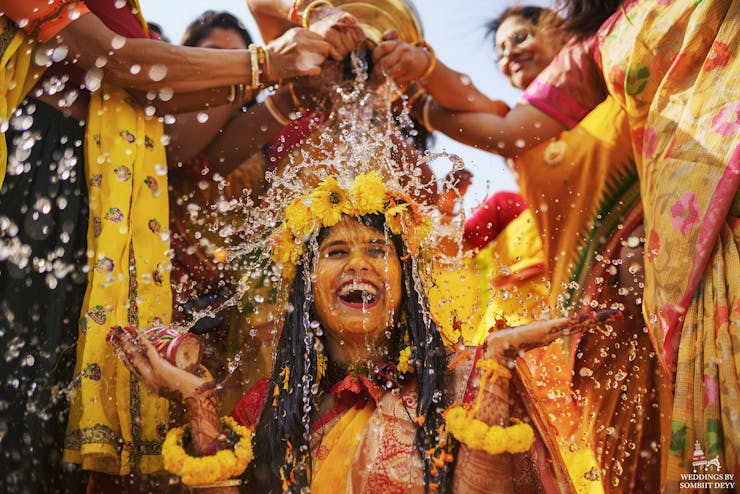 5. Seeking Blessing Pose Is A Lovely One
Bridal Haldi poses like this one is truly exceptional. Tulsi plant is worshipped as a goddess in Hindu culture. Seeking blessings from such a divine plant can mark the beginning of a happy married life. And capturing such wonderful moments in the lens can provide you with some remarkable wedding pictures.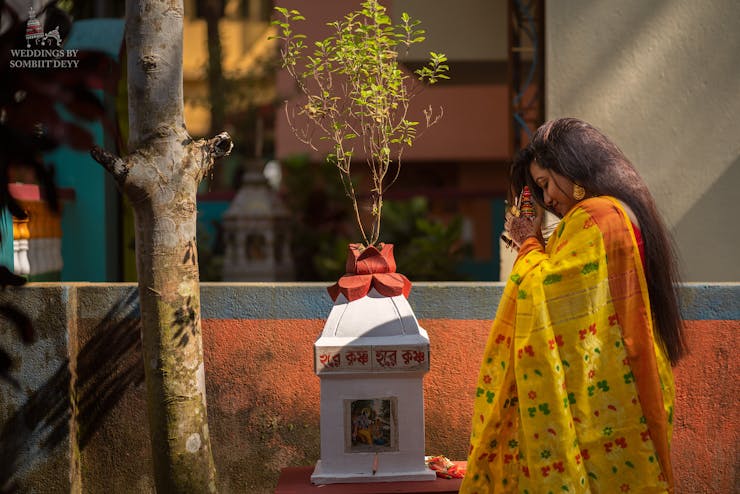 6. Haldi Pose With The Little Angles
We love how these little angles and the pretty bride are complementing each other in their matching outfits. Kids can make any portrait adorable. Hence, posing with little children adds a certain amount of charm to your Haldi pictures.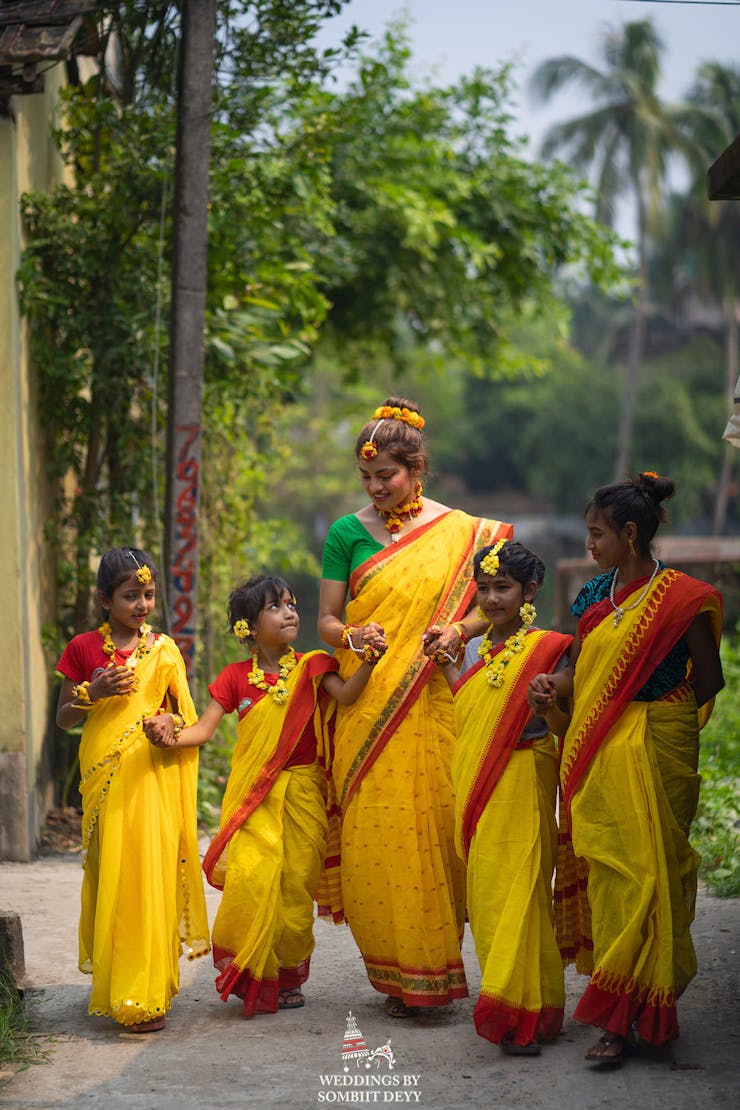 7. A Swagger Haldi Bride Pose
You just can't ignore the swag of a stylish bride when it comes to your Haldi ceremony poses. There is nothing sassier than a pretty bride wearing black goggles and faking a vehicle drive. Do something that best reviles your personality in the wedding pictures.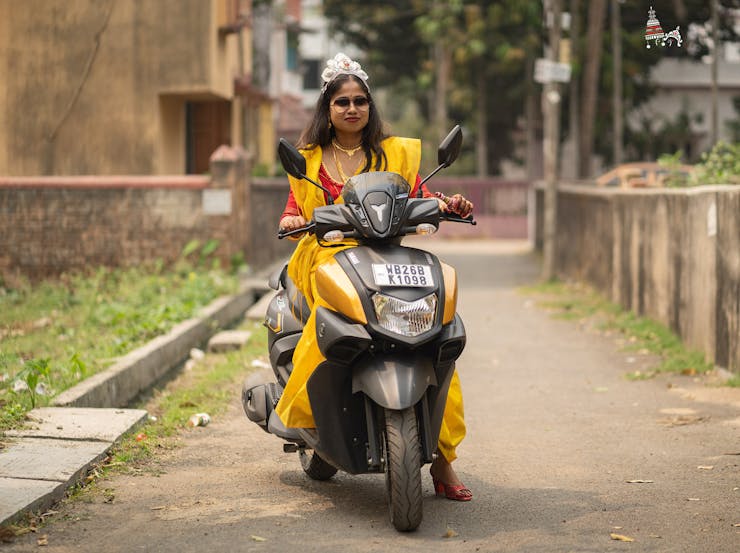 8. Haldi Pose With Loving Brothers
Sisters are dearest of all the brothers. Posing with your brothers will reflect the cutest bonding in dramatic portraits. It can create everlasting memories of this beautiful relationship. This kind of haldi photoshoot poses will bring a smile to your face every time you are going to open your wedding album.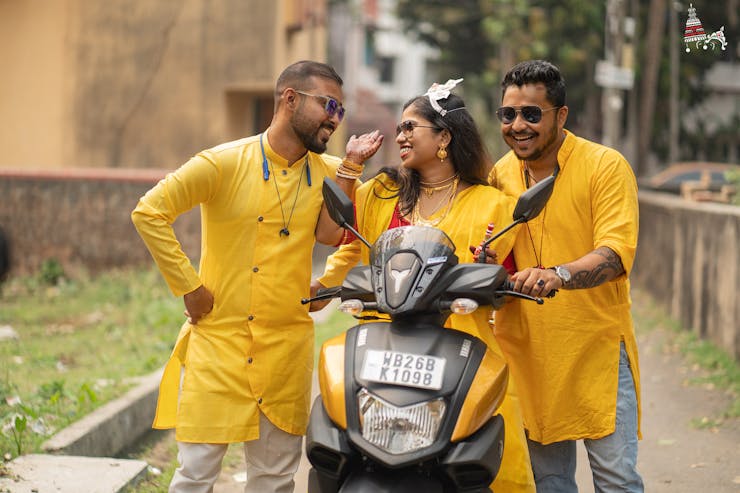 9. Papa Ki Pari Haldi Pose
Daughters are the darling princess of every father. A haldi ceremony photoshoot poses with parents are going to provide you some emotional portraits that you can cherish throughout your life. This kind of emotional photoshoot can never go wrong.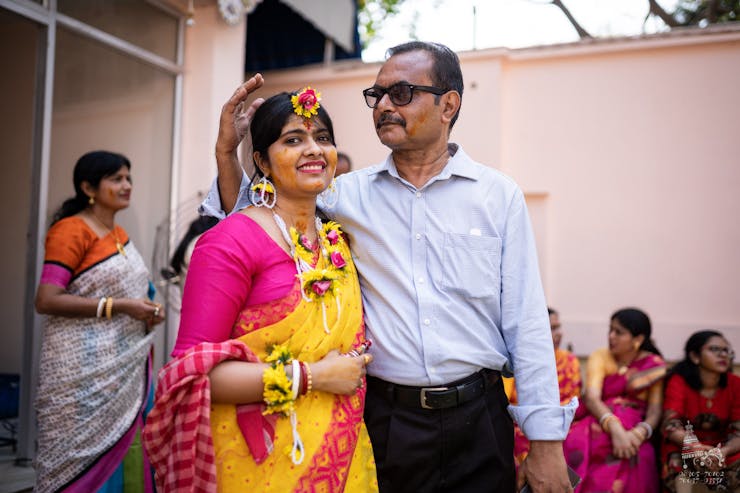 10. Captivating Swing Haldi Pose
A decorated floral swing will spice things up for your Haldi photoshoot. A marigold-wrapped swing is the best one to shoot a fairy tale light haldi pose. The pretty bride decked up with beautiful floral jewelry sitting on the swing looks no less than a real princess in her Haldi pose.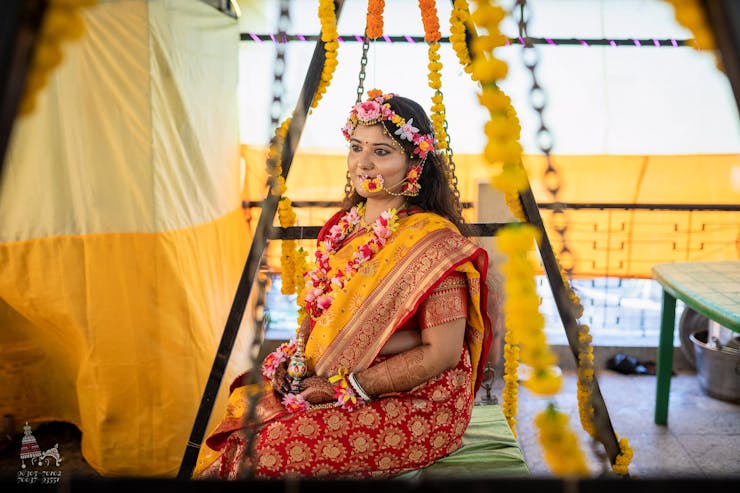 11. A Joyful Haldi Pose With Bridesmaids
A group photo pose with girls is a mandatory one for vibrant functions like Haldi or Mehendi. Capture the beautiful bond of friendship with your childhood friends in the Haldi photoshoot. This picture with the bride's squad posing in front of a camera is an inspirational one for an eye-catchy Haldi photoshoot.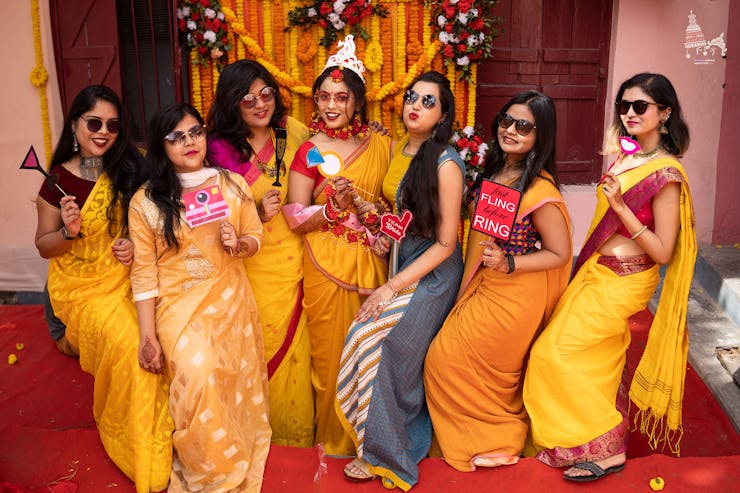 12. A Haldi Pose With Sister Is A Mandatory One
There must be a picture with your loving sister who always took your side and played with you throughout your childhood journey. This adorable Haldi pose of the bride and her sister represents the loving bond they share.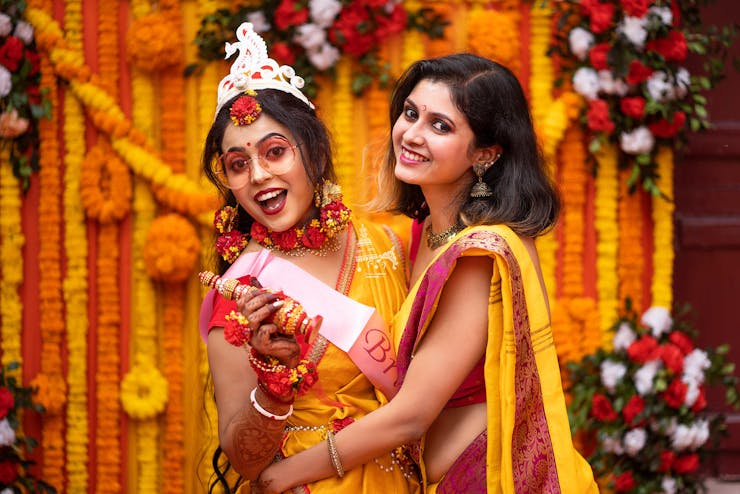 13. An Adorable Haldi Pose With Furry Friend
Including your pets in your Haldi photoshoot can add the correct amount of cuteness to the picture. These are the most adorable poses for haldi ceremony that can give the cutest twist to your Haldi photography. After all, they are the most important part of our lives.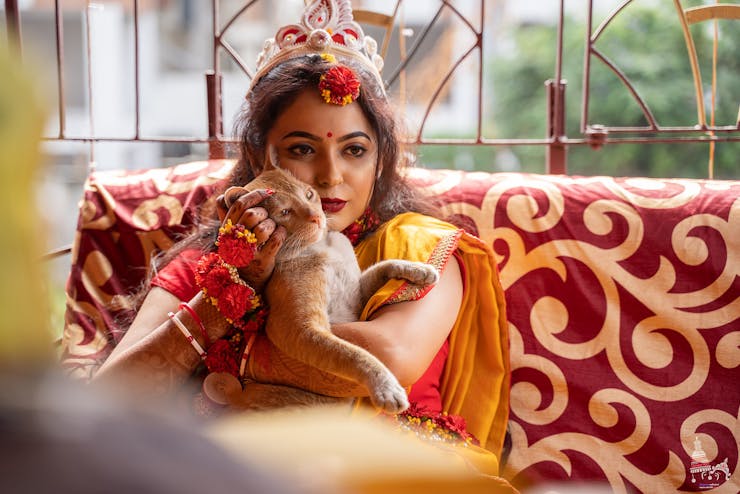 14. A Beautiful Haldi Pose With Traditional Prop
Along with floral jewelry and yellow saree, the most eye-catchy element of a Bengali bride is her traditional prop. This bride carrying a wooden prop in her hand is looking gorgeous in her Haldi pictures.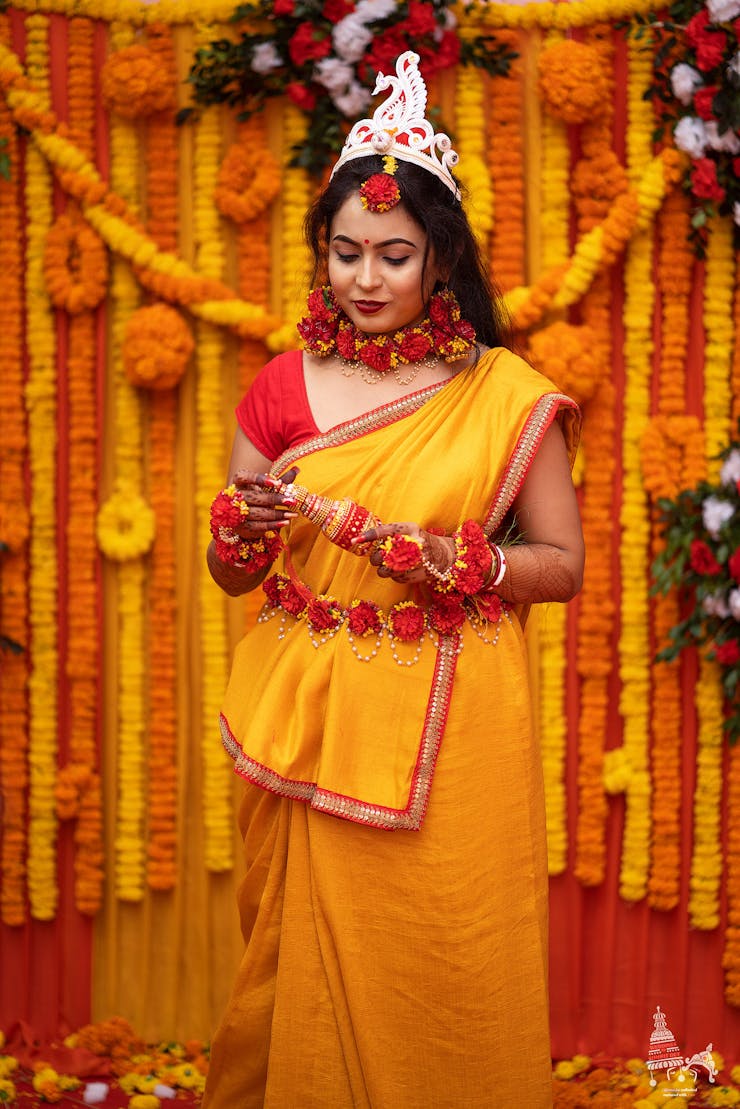 15. The Dramatic Haldi Pose In A Memory Lane
Here is another beautiful Haldi pose of a Bengali bride. Standing in front of the house and looking away from the camera creates a dramatic shot of the gorgeous bride. This kind of Haldi poses takes us back to a memory lane where the bride has spent her beautiful childhood. It is a wonderful portrayal of the bride reliving her childhood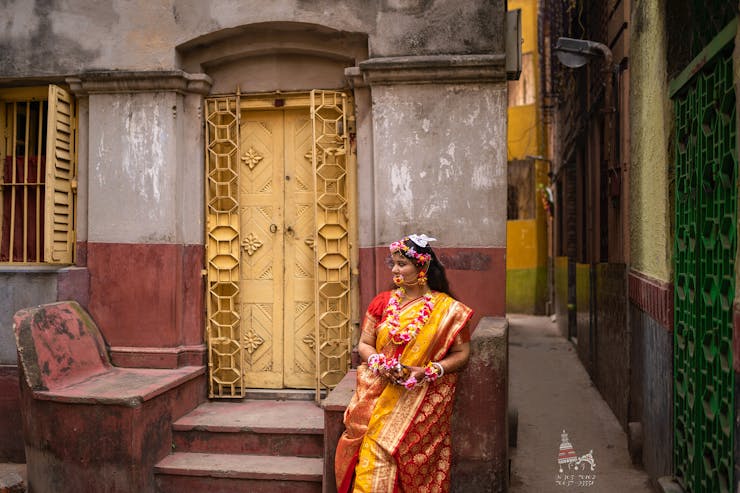 Hope these haldi photo ideas will help you to plan a splendid photo shoot of your joyful event.