Top 9 Traditional Bengali Bridal Mehndi Designs For 2022
Dear brides-to-be, check here some most beautiful bengali bridal mehndi designs that will offer you the prettiest bridal look of this wedding season.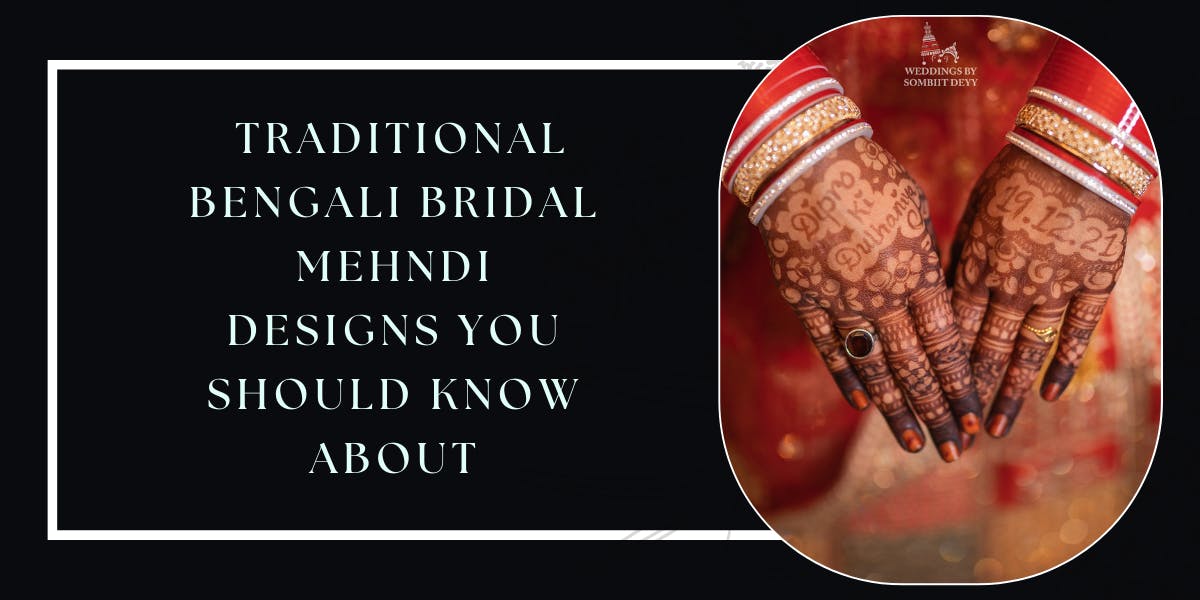 Mehendi ceremony is a beautiful wedding custom in a cultural country like India. The eye-catchy henna designs are considered auspicious for both bride and groom. It represents the deep affection between the couple. There is a scientific cause behind this lively ritual. According to Ayurveda, henna cools the body temperature and relieves pre-marital stress. Yet applying mehndi is not a true Bengali ritual but we have seen many Bengali brides with mehndi designs on their hands in bengali wedding photography. 
Traditionally, Bengali women or brides used to create designs on their hands and feet using a red dye called "Alta". But with the passing times, things have changed completely and modern Bengali brides become fascinated with stunning mehndi designs. So, today we have got some of the best bengali bridal mehndi designs that will make you the most gorgeous bride at your wedding.
1. Creative Rangoli Mehndi Designs
Adorning the bride's hand with intricate mehndi designs is an integral part of an Indian bride's traditional looks. Beautiful rangoli designs are considered a form of creativity and art in our country. Applying such unique rangoli designs on the palms of a new bride looks truly wonderful and offers a mesmerizing look to the bride. Creating rangoli-type patterns using dots, vines, and flowers appear unique and awesome on a Bengali bride's hand. Contact the best wedding photographers in kolkata to capture these beautiful mehndi designs and create some cheerful memories of your pre-wedding events.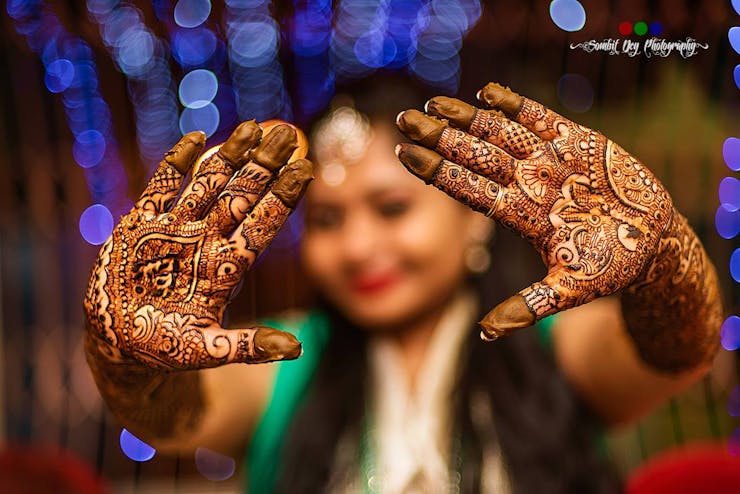 Recommended: 15 Awe-Inspiring Bengali Bridal Haldi Look For Glamorous Brides
2. Elegant Floral Mehndi Designs
Floral mehndi design are the most beautiful mehndi patterns for a Bengali bride. A beautiful flower-like rose is considered an expression of love and romance. In this beautiful mehndi design, the rose motif takes the central stage. The beauty of this lovely flower when combined with other mehndi patterns like leafy vines, curves, and lines produces an ethereal bengali mehndi design on the bride's hand. We are drooling over the elegance of this floral and leafy motif where all elements have the brought together to complement each other. This type of henna flower designs for hands goes well with a gorgeous floral lehenga or saree.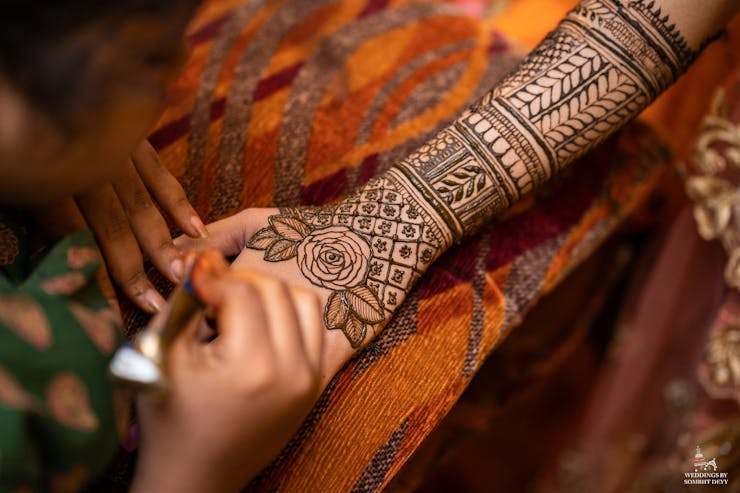 Also Check: 20 Important Bengali Marriage Rituals You Must Know About
3. Eye-Catchy Portrait Mehndi designs
If you want to achieve a classic bride look on your D-day then you must try opting for a portrait mehndi look for bride. This marvelous mehndi design is a beautiful fusion of tradition and trends. These classic Bengali bridal mehndi designs capture your wedding story perfectly from your wedding night. With neat and finest strokes of mehndi, this bride and groom portrait on the palm of the bride is a kind of artistic beauty. The traditional touch then combined with floral patterns adds a unique and special Indian charm to the bride's overall look.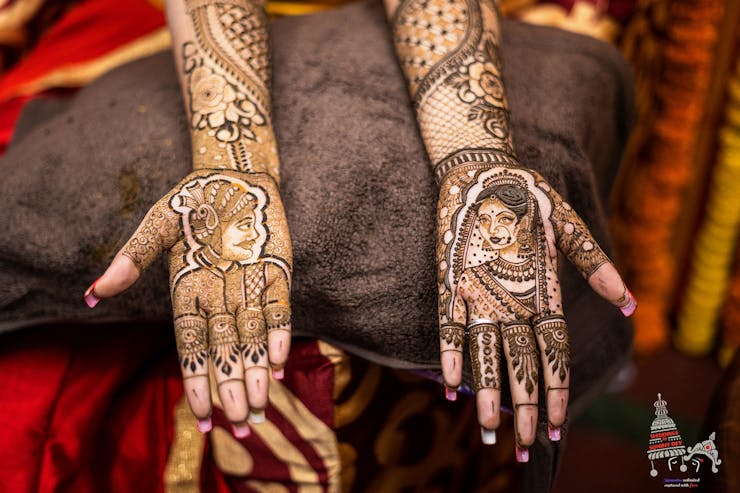 4. Gorgeous Mandala Mehndi Designs
Mandala mehndi designs are an old charm that continues to stay popular amongst Bengali brides. The beautiful concentric circles when combined with floral motifs and meshwork patterns produce a super alluring result. How beautiful is this pretty bride looking with her stunning mandala mehndi design? This wonderful mandala pattern is accompanied by lotus motifs floral vines and dots which is looking effortlessly gorgeous. This kind of mehndi pattern is one of the most simple mehndi designs for hands that look stylish and promotes the simplicity of the bride.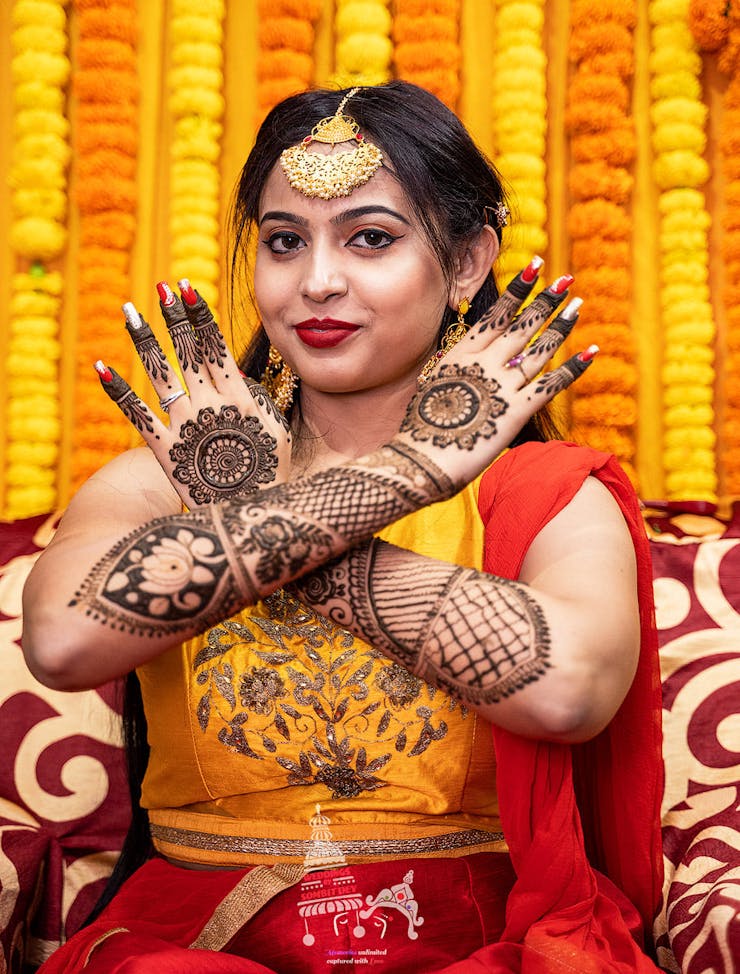 5. Beautiful Arabic Mehndi Designs
The Dubai style mehndi design is an excellent choice for a wedding celebration. Here the bride has opted for the latest mehndi design in Arabic style that can easily grab the attention of the eyeball. We love how this mehndi design is a mix of multiple motifs like paisleys, meshwork, and spirals. These intricate designs look so breathtaking on the bride's list. These wonderful mehndi patterns are surely a sight to behold.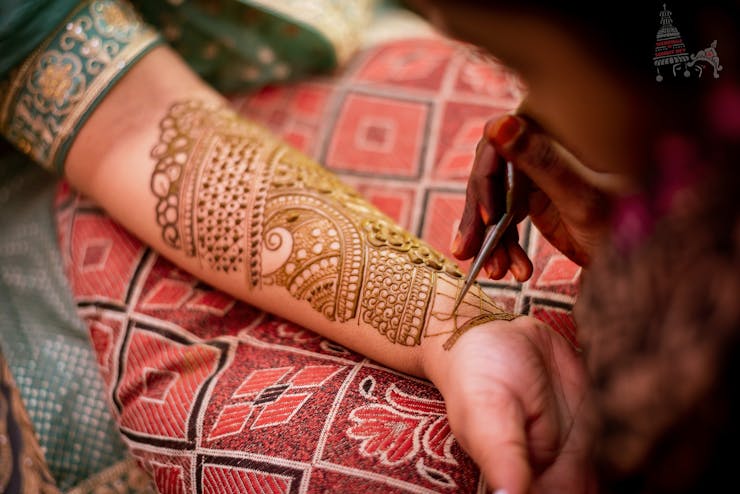 6. Attractive Jaal Pattern Mehndi Designs
The jaal or net mehndi design on a bride's hand adds a glam factor to the bridal persona. This unique and intricate mehndi pattern starting from the fingertips and spreading below the wrist area looks absolutely stunning in the wedding pictures. Opting for a stylish nail design can increase the charm of this bridal mehndi. Here the mehndi artist has divided the pretty meshwork into four different layers which are gracefully adorned with leafy motifs and dainty dots. Such a beautiful mehndi design always becomes the highlight of your bridal look.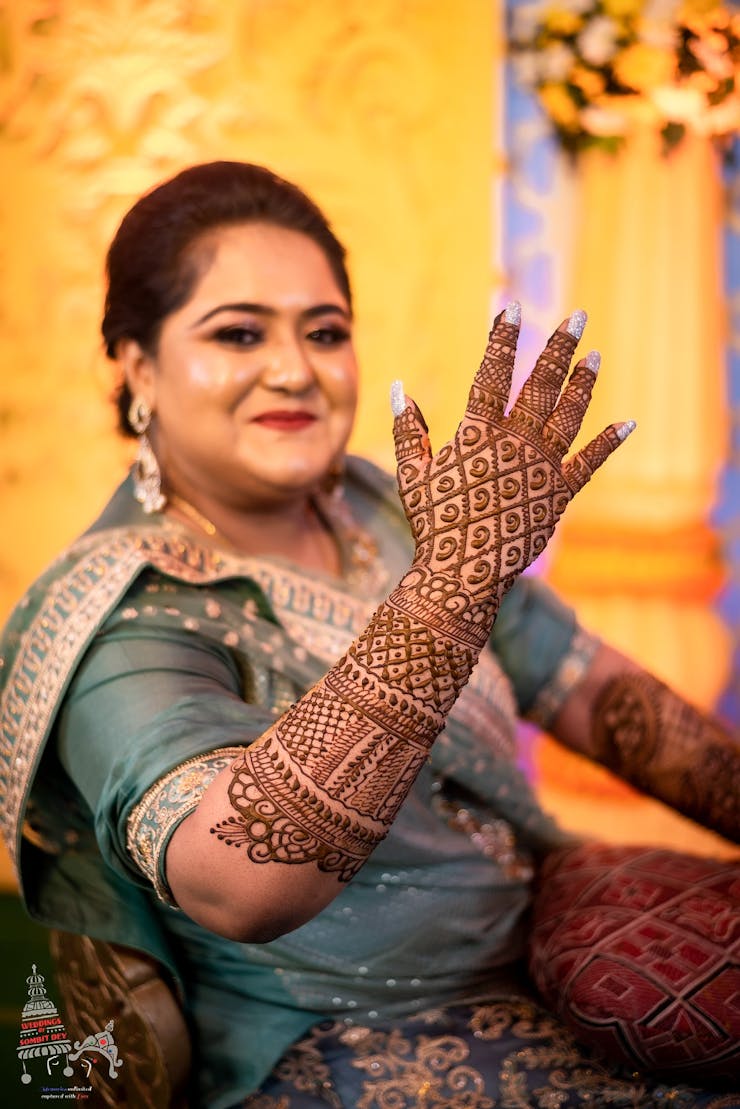 7. Charming Full Hand Mehndi Design
A full hand mehndi design exudes the ethnicity of a bridal look like nothing else. These eye-pleasing designs are made with multiple mehndi motifs to decorate the bride's hand. Featuring floral swirl and vines on the palm looks so lovely in the pictures. The abundant use of floral vines makes these gorgeous bengali mehndi designs look more appealing. It leaves a whimsical vibe that can easily grab the attention of everyone towards your beautiful hands.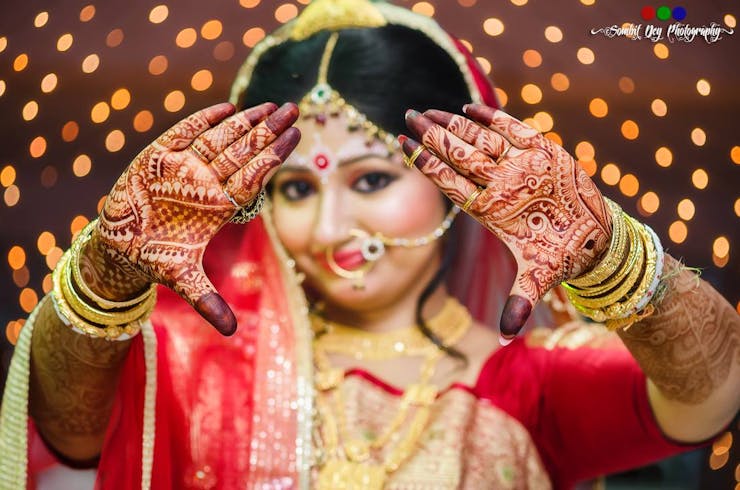 8. Traditional Alta Mehndi Design
The most popular and traditional Bengali bridal hand designs are drawn using Alta. These are one of the simplest bengali mehndi designs that you can try to look like a traditional Bengali bride on your wedding day. You can ask your mehndi artist to draw a floral vine or leafy pattern on your adorable hands and feet. If you want to keep it simple and elegant then you can easily draw circular patterns like the sun in the middle of your hands and feet which will offer a typical Bengali bride look.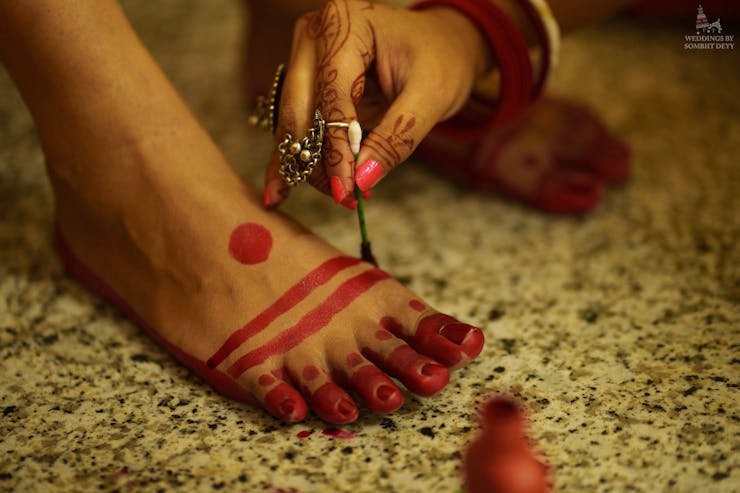 9. Wonderful Paisley Mehndi Design
Another traditional and beautiful mehndi design includes paisley motifs that always steal our hearts. Paisleys are beautiful curves like a feather shape. This extraordinary design looks more beautiful if given bold strokes on the hands. You can try this kind of minimalistic paisley design with bolder strokes and lighter filling inside to keep it simple as well as attractive.