All About trending Matha Patti For Bengali Bride
Wondering how to ace your bridal look? Take look at some of the most stunning Matha Patti for Bengali bride which can make you look like a royal queen.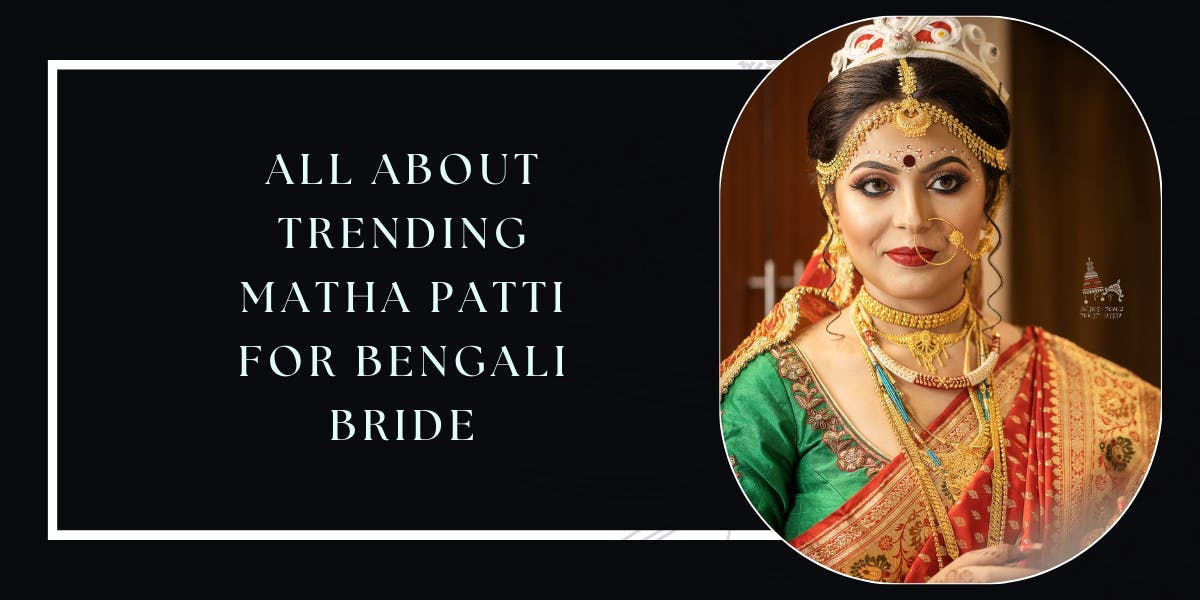 Indian brides have been always praised for their natural beauty. But what makes them look more elegant and attractive is their wedding accessories. With their gorgeous bridal outfits and statement jewelry, everything has an extraordinary charm.
One such exclusive piece of bridal jewelry is her matha patti. Indian brides have been adorning their heads with this delightful ornament for centuries. This stellar bridal gear is now available in many unique designs. It has become a great way of glorifying the beautiful foreheads of millennial-age brides. The trend of wearing Matha Patti with a gorgeous bridal lehenga is no more limited to Northern India. It has also influenced the bong brides to uplift their bridal charm. We are fortunate enough to capture some trendy Matha Patti designs during Bengali wedding photoshoot.
So, here we are sharing some super attractive matha patti for Bengali bride. These statement head gears might inspire you to experiment with a new look on your big day.
1. Crown Shape Matha Patti
This bride looks gorgeous in her crown shape matha patti design. The unique style of this Bengali bridal matha patti can add a royal vibe to your bridal persona. This kind of bridal jewelry can make you look like a royal queen in your Bengali wedding photography.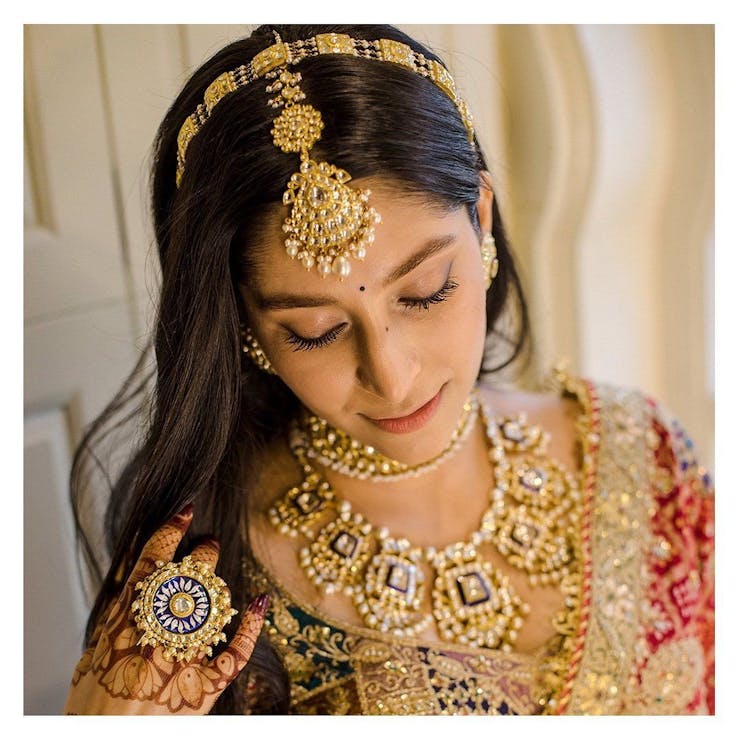 Recommended: Bookmark These Bride Getting Ready Photos For Your D-Day
2. Multiple Strand Matha Pattti
Multiple-strand matha patti for wedding has become a popular trend these days. The rustic charm of these wonderful head gear amps up the beauty of your wedding day look. Such an exquisite Matha Patti goes well with any ethnic outfit. The pearl beads and polki attached to the sleek strands add a unique charm to your bridal bun hairstyle.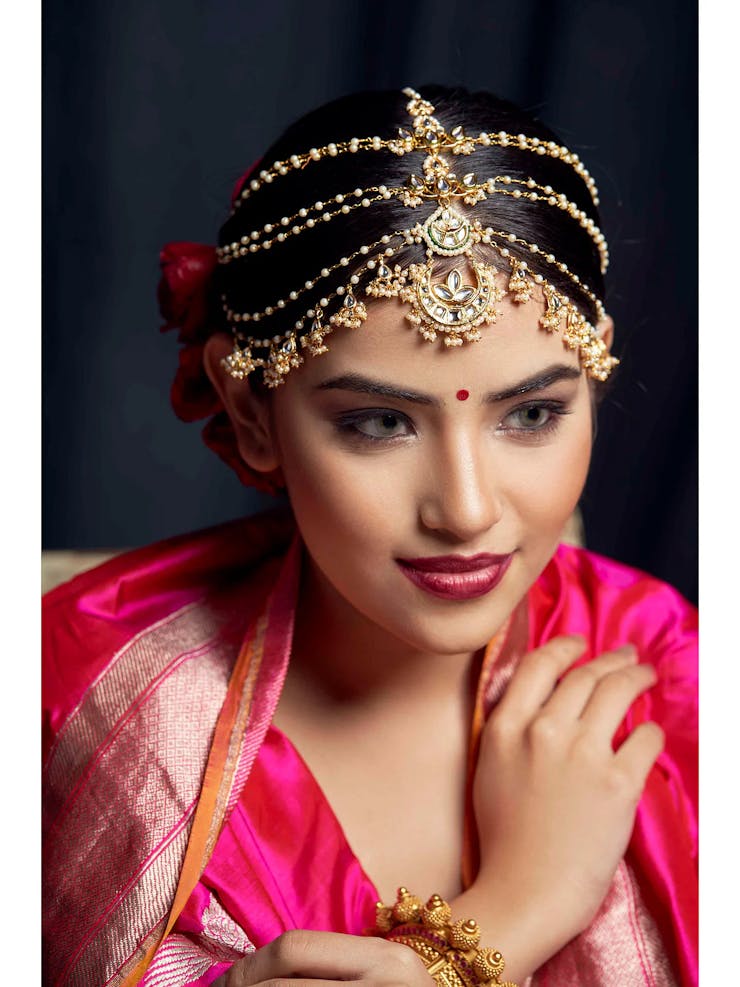 Must Read: All About Traditional Bengali Wedding Jewellery Collections For 2022
3. Colorful Stone Matha Pattti
If you are looking for bridal matha patti designs with dainty colorful stones on them, here is one for you! It has a golden base that is adorned with multiple green and red stones. It can be great bridal jewelry to complement your traditional red lehenga.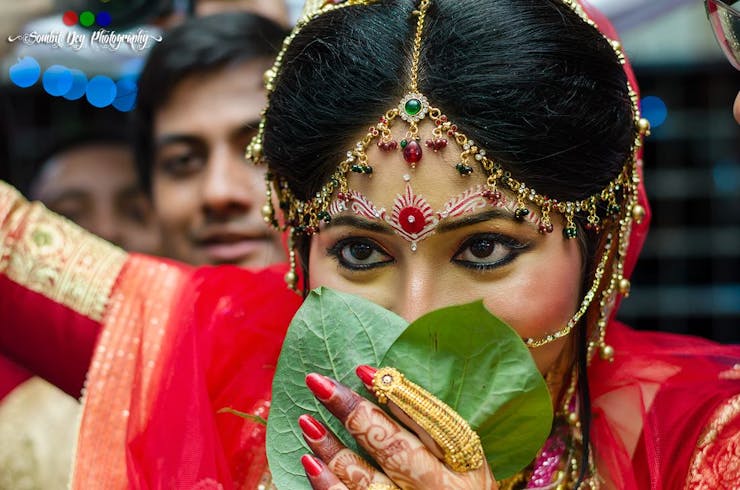 See More: 11 Beautiful Bengali Bridal Lehenga That Will Mesmerize you
4. Gold Matha Patti
Nothing can be as graceful as a gold matha patti design. It is an evergreen jewelry choice for Bengali brides. The intricate design of a golden Matha Patti can complement your gorgeous Banarasi saree and statement jewelry. Book a photographer in Kolkata for wedding pictures to capture the enthralling charm of an elegant Matha Patti.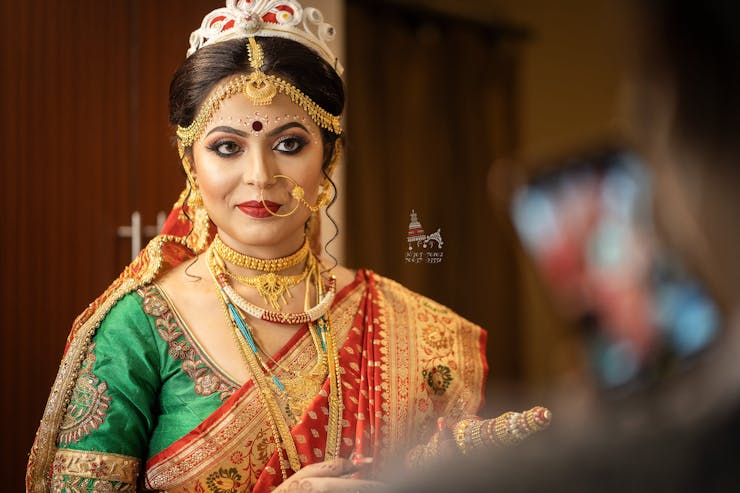 5. Floral Matha Patti
The angelic vibe of a floral matha patti can make you look like a pretty princess. The delicate flower jewelry can spread a positive vibe in the atmosphere. This kind of matha patti look is preferred for the pre-wedding occasion.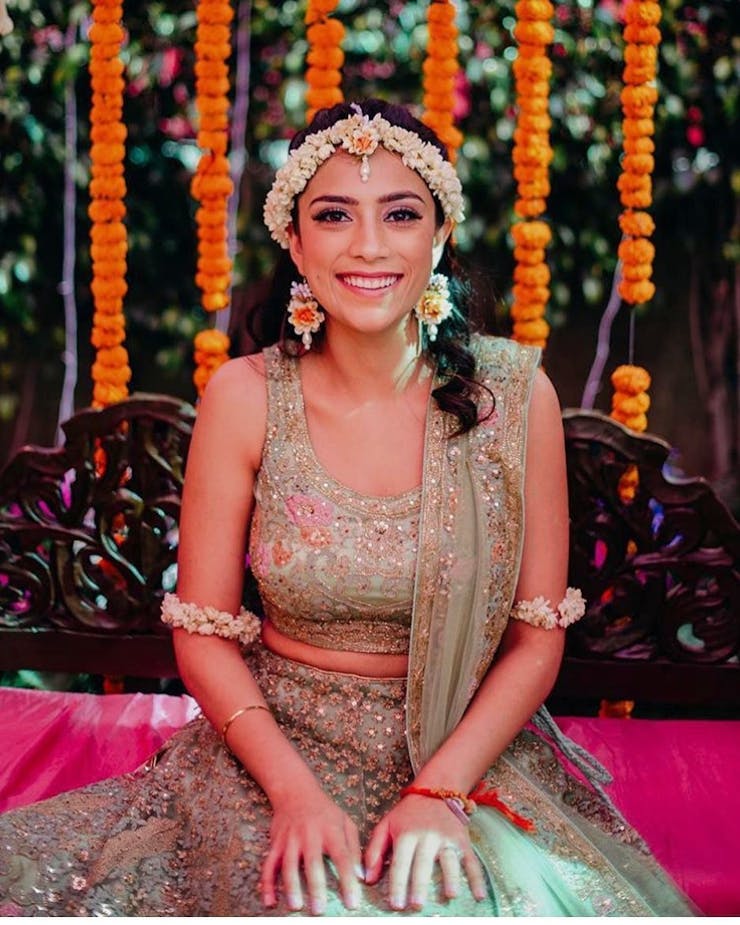 6. Kundan Matha Patti
Kundan jewelry is the most luxurious piece of bridal jewelry since the Mughal era. Nowadays, this gorgeous Matha Patti has gained popularity for its unique designs. The double-layered Matha Patti with emerald adds extra detail to your bridal look.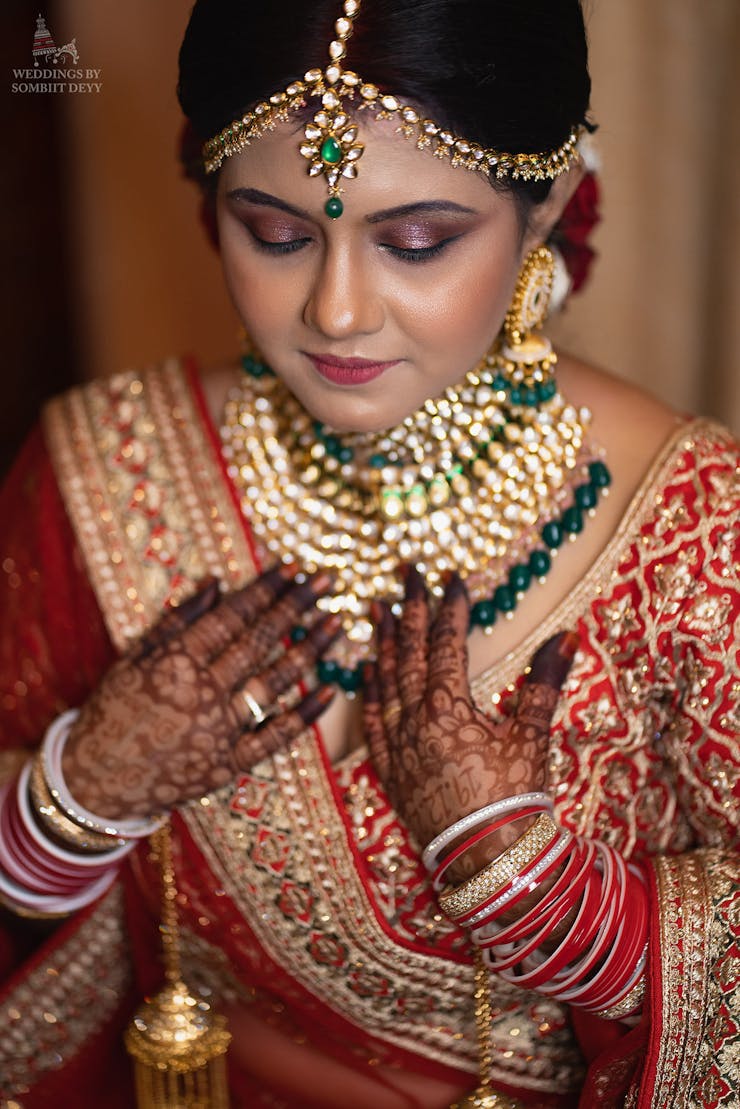 7. Jhoomar Style Matha Patti
Another popular matha patti for bride is a one-sided Matha Patti design. This Jhoomar Matha Patti adds an unconventional vibe to your wedding look. It is the best piece of jewelry for wedding functions like mehndi or sangeet ceremonies. It looks more gracious when worn with a gorgeous Anarkali or sharara suit.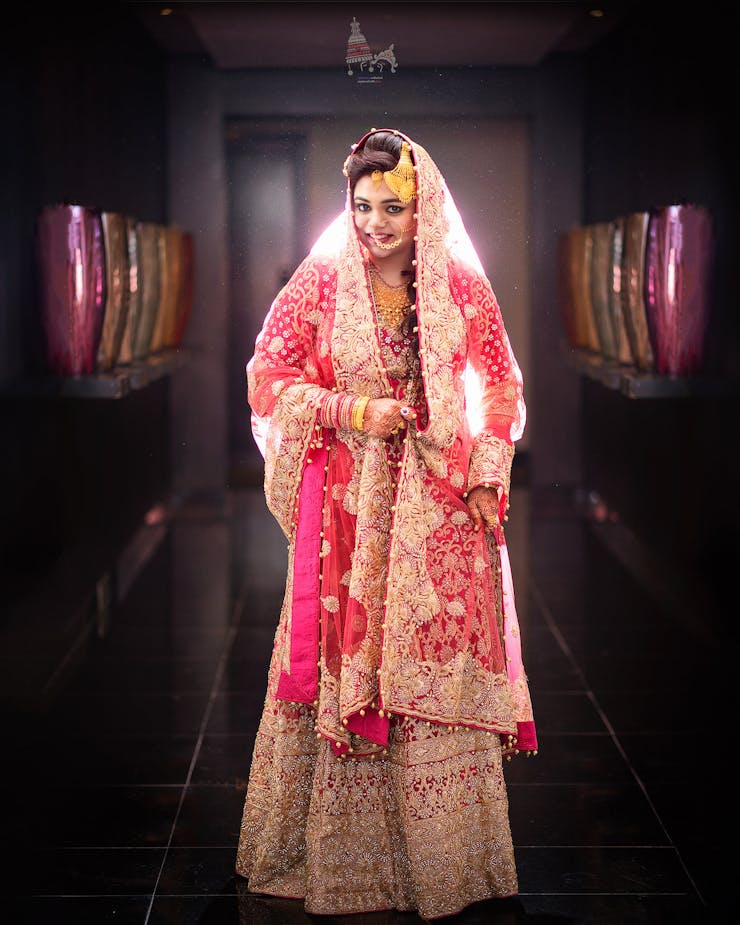 8. Gold & Pearl Matha Patti
The classy combination of gold and pearl always grabs the attention of lovely brides. This South Indian matha patti jewelry is a perfect example of elegance and ethnicity. The dainty pearls attached to the golden strip beautify your overall appearance. This alluring Matha Patti design is all ready to give you a timeless appearance on your big day.
9. Diamond Matha Patti
Nothing defines royalty and elegance more than diamond jewelry. This is one of the best picks for Bengali brides who want to complement their elegant pastel outfits. A diamond Matha Patti is an unconventional choice for modern-age brides. It can help you make a style statement at your special event.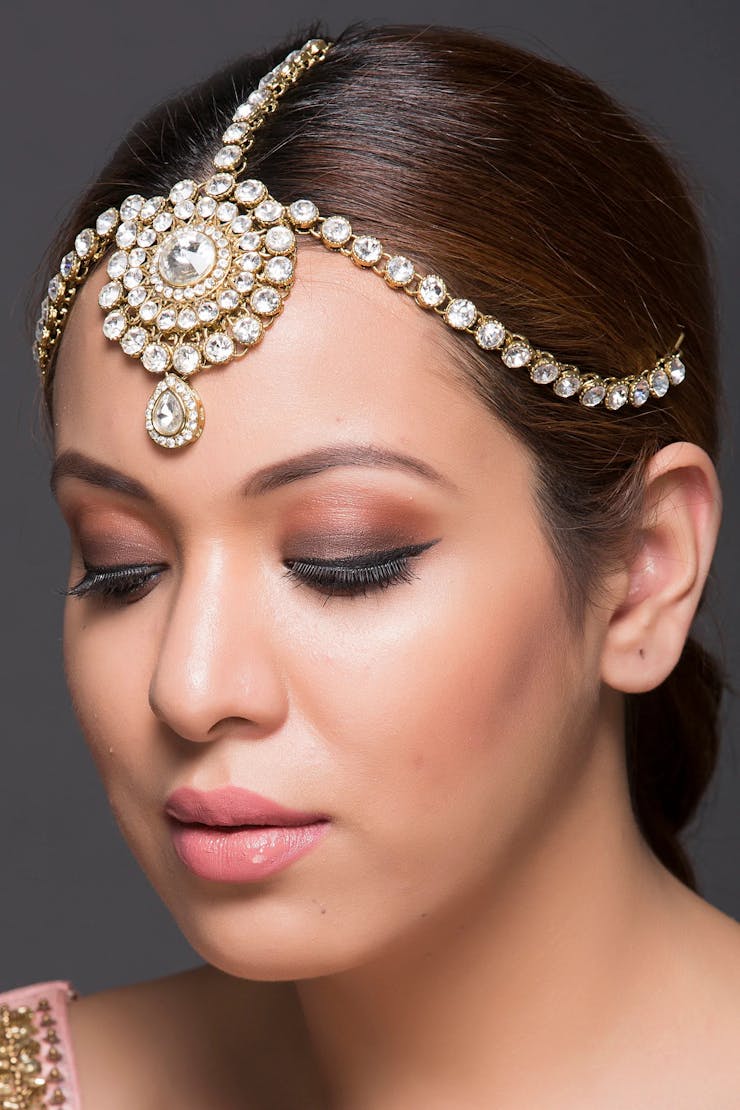 10. Pearl Matha Patti
Some Bengali brides can't stop being in love with their pearl jewelry collection. This one-sided pearl jewelry is a new matha patti design that adds oodles of attitude and bounces to your hairstyle. It is attached with a Kundan Maang tika that defines your bridal makeup.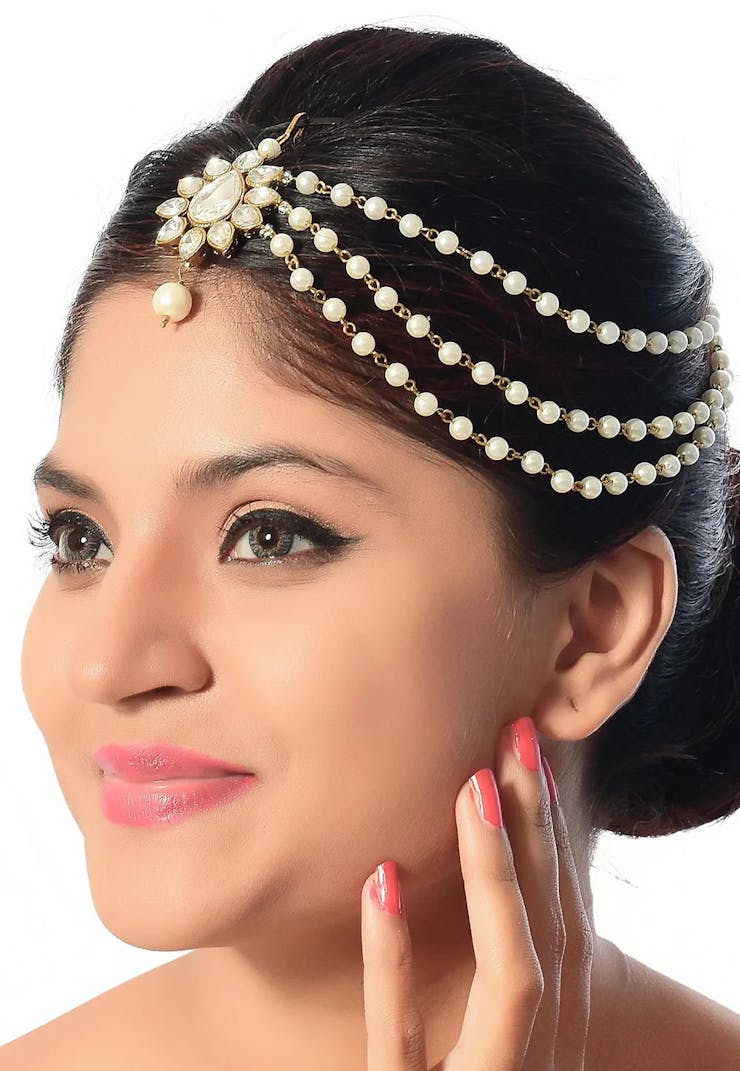 11. Double Layered Matha Patti
Look every bit of a royal queen with this exquisite Bengali matha patti. The double-layered Matha Patti with tassels provides a distinct look to the brides. The round tika in the center adds elegance to the overall appearance of the wedding day look. It is an ideal pick to highlight your stunningly beautiful bridal veil.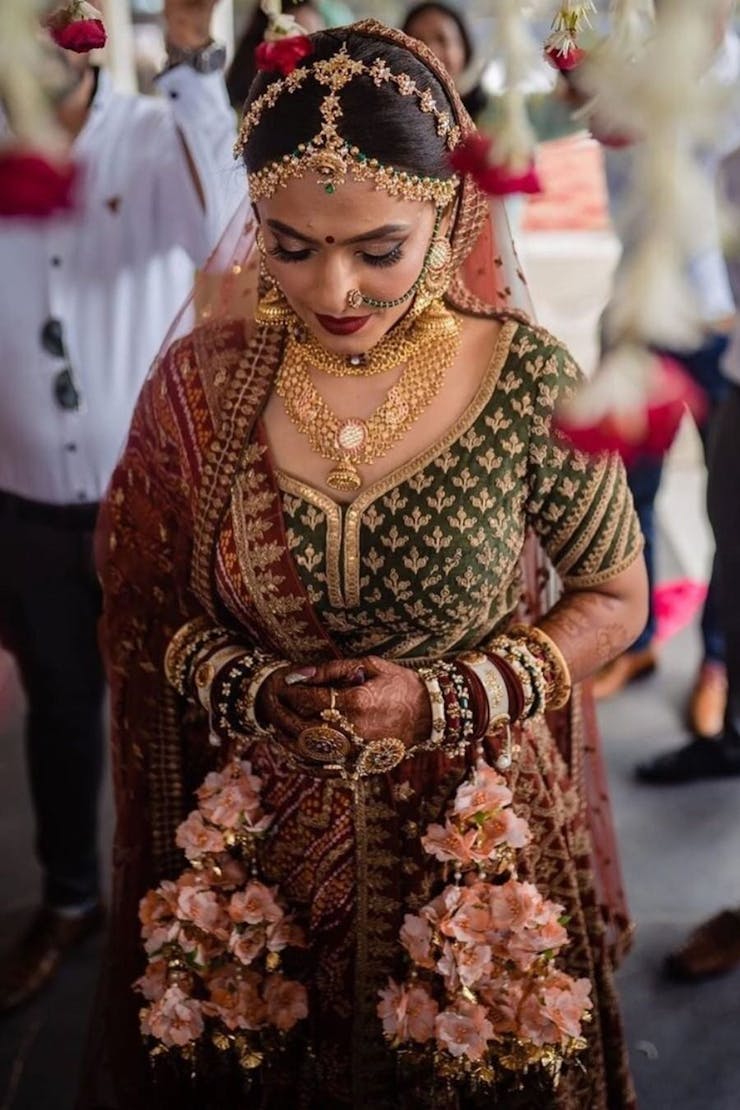 12. Heavy Matha Patti
This massive matha patti bridal look can grab all the attention at the first sight. The Bronze shaded Matha Patti has covered the front part of her head. And the big pendant at the center is making her look more glamorous. Her stunning eye makeup is a perfect complement to the rustic charm of this heavy Matha Patti design.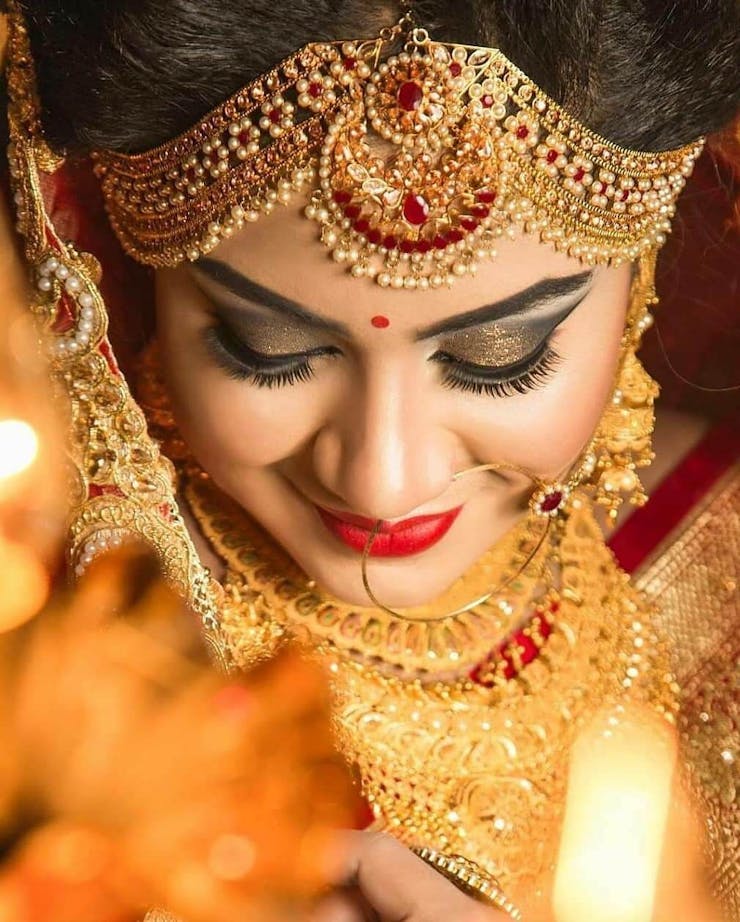 13. Borla Matha Patti
Brides with an oval face can choose this Matha Patti to complement their wedding attire. The Borla Matha Patti design was made especially for the royal queen in Rajasthan. Nowadays, this design has gained much popularity for its glamorous shine. This heritage inspires royal jewelry that can add a timeless grace to your wedding look.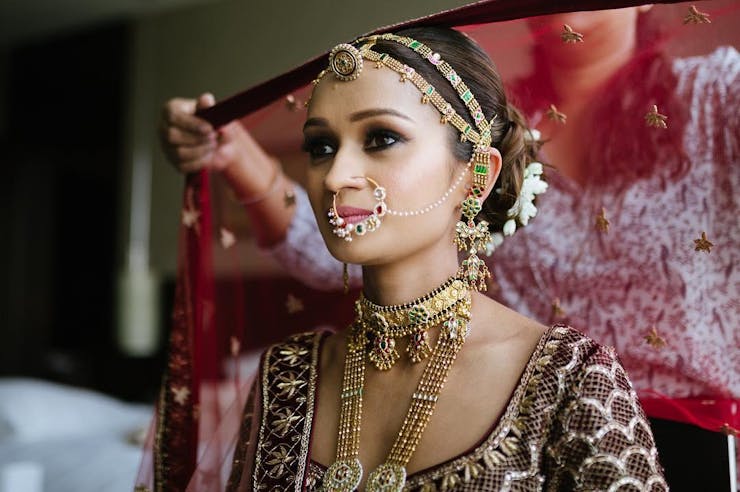 14. Chaandbali Matha Patti
This is one of the latest matha patti designs that define your sense of your fashion. The single-layered chain attached with Polki, Borla, and Chandbali ace up the fashion game. The gorgeous chandbali in the center can complement your bridal aura.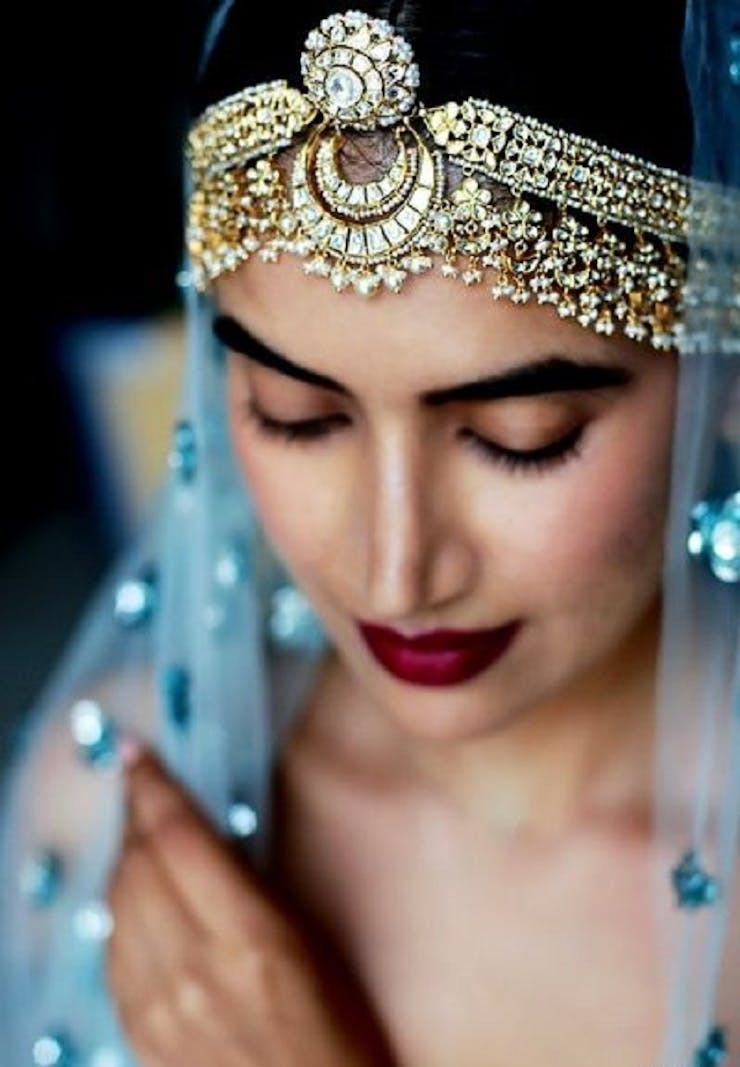 15. Gold & Kundan Matha Patti
This gold and Kundan matha patti bridal look is an ideal pick for post-wedding events. It is a trendy Matha Patti design that can make you stand out from the crowd. Its design is simple yet fashionable enough to capture the eyes and hearts of all those around you.