Top 12 Beautiful Pre Wedding Shoot Dresses For Couples In 2022
Have a look at these pre wedding shoot dresses for couples to create the most romantic tale of a memorable pre-wedding. Read to know more.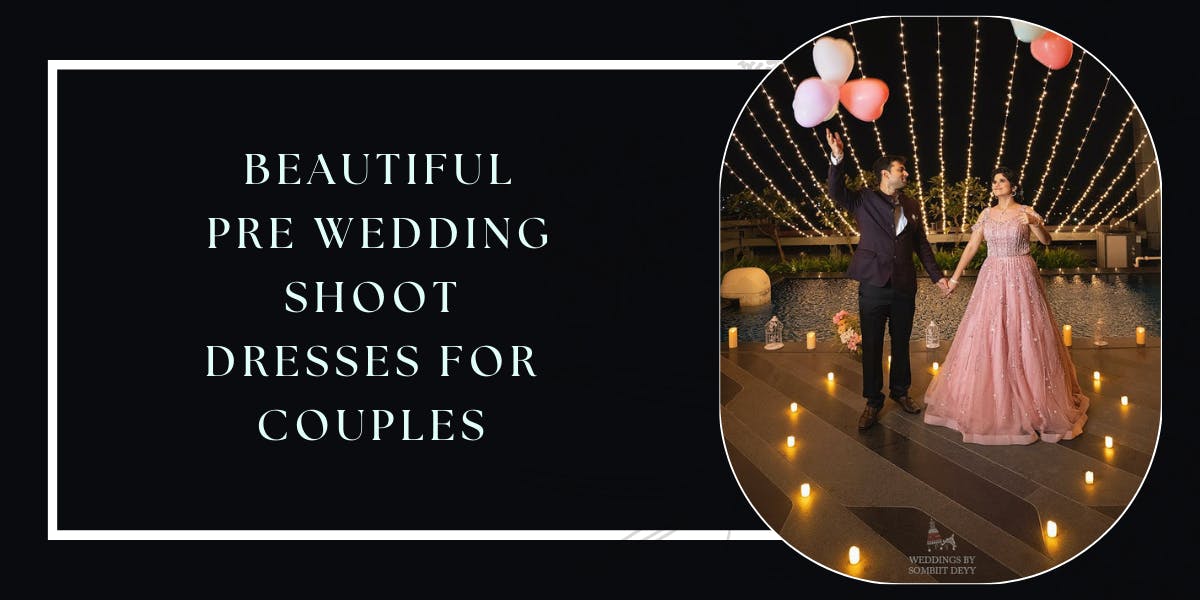 Pre-wedding photography portrays the beautiful relationship of the couple to its fullest. It's a great option to get perfect images of your loving moments that you can cherish for a lifetime. Moreover, it also provides a great opportunity for couples to enjoy some time together. Some couples want to recreate an iconic movie scene during their pre-wedding shoot, while others look for some easy options. But you must keep in mind that a pre-wedding shoot will look best only if you have dressed well. Wearing gorgeous dresses can turn your pre-wedding pictures into a dramatic tale. Stunning outfits can enhance your look in pre-wedding pictures. Both the bride and the groom need to find a perfect outfit to complement each other in pictures. As one of the best wedding photographers in kolkata, we would like to suggest to you some latest pre-wedding dresses for couples. Bookmark these wonderful pre-wedding outfits for a splendid photoshoot.
1. Get Stylish With The Comfy Casuals
Pre-wedding photos in casuals look more amazing in the daylight. Make sure to pick your pre-wedding outfit according to the location. This adorable couple has chosen to wear casuals for their pre-wedding shoot. The bride has opted to wear a midi dress with a long jacket. And the groom looks stylish in his black t-shirt and blue jeans.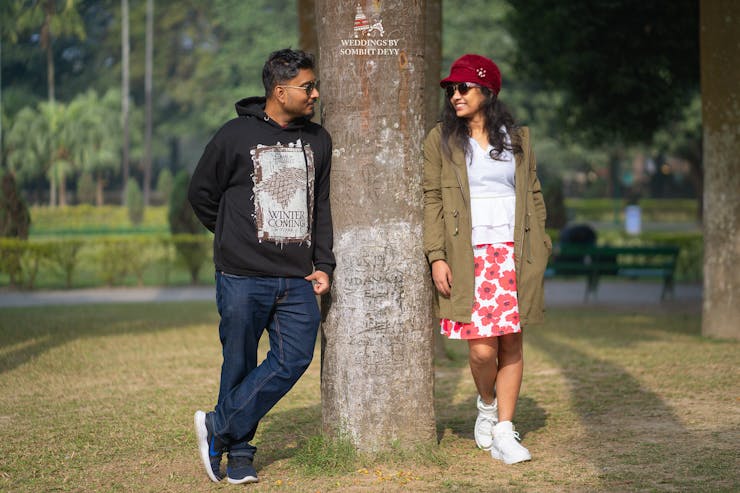 Check this: 15 Awe-Inspiring Bengali Bridal Haldi Look For Glamorous Brides
2. Traditional Outfits Are The Most Elegant Pre Wedding Shoot Dresses For Couples
Here the couple has chosen a traditional outfit that goes well with a lush green backdrop. Pre-wedding pictures in ethnic clothes can create a beautiful wedding tale. Consult a photographer in kolkata for wedding to plan such a dramatic pre-wedding shoot in the city of joy.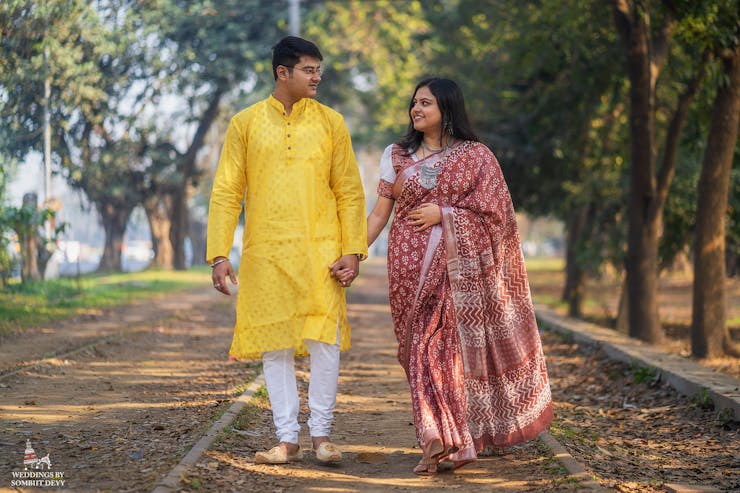 See More: 12+ Reception Dress For Bengali Groom For The Most Charming Look
3. A Classic Combination Of A Stunning Suit And Formals Always Looks Good In Picture Frames
A playful salwar in bright shade complements classic formals very well. Color combination also plays an important role to enhance your pre-wedding pictures. If your bride is wearing a bright shade like yellow or green you can choose a dark shade to compliment her. This kind of pre wedding dresses for couples will offer you a set of dramatic pictures to look back at.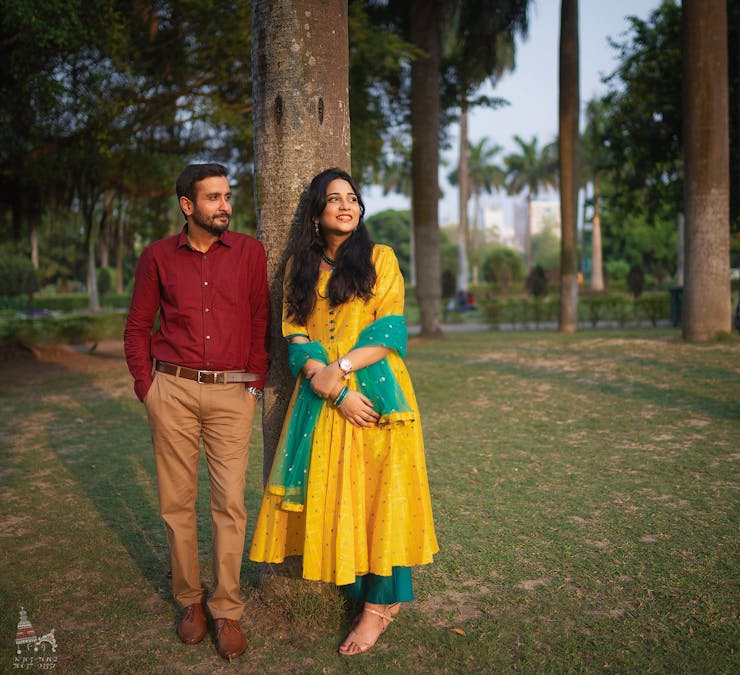 4. The Evergreen Charm Of Black & White Wedding Outfit Will Never Die
Nothing can beat the charm and elegance of a black and white outfit for a wedding photoshoot. This beautiful bride wearing a black and white gown is looking attractive in her pre-wedding picture. The groom has also tried to match her glamorous look by wearing a black shirt with stylish jeans.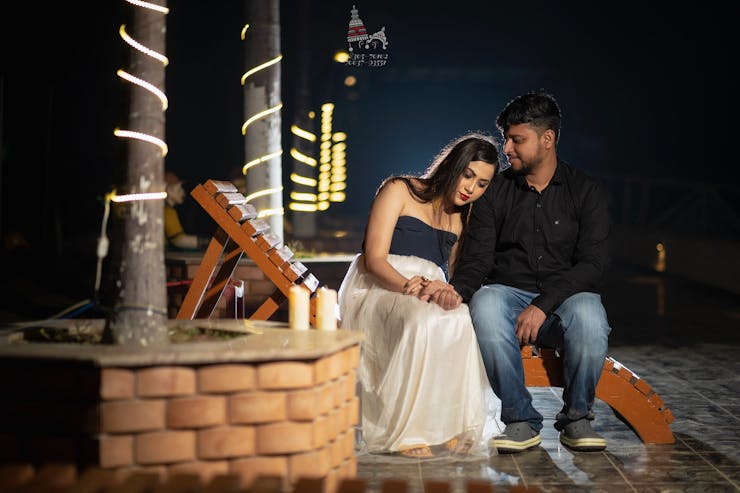 5. Go Out All Casual In Blue Denims
Wearing jeans and a t-shirt on a pre-wedding shoot might sound super casual. But this is the best option to show your coolest side to everyone. Wearing a pair of jeans with a contrasting t-shirt is sure to bring all the attention to your pre-wedding pictures. This super stylish outfit will offer you lovely couple portraits. Opt for a couple casual pre wedding shoot dresses to get the funkiest pictures.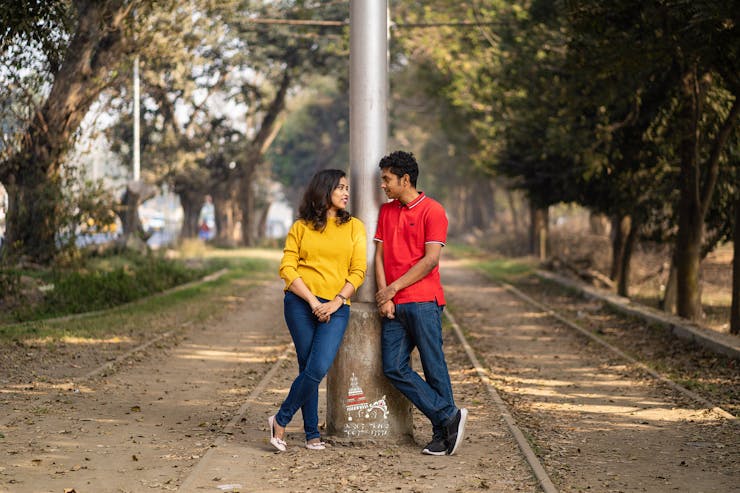 6. Wearing A Three Piece Suit & Red Gown Is The Best Pre Wedding Shoot Dresses Ideas
A red outfit can add romantic vibes to your pre-wedding shoot. It also complements well the classic three-piece suit of the charming groom. It can give you some most stunning and romantic couple portraits of your pre-wedding. Discuss the timing and location of your pre-wedding shoot with your photographer to buy a perfect outfit.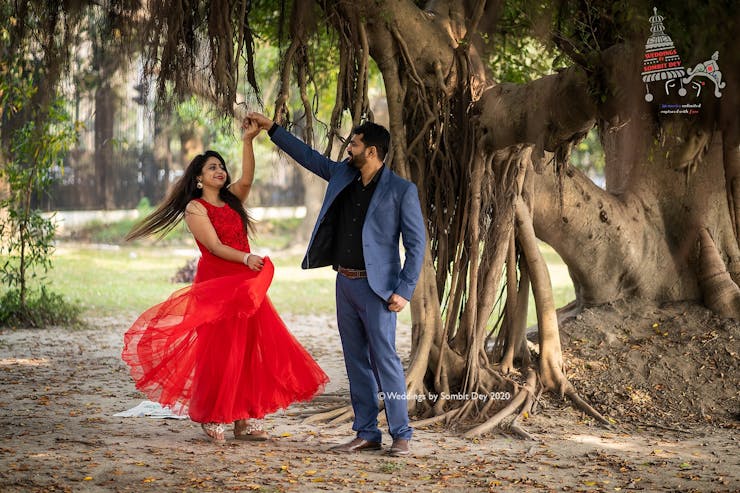 7. Say A Big Yes To The Glamorous Red Saree
This bride's glamorous red saree is complementing the stylish black shirt and formal pants of the groom. The super stylish groom has worn leather boots and a classy watch to match the beauty of his glamorous bride. Try to pair your red saree with a stunning necklace for a glamorous pre-wedding look.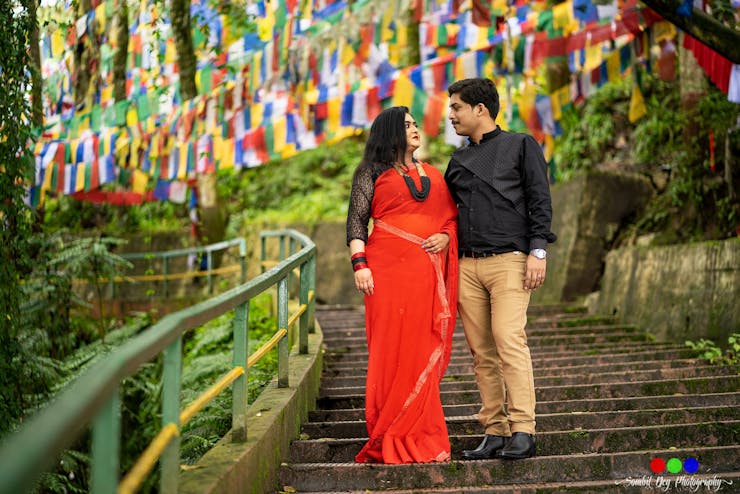 8. Cotton Kurti And T-Shirts Are The Most Wonderful Pre Wedding Shoot Dresses For Couples
Look at this adorable couple showing their simplicity through their pre-wedding pictures. This bride has worn a beautiful red Kurti over tight jeans. The groom has also maintained simplicity by opting for an orange t-shirt and blue jeans. The couple standing together looking at the beautiful flowers are creating a wonderful wedding tale.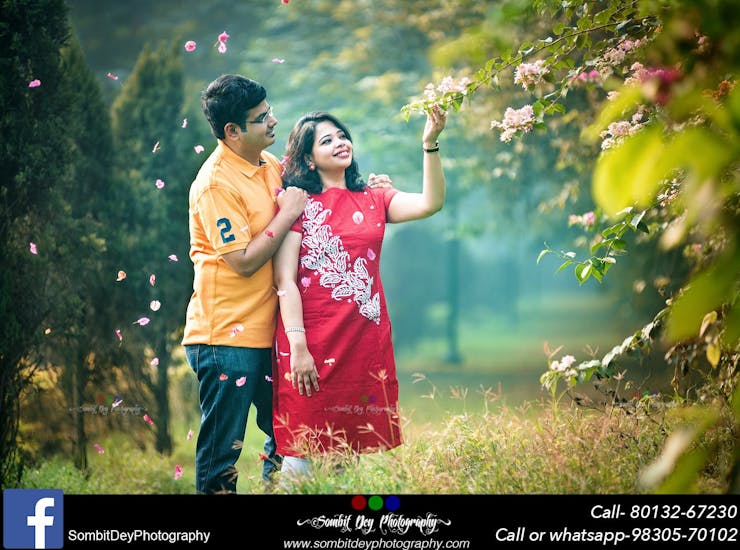 9. An Evening Gown & Classic Suit For A Memorable Date Night
The next one on this list is the best couple dress for pre wedding shoot. This beautiful picture reminds us of a romantic love proposal in the Bollywood movies. The charming groom wearing a three-piece suit in black and white is giving us some major fashion goals. The gorgeous black gown of the bride is the center of attraction in this wedding portrait.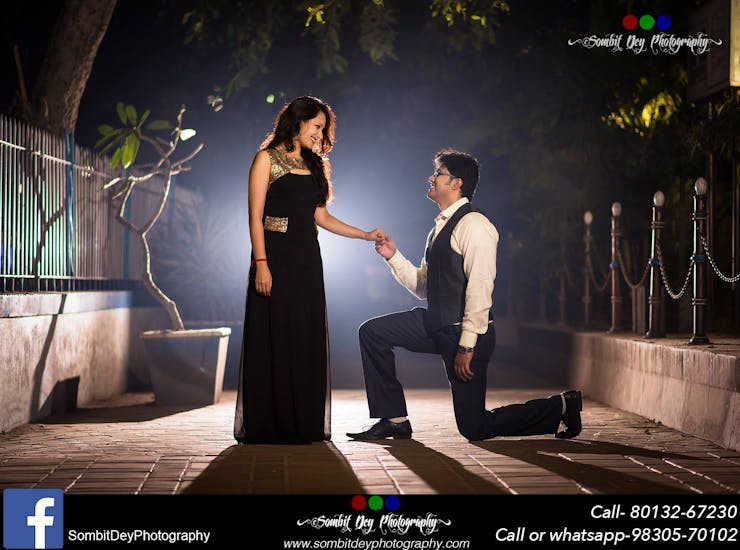 10. A Calf Length Dress Looks Beautiful With a Stylish Suit
If you want an OTT pre-wedding shoot then you can take inspiration from these stylish couples. This pretty bride in a short dress reminds us of the popular look of Kajol in DDLJ. The groom has also worn a super stylish blazer and black jeans to complement his bride's red dress.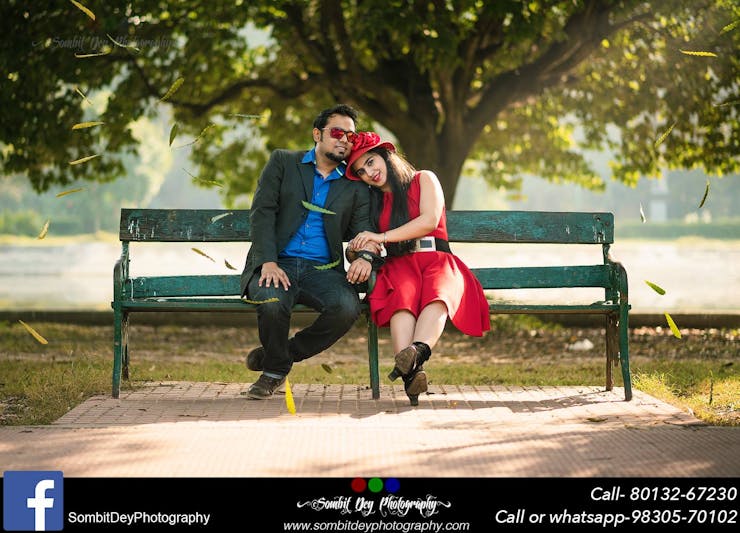 11. Create A Fairy Tale In Free-Flowing Gown
Long gowns are the most gorgeous pre-wedding dress for a bride. It complements well the classy formals. The pair of a ravishing gown and classy formals are the most popular pre wedding photoshoot dresses for couples. A vintage backdrop behind can add wonders to your pre-wedding pictures.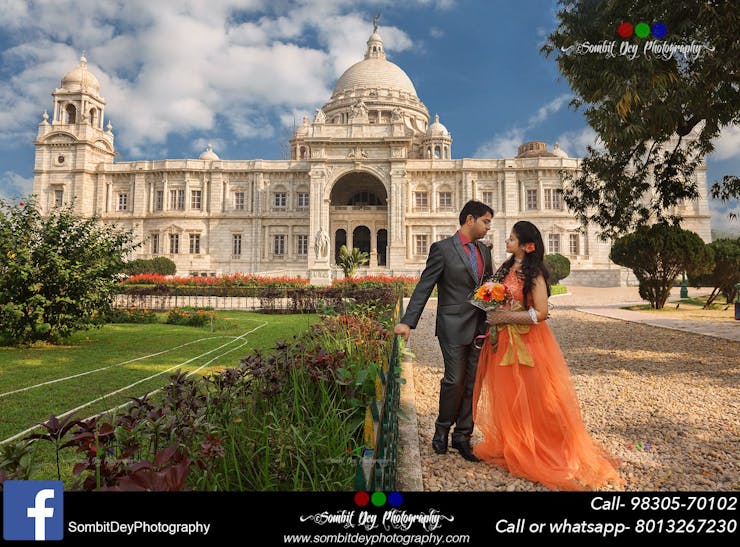 12. A Unique Combination of Western & Indian
Ending this list with a most amazing twist in pre-wedding outfits. Here the bride has decided to flaunt her ethnicity by wearing a designer Anarkali. While the groom has worn a formal suit and pants to match the subtle charm of her vibrant color outfit. These are the most fantastic couple dresses for pre wedding shoot that you can opt to make a fashion statement.