Amazing Beach Pre-Wedding Photoshoot Ideas That Have To Be Saved!
Looking for some ideas to plan a Pre-wedding photo shoot at the beach? Check here the secret behind some extraordinary beach pre wedding photoshoot.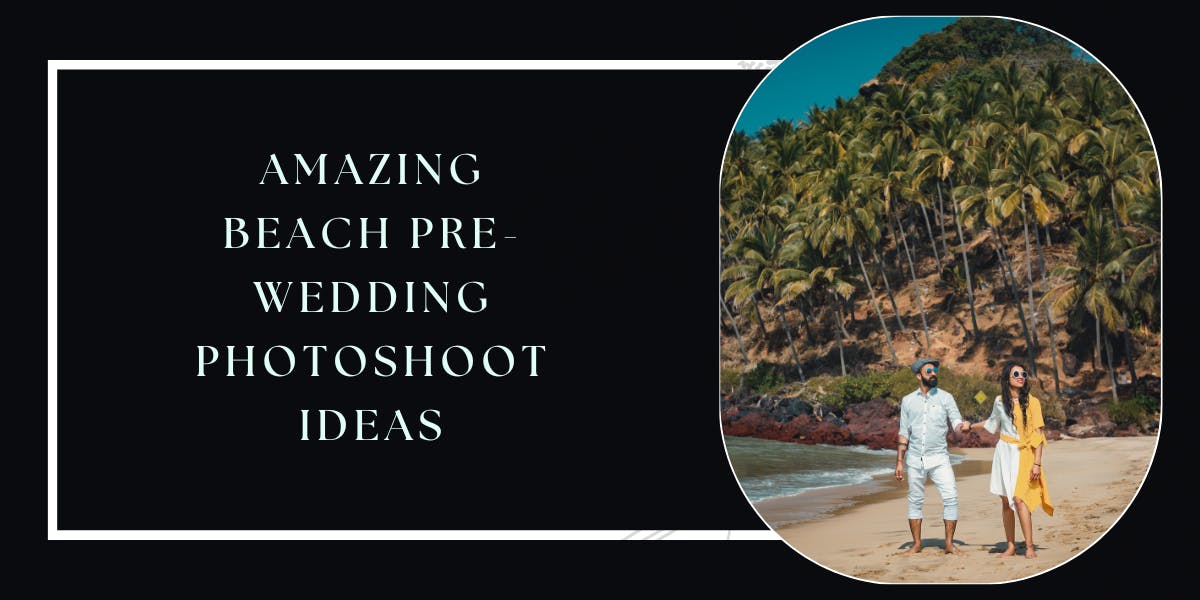 Pre-wedding photoshoot at the beach is an exciting event for newlyweds. It is a good opportunity to capture the feeling of love before tying the knot. A pre wedding photoshoot in Kolkata is exciting and rewarding at the same time. It's a good way to show off your style and personality in your wedding pictures. Planning a pre-wedding photoshoot at a beach is a popular choice among couples to capture their intimate moment. The sand and waves provide the ideal backdrop for capturing the romantic moment. Some couples even choose to shoot at sunset to create striking pre-wedding pictures. So, if you're also looking to shoot your pre-wedding at a beach, then you've come to the right place. We are going to share with you some amazing beach pre wedding photoshoot ideas for the dreamy couple shots.
1. Romantic Walk
Capturing the breathtaking beauty of sea waves makes dreamy pre-wedding pictures. This pre-wedding picture has a beautiful sequence that shifts the picture frame from the sea waves to the couple's walk. Our hearts fluttered while seeing this creative couple shot on a beautiful beach. You can wear a free-flowing gown and ask your partner to suit up for a beach pre wedding shoot.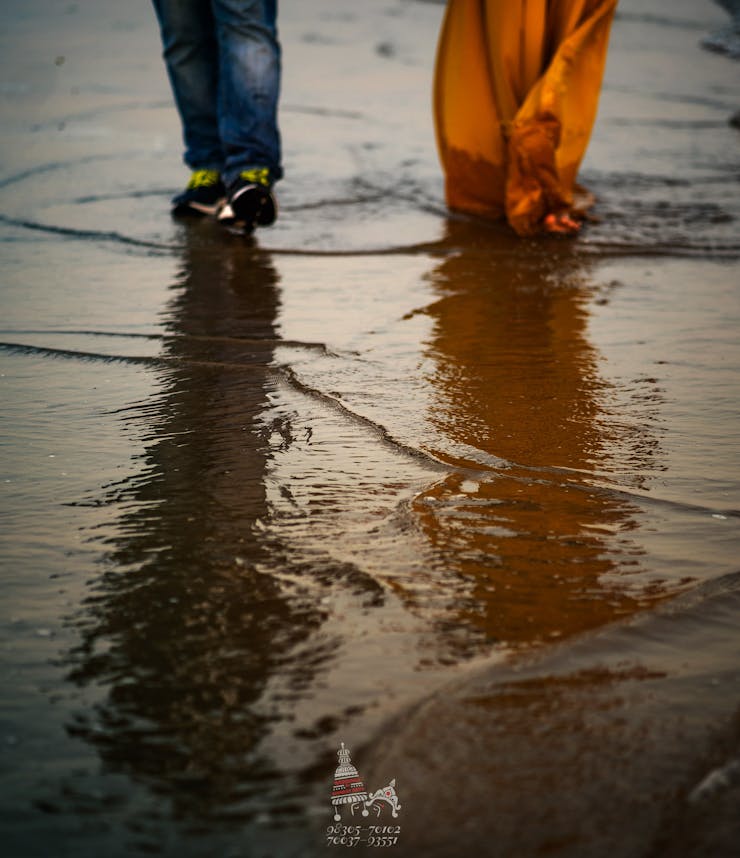 Recommended: Latest Engagement Poses Ideas & Tips For Couples
2. Forehead Kiss
This couple locked in arms is inspiring for a wonderful pre-wedding photoshoot. A groom kissing his bride's forehead is a popular pose for pre wedding photography in Kolkata. A forehead kiss is the best way to reveal your love and care through the medium of wedding photography.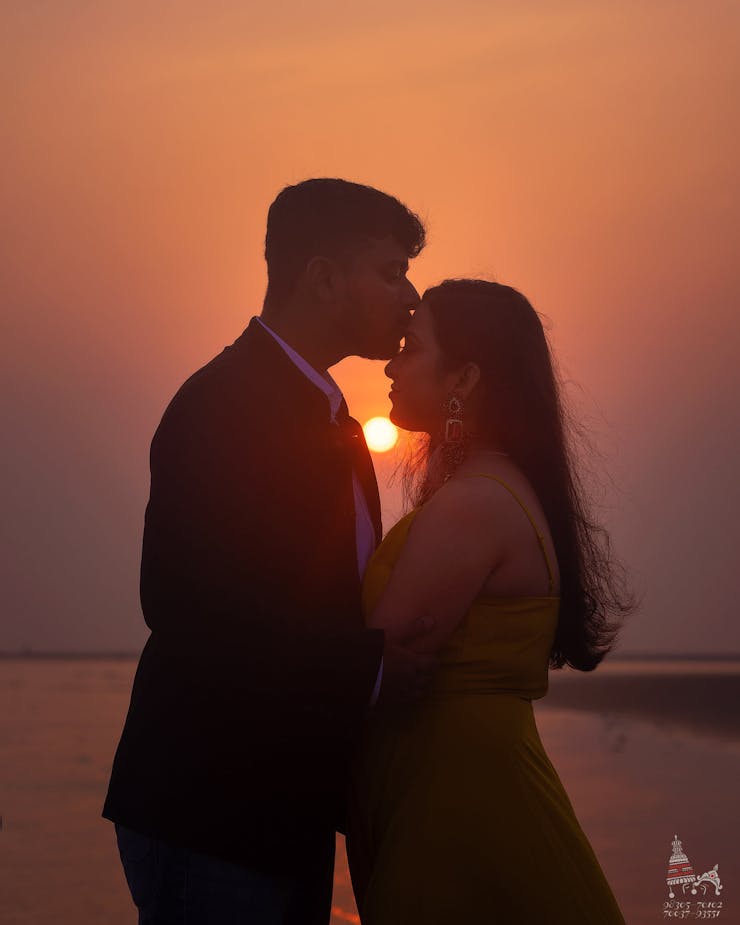 Also Check: 10+ Beautiful Pre Wedding Shoot Places In Kolkata
3. A Surreal Fairy Tale
Who doesn't wish to make their wedding story a beautiful fairy tale? A sea beach is a better place to shoot a couple of poses that leave magical vibes in your pre-wedding pictures. The picturesque view of a sunset and the beautiful ocean waves can help you get a stunning picture. You can choose a gorgeous bridal pre-wedding outfit to shoot a splendid fairy tale.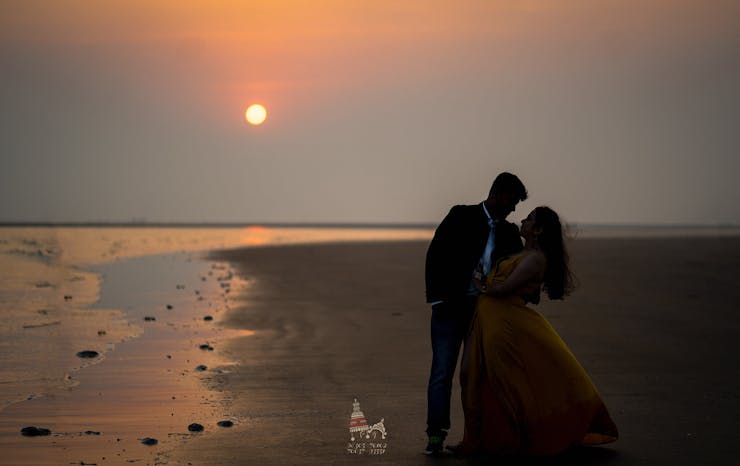 Must Read: Top 12 Beautiful Pre Wedding Shoot Dresses For Couples In 2022
4. During The Golden Hours
This pre-wedding picture is a real example of love in the air. You can make your beach side photoshoot captivating with a dreamy sunset background. The dreamy sky spreading the red and golden aura can make your wedding tale no less than a real-life fairy tale.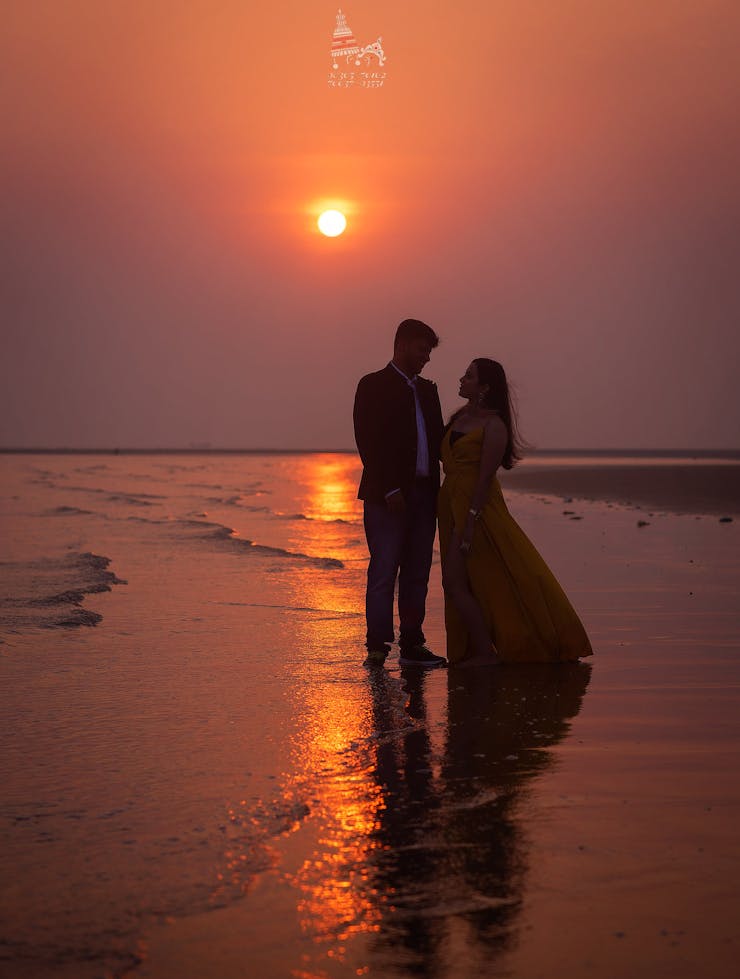 5. Walk Hand In Hand
How about holding your partner's hand and walking on the sea shore? This is a fantastic idea for a beachside pre-wedding photoshoot. If you and your partner are great ocean lovers then this is the best pre wedding beach photoshoot idea for you. But make sure to avoid shooting during the hours of high tide.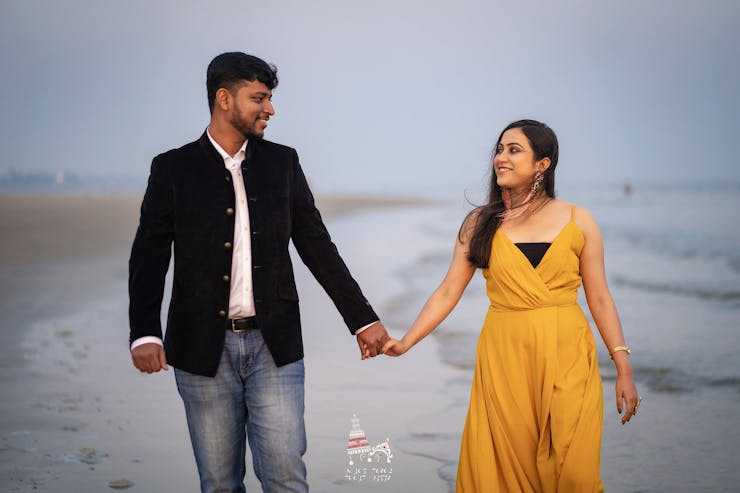 6. An Adorable Love
Imagine standing with your partner surrounded by water everywhere. This is one of the most adorable beach pre-wedding photography. Our beautiful bride and handsome groom are drenched in love at a beautiful beach. The whole idea of holding your bride on the back itself exudes romanticism.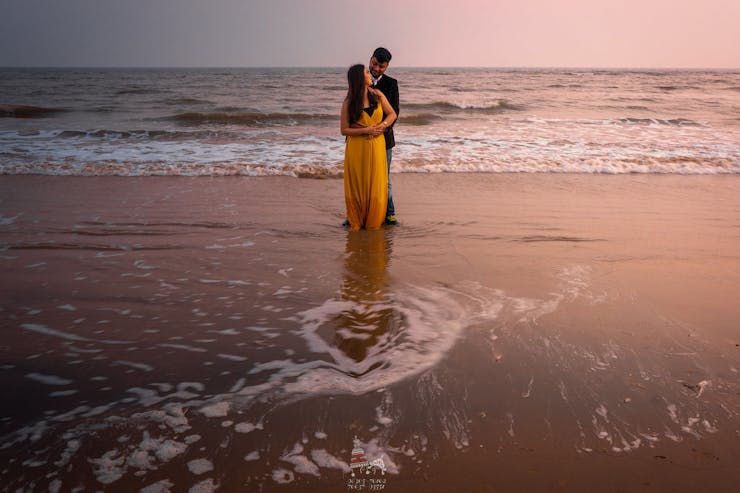 7. The Romantic Backhug
Sometimes all you need to do is hold your love tight to capture the perfect chemistry between both of you. Our gorgeous bride giving a back hug to her groom is looking alluring in the photograph. This is one of the most amazing beach pre wedding shoot ideas to express your love for each other.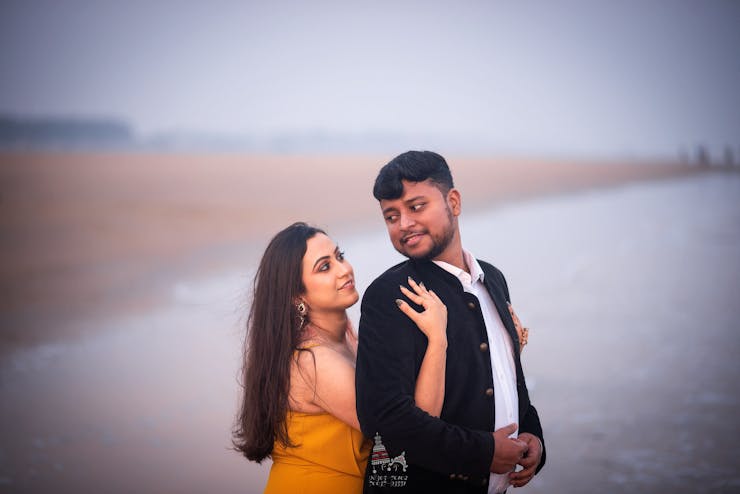 8. Under The Blue Sky
Are you looking for a sensational beach side pre wedding photoshoot? Take a look at this romantic couple who are completely lost in each other. The spectacular backdrop of a blue sky and ocean water is enough to steal the show. Such a splendid backdrop proves that love can spark up at any moment in life.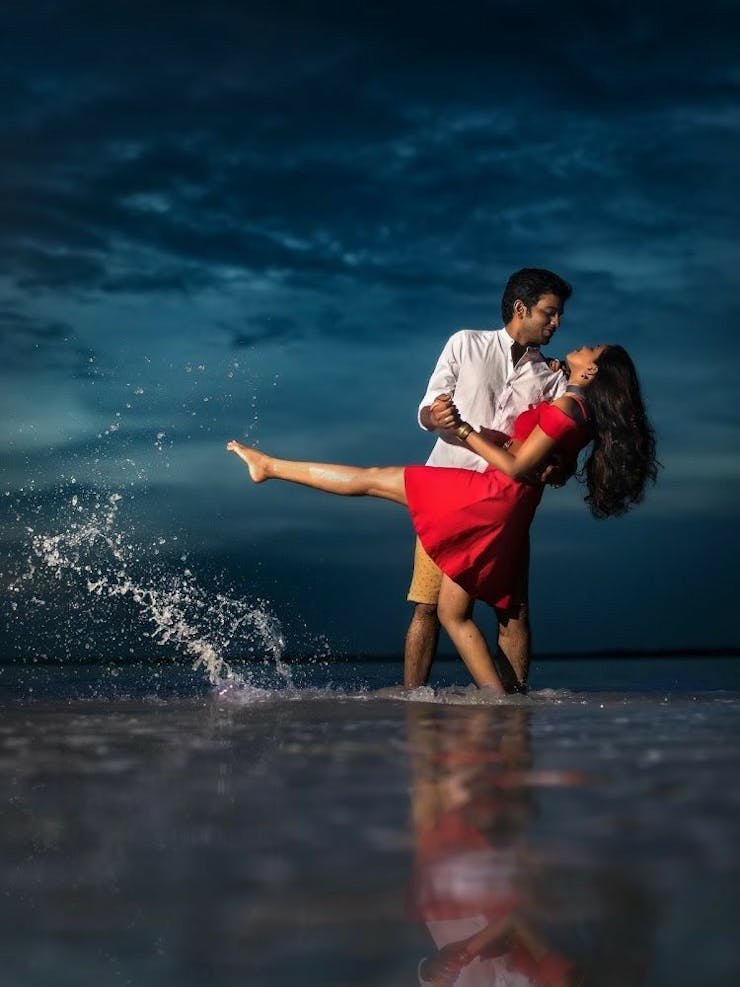 9. Follow Me, Love
Some pre wedding photoshoot on beach leaves a greater impression on people's mind. This couple's pre-wedding shot is surely one of them. The bride holding her groom's hand seems like she is asking him to follow her path. This picture indicates an eternal love between both of them.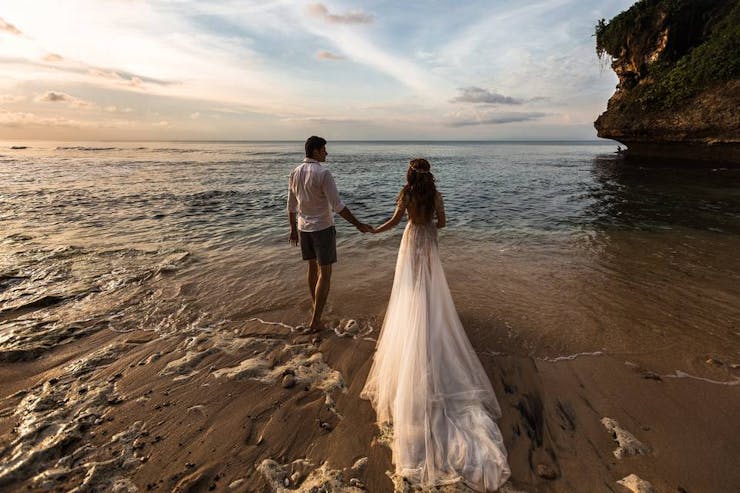 10. Amidst The Blue Water
Have you ever wondered what makes a pre-wedding shoot look so magical? This beach romantic pre wedding shoot picture is a captivating pre-wedding pose. This is a unique way to click a romantic couple's picture. The couple standing amidst the water is stealing our glances for all good reasons.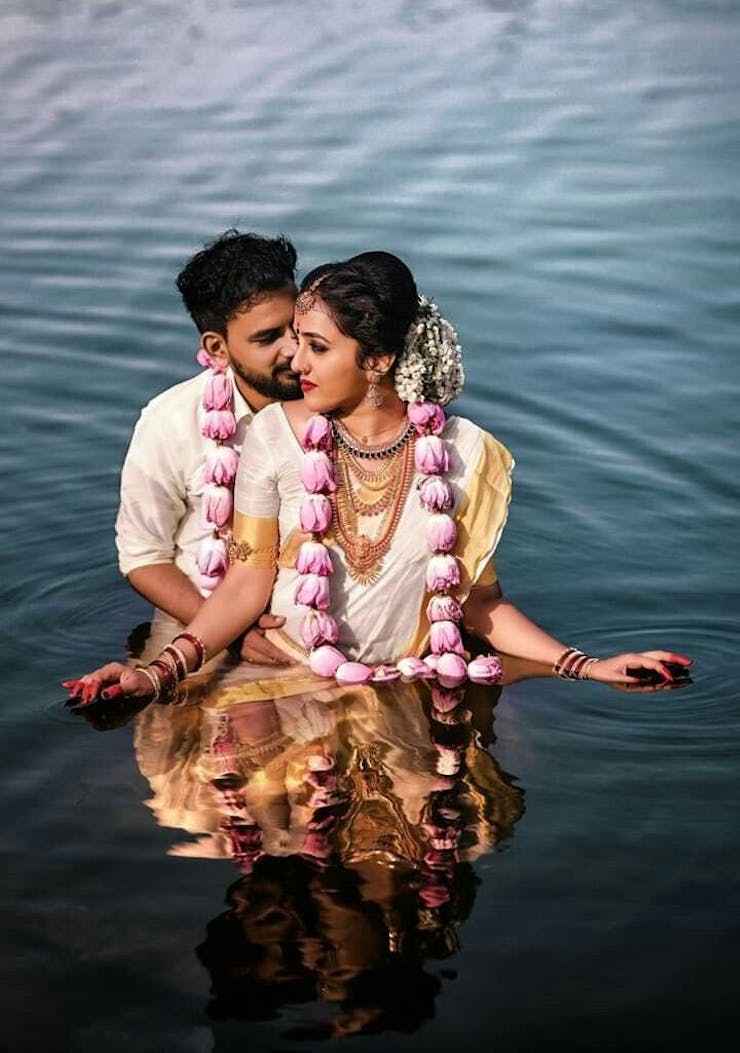 11. She Said Yes
This is the most ethereal and romantic pre-wedding proposal clicked on a sea beach. The backdrop of the majestic ocean and its dreamy waves are making this shot mesmerizing. Including this photo in your wedding album is a good way to make your love story an everlasting tale. You can choose casual wear to shoot such a lovely pre-wedding shot.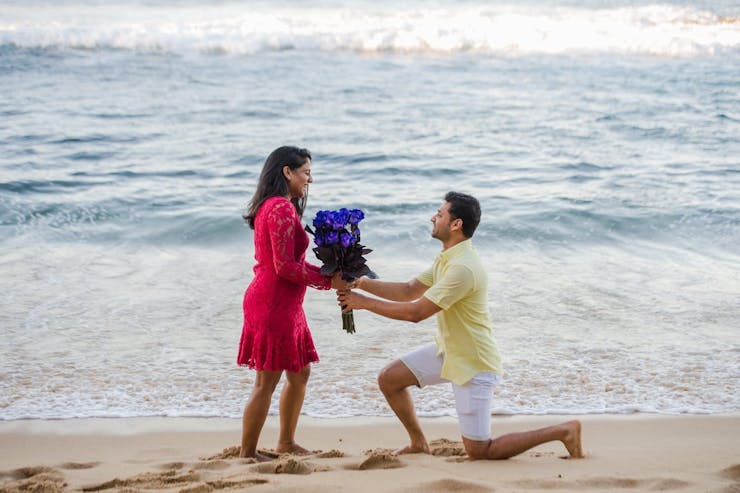 12. Dreamy Silhouette
This pre-wedding picture is an inspiration for all the couples who want to add a creative angle to their wedding tale. Silhouettes are the most dreamy pre-wedding shoot ideas that make beautiful love stories. The golden hour of sunset is the perfect time to click stunning silhouettes with your soul mate.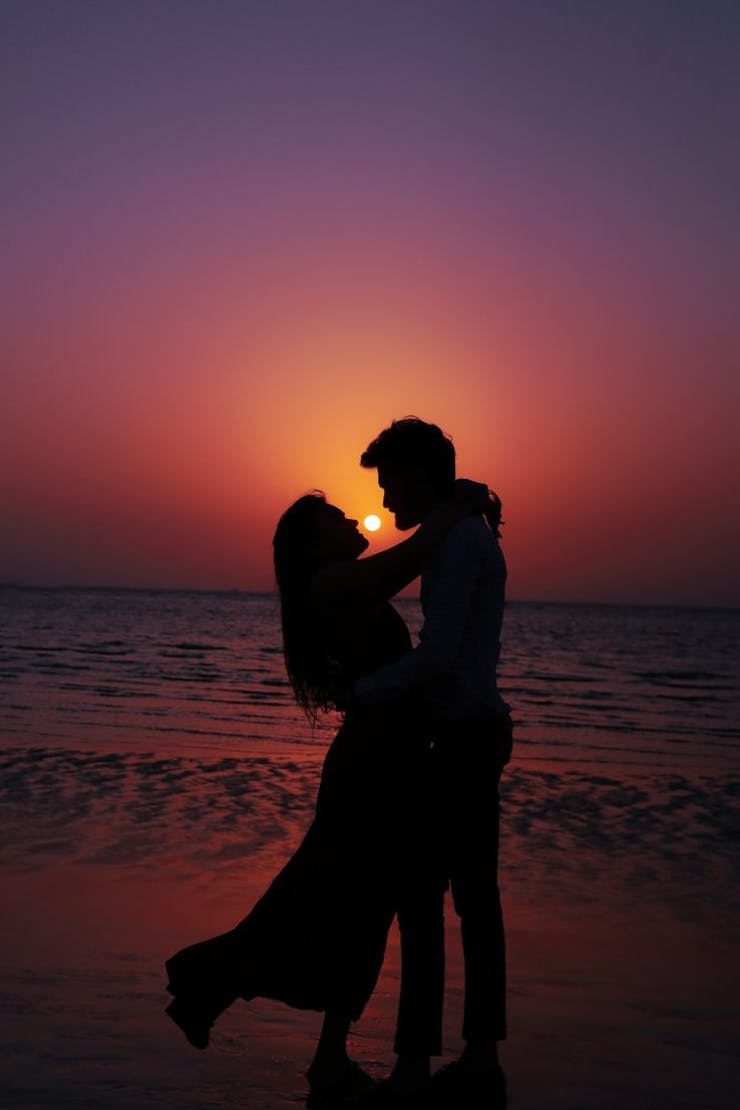 13. A Lovely Chat
Spending a beautiful day on a sea shore with your would-be life partner can be the happiest moment of your life. So, why not convert this romantic talk into a splendid pre-wedding tale? You can use this wonderful shot as your wedding teaser to grab the attention of your wedding guests. This lovely pre-wedding pose is the first choice whenever it comes to a simple couple shoot.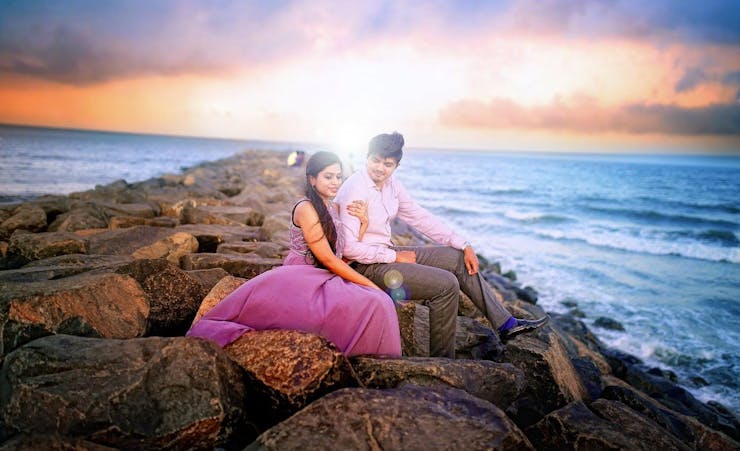 14. Carry Me With Love
Enjoy the beauty of the moment while you are getting clicked for your pre-wedding shoot. Lifting your would-be bride in your arms is a wonderful way to show your excitement and happiness about getting married. Brides can wear skirts or a chiffon saree to bring a cinematic look to your wedding photography.