Latest Engagement Poses Ideas & Tips For Couples
Want to know the secret behind splendid engagement pictures? Here is an exclusive guide on the latest engagement poses to preserve your beautiful memories.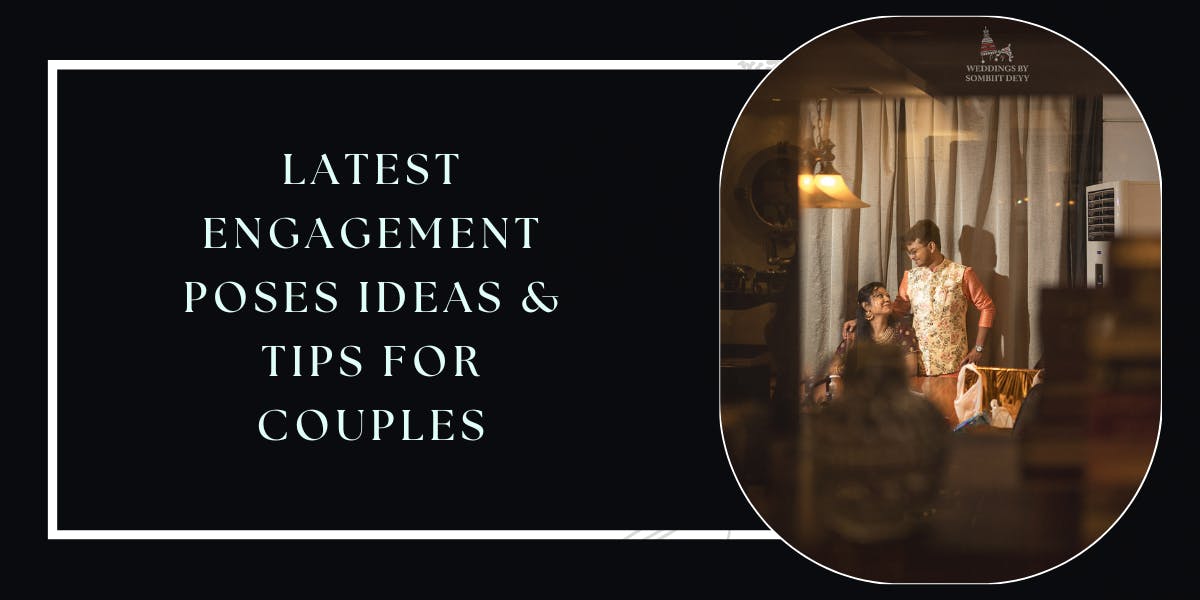 An engagement ceremony begins a new chapter in a couple's life. In this beautiful event, the couple commit themselves to one another forever. In India, an engagement ceremony is a grand celebrationin with family and friends. These days couples are choosing a picturesque location for engagement. You must hire a professional photographer in kolkata for wedding photography to plan a beautiful event. These engagement pictures will give you cherished memories of your special day. The importance of engagement photoshoots cannot be overstated in this modern era. They define your love story as a dreamy tale. Getting the right poses in a photoshoot portrays the loving chemistry between the two of you. Engagement poses portras your feelings, and respect toward each other in pictures. We have rounded up our favorite and latest engagement poses to help you nail every shot. So, grab this wonderful opportunity and find inspiration for your engagement photo shoot.
1. Behind The Dreamy Curtain
There are many ways to put the ring on her finger. But capturing a dramatic pose with the love of your life will be the most beautiful moment clicked ever. This couple has planned to add a dramatic touch to their engagement photoshoot. The dreamy and romantic red curtain is adding a definition to their couple's portrait.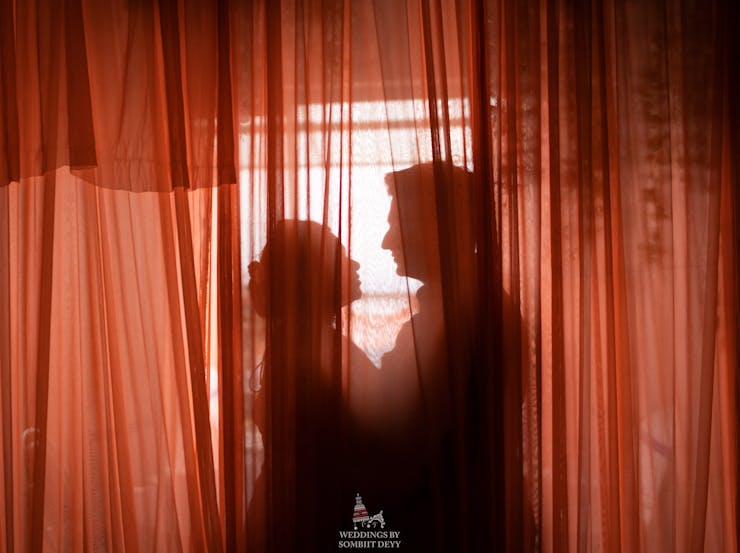 Recommended: 12 Amazing Bengali Bridal Banarasi Saree For Stunning Brides
2. A Close-up Ring Shot
Performing an engagement photoshoot without showing your beautiful ring is worthless. Take a look at these engagement pictures. Show your engagement ring to preserve this outstanding moment of life. A close-up shot of your engagement ring is the best engagement photo pose that will offer you a cherished reminder of your engagement day.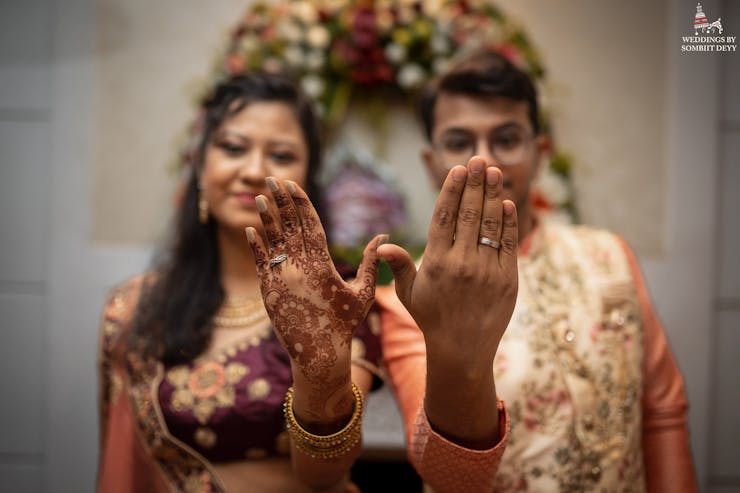 Also Check: 10+ Beautiful Pre Wedding Shoot Places In Kolkata
3. Holding A Bunch Of Roses
This is the most beautiful pose of an engaged couple. Holding a bouquet of flowers adds a creative angle to your engagement pictures. All you have to do an look at each other and let your real emotions come out naturally.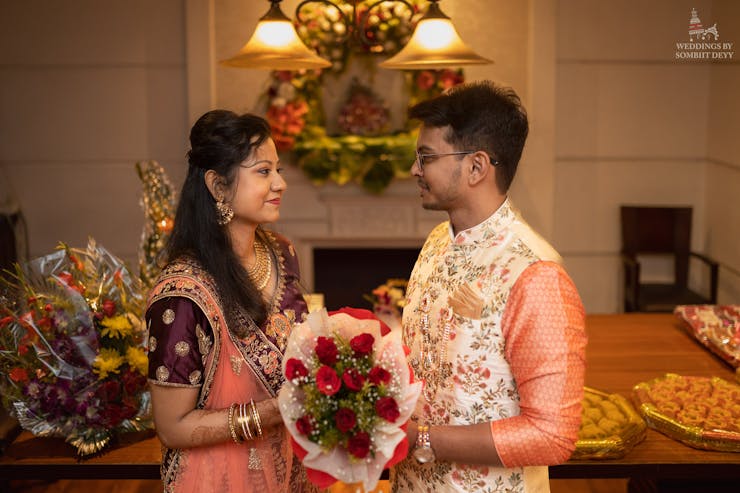 Read This: Top 12 Beautiful Pre Wedding Shoot Dresses For Couples In 2022
4. Lighting The Holy Lamp
What a beautiful way of capturing an engagement course! This adorable couple has decided to perform their photoshoot in traditional clothes. Lighting the holy lamp together is the best way of expressing cultural beliefs.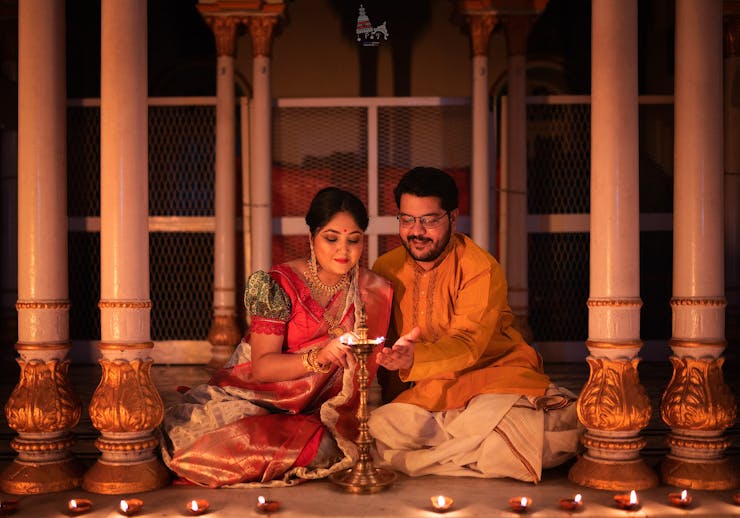 5. A Playful Pose
This kind of playful couple portrait has been always part of candid bengali wedding photography. The mushy eye contact or a playful pose can give you some funny pictures that will always bring a smile to your face. These pictures can add humor to your engagement pictures. So, don't get surprised if you found some candid shots of your fun moments in the wedding album.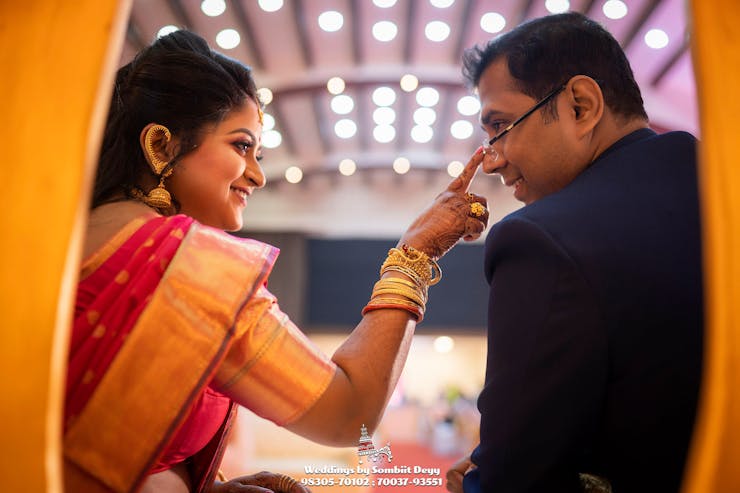 6. The Classic Twirl
Consider the twirling pose as a first romantic dance with your lover. This is a very popular couple posing ideas for stunning pre-wedding shoot also. Show off your splendid dance moves to click breathtaking engagement pictures. If captured on time, this classic pose can make for some great wedding photographs.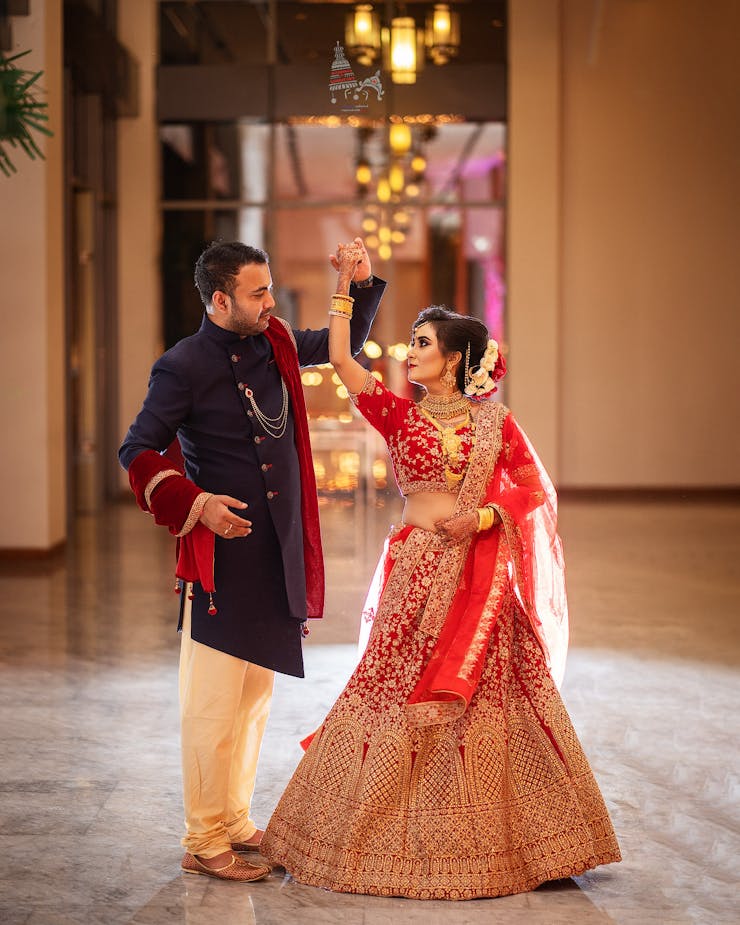 7. Back To Front Pose
This is an ideal pose for shy couples, who don't feel comfortable showing intimacy. You can stand behind your bride-to-be and let your photographer do all the magic. A photo with such an innocent love should be framed well to create a lifetime memory.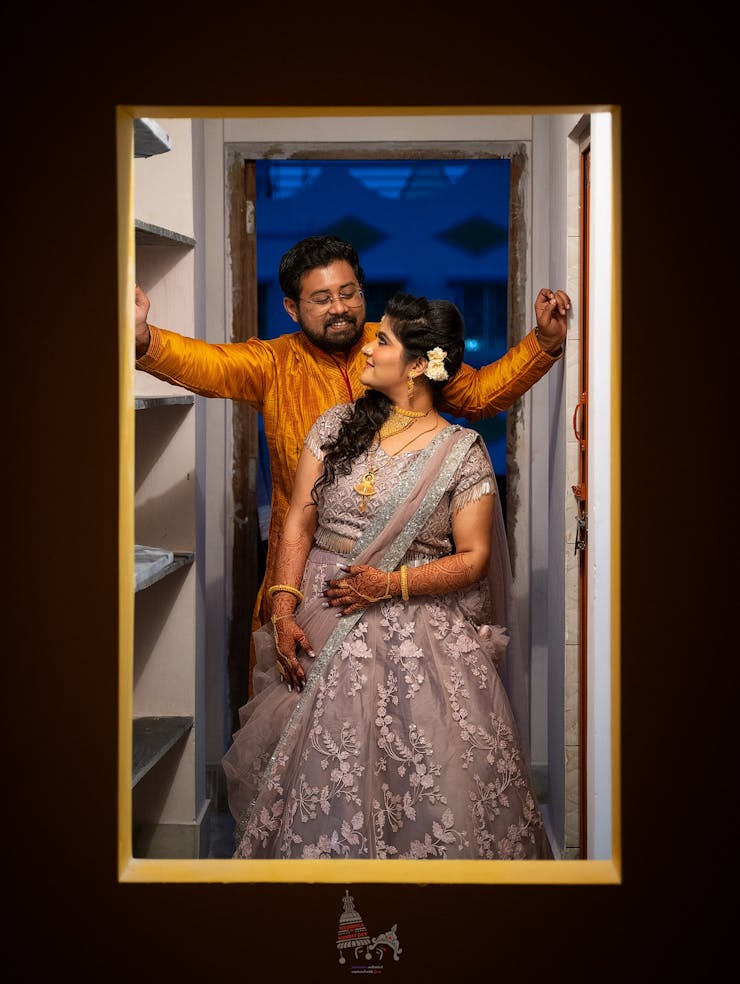 8. The Splendid Cake Cutting Shot
The cake cutting ceremony has become one of the key modern in modern Indian weddings. This lovely couple has planned to frame this beautiful moment in their wedding album. This is one of the most popular couples poses for engagement photography. It can be a worthy addition to your album that speaks the tale of your engagement.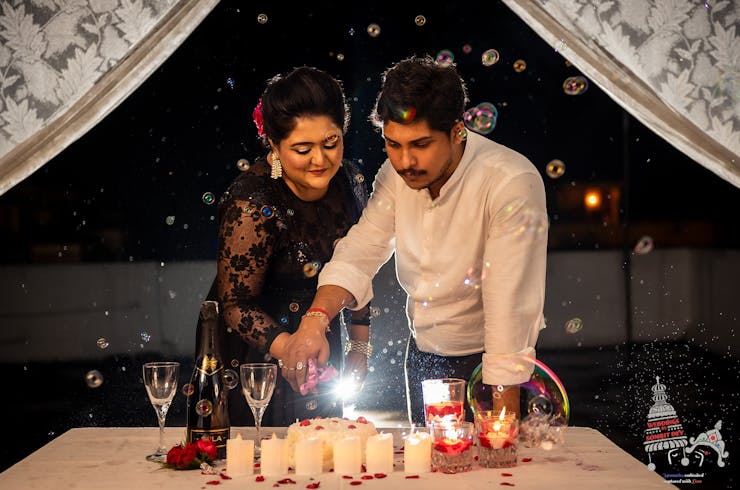 9. Drenched In Love
Nothing says romance other than this couple's engagement pose. Looking into your partner's eyes is a wonderful way of clicking a romantic shot. You can ask your photographer to click an angular shot of your couple's chemistry. Also, make sure to wear a gorgeous engagement dress to add a fairy tale white to your engagement pictures.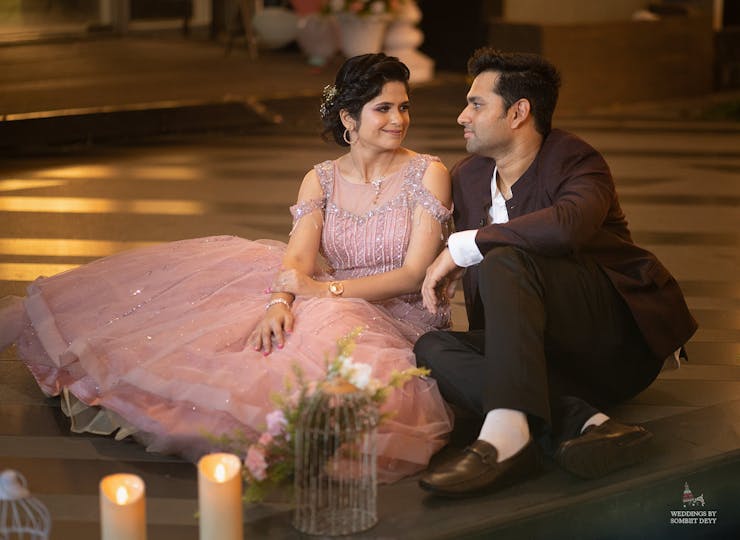 10. Romantic Love Proposal
A romantic love proposal can never go wrong. These engagement poses for couple have made a special place in our hearts for the pure emotions they hold. This charming prince has surprised his girl by proposing to her on a starry night. You can choose to wear a beautiful gown and formal suit to complement each other in picture.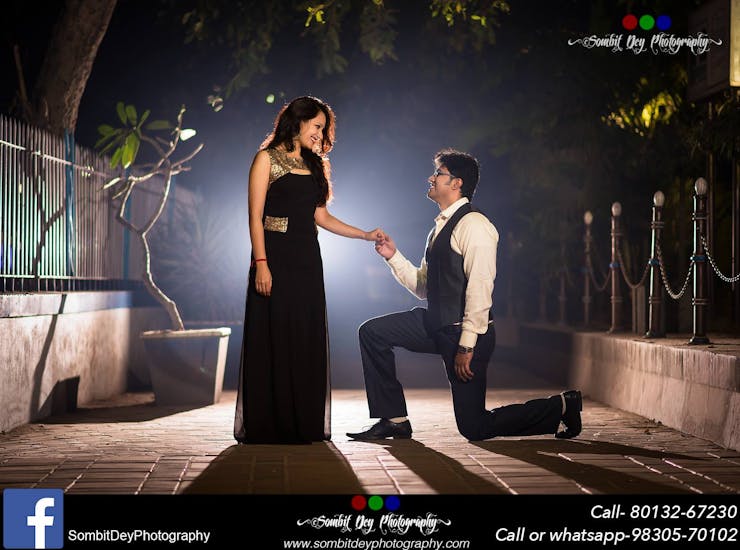 11. That Romantic Gage
Got a gorgeous staircase in your engagement venue? Make use of the beautiful staircase by clicking an engagement pose on it. This beautiful couple has clicked their engagement picture on a vintage staircase. The simplicity of this engagement couple photos has stolen our hearts.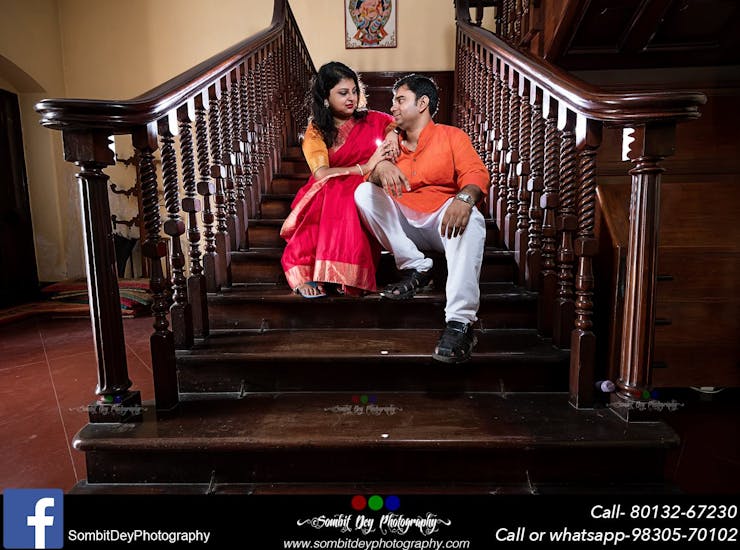 12. Follow Me Ring Pose
The follow-me poses add cinematic vibes to your engagement pictures. This is one of the most beautiful engagement photoshoot poses that portrays your intent of being together. This ring ceremony poses is trending now for its unique charm and creativity.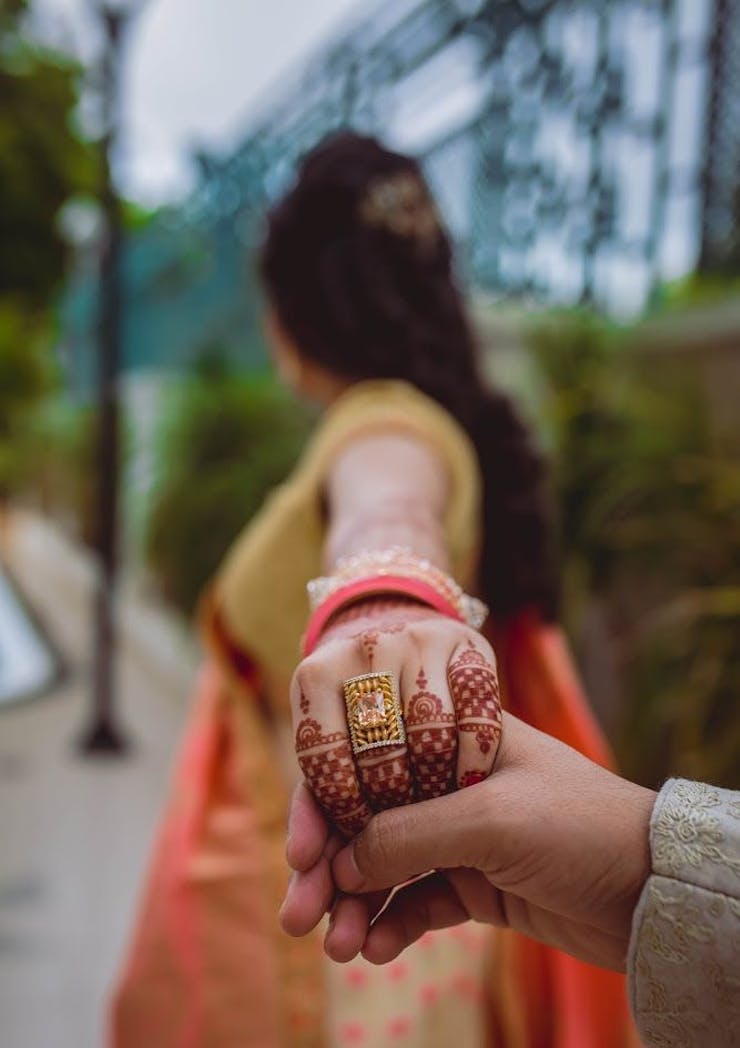 13. The Forehead Kiss
This passionate couple is showing their beautiful chemistry in the pictures. A forehead kiss is a great way to tell how much you love and care for your life partner. This can be a perfect engagement announcement that you can make on Instagram.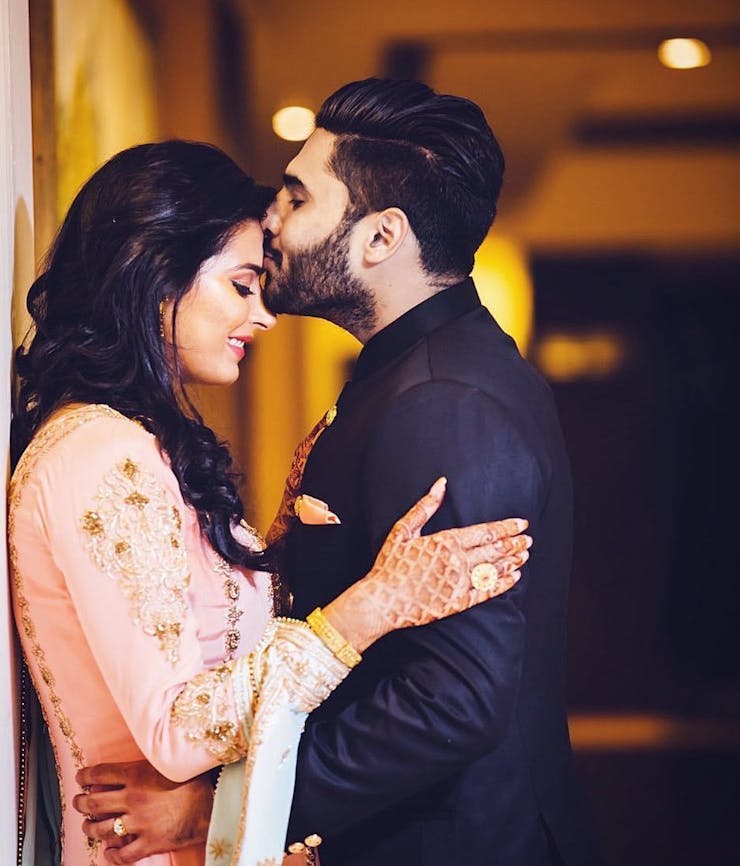 14. A Dreamy Silhouette
Silhouettes add a surreal feeling to your wedding pictures. A dreamy blue sky is sure to create a perfect backdrop for a stunning engagement photoshoot. This is an artistic way to announce your commitment to the world. These creative couple engagement poses can bring a smile to your face years after your marriage.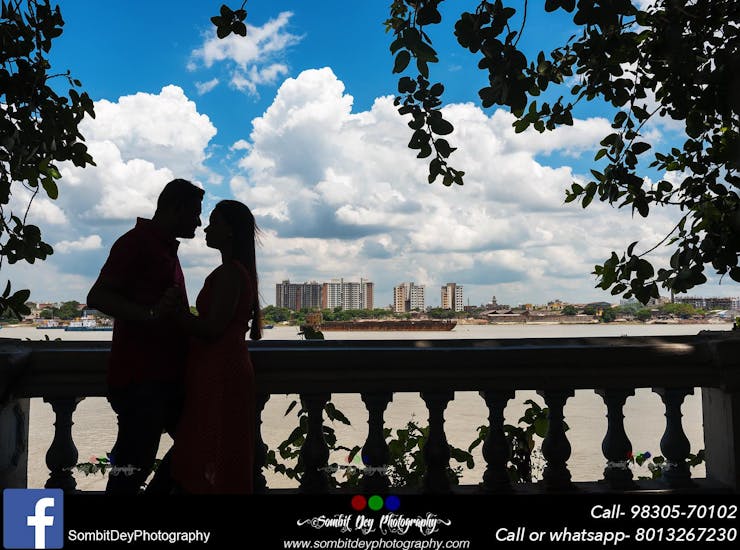 15. The Scenic Love Story
This couple has taken full advantage of the romantic weather in the hill station. If you are planning an engagement ceremony at a hill station then you must opt for this beautiful couple poses for hill station.