The Most Beautiful Bengali Bridal Photoshoot Poses And Ideas
Make your Bengali bridal photoshoot memorable by nailing the perfect poses. Browse this guide to bookmark the best bridal poses for your wedding!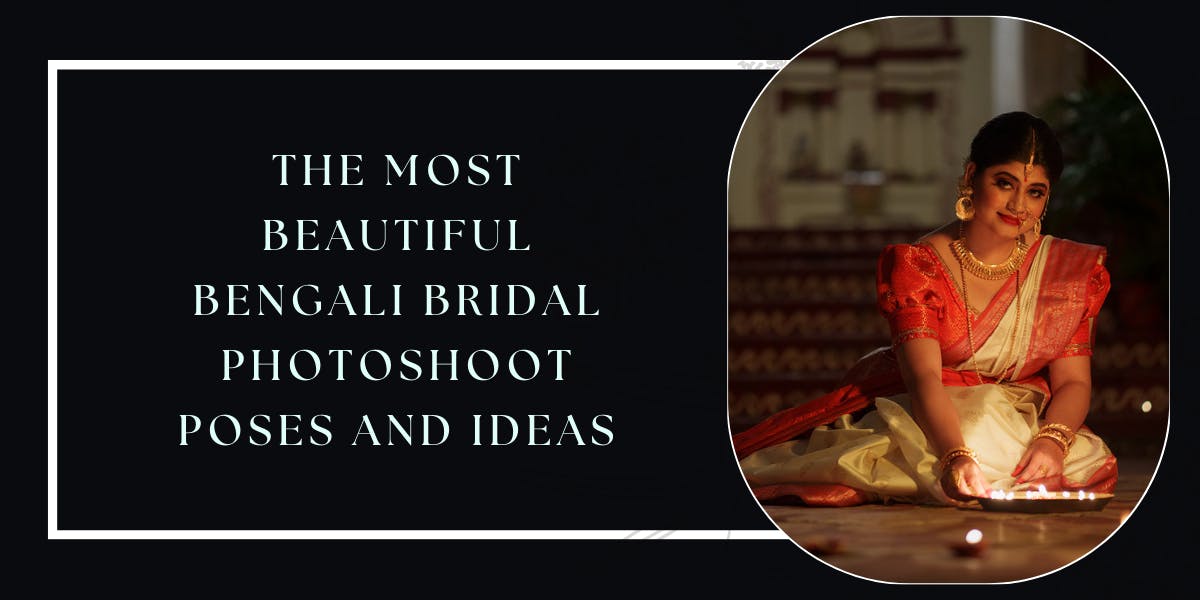 Bengali bridal photoshoots have become increasingly popular. Brides want to capture the moment in a way that conveys joy and vibrant culture. However, brides need to find the perfect pose that suits them and conveys their personality. The right poses can make all the difference in making you look flawless as a bride. Knowing the right poses ensures that you make the most out of your bridal photoshoot. Posing for pictures is also one kind of art. Once you understand the art, discuss it with your photographer to plan a Bengali wedding photoshoot. Here are a few tips to help you nail your Bengali bridal photoshoot.
1. Gorgeous Bride In Red Saree
When discussing Bengali wedding photography, the first thing that strikes our mind is a beautiful bride in her lavish red banarasi. Bengali brides look divine in this traditional attire. The simple standing pose of Bengali brides also looks magical in the romantic red shade.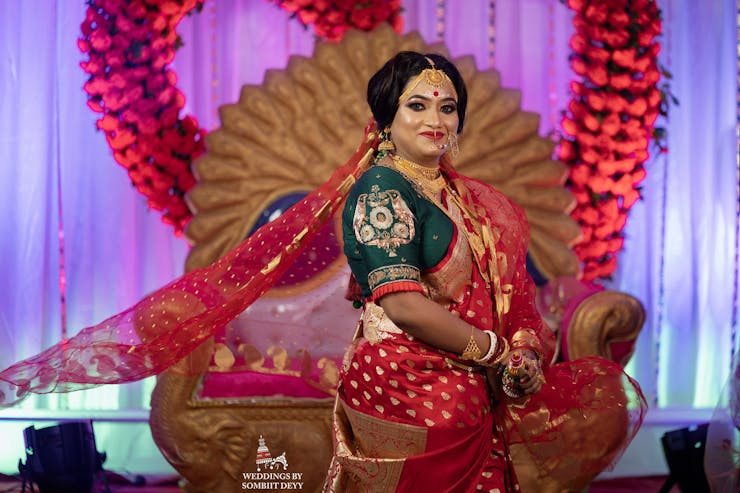 Recommended: The Ultimate Guide To Wedding Shopping In Kolkata
2. Candid Pose Of Bengali Brides
Next on this list is the preferred bridal poses. Candid Bengali wedding photography has gained a lot of attention for its simplistic charm and pure expression. You don't have to fake poses for this kind of shot. Your photographer will click some of the best moments that will bring a smile to your face.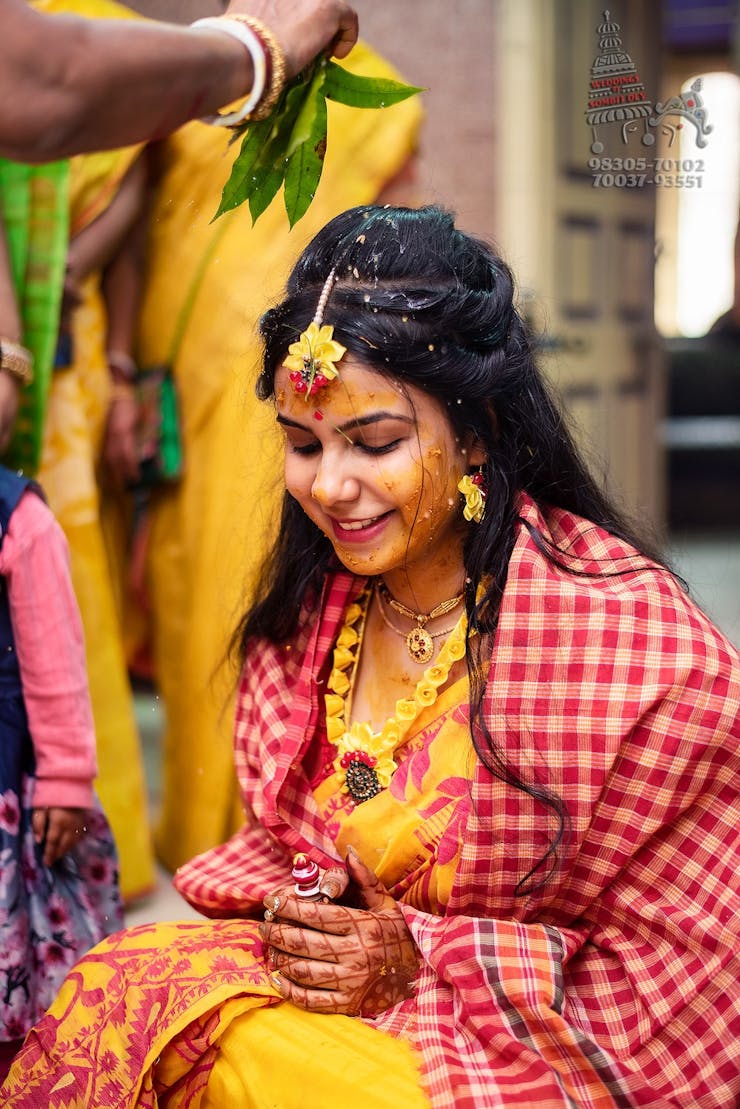 Must Read: Bridal Entry Pics & Ideas You Should Know
3. Bengali Bridal Poses With Pets
This is the most adorable bengali wedding bride images that shows how much importance our pets hold in life. It can be the best option to honor your furry friend and make the cutest memory before the wedding day arrives.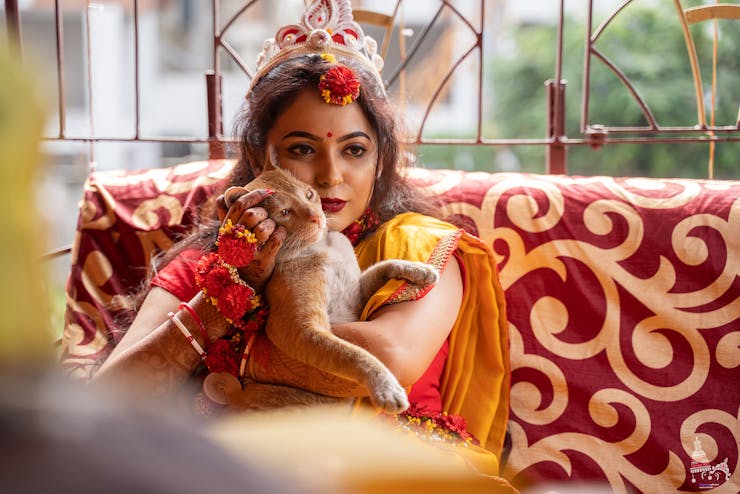 See More: All About trending Matha Patti For Bengali Bride
4. Mesmerizing Shubho Drishti Poses
Take a moment to praise the beauty of this wonderful wedding ritual shot. Shubho Drishti is a beautiful wedding ritual in Bengali wedding where the bride covers her face with betel leaves. She removes the leaves from her eyes once she looks at the groom. This romantic moment at first glance provides you with the best Bengali wedding bride images.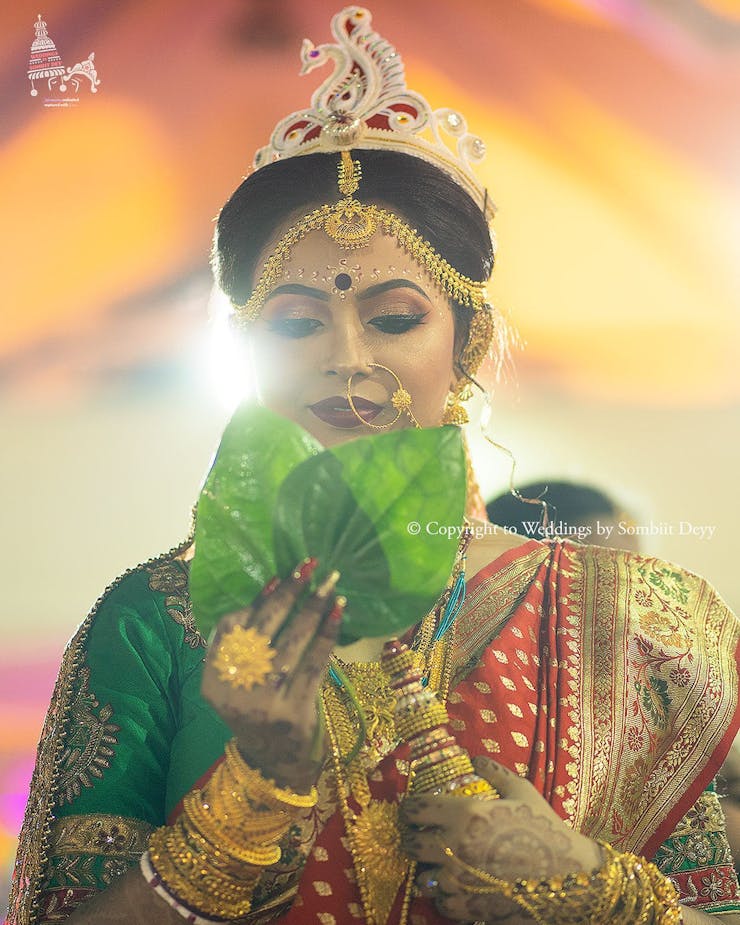 5. Red & White Saree Bengali Bridal Look Pic
A white saree with a red border is a traditional attire of Bengali women. It can simply turn any girl into the most beautiful bride. The focus of a photographer remains on the bridal beauty during the Bengali bridal shoot.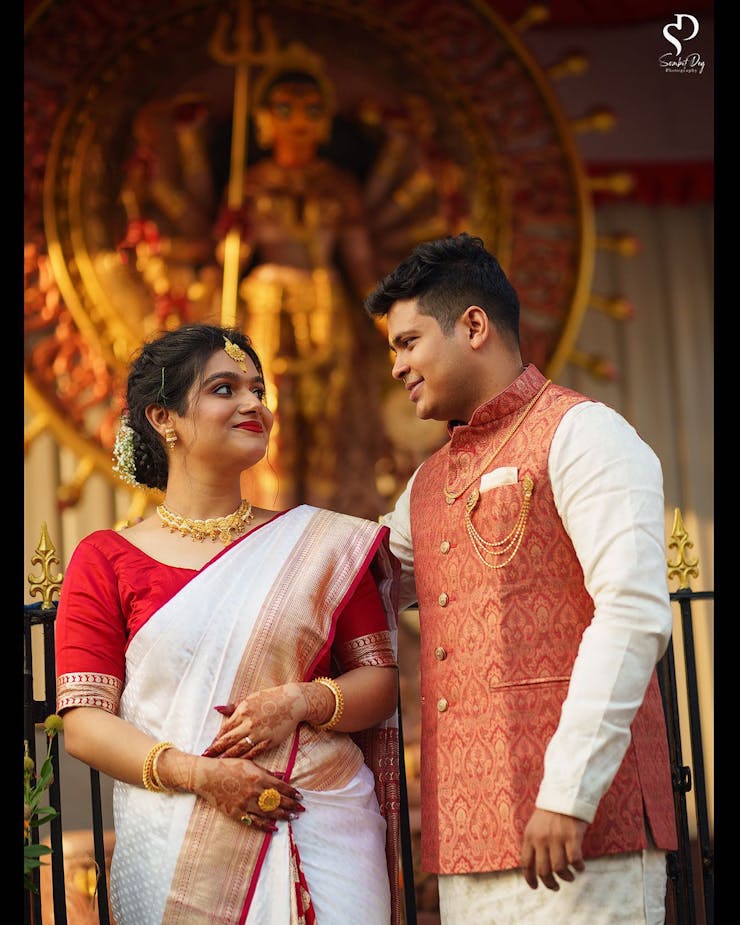 6. A Romantic Bengali Wedding Pose
Getting married is the most beautiful moment in a girl's life. So, why not make a wonderful memory with your partner that can be cherished for a lifetime? Including your love in Bengali bridal photography can offer you the most romantic pictures. These couple images will surely increase the charm of your wedding album.
7. Heart Touching Sindoor Daan Pose
This is one of the most beautiful moments that always make a special place in wedding albums. The Sindoor Daan is a heart-touching moment in Bengali marriage photography. A Bengali bride covered in red sindoor makes the picture more beautiful.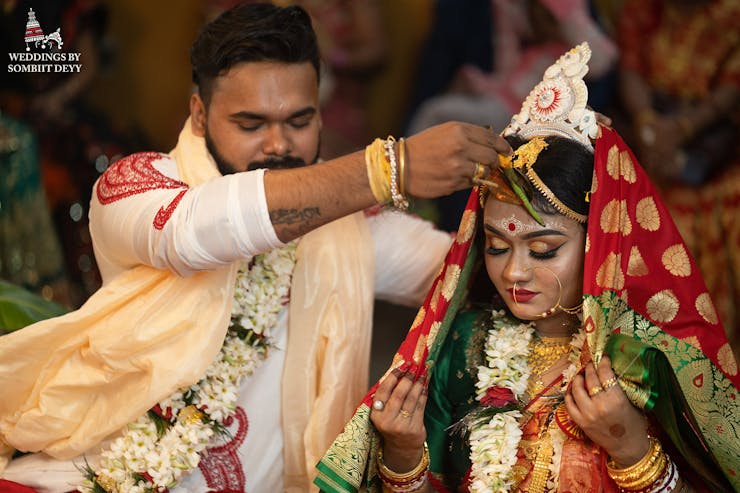 8. Magical Bridal Veil Poses
The veil of a bride is a romantic representation of her wedding look. A sheer and transparent veil makes one of the best Bengali bridal photos. You can discuss with your photographer the way you want to get these dramatic portraits.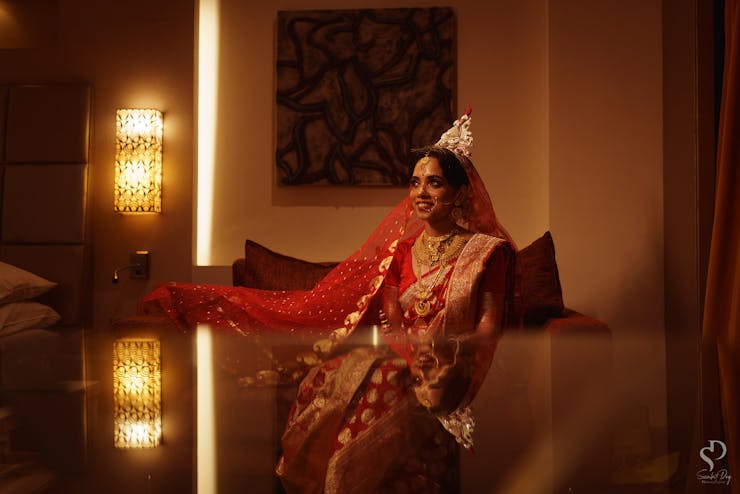 9. Beautiful Alta Wearing Poses
Bengali brides look beautiful when they wear Alta on their hands and feet. But can you believe that it can provide you with some enchanting Bengali bridal look photos. It is a creative bridal pose that looks pleasing in a wedding album.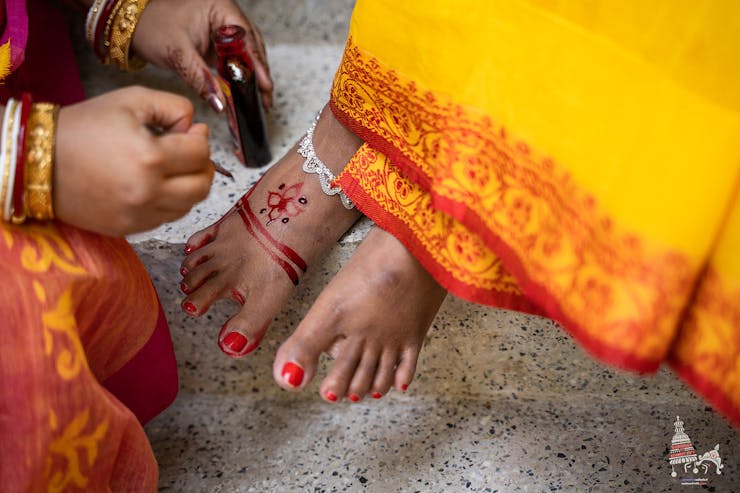 10. Emotional Poses Of Bengali Bride
Don't forget to take a few shots with your parents and family members. The Bengali wedding images taken with your loved ones always provide you with happiness and take you back to the moment. These emotional moments deserve to be in the first place in your wedding album.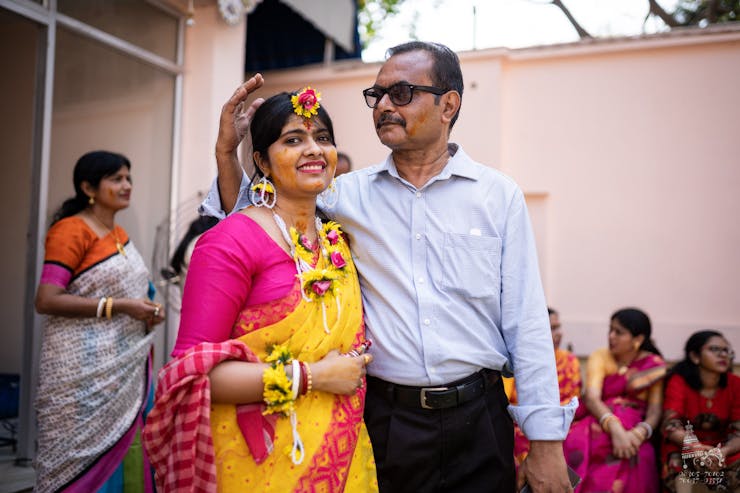 11. Back Poses Of Lovely Brides
Don't be afraid to take a few back shots during your Bengali bridal photography. You can include props like Gaach kouto in the photography to give it a creative angle. Turning back and looking away from the camera can work wonders.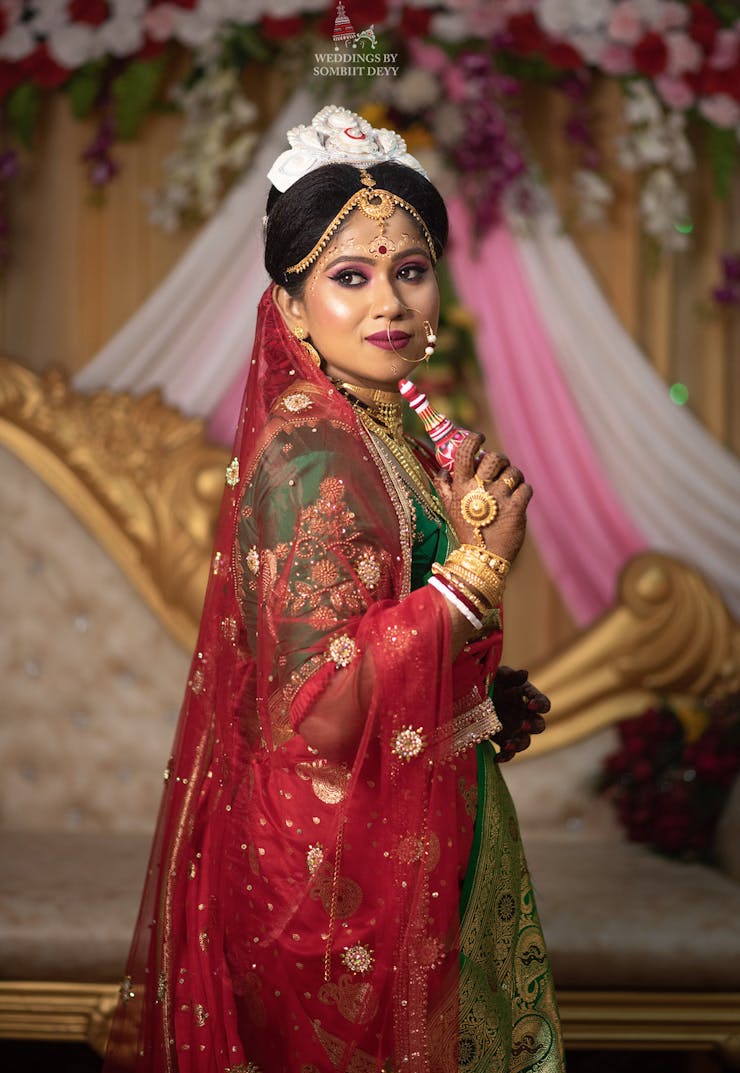 12. Gae Holud Bengali Bridal Photoshoot
The vibrant Gae Holud poses are our favorite ones when it comes to capture the simplistic charm of Bengali brides. These Bengali bridal photos of haldi become the center of attraction in your wedding album. In the future, you can sit back and see these memories to relive your wedding festivity.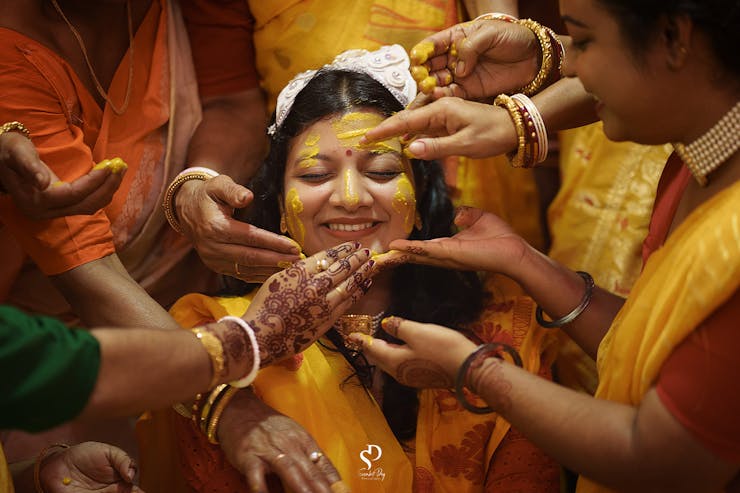 13. Bridal Poses With Earthen Lamps
If there's one word to define this Bengali bridal photo, it will be pure elegance. This bride has stunned us with her charming personality and creative mind. The earthen lamp in the picture is furthermore enhancing the beauty of this bride.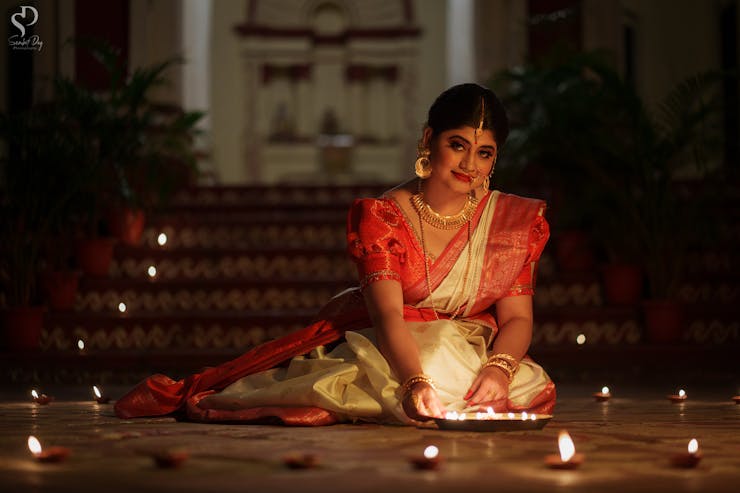 14. Bridal Jewelry Adjusting Poses
A creative vision of your wedding photographer can help you get the most amazing Bengali bride photos. You can flaunt your impressive gold jewelry in the photoshoot to capture its shine and grace for a lifetime. The luxurious shine of your jewelry is the main focus of such pictures.
15. Dreamy Mirror Reflection Of Brides
If you are looking for offbeat Bengali bridal photoshoot poses, then try this one. The reflection of your breathtaking bridal beauty in the mirror is the most creative way to define your wedding look. Such a picturesque bridal shot adds a touch of drama to your wedding album.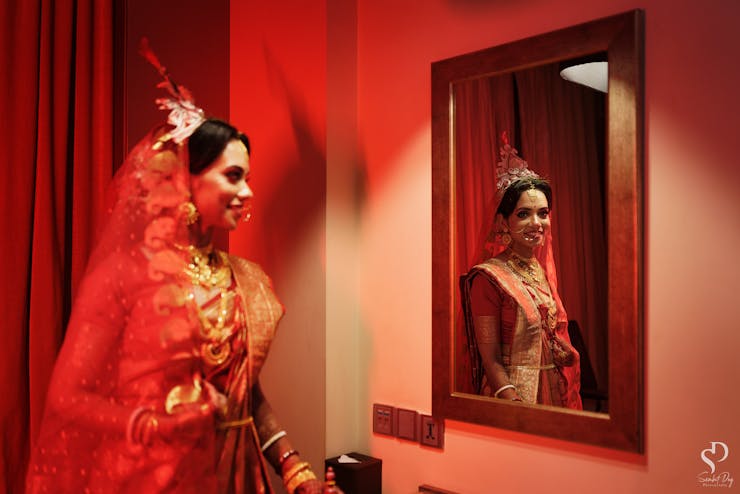 16. Smiling Bengali Bridal Photoshoot Pose
Some of the most beautiful Bengali bridal pics are those that capture the lovely smile of brides. Their hearty smiles represent how happy they are. It can be treasured as one of the best moments that recites your excitement for the wedding.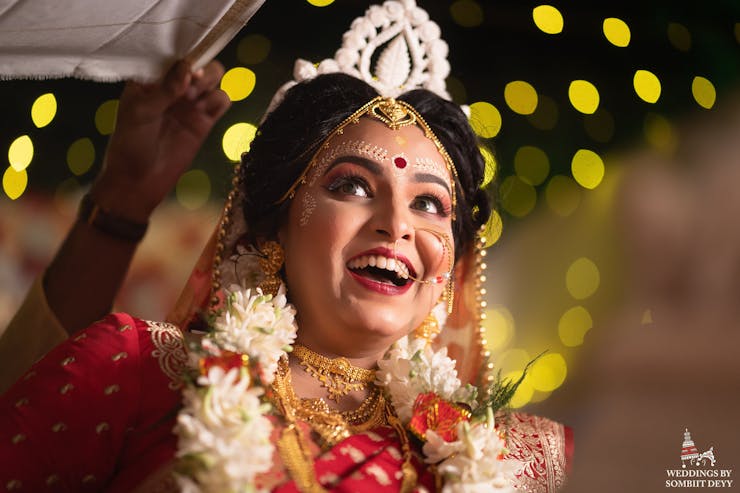 17. Swagger Bengali Bride Look Image
Express your bold, fearless, and independent personality in your bridal portraits to tell the world who you are! These are one of the latest Bengali wedding photo poses that are preferred by modern brides. Be the swagger bride and show the world that shyness is not your thing.