Bridal Entry Pics & Ideas You Should Know
Why make a regular bridal entry when you can plan a grand one? Take inspiration from these bridal entry pics to make a stunning bridal entry on your D-day.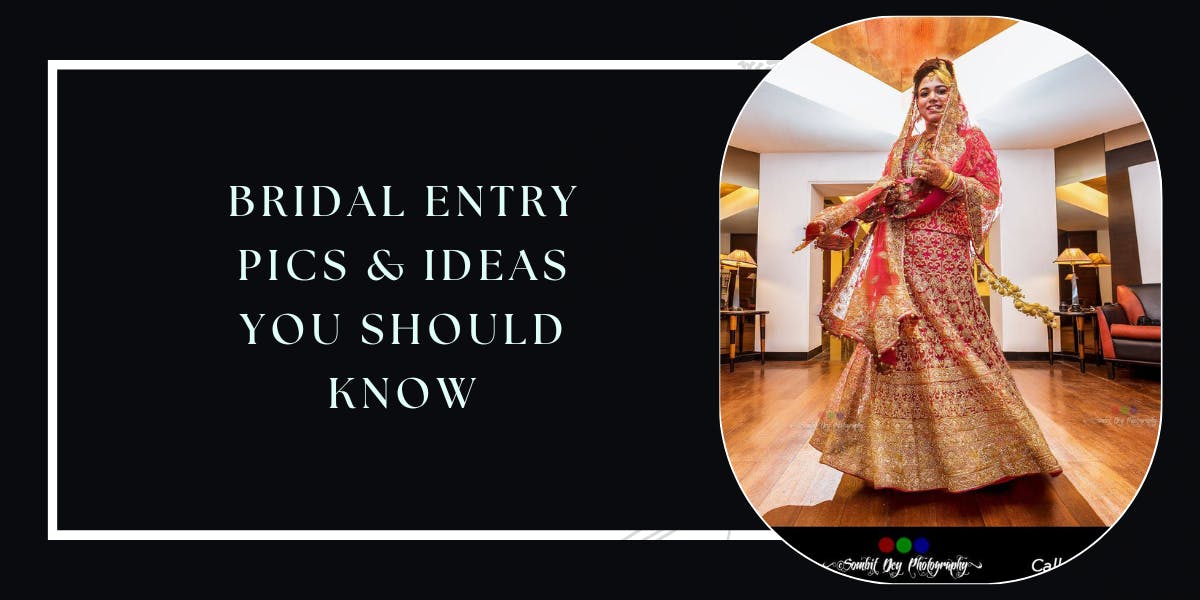 All the eyes will be fixed upon the bride as soon as she steps inside the wedding venue. The music begins, and the firecrackers start bursting as she makes the grand bridal entry. A grand entry on the wedding day has become the latest trend. Earlier the brides were expected to make a simple entry. But nowadays, brides are making a striking entrance on the most special day of their life. A grand bridal entry sets the tone for the day. Such a special entrance will also make the guests feel welcomed and appreciated. It is one of the most photographed moments of the wedding and creates a lasting memory for the couple. The team of the best wedding photographers in Kolkata ensures to provide you most alluring bridal entry pics. Read this blog to check out the most possible ways to make a dreamy bridal entry.
1. A Heart-Touching Bridal Entry With Brothers
Nothing can beat the simplicity and beauty of this dulhan entry pic. You can make a fun-field entry with your loving brothers and partners in crime. Brothers bringing the bride are the best moment in candid Bengali wedding photography. Such a beautiful moment can be a wonderful lifetime memory.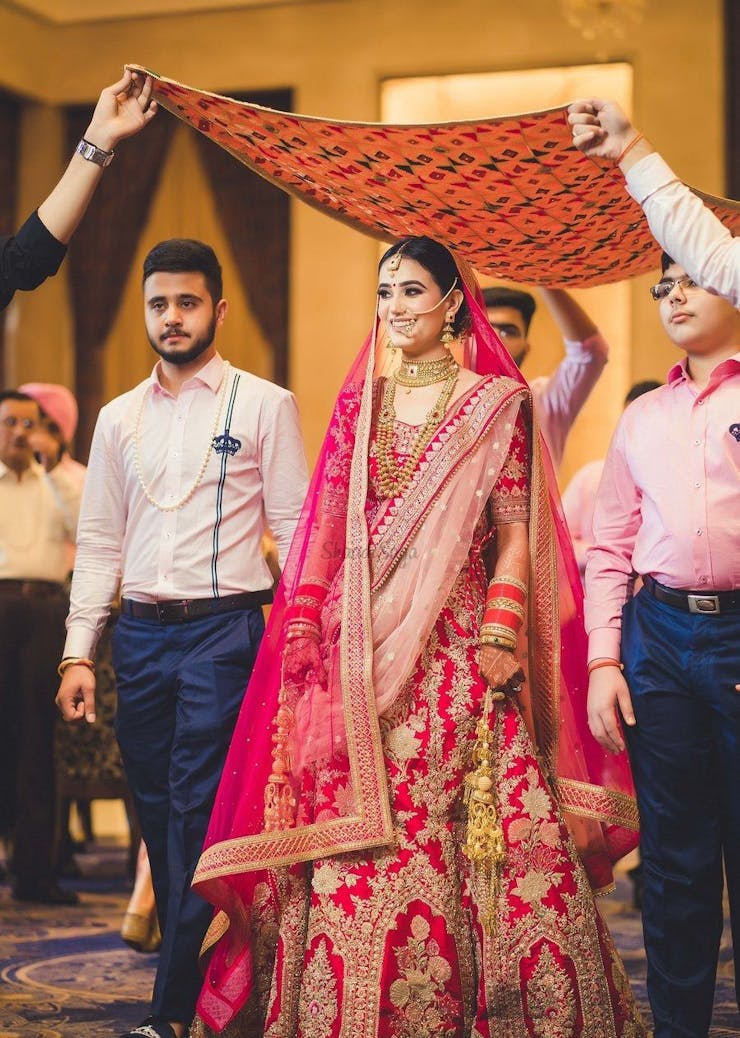 Recommended: Bookmark These Bride Getting Ready Photos For Your D-Day
2. A Mesmerizing Entry On Boat
Make an offbeat bridal entry on a beautiful boat to turn all the heads around. You can opt for a wooden boat or a Shikara decorated with colorful flowers to leave your guest in awe. This beautiful entrance of the bride will result in some outstanding bride entry images.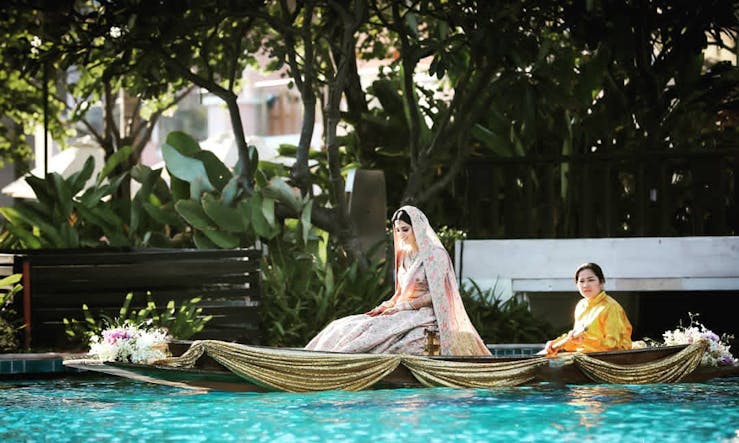 Must Read: Closeup Bengali Bridal Pose Ideas For Upcoming Wedding
3. An Emotional Entry With Parents
The unconditional love of parents cannot be expressed in words. Your parents are the first ones who deserve to be with you during your wedding entrance. Making a grand entry with parents is an emotional moment that must be captured in candid frames.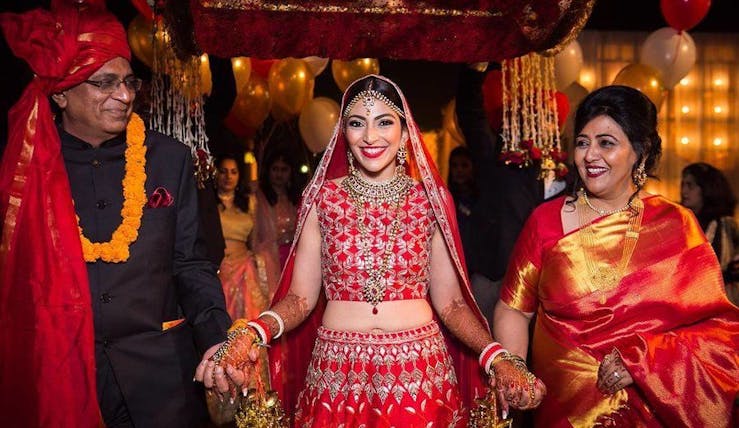 See More: 11 Beautiful Bengali Bridal Lehenga That Will Mesmerize you
4. A Grand Entry Under Phoolon Ki Chaadar
Watching a bride walking below a mesmerizing floral roof is a visual treat for the eyes. Making a striking entry with the pretty phoolon ki chaadar. This is one of the most popular bridal entry ideas for wedding. This simple entrance can also result in stunning wedding images if captured perfectly.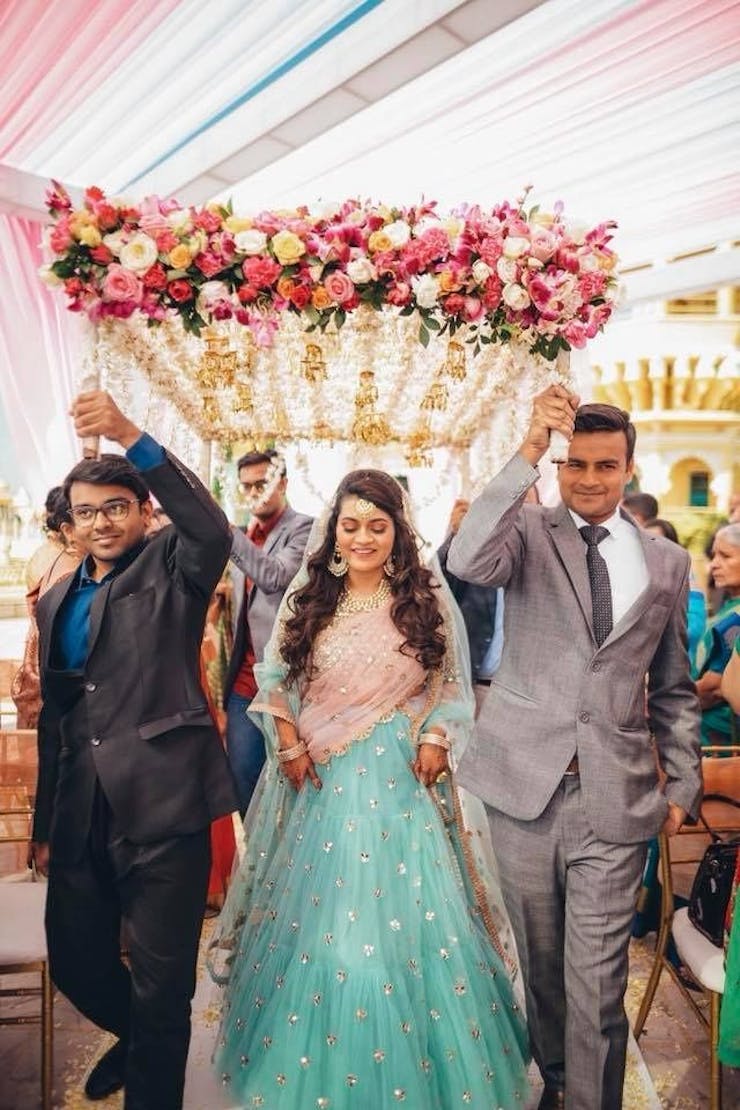 5. Make An Entry With Your Bride Squad
You can make your arrival more beautiful with your gorgeous bridesmaid's squad. Entering your wedding venue with your bridesmaids will create a lifetime memory. This can let spend some quality time with your besties before saying goodbye. You can make this moment more unique by playing an emotional song during the entrance.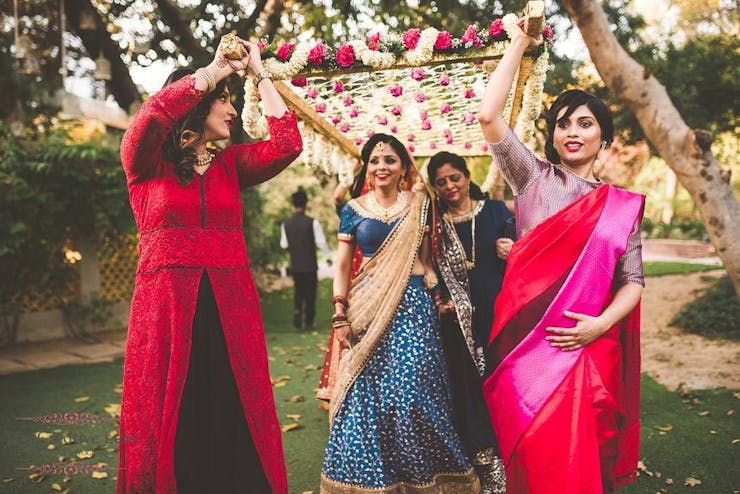 6. A Unique Entry With Entertainment Squad
Imagine yourself making a grand entrance with an entertainment squad! This surreal bridal entrance can add a royal vibe that will leave a great impression on your guests. A wonderful dance performance led by your entertainment squad is sure to provide you with the most amazing wedding Bengali bride pic.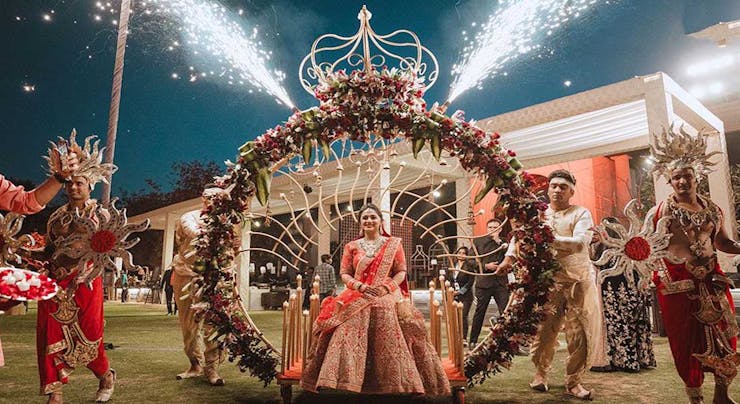 7. Superb Entry With A Colorful Blast
Add a colorful twist to your bridal entrance with smoke bombs. Making an entry within the riots of vibrant color will add a magical appeal to your Bengali bridal poses. This kind of colorful entry is perfect for the lively occasion of the Haldi or Mehendi ceremony. You can choose to wear a gorgeous lehenga to slay like a beautiful princess.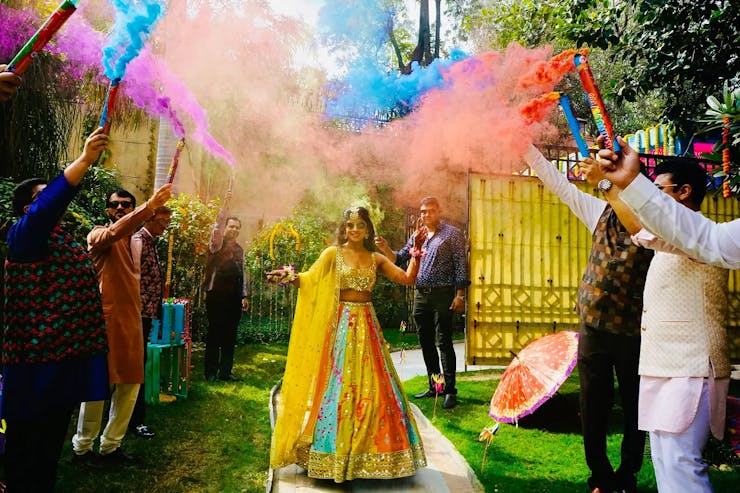 8. Solo Entry For The Bold Personalities
Have you seen the Indian divas making a solo entry on their wedding day? This can be a wonderful way to walk down your wedding aisle. Our modern brides are bold enough to make a confident entry toward the love of their life. These splendid moments always result in dreamy Bengali bride pictures.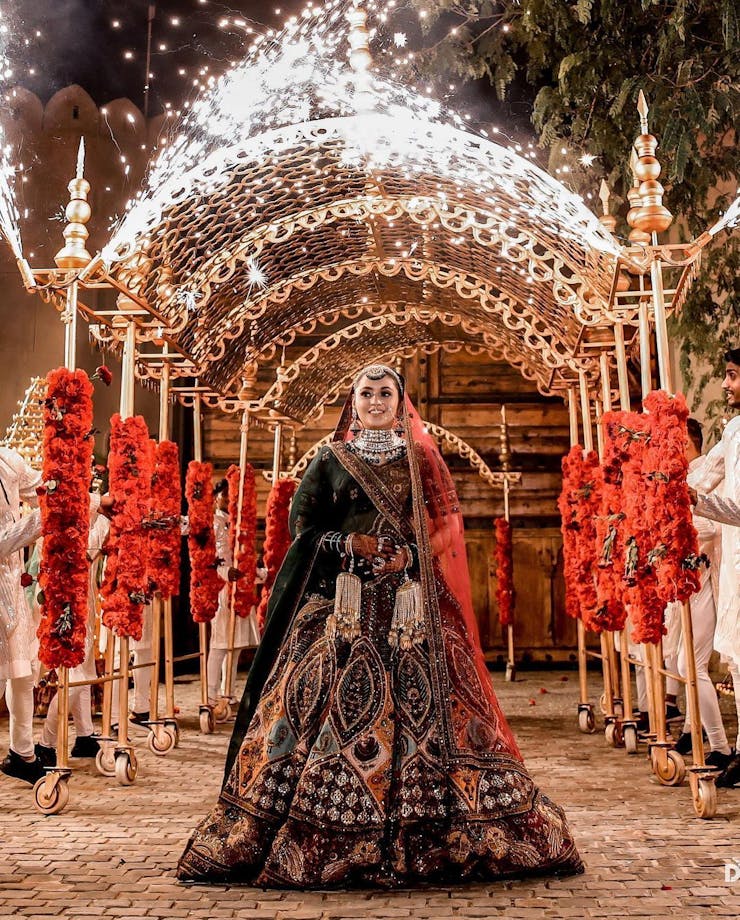 9. Let The Kids Takeover Your Lovely Entrance
Create an adorable moment in your wedding by including kids at the wedding entrance. Let them take the lead towards the wedding mandap to make a beautiful memory. The sheer beauty and magical vibes of this moment will help you to get the most beautiful wedding images.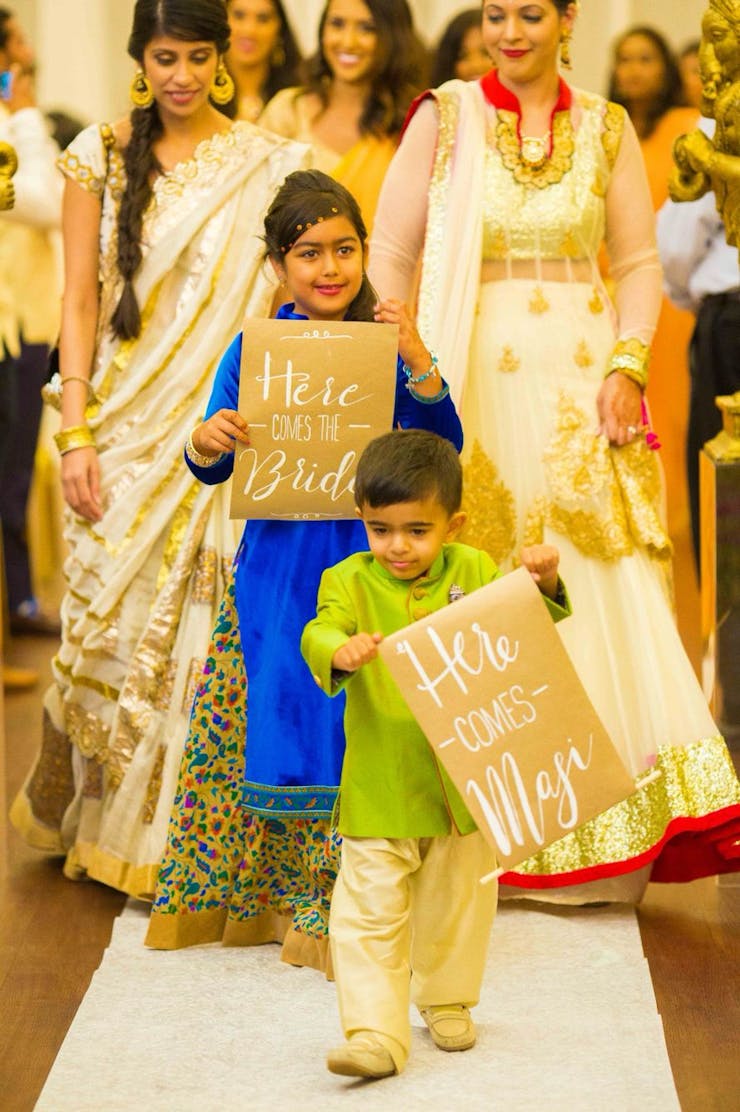 10. An Enchanting Entry On A Royal Chariot
Relive your childhood dream by making a grand entry on a royal chariot. Leave your guest spellbound by entering in a flower-decorated chariot like a fairy tale wedding. This can be the most dreamy bridal entry ideas for wedding that creates everlasting memories.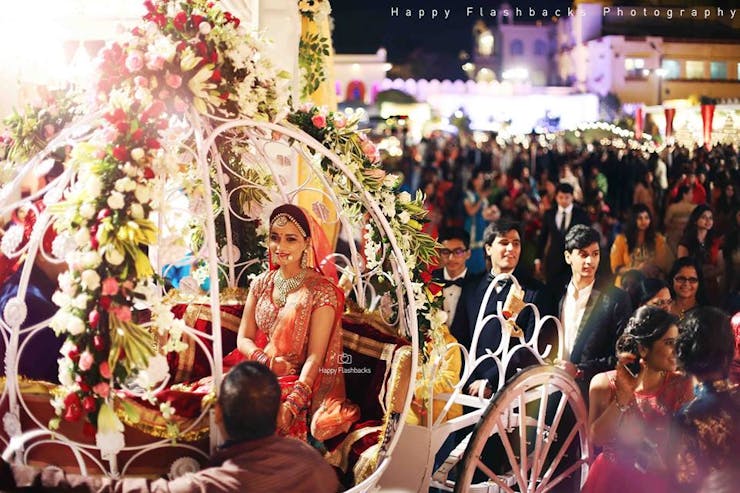 11. A Spectacular Entry On A Wedding Horse
End the age-old stereotype of the groom riding the horse on the wedding day. Take inspiration from this unconventional bride who proved that rules are made to be broken. A stunning entry on a wedding horse will leave your guest spellbound. This amazing entry will make you feel like a celebrity on your special day.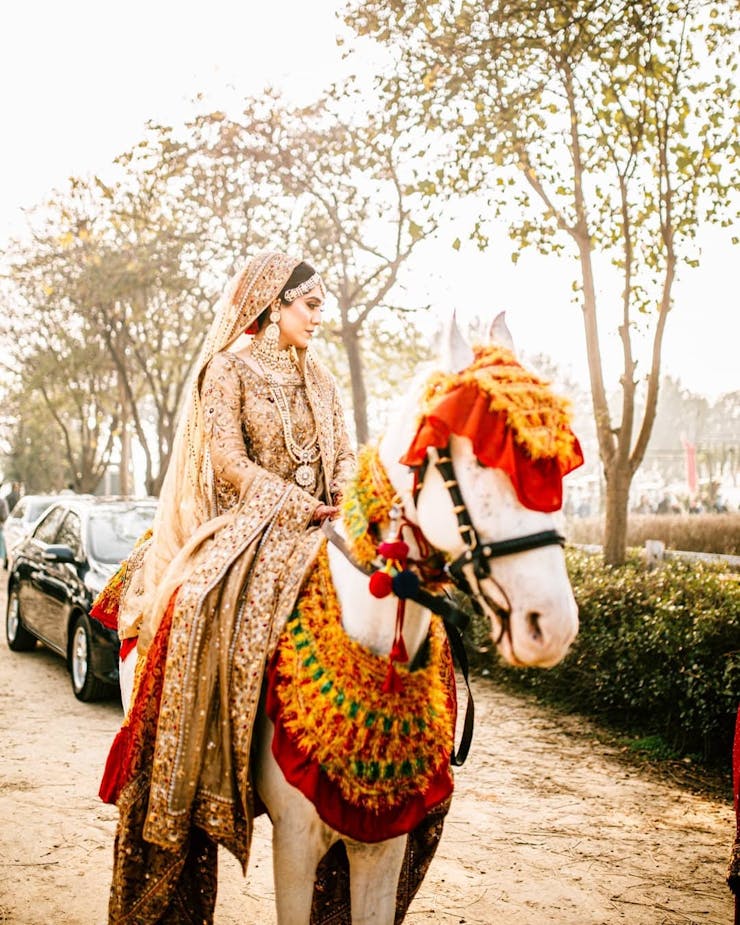 12. Dancing Entry Of A Jovial Bride
The dancing bridal entry images are making rounds over the internet for all the right reasons. Dancing down the wedding aisle is the perfect option for a fun-loving bride. You can choose any of your favorite Bollywood music to make a memorable wedding bridal entry.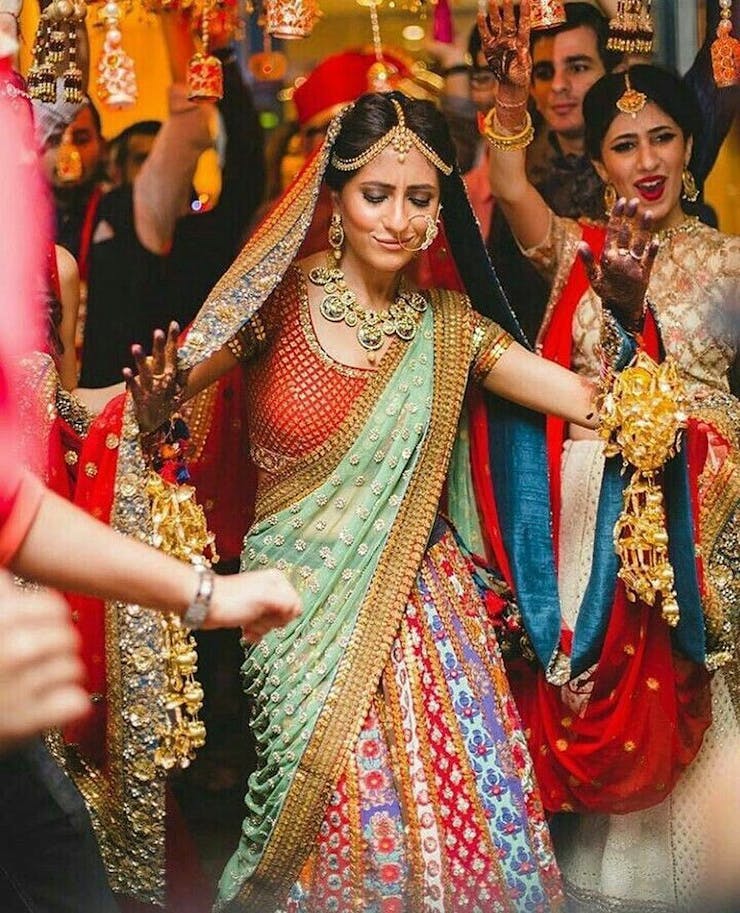 13. Bridal Entry With Sparkling Performance
Make heads turn by stepping towards the mandap on an illuminated path. A sparkling bridal entry in wedding would make a lasting impression. The dramatic veil and pretty smile of the bride will add the grand vibes of royalty to the wedding pictures.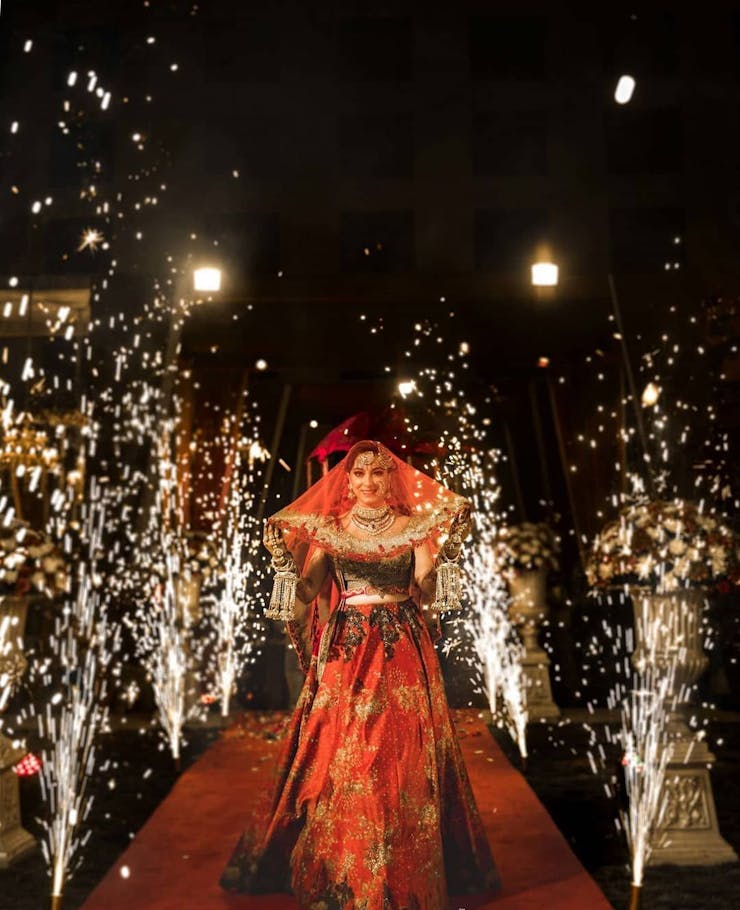 14. Enter The Aisle With Dearest Sisters
Walk down the wedding aisle with your loving sisters. This pretty bridal entrance can turn the atmosphere into an emotional moment. You can choose to wear contrasting clothes and stunning bridal jewelry to make this entrance idea more glamorous.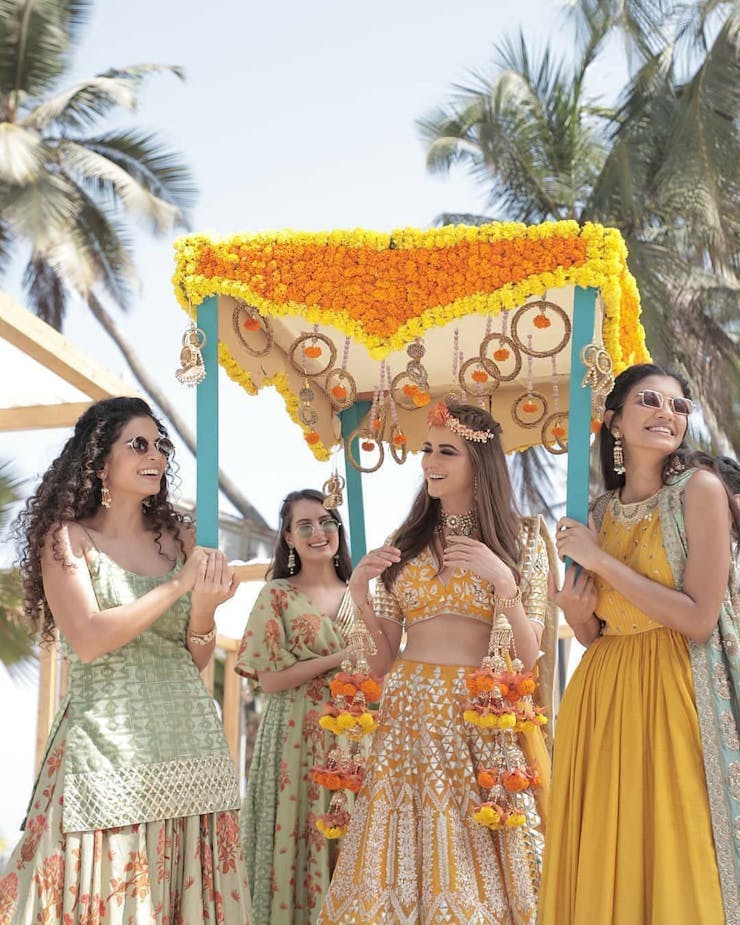 15. An Elegant Entry With Floral Umbrella
The sheer beauty of a floral umbrella will turn your wedding aisle into the most beautiful path. A colorful umbrella decorated with fresh flowers can add a layer of sophistication to your wedding pictures. You can customize the colors of the flowers according to your wedding theme.