9+ Trending Groom Beard Styles You Should Try This Wedding Season
Here're some of the best groom beard styles for weddings to be a head-turner groom. Take inspiration from these trending beard styles to rock your D-day.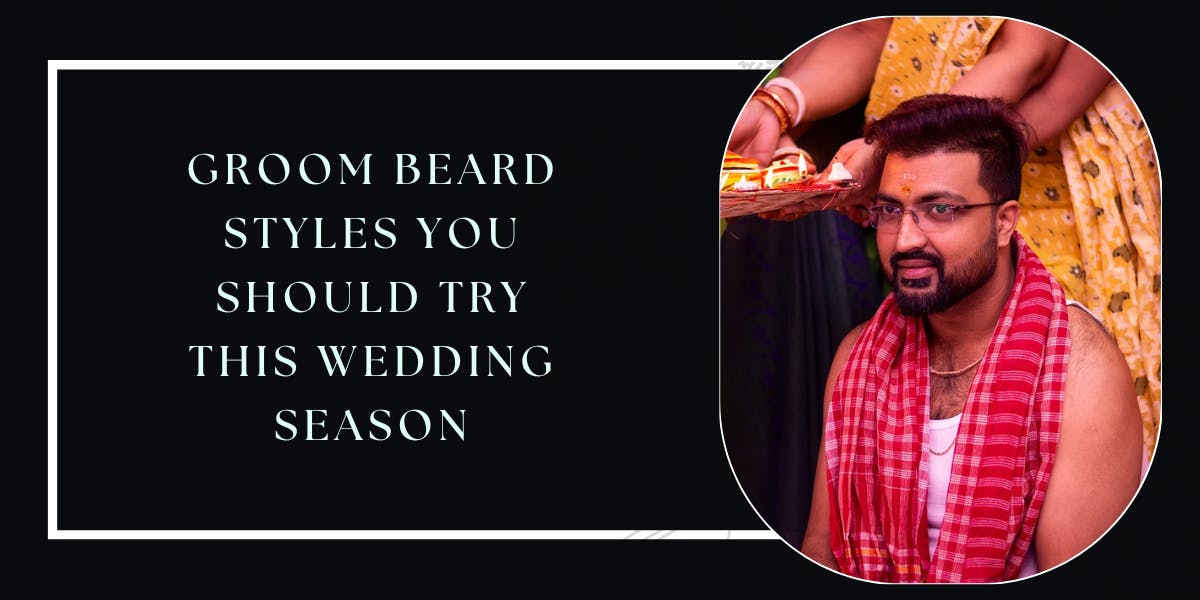 The beard is the most iconic fashion accessory of a man. It's a symbol of manliness and virility. Beard is a fashion trend that has been around for hundreds of years. Large beards, small beards, French cut or mutton chops all these stylish beards have been on the rise in recent years. Keeping a stylish beard has even become a fashion statement, with many Indian grooms showing off their beards in impressive ways. A stylish beard has a major impact on your wedding look. It adds character, and flair to y our wedding outfit also. When done properly, the beard can add depth and dimension to a groom's face. From sports personalities to celebrities, every man looks like a handsome hunk with a beard.
So, dear grooms, if you want to impress your lady with your masculine look then keep reading this blog. Here we have enlisted 9+ trending groom beard styles for weddings that can add a sophisticated touch to your personality. Check the stylish groom images shared by the best photographer in kolkata for wedding photography.
1. Full Groomed Long Beard
Long beard styles are making a great comeback in Indian weddings. A full-grown long beard gives you an elegant and classy look. This wedding groom's beard style appears more powerful on the dashing grooms. Bengali wedding photography is flooded with stunning long-beard images of grooms. The edgy beard of this stylish groom is adding a masculine fervor to his personality.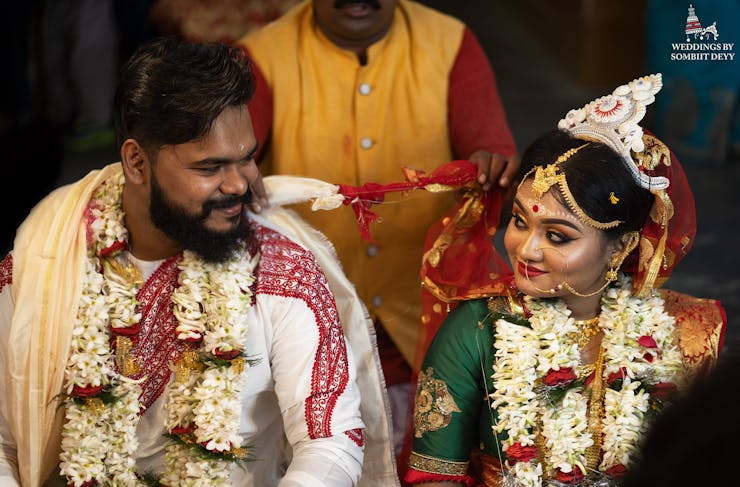 Recommended: Top 12 Beautiful Pre Wedding Shoot Dresses For Couples In 2022
2. A Short Light Beard
Short beard styles are the best option to embers your masculinity. This short and light beard looks fantastic with a three-piece suit. This stylish beard is a good option for a pre wedding photoshoot in kolkata. Here the adorable groom has opted for a short light beard on his pre-wedding day. The beard has covered the bottom half of his face.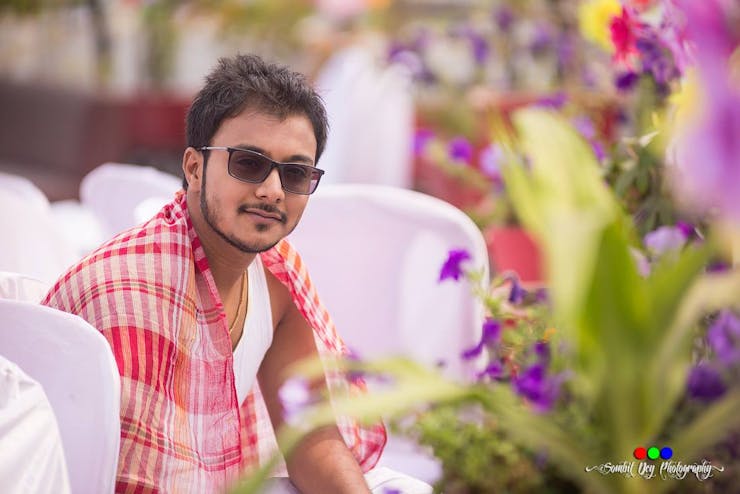 Must Read: Top 15 Destination Places In Kolkata For Your Wedding
3. Simple & Short Stubble Beard
A short stubble is the most famous wedding groom beard style. If you have a beautiful mustache and a fine jawline then feel free to keep a short stubble beard. The best thing about this beard style is this you don't need to do regular trimming to maintain the length. This kind of beard style goes well with Indo-Western and ethnic outfits.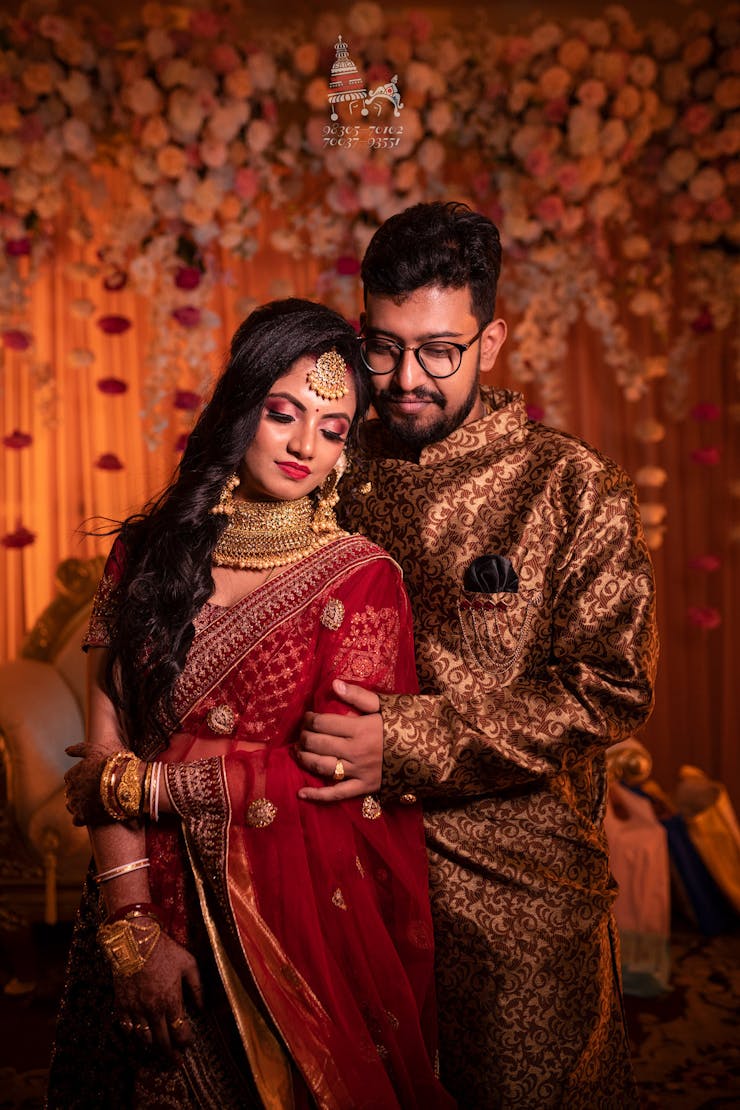 See More: 12+ Reception Dress For Bengali Groom For The Most Charming Look
4. An Extended Goatee Beard
A goatee beard style is best for those who can't grow enough facial hairs. This dashing guy has slayed his groom's look with an extended goatee. This classic beard makes you look stylish and suave if paired with a royal sherwani. All you need to do is find an experienced barber who can give you the perfect goatee shape.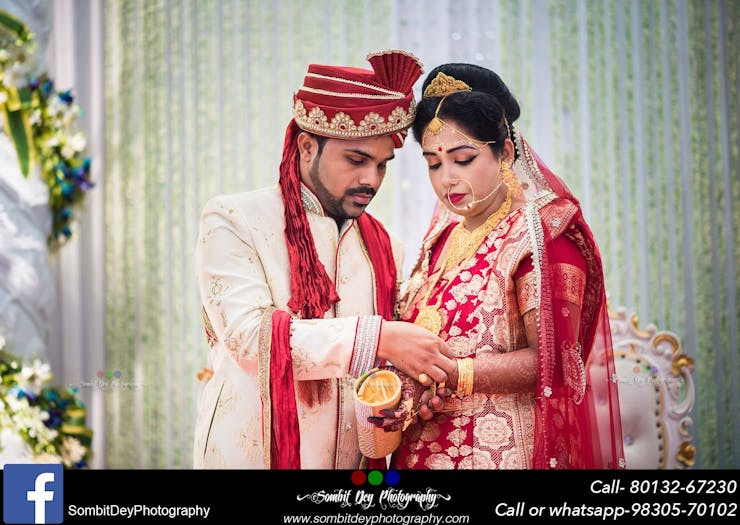 5. Long Verdi Groom Beard Style
Some might think that growing a long beard might look untidy on the wedding day. But you must take inspiration from this stylish man who has opted for a long Verdi beard on his wedding day. This kind of stylish beard looks attractive and makes you a confident personality. This beard style is perfect for the groom having a slim jawline.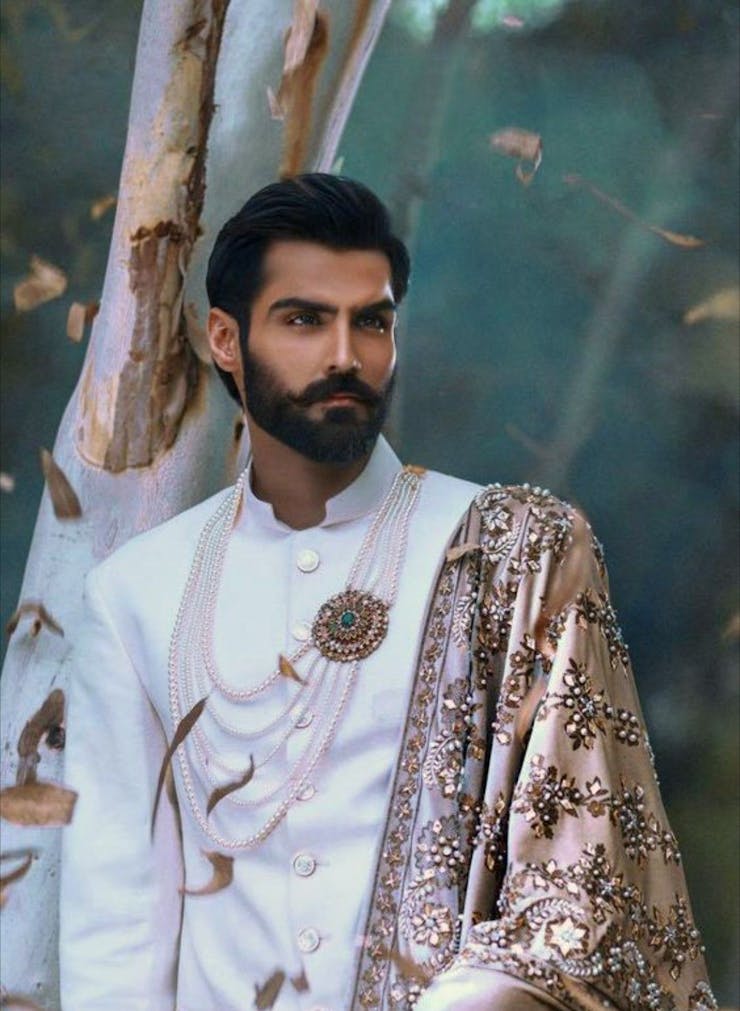 6. Circle Beard Styles For Marriage
A circle beard look is one of the neatest beard styles for bride groom. This handsome hunk has chosen a circular beard to complement his metallic kurta. To achieve this look you need to connect your trimmed mustache with a goatee beard. Also, clean shave your cheek area to add a sophisticated touch to your wedding day look.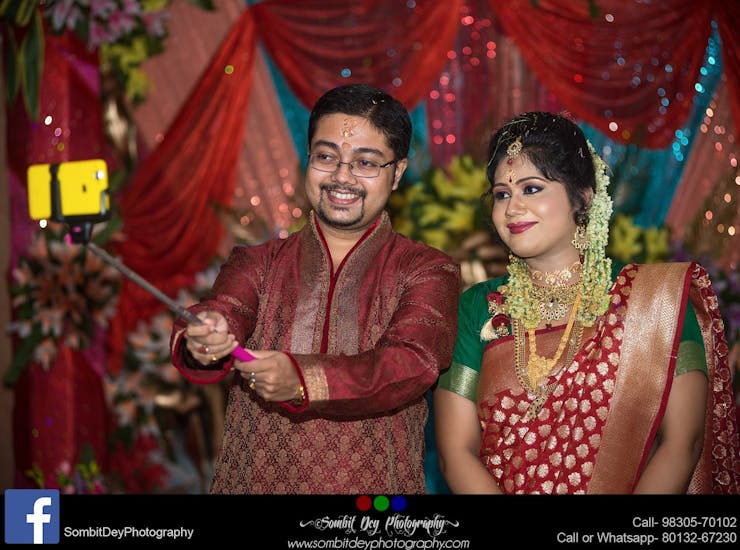 7. Short Tapered Beard
A tapered beard is the best beard styles for groom to complement his royal outfit. The sharp beard of this classy groom is enough for grabbing the attention of the wedding guests. This attractive beard looks well in both casual and ethnic groom outfits. Celebrities like Siddharth Malhotra have also opted for this stylish beard.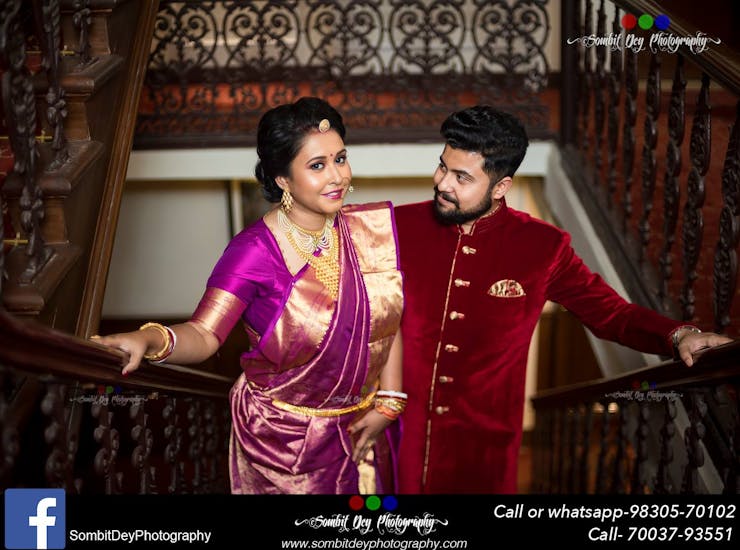 8. Full Beard Styles For Indian Groom
A full-grown beard is the most trending Indian beard style for the groom. Maintaining a full-grown beard takes a lot of time and care. But the result of a full-grown beard always adds a masculine touch to your personality. A full-grown beard with a mustache looks stunning with ethnic clothes. You can go for a classy sherwani or achkan to complement your full-grown beard.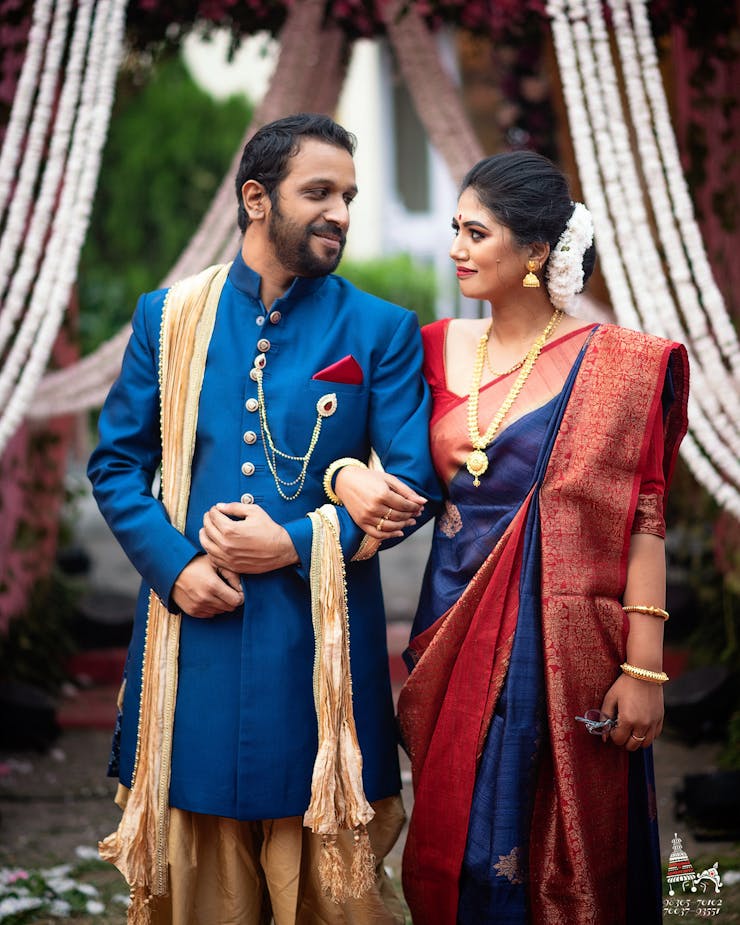 9. Barely Beard Styles For Indian Wedding
A trimmed beard suits grooms with a slim jawline. The light beard grown on the face gives a stylish and clean appearance. This stunning beard style is the best beard for your post-wedding events. It will make you look dashing and a charming groom in your wedding pictures. It adds a royal touch if paired with a classy sherwani.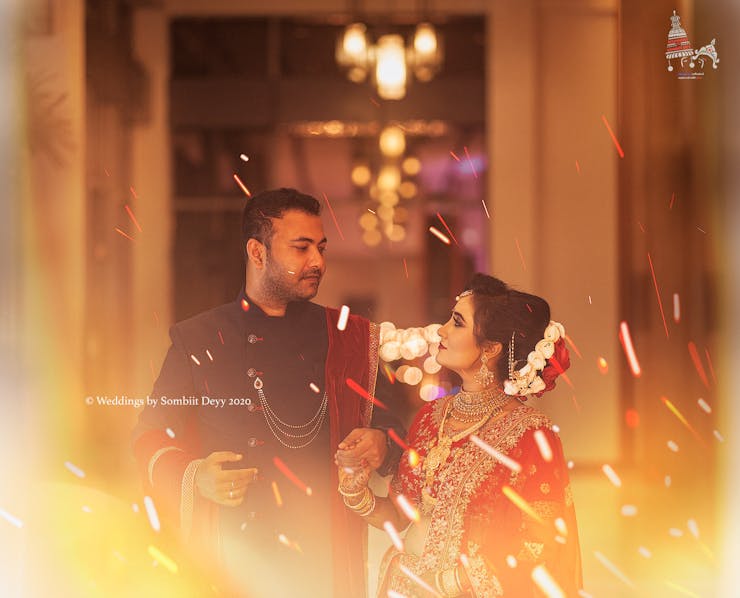 10. Stylish Duck Tail beard
Are you a great fan of Virat Kohli's duck tail beard? This is the most stylish beard that needs regular trimming. Celebrities like Leonardo Di Caprio and Brad Pitt also owned this stylish beard. It gives you an unusual look and matches your royal outfit and accessories.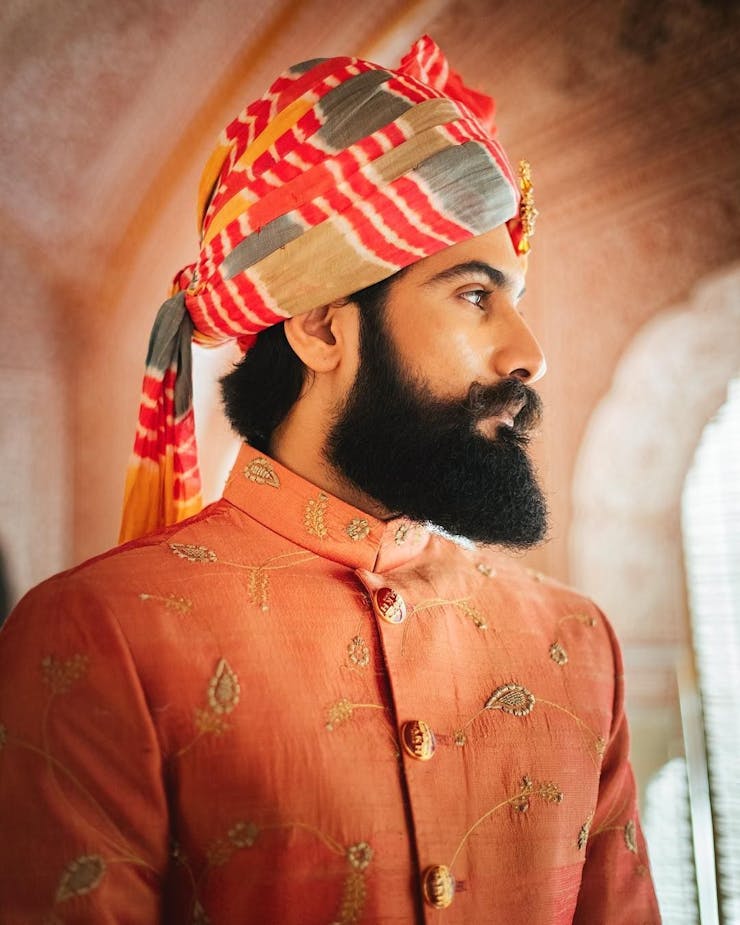 Some important tips on beard grooming –
i) You must choose the right direction while shaving. Choosing the wrong direction for beard growth can make you unhappy about your look. Giving a proper shape to your beard can all set to make you look like a dapper groom.

ii) We all know that oil is essential for hair nourishment. Likewise, oiling your beard can give it a proper texture.

iii) Use a branded moisturizer on your beard. As it makes your beard soft and smooth. And also gives you acne-free skin.

iv) Take a massage of lukewarm water once in a while. It allows your skin to breathe and get rid of the dead cells.

v) Combing your beard every day is a must-to-follow rule for well-structured beard growth.

vi) Ask experienced salon experts about the beard style that match your face cut. Go for the one that compliments your facial features.

vii) Let your beard grow at its natural speed. Don't trim it too often.

viii) Last but not least take a good night sleep and stay hydrated to grow your beard.