The Ultimate Bengali Wedding Checklist By Sombit Dey Photography
Plan your special day with utmost attention and ease with our Bengali wedding checklist. Read on to know what are the necessary elements to plan a wedding.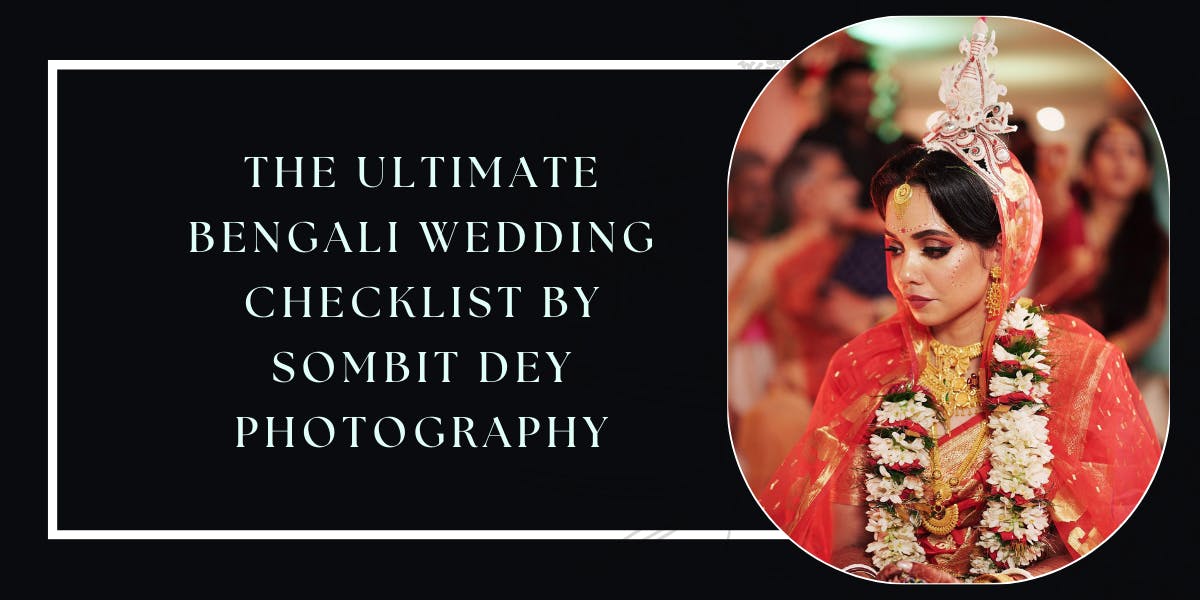 Plan your special day with utmost attention and ease with our Bengali wedding checklist. Read on to know what are the necessary elements to plan a wedding.
Planning a traditional Bengali wedding can be an exciting and joyful experience. Like all other regional weddings, it also has vibrant rituals and customs which have been practiced for centuries. With so many different rituals at the wedding, it can easily be overwhelming. Some of the wedding rituals are an essential part of Bengali wedding photography.
Hence, it is very important to keep track of every component used to perform the Bengali wedding ritual. To make the wedding process easier, create a comprehensive checklist that includes every detail. The guide will provide guidance on which key items to plan for a Bengali wedding, helping to make sure that the day goes as smoothly as possible. We have included here all the necessary elements needed in a traditional Bengali wedding. Continue reading to create a perfect Bengali wedding checklist.
Recommended: The Ultimate Guide To Wedding Shopping In Kolkata
1. Aashirbaad
The Boron Dala is an essential element in the Bengali wedding needed to perform the aarti. This cane plate is painted with vibrant colors and designed beautifully. Ceremonial items like earthen lamps, bananas, honey, rice with husk, and many more items are placed on them.
Delicious Bengali sweets are a must-to-be-included item in the Bengali wedding list. Sweets are served in the aashirbaad ceremony as per wedding custom. Starting from roshogolla to sandesh, sweet delights spread happiness in the wedding atmosphere.
During the ceremony, the couple is blessed by family members and showered with gifts. The wonderful moment of an Aashirbaad ceremony is an important part of Bengali wedding photoshoot.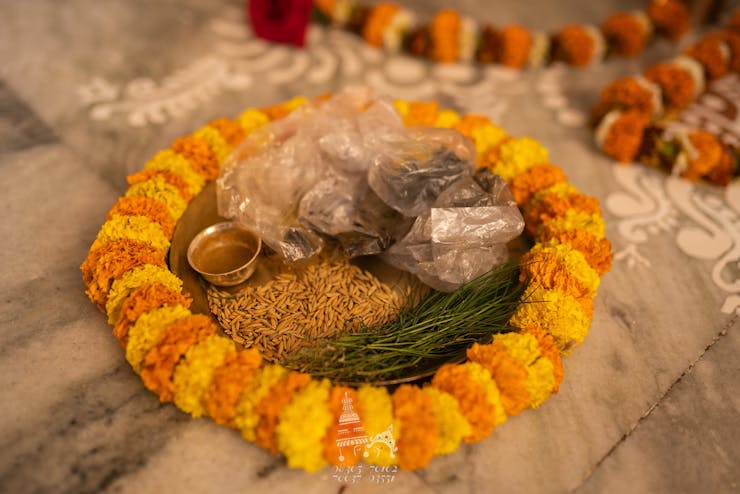 Must Read: Bridal Entry Pics & Ideas You Should Know
2. Aiburo Bhat
Traditional Bengali Cuisine
In this wedding ritual, the most important thing you need to arrange is a traditional Bengali feast for the would-be groom and bride. Hence, you need to arrange all the food items that are cooked in traditional Bengali cuisine.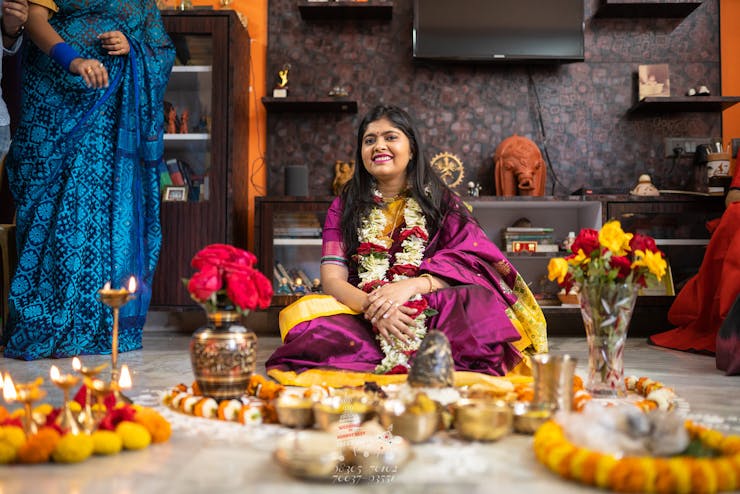 See More: 15 Awe-Inspiring Bengali Bridal Haldi Look For Glamorous Brides
3. Sakha Pora
Sankha Pola
It is a conch shell bangle that is required to perform this ritual. It is one of the most important items on the checklist for Bengali wedding. The moment when the bride wears the traditional bangles for the first time is the best moment of candid Bengali wedding photography.
New Saree For The Bride
You also need to include a wedding saree in the bengali marriage list items as a gift for the bride.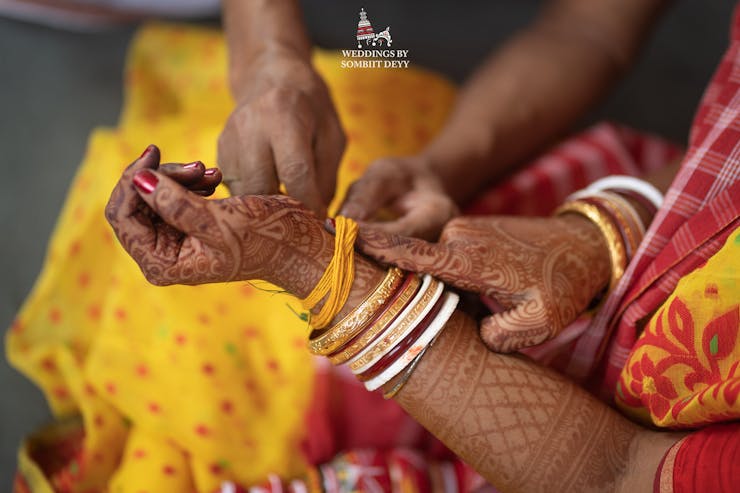 4. Adivas Tatva
The families of the bride and groom exchange wedding gifts known as Adhivas Tatva. To perform this ritual, you will need items like dhan-dubbo, fish, betel leaves, and earthen lamps.
Sweets are also sent along with the tattva as a wedding custom that marks happy beginnings. Any dry sweet like Sandesh can be used to perform this custom.
Make Sure to include gift items for the groom and bride in your bengali marriage list items. You can buy clothes, jewelry, toiletries and dry fruits for the wedding tattva list.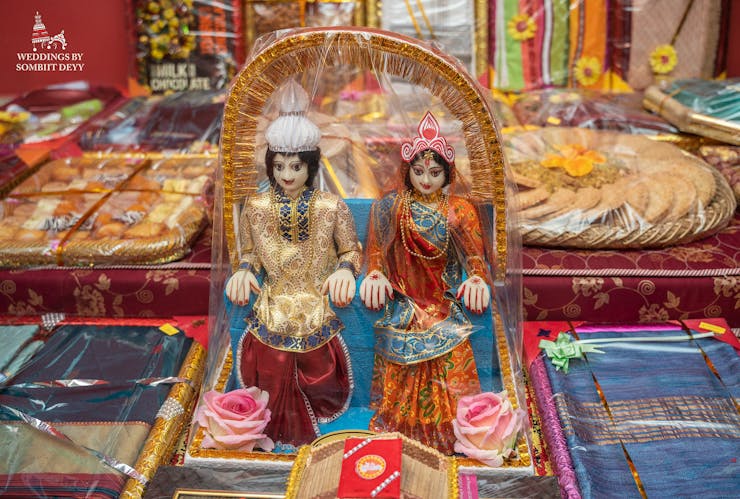 5. Jol Chhhowa
This is a traditional item used in Bengali wedding events. This wooden plate is usually made of high-quality bamboo and is also known as boron dala. This bamboo plate is an important part of many wedding rituals.
Another item you must include in your wedding checklist is a brass pitcher. You will need a brass pitcher to carry water from a pond or river according to the Jol Chhowa wedding ritual.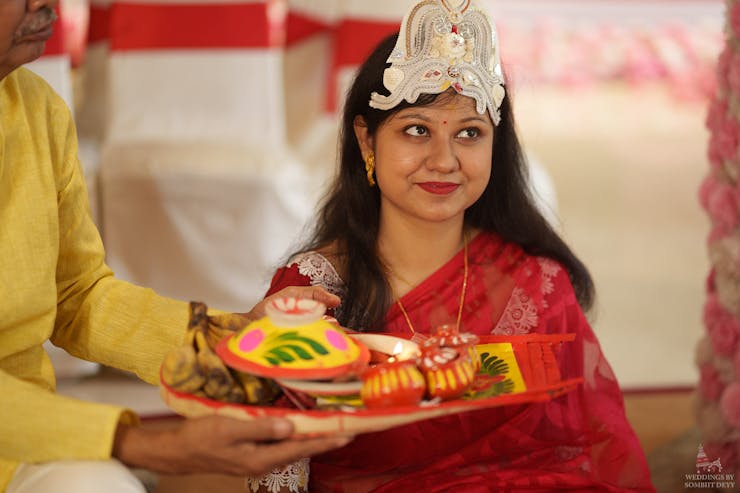 6. Dadhi Mongal
As the name states, Dodhi Mongal is a ritual where the bride and the groom are fed yogurt in the early morning. Yogurt is the main item to be included in your checklist when planning a wedding. Yogurt is considered an auspicious element. Hence the whole ritual is dedicated to the use of sweet curd or Doi.
Rice Flakes, Sweets & Banana
Along with yogurt, rice flakes, sweets and banana are also mixed. It is then served to the groom and the bride by their family members. You need to arrange all these items beforehand as this will be the last meal of the couple before their wedding.
Both the groom and bride are gifted with new clothes by their family members. A cotton saree or silk dhoti can be presented as per your budget.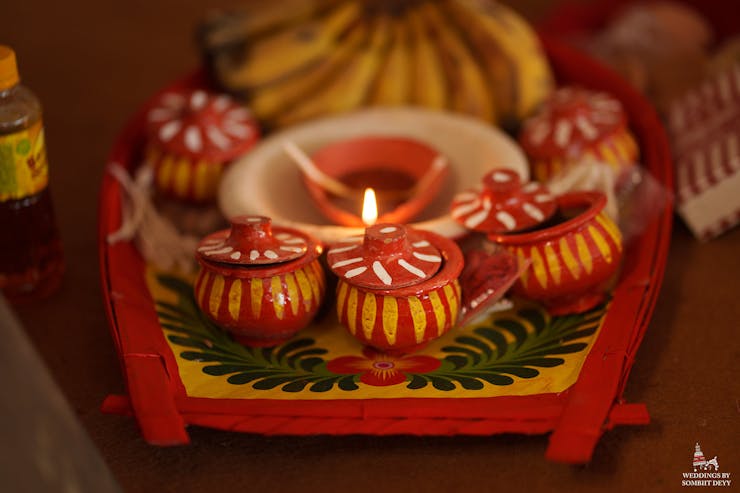 7. Briddhi Puja
Include a beautiful idol of Lord Narayan in your checklist for marriage ritual. Without the idol, you will be unable to perform the puja conducted by the priest. You can bring a small to medium size idol as per your wish.
Briddhi Puja is performed at the home of the bride and groom to pay homage to their ancestors. To perform this puja you need to buy kumkum, boron dala, ghee, dhoop, betel leaves, supari, and kori.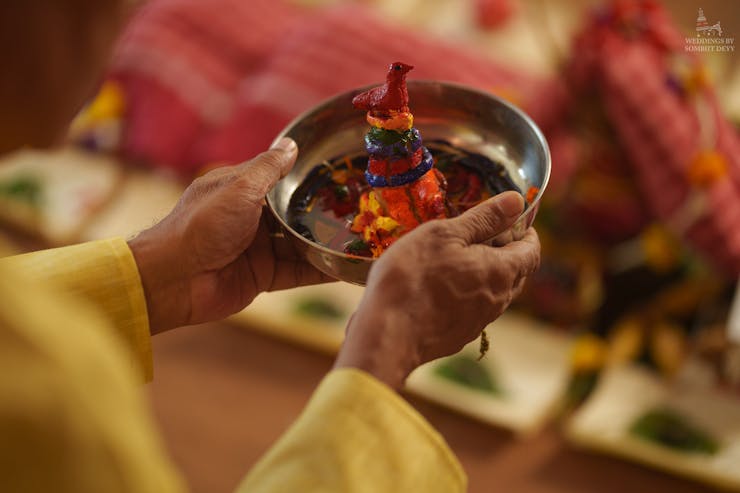 8. Gaye Holud
Followed by Briddhi Puja, the Gaye Holud ceremony begins. In this ritual, the groom's family sends raw turmeric paste applied over the groom's body to the bride's house.
Banana Plant, New Clothes, Brass Pitcher
You must add 4 banana plants, a new cotton saree for the bride in yellow color, and a brass pitcher to your wedding checklist planner. All these items are essential to complete the Haldi ceremony.
Whether you belong to the groom's side or the bride's family, you need certain ceremonial items to perform Gae Holud rituals. Note down dhan-dubbo, oil, and earthen lamps in your Bengali wedding planning checklist.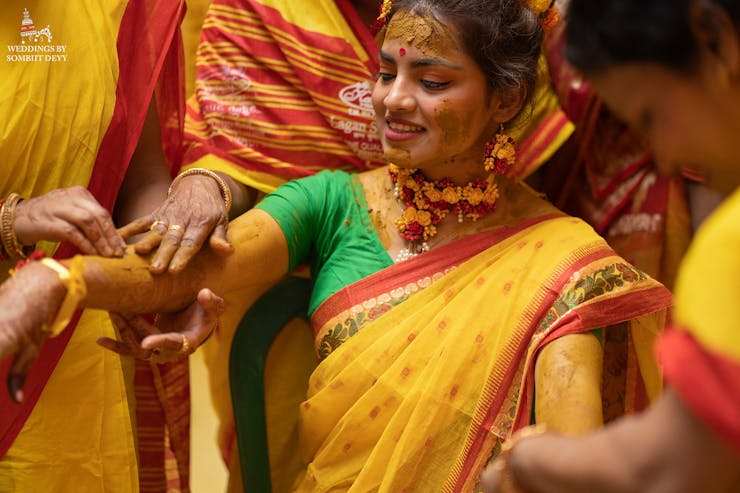 9. Wedding Ceremony
Wedding Checklist For Bride
To achieve a gorgeous Bengali bridal look for wedding, you need to add certain things to your bridal trousseau list. A Bengali wedding lehenga is an important factor in deciding her Bengali marriage look. Also, make a Bengali wedding jewellery list to complement your wedding attire. Alta, kajal lata, bridal veil, gaach kouto, and betel leaves are also needed for a Bengali bride.
Wedding Checklist For Groom
For the groom, you will need a silk dhoti and kurta, topor, sandalwood paste, mirror, and jor to perform the wedding rituals.
People get more stressed regarding the rituals performed on the wedding day. It contains a long list of items that are very necessary to perform the wedding smoothly. Make a wedding ceremony checklist that contains sweets, lajjabastra, sindoor, flower garland, ghee, paan supari, rice, turmeric, banana, shell, Piri, flower, sacred thread, and a coin to put sindoor.