Sherwani Shop in Kolkata - One stop shop for all your sherwani needs!
Looking to get the best sherwani in Kolkata? Here is a list of top sherwani shop in Kolkata that has a stunning collection of wedding sherwani.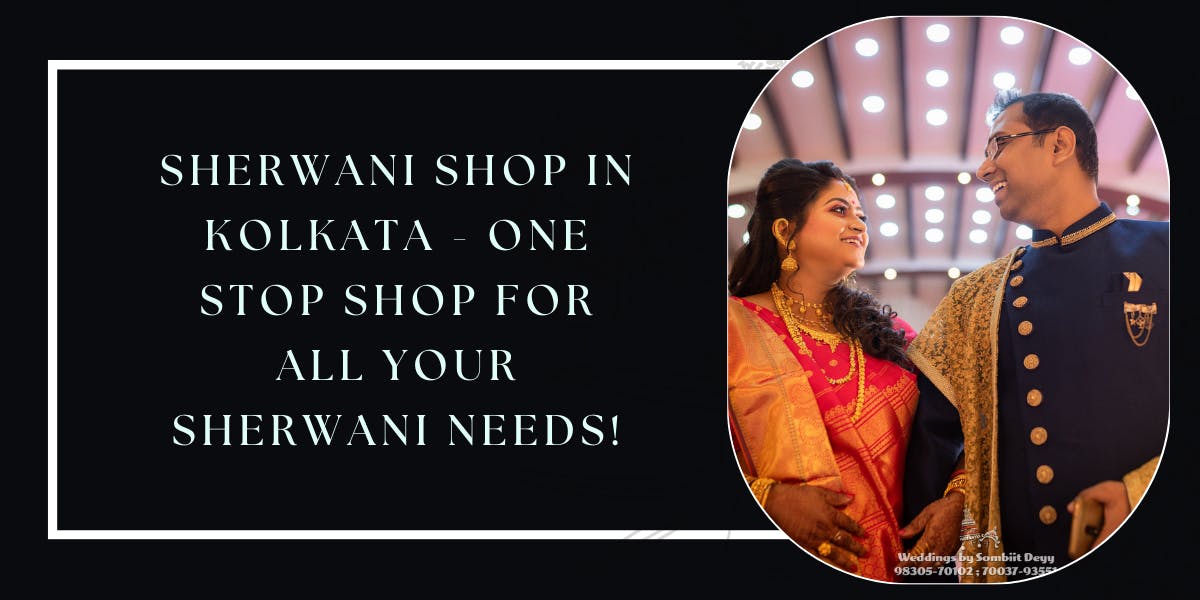 Indian weddings are the most elaborate and captivating ceremonies in the world. Therefore, grooms needs to have an outfit that is of the highest quality. This is especially true for the groom's sherwani, which is the traditional dress worn by the groom. The groom sherwani make a statement about their style and taste. It also helps to bring together the aesthetic of the entire wedding. While some grooms may choose to purchase a ready-made sherwani, others may decide to have a custom-made one designed to fit them perfectly.
Selecting the perfect groom sherwani is no easy feat. So it is important to consider a few key factors before purchasing its color, design, and accessories. It is also important to consider the season as well as the fabric when selecting a sherwani. Along with that, you must contact the best wedding photographers in Kolkata to capture some classy images of you and your sherwani.
So, here we are sharing a list of the best sherwani shop in Kolkata that will help you look like a royal and handsome groom.
Recommended: The Ultimate Bengali Wedding Checklist By Sombit Dey Photography
1. Agape
If you wish to look for the most attractive and stylish groom on the wedding day, Agape can fulfill your wish. They can offer you a wide range of sherwani design as per your choice. All you need to do is hire a professional photographer in Kolkata for wedding to capture the most stylish groom look in their wedding sherwani.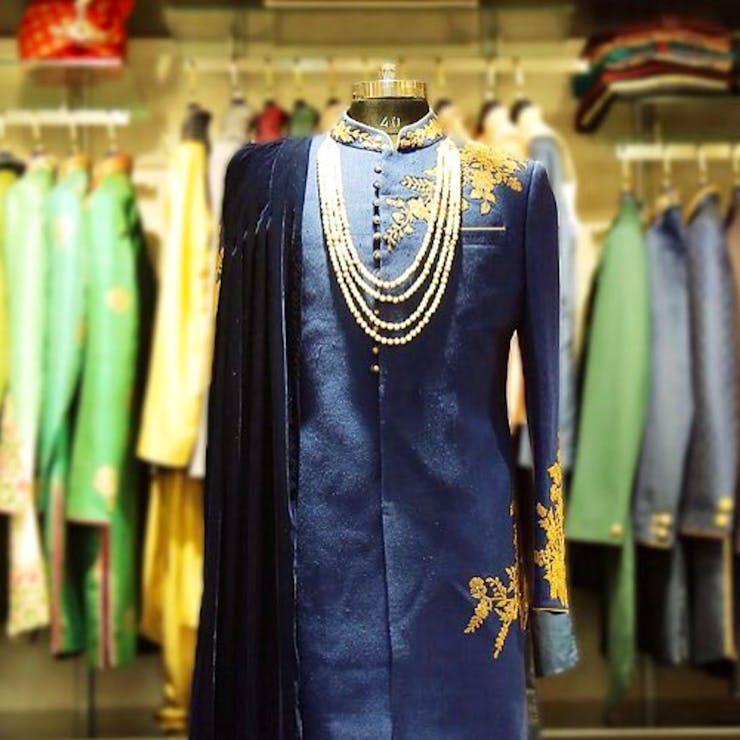 Must Read: 9+ Trending Groom Beard Styles You Should Try This Wedding Season
2. Palki
Established in 1998 by Mrs. Lata Harlalka, this is the most sherwani store in Kolkata. They have a collection of best sherwani design that exudes excellence, and grace. The best thing about Palki is they also have an exclusive collection of designer bridal lehengas. Hence, it would be a perfect place to visit for your wedding shopping.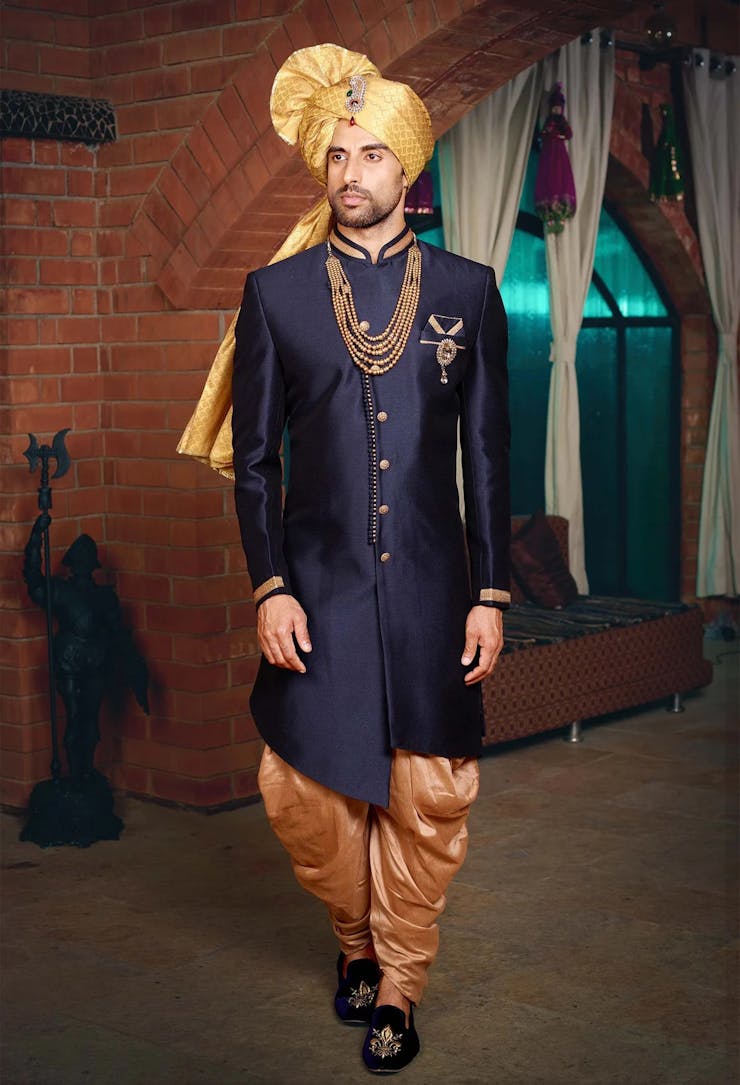 See More: The Ultimate Guide To Wedding Shopping In Kolkata
3. KL By Kushal
This menswear store sells the most exquisite wedding sherwani in Kolkata. Their groom outfits are made of the finest fabric and available in various shades and patterns. You can even look for the latest sherwani design for wedding like block print and digital print.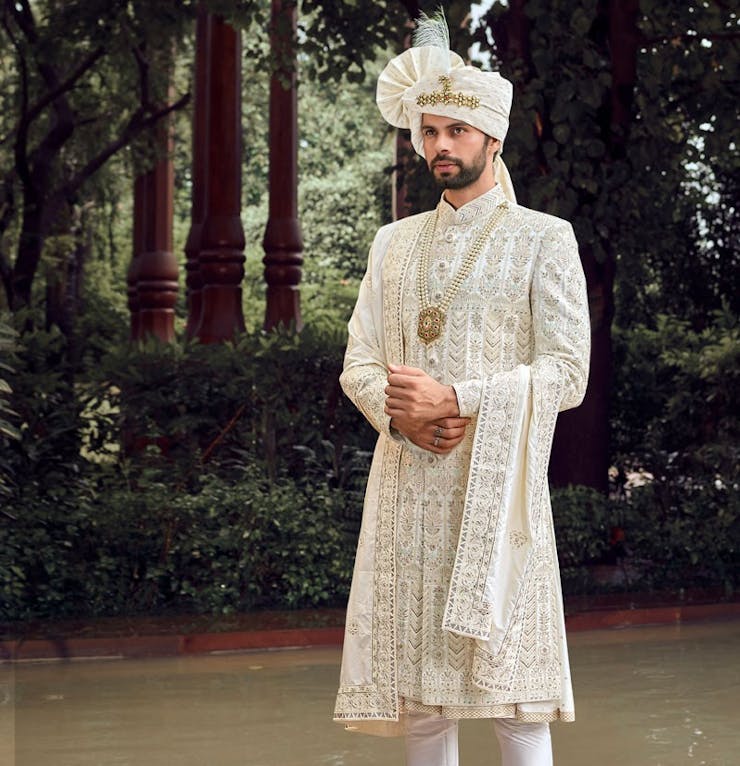 4. Surbhi Pansari
This is the ultimate destination for grooms in Kolkata to buy designer sherwani for wedding. It is a designer brand that designs classy outfits as per the occasion. If you wish to get a designer sherwani in Kolkata that exudes elegance and style, visit this store.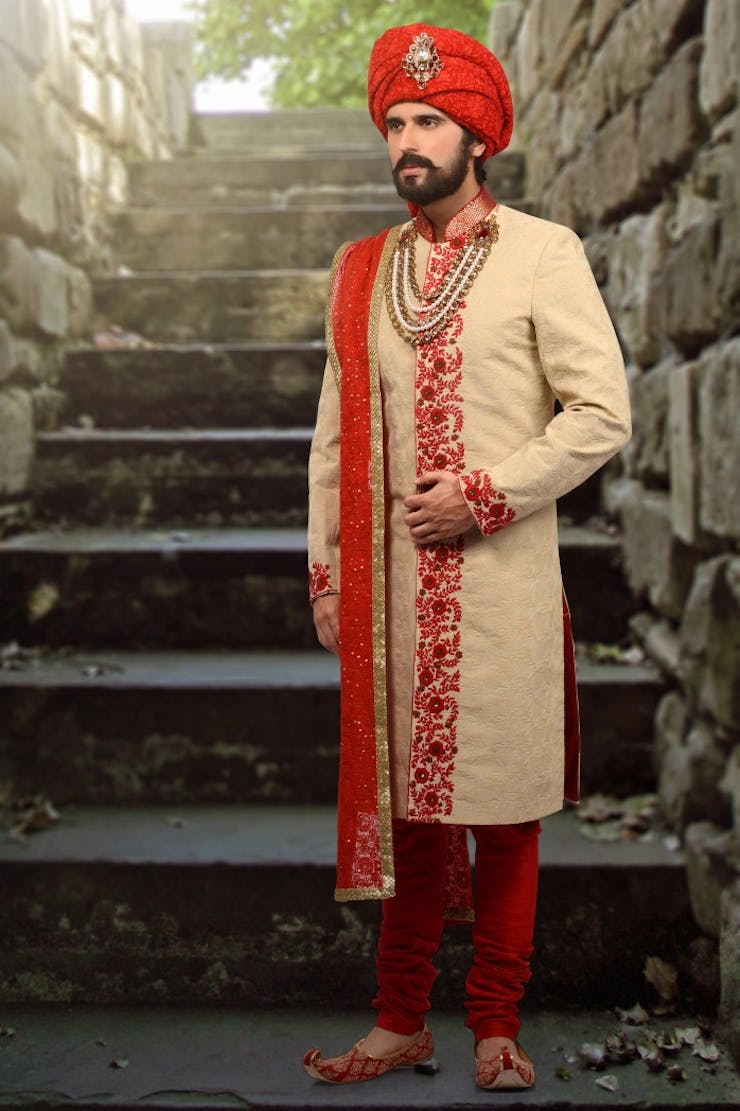 5. 100 Park Street
This is the best sherwani shops in Kolkata that will make you look no less than a royal groom. Whether you are looking for floral prints or embroidered sherwani for men, they can provide you with everything. You can also look for a matching safa here to complement your wedding outfit.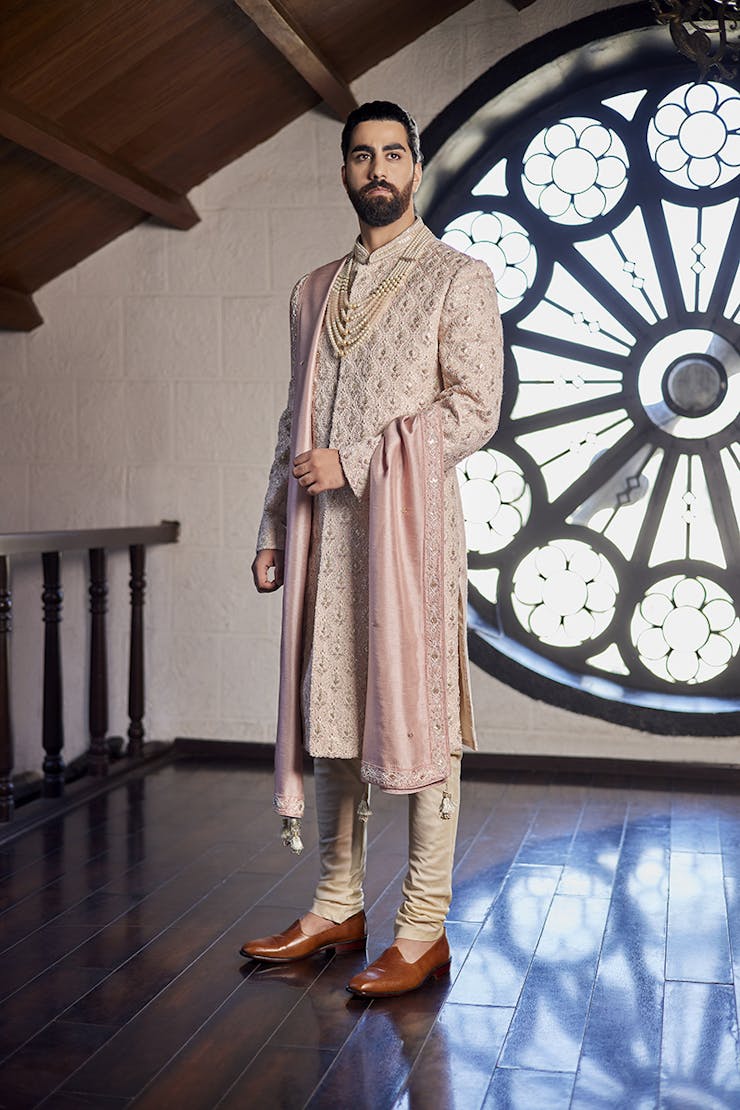 6. Ayub & Sons
Ayub & Sons is a trusted tailor shop to buy sherwani for groom in Kolkata. They take care of all your wedding day fashion-related needs. Their experienced tailors stitches the most exquisite wedding sherwani. You can also check out their stunning brooches collection to wear with the sherwani.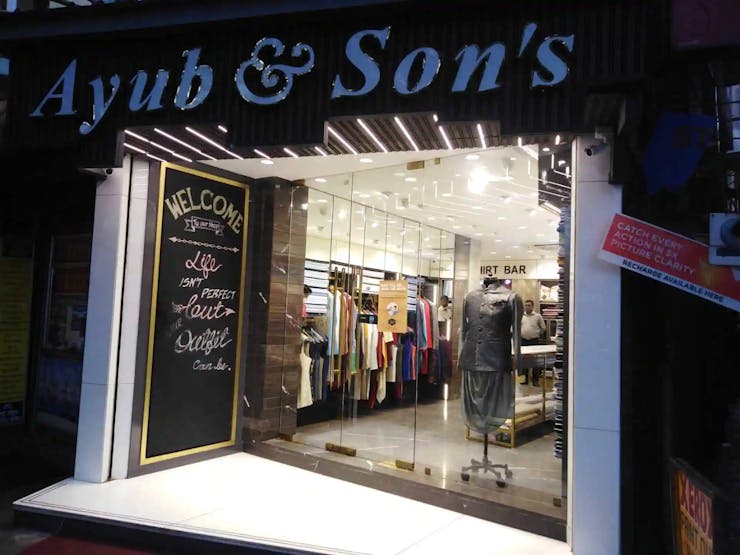 7. Allur By Divya Todi
Allur is a popular groom-wear store that sells a wide range of stylish and exquisite sherwani for groom. They have established a strong foothold in the wedding industry for their latest prints and finest fabrics. Their well-trained staff is always ready to assist you in choosing the best wedding attire.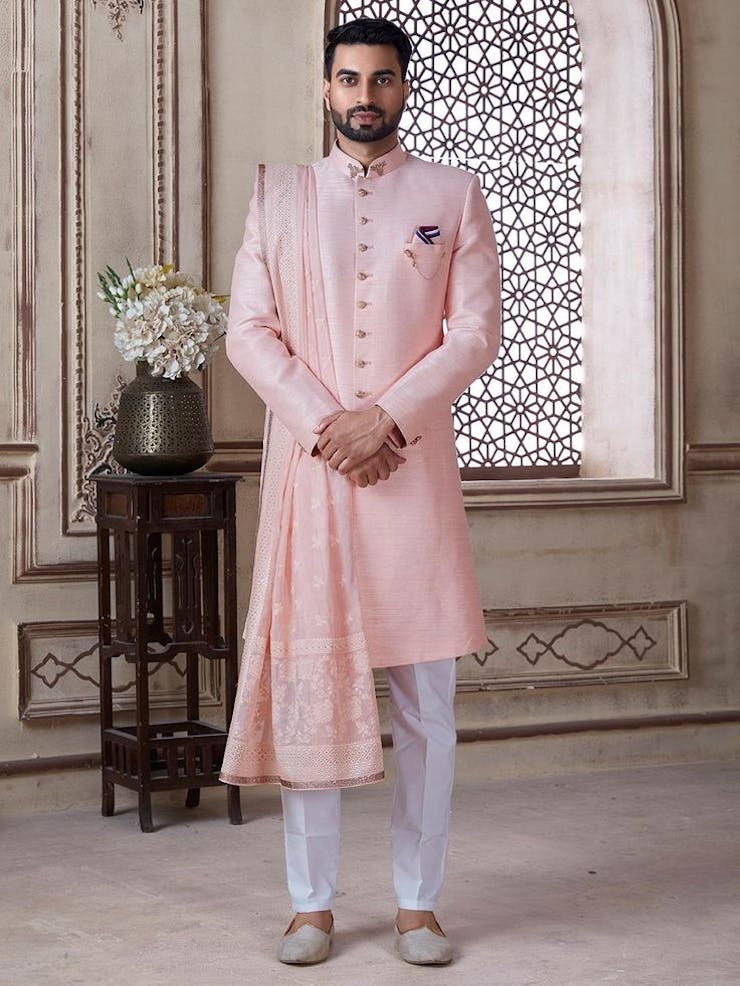 8. The Raymond Shop
We don't need to introduce this brand as they have established a strong identity in Indian markets. Raymond is the leading fashion brand that continues to serve the needs of Indian men for over nine decades. They can provide you with the most unique and classy groom sherwani design.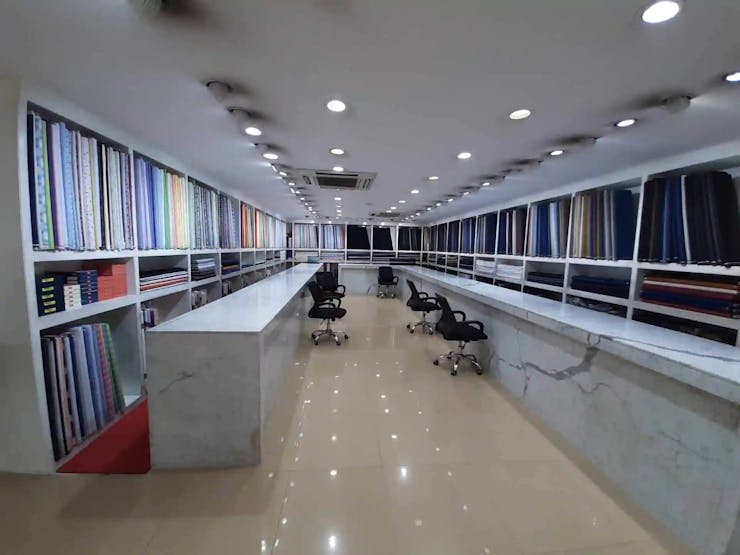 9. Manyavar
Manyavar is the leading wedding sherwani shops in Kolkata that offers luxurious groom attires. Their diverse range of wedding sherwani suits every groom's tastes, liking, and wishes. Their traditional as well as indo-western sherwanis are sure to provide every groom with a stunning look.
10. Aastha Creation
Aastha creation is a house of trendy designer sherwani for groom. They sell sherwani in subtle tones. Their wedding outfits are perfect to wear on pre-wedding events and reception nights. All their wedding outfits are available in free sizes which can be tailored according to your shape in just a few hours.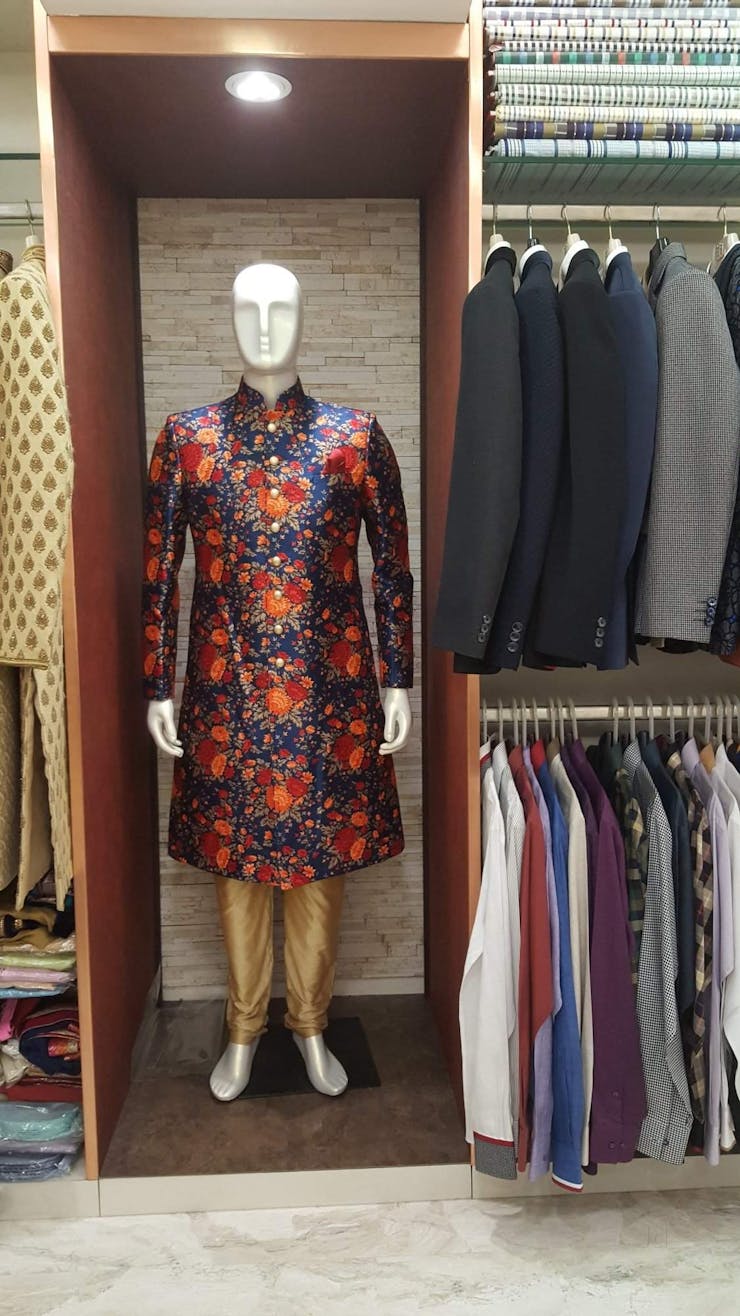 11. Manoj Agarwal
Manoj Agarwal is known to be providing the most sought-after wedding dress for groom in Kolkata. They design wedding sherwani as per the choices and preferences of modern grooms. You don't need to worry about your budget as they provide a bunch of personalized outfits at affordable prices.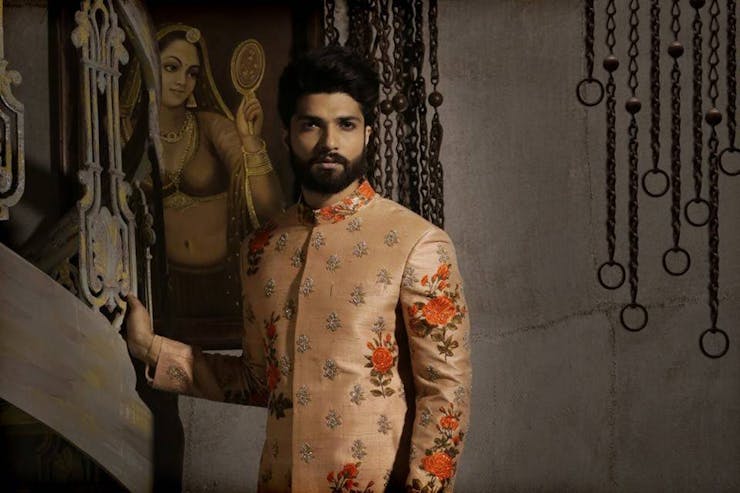 12. Sassya
Sassya is one of the best sherwani store in Kolkata that offers the most unique, and vibrant collection of groom wear. Each of their wedding sherwanis looks elegant and sophisticated in every aspect. They listen to your desires and provide you with the most stunning outfit as per your taste.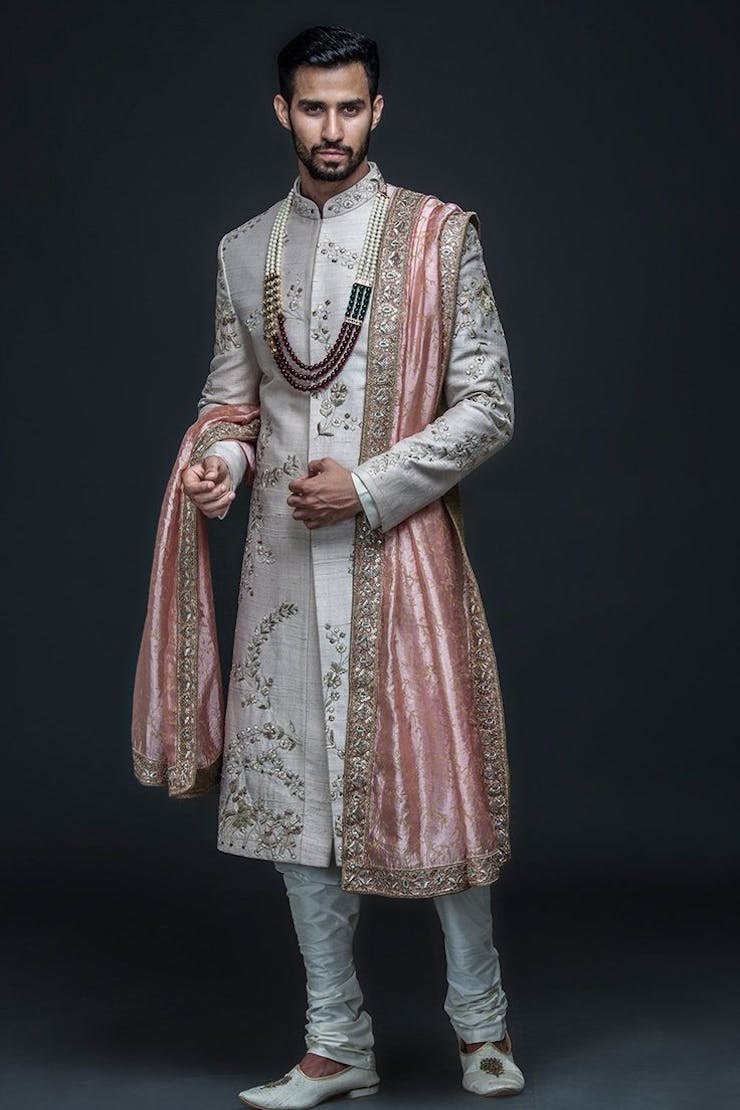 Frequently Asked Questions-
What Is The Average Price Of A Wedding Sherwani In Kolkata?
The price of a wedding sherwani varies from store to store. However, you can expect to spend between Rs.5000 to 2 lakhs for buying a wedding sherwani in Kolkata.
What Are The Latest Sherwani Designs For Grooms?
Sherwani being the most popular wedding outfit in Indian weddings keeps changing its patterns and shades. Some latest sherwani designs are floral prints, block prints, and digital prints.                         
Do Sherwani Stores In Kolkata Provide Customized Outfit Service?
Many sherwani shops and boutiques provide the facility of customized outfits. It is better to check and confirm their services beforehand.
Should I Rent A Sherwani For a Wedding?
If you are shopping for a sherwani to wear only once, you should opt for renting a sherwani. It will save you from spending unnecessarily on costly wedding outfits.
What Are The Accessories That Can Be Paired Up With A Groom's Sherwani?
Sherwani is a royal attire that adds a luxurious vibe to the personality of its wearer. But one should always buy accessories like a string of beads, and cufflinks to complement the wedding sherwani.