Trending Bengali Rice Ceremony Photoshoot Ideas
Here are some of the best rice ceremony photoshoot tips and ideas that can make your child's pictures more adorable. Read on to know more.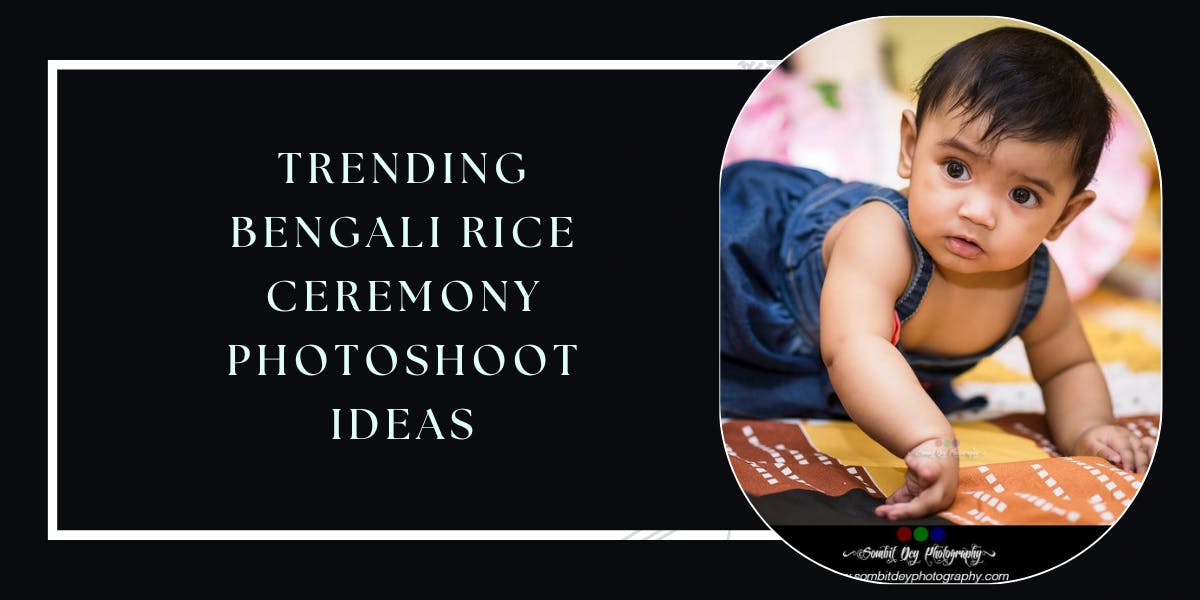 Baby's first rice ceremony is a beautiful ritual that is associated with their first solid food. This ritual is performed to bless the child and to introduce them to the spiritual world. This religious event is an important step to mark their upbringing religiously. In Bengali culture, this event is termed "Annaprashan" which means the commencement of grain intake.
The Bengali Annaprashan rituals are often performed during the sixth month of a child. The ceremony begins with a religious chant and a ceremonial offering of rice to the baby. Such splendid moments strengthen the family bonds and always stay in heart. The Baby's rice ceremony holds a special significance in our culture. Hence, it deserves to be photographed for future generations to enjoy. Bengali rice ceremony photography is a great way to preserve those special moments in frames. The annaprashan picture can be used as a keepsake to show the child how special they are. Check these amazing rice ceremony photoshoot ideas to create the most joyful memories.
1. Capture The Natural Expression
Capturing the natural expression in baby rice ceremony photography can give you the most beautiful pictures. Capturing candid shots of annaprashan photography can offer you the cutest baby photo that you will treasure for a lifetime.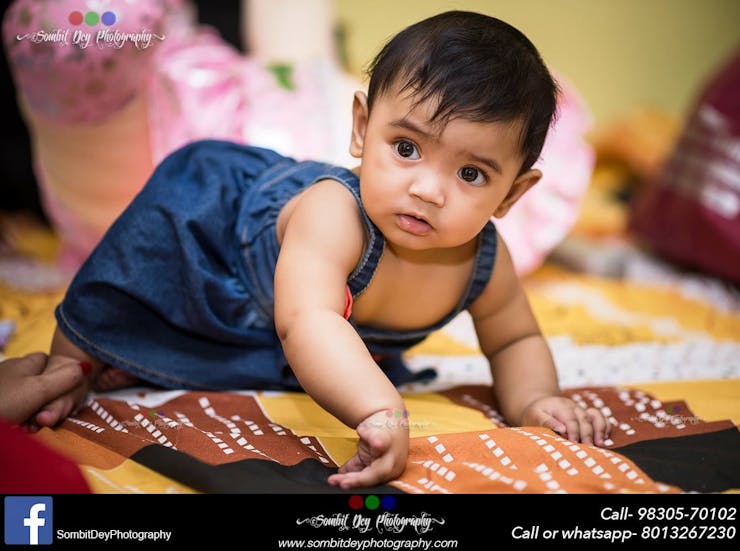 Must Read: All About Traditional Bengali Wedding Jewellery Collections For 2022
2. Solo Pose Of Baby
Solo poses of the baby look more amazing and creative. Capture their joyful mood to get the best rice ceremony pictures. A contrasting background can make the simple baby photo look extraordinary. Capturing their playful mood during the celebration will make the most adorable pictures.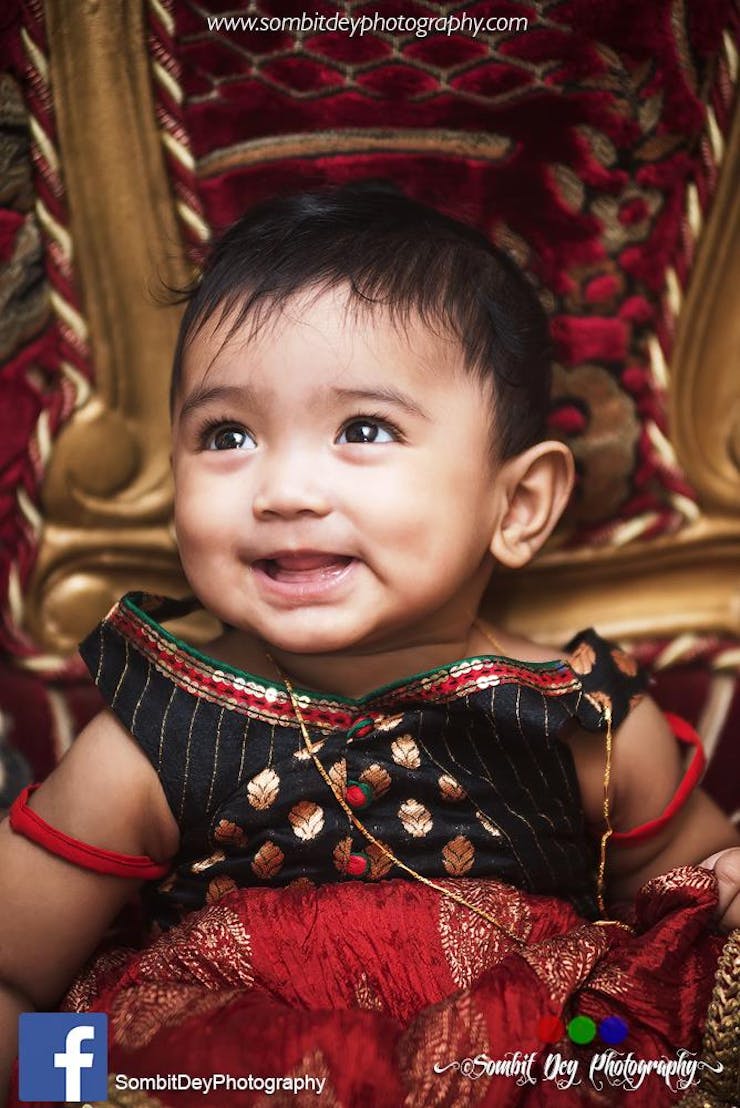 See More: 12 Amazing Bengali Bridal Banarasi Saree For Stunning Brides
3. Annaprashan Photography, Adorable Smiling Pose
The smiling moments of your baby can offer you the most heart-melting pictures. There is nothing cuter than capturing the laughs and giggles of your little one. You can ask someone to hold them or make them sit properly to get a nice shot during the rice ceremony photography.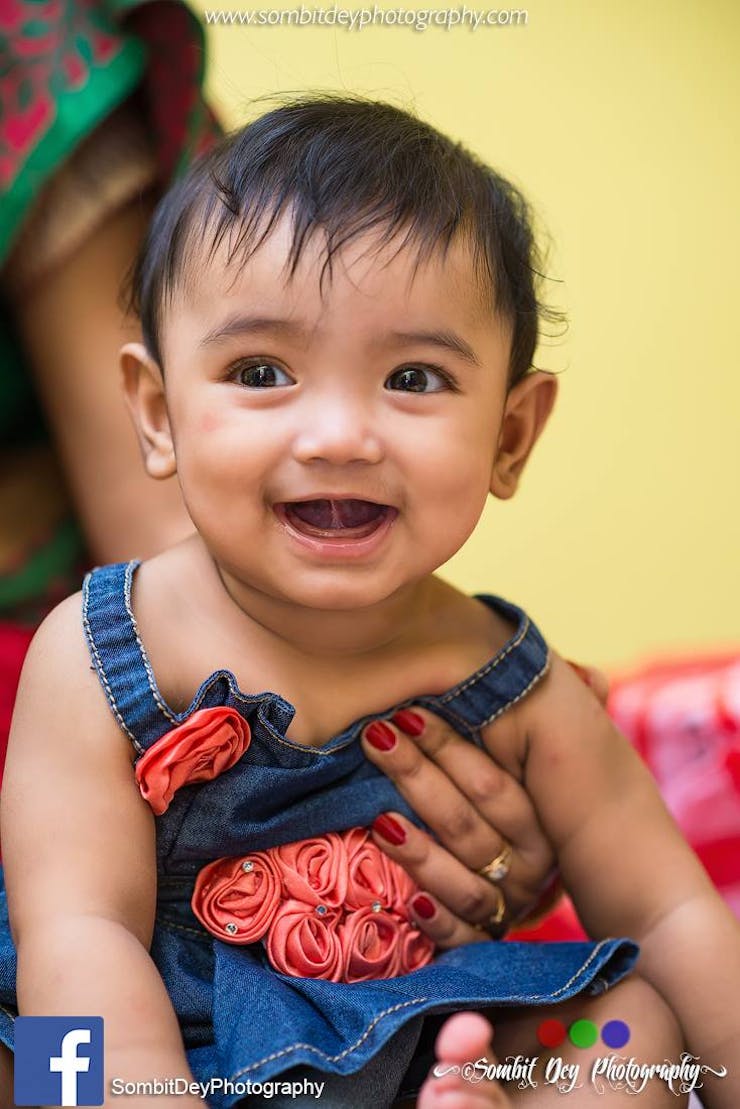 4. Capture The Aarti Moment
Every baby has its unique style of posing for its annaprasan photography. Capturing the pictures of the aarti moment can provide you with some most adorable baby photos. You can dress your baby in traditional wear to click the cutest pictures.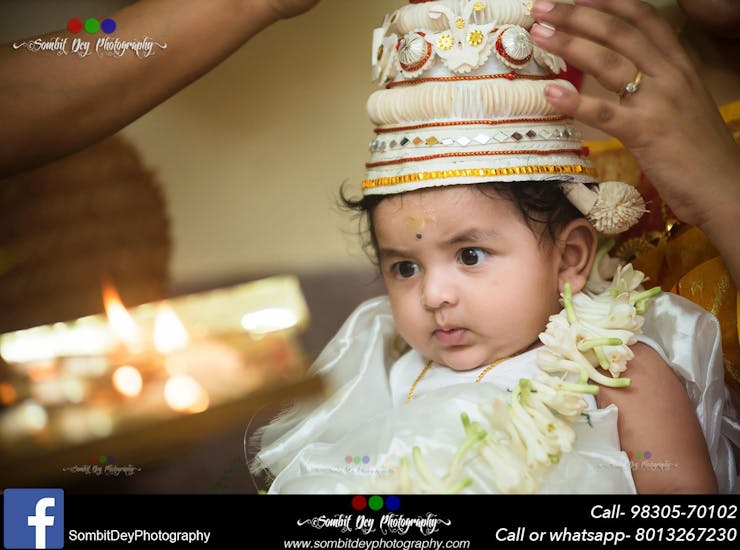 5. Sleeping In Mother's Lap
A baby photoshoot in Kolkata emphasizes family relationships. The mother and baby pictures create the most heart-touching family moments. Ask your photographer to focus on the face of the sleeping baby to capture the baby's calmness in the mother's lap.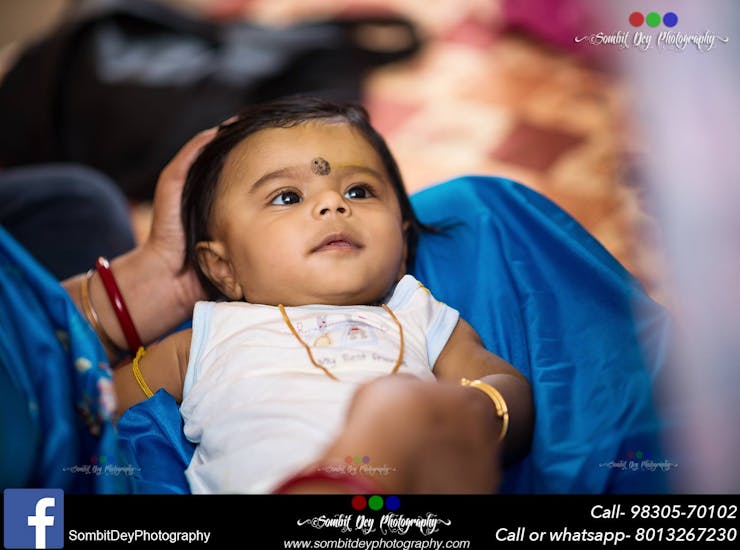 6. Dress Up In Unique Costume
Experimenting with unique costumes can add a joyful angle to the annaprasan pics. You can choose any of your favorite costumes like a little Gopal or a princess to make it more interesting.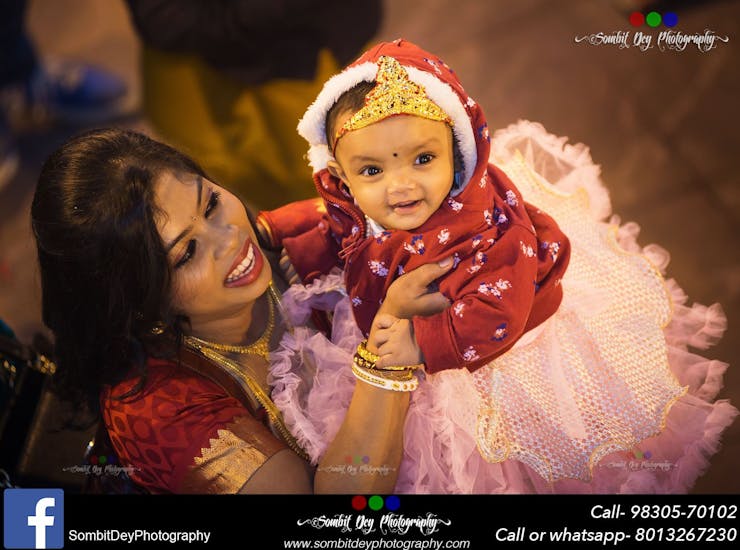 7. While Applying The Chandan Fota
Look at this baby picture which is an example of cuteness overloaded. Dressing up your baby during the bengali annaprasan hours can also be a nice photography idea for a baby photoshoot. Capturing these little moments can convey the beauty of our cultural celebrations.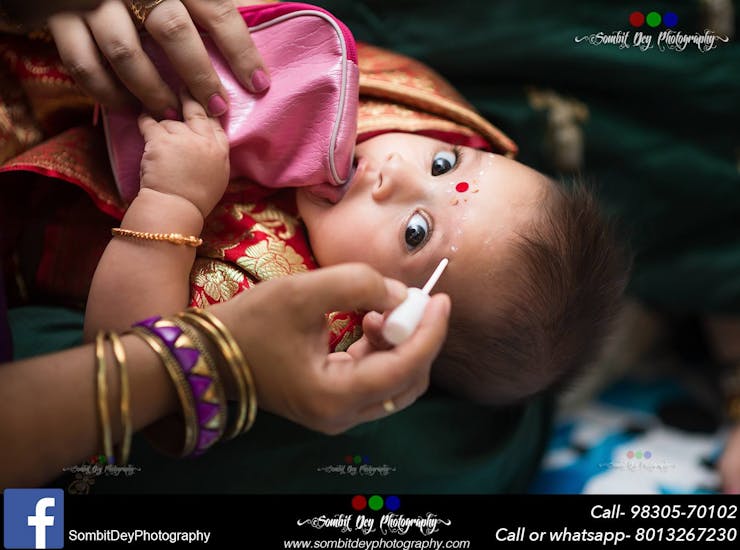 8. Must-Have Pose With Grandpa
You should try baby photography pose like this one. Including the grandparents in the baby photoshoot can be an eternal moment that can be cherished forever. Feeding the first solid food to the baby can be a joyful experience for the grandparents. It also creates the most beautiful family pictures.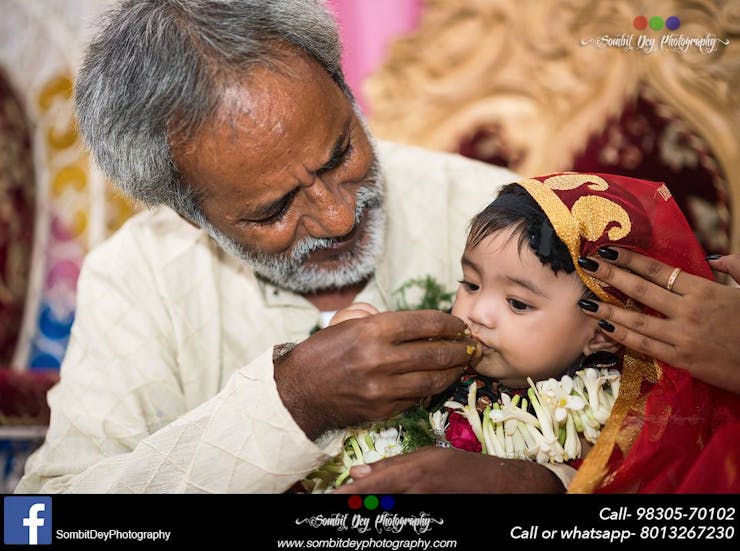 9. One During The Ritual
The Bengali annaprasan rituals can provide you with many splendid moments. The vibrant rituals perform using ritualistic materials can add a traditional vibe. These pictures will let you go back to all those joyful moments and enjoy the richness of our cultural event.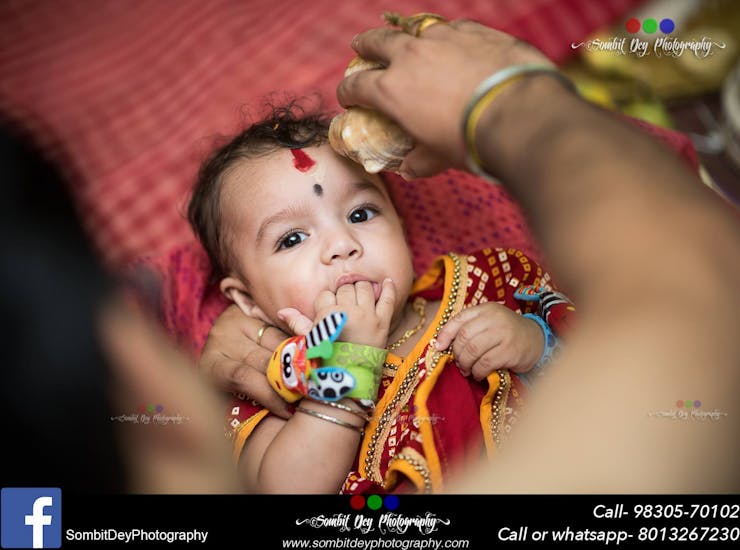 Few Tips For Making Your Babies First Rice Ceremony Pictures Naturally Beautiful
1. Find The Best Angle
Baby photography is a quite difficult field to master. While taking the baby photos it is important to choose an angle that will show off their best quality. You need to decide first which angle will make the baby pictures stand out. The best angle for baby photography will help capture their personality and interest.
2. Clicked Pictures In Happy Hours
A baby's mood changes very quickly and they can get annoyed by the camera flashes. The best time to take pictures of your baby is when they are in a good mood and have just woken up from a nap. This will help you to get the right photos of the beautiful moment of the rice ceremony.
3. Pick Out The Best Moments
Capturing the best moments during a baby photoshoot is important to capture its natural beauty. You can capture those priceless moments to create a wonderful family photo album. Capturing these fleeting moments can truly create cherished memories of your baby.
4. Prioritize Your Child's Safety
It is important to take safety precautions during a baby photoshoot. Always have someone nearby to help if the baby starts crying. Make sure that the photography environment is safe for the baby. While selecting the props choose the one that won't pose a danger to your child.
5. Look For The Candid Shots
Candid photography captures the natural expressions and emotions of your little one. There is nothing sweeter than capturing the candid moments of your baby's rice ceremony. These are some moments that parents will want to remember forever.
6. Keep The Baby Warm
It is very important to keep your baby warm during the photoshoot. Because babies are much more likely to catch a cold. Babies are very sensitive to temperature changes. Even a small drop in temperature can make them feel uncomfortable. They may start crying or become fussy which can ruin the photos. You can wrap the baby in soft blankets or make them wear warm clothes during the shoot.