Best Places For Photography In Kolkata You Should Know
Ready to make romantic memories of your love story? To make your pre-wedding extraordinary, check this list of the best places for photography in Kolkata.
Photos taken at the right location can make all the difference for a pre-wedding shoot. It can set the tone for a romantic photoshoot. Choosing the right location for your pre-wedding photoshoot is a crucial step. As it can make or break your pre-wedding pictures. Kolkata has many spectacular locations to shoot stunning couple poses. The charm and elegance of this vintage city allure every person's mind. From splendid historical monuments to narrow lanes of the city can take your wedding photography to the next level. The magnificent colonial building of the colonial era and the streets of Kolkata adds a magical essence to any photograph. Kolkata is an absolute paradise for pre-wedding photography. All you need to do is hire the best wedding photographers in Kolkata for captivating couple pictures. So, let's discover the best places for photography in Kolkata to make a romantic pre-wedding tale.
1. College Street
College Street is among the most popular location for Kolkata street photography. This second largest book market in the world has a 900-meter-long street. The busy lanes of college street offer iconic backdrops for a pre-wedding photoshoot. Starting from the vintage Coffee House to the narrow lanes, this is a perfect location to click insta-worthy pictures.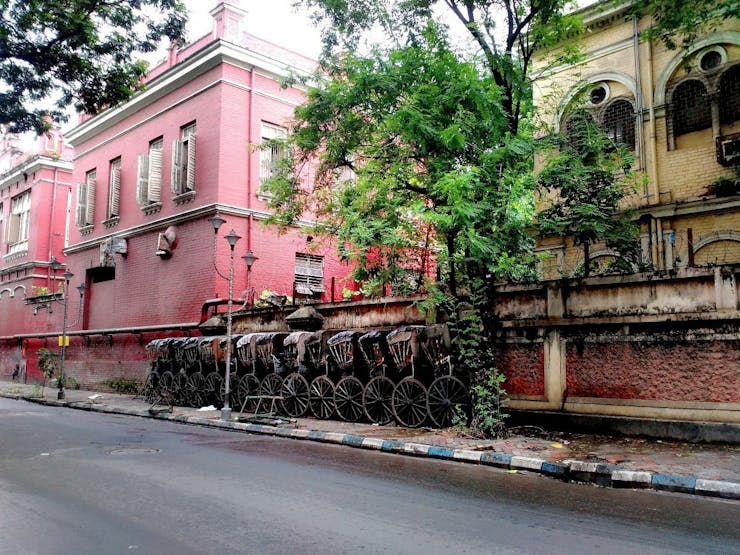 Recommended: 13+ Latest Ideas For Indoor Pre Wedding photoshoot
2. Victoria Memorial
This finest building is a perfect location for a romantic pre wedding photoshoot in Kolkata. The sparkling white marble monument is a symbol of colonial rule in our country. Its Indo-European architecture will add a magical twist to your pre-wedding photoshoot. Victoria memorial is an epitome of beauty that serves as an excellent backdrop for photoshoots.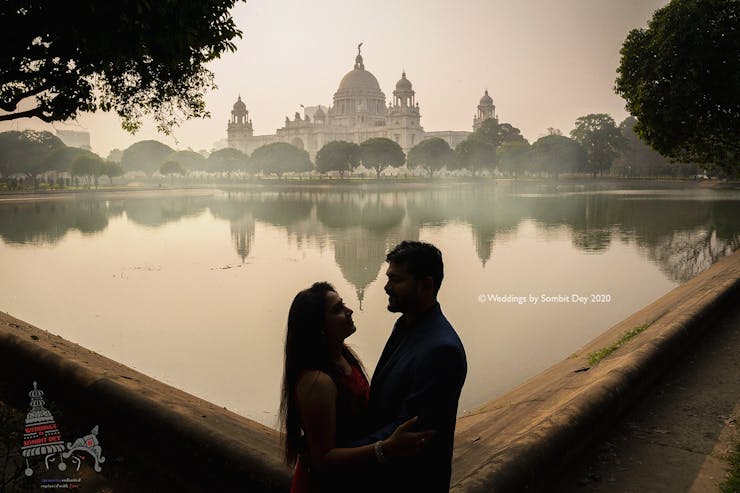 Also Check: Amazing Beach Pre-Wedding Photoshoot Ideas That Have To Be Saved!
3. Kumartuli
Couples who love art and culture must visit this splendid part of the city. With a backdrop of beautiful idols, you can tell an artistic story through pre wedding photography in Kolkata. You can also explore various statues of gods and historical figures made by brilliant sculptors.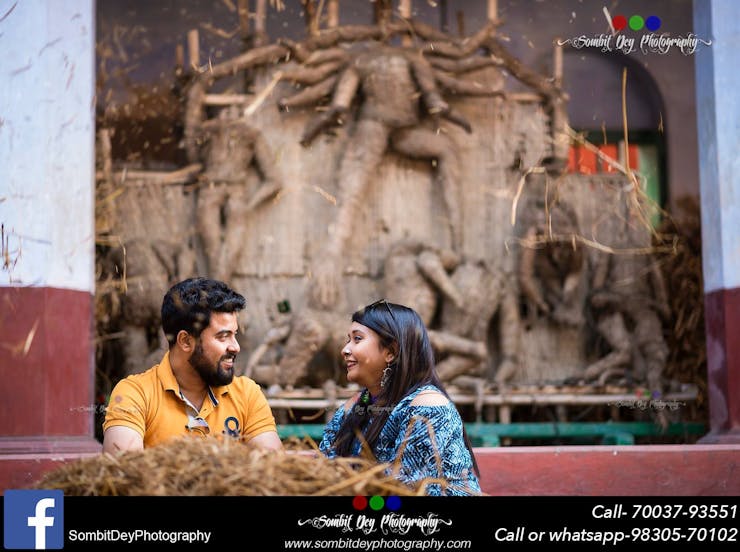 See More: Top 15 Stunning Poses For Pre Wedding Photoshoot Ideas
4. Princep Ghat
Princep Ghat is one of the most beautiful places for photography in Kolkata. The scenic backdrop of the river Ganga and the majestic Vidyasagar Setu can make your pictures more captivating. You can visit this place during the golden hours of sunrise or sunset to capture the beautiful sky.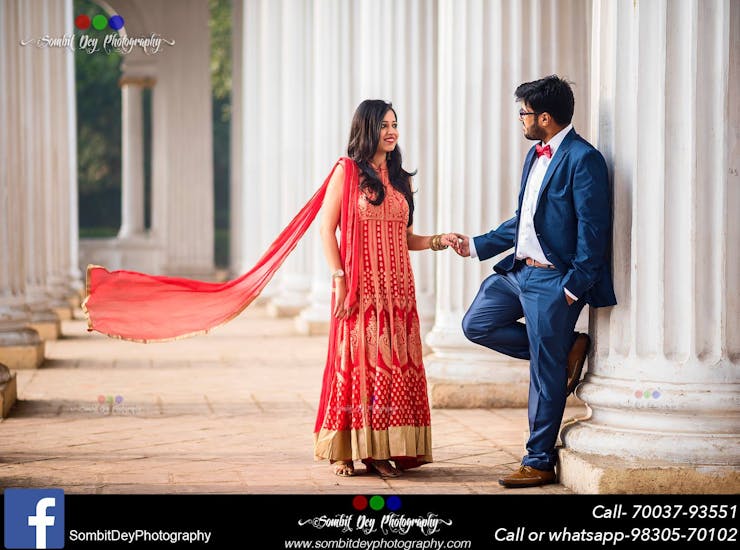 5. Maidan
The Kolkata maidan is another beautiful site to plan a romantic pre-wedding shoot. The lush greenery tram tracks and race course can help you to get some picturesque couple shots. The green expanse within the city attracts many couples to create a romantic tale. Try to visit in the early hours of the day to click some stunning pre-wedding portraits.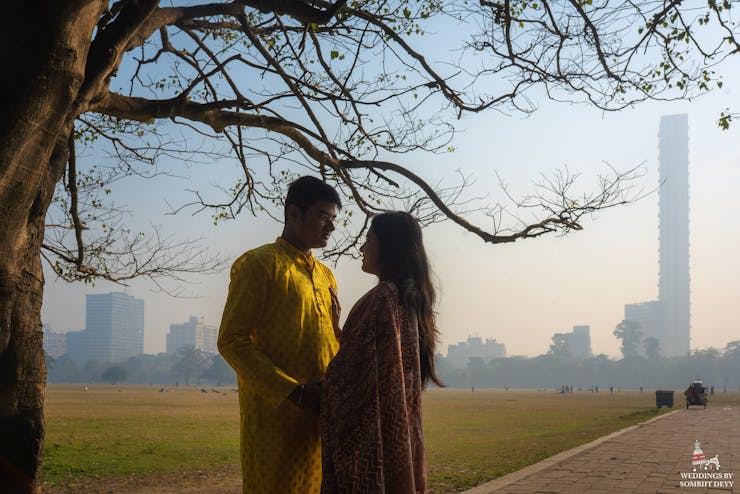 6. Howrah Bridge
Let's talk about the most iconic construction made under colonial rule. Howrah bridge is one of the best places for photoshoot in Kolkata. Located over the Hoogly river this wonderful bridge looks amazing at night. The grandeur of this iconic bridge can enhance the charm of your photography. Its incredible beauty can leave a great impression on your pictures.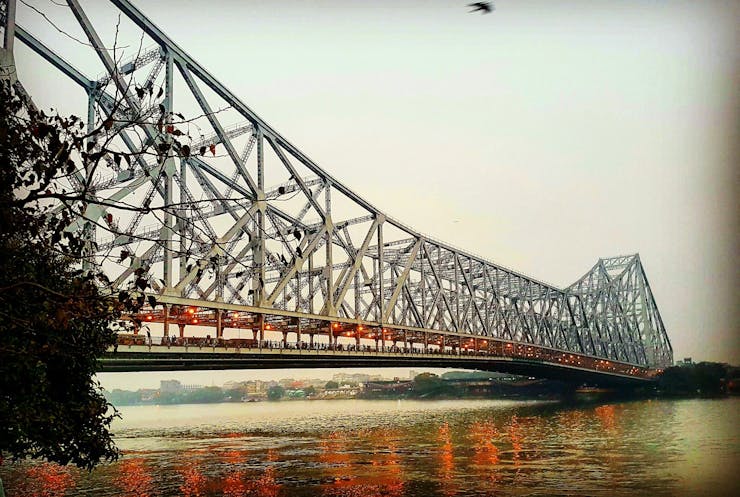 7. Kolkata Marble Palace
This 19th-century mansion is a hidden charm in the vintage city. Its neo-classical architectural style can take you back to the vintage era. You can click splendid pre-wedding pictures on the lawn or the rock garden of the palace. This beautiful mansion can add a unique angle to your wedding tale.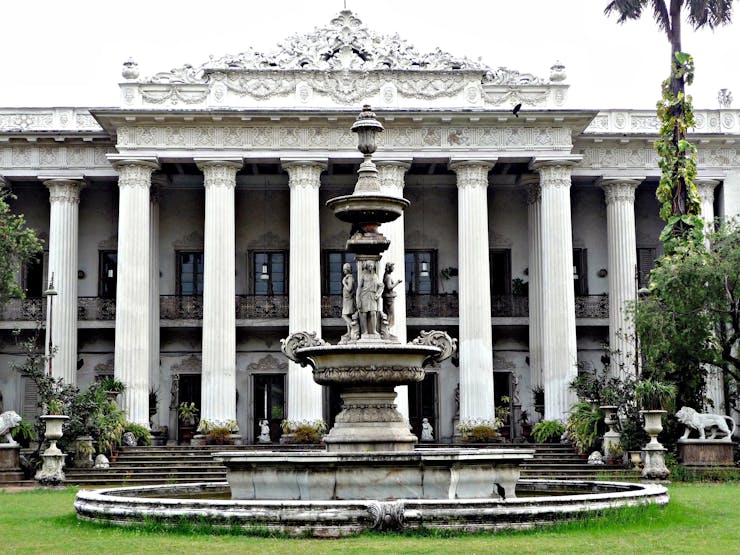 8. Botanical Garden
A botanical garden is another popular tourist spot in the city that is spread over 273 acres of land. This is one of the best places for nature-loving couples. This vibrant garden has plenty of exotic plants and a gigantic banyan tree that can add a romantic vibe to your pre-wedding shoot in Kolkata. You could choose to wear a fancy gown or casual outfits to get the most dreamy pre-wedding pictures.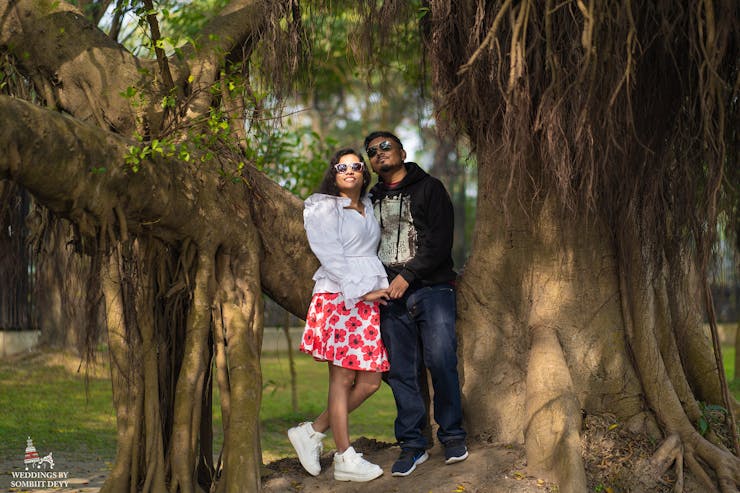 9. Jorasanko
Jorasanko is a favorite spot for splendid Kolkata photography. This beautiful place will provide you with a nostalgic feeling. Jorasanko is the ancestral home of the great poet Rabindranath Tagore. Planning your photoshoot in such a wonderful place can add a poetic touch to pictures.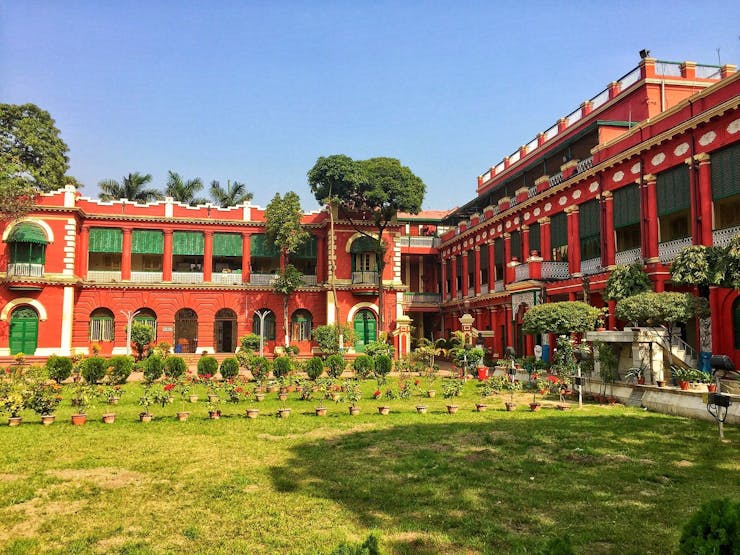 10. Bow Barracks
Bow barracks is one of the best places for street photography in Kolkata. As soon as you entered the tiny lane of this historical place it will remind you about the colonial legacy. Victorian-era buildings can provide you with a remarkable backdrop for your pre-wedding photography. Clicking pictures at this old-world charm is definitely worth it.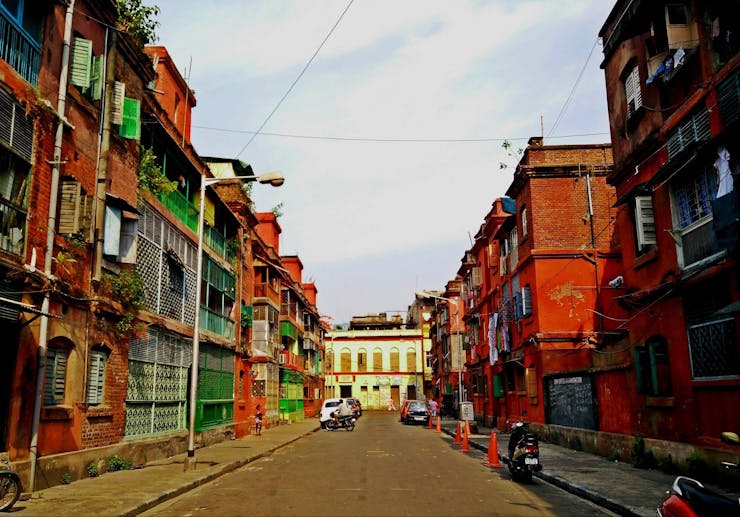 11. St. Paul's Cathedral Church
This gothic architecture in Kolkata can provide you with a great background option. St. Paul Cathedral Church attracts hundreds of couples every year. Couples love to click their pre-wedding photos with this finest building in the city. The pleasant atmosphere and European architecture can further add depth to the shot.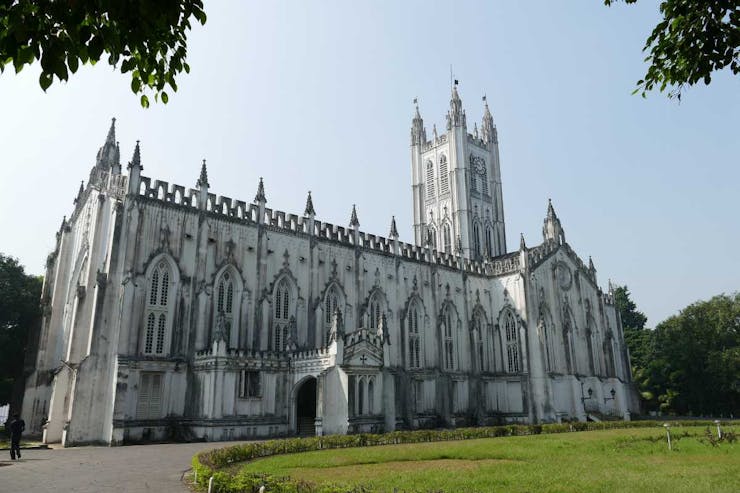 12. Eco Park
This public park is one of the best attractions in Kolkata to celebrate your love story in the lack of nature. The best part about this place is it has a replica of the seven wonders of the world. This park allows you to click some amazing pre-wedding shots with a stunning backdrop. Eco park also has a giant lake that can make your pre-wedding pictures more dreamy and romantic.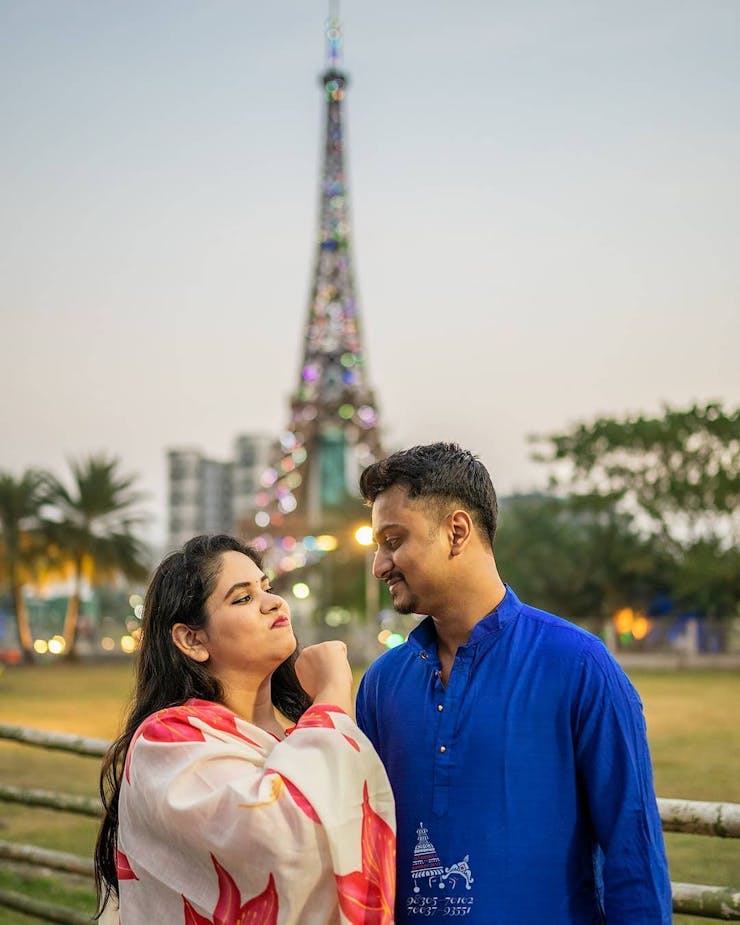 13. Bawali Rajbari
If you love to plan your pre-wedding photoshoot at a beautiful palace then this palace might interest you. The Rajbari Bawali is a 300-year-old heritage property surrounded by natural beauty. This luxurious palace and the backdrop of rural Bengal can add vibrancy to every picture.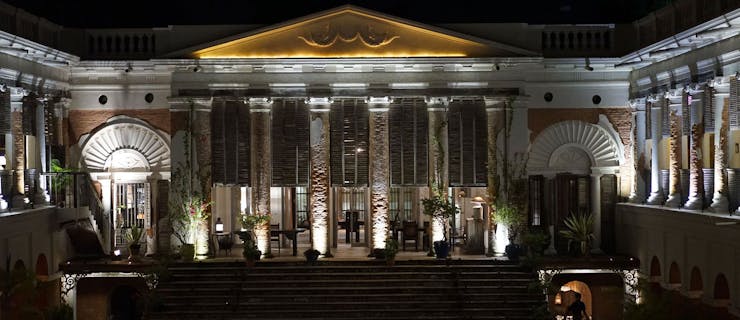 14. Mullick Ghat Flower Market
Located near the Howrah Bridge this flower market is one of the oldest markets in the country. Couples love to visit this flower market to get fine pictures. This flower market can add a splendid backdrop in your pre-wedding pictures. Mullick ghat flower market is an offbeat location to perform street photography.