Best Banarasi Saree Shop in Kolkata That You Must
Want to embrace your ethnicity in luxurious attire? Check out this list of best banarasi saree shop in Kolkata to buy a royal bridal ensemble.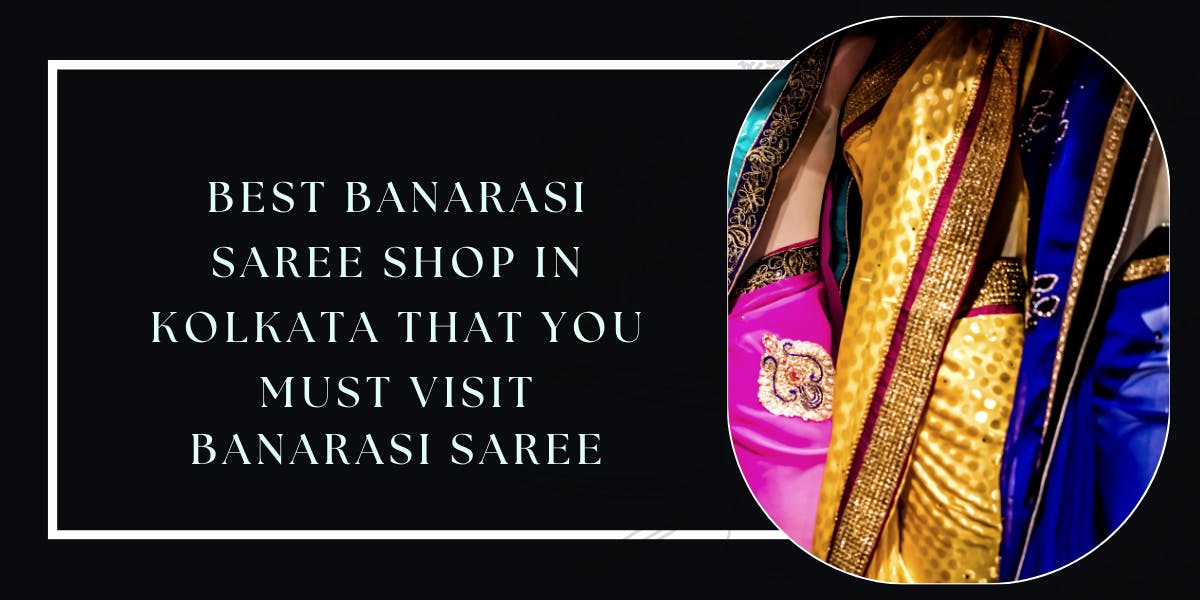 The beauty of Banarasi saree is something that has been admired for centuries. The intricate designs, the luxurious fabrics, and the vibrant colors make it a perfect choice for any bridal look. Not only does it look beautiful but also adds elegance and grace to the wearer. The Banarasi saree is an essential part of Bengali culture. It has been passed down from generation to generation as a regal wedding ensemble. It is a timeless piece of art that will never go out of style. With its intricate designs and luxurious fabrics, the Banarasi saree is sure to make any bride feel like a queen on her special day.
Kolkata is the perfect place to find the most exquisite Banarasi sarees. If you're looking for a luxurious wedding saree, then there's no better place to shop than at the best Banarasi saree shop in Kolkata. From traditional to contemporary designs, you can find a variety of styles and colors that are sure to make your special day even more memorable. Being the best wedding photographers in Kolkata, we have seen countless brides in banarasi sarees.
So, here we are going to list out some popular banarasi saree shops in Kolkata that can transform you into the most beautiful bride.
Recommended: All About trending Matha Patti For Bengali Bride
1. Adi Mohini Mohan Kanjilal
Adi Mohini Mohan Kanjilal is a leading silk saree store in Kolkata. They are known for their unique and best benarasi collection in Kolkata. If you have decided to wear a gorgeous banarasi on your wedding day, this place is a must-visit. Also, book a photographer in Kolkata for wedding to preserve the beautiful memory of your bridal look in banarasi.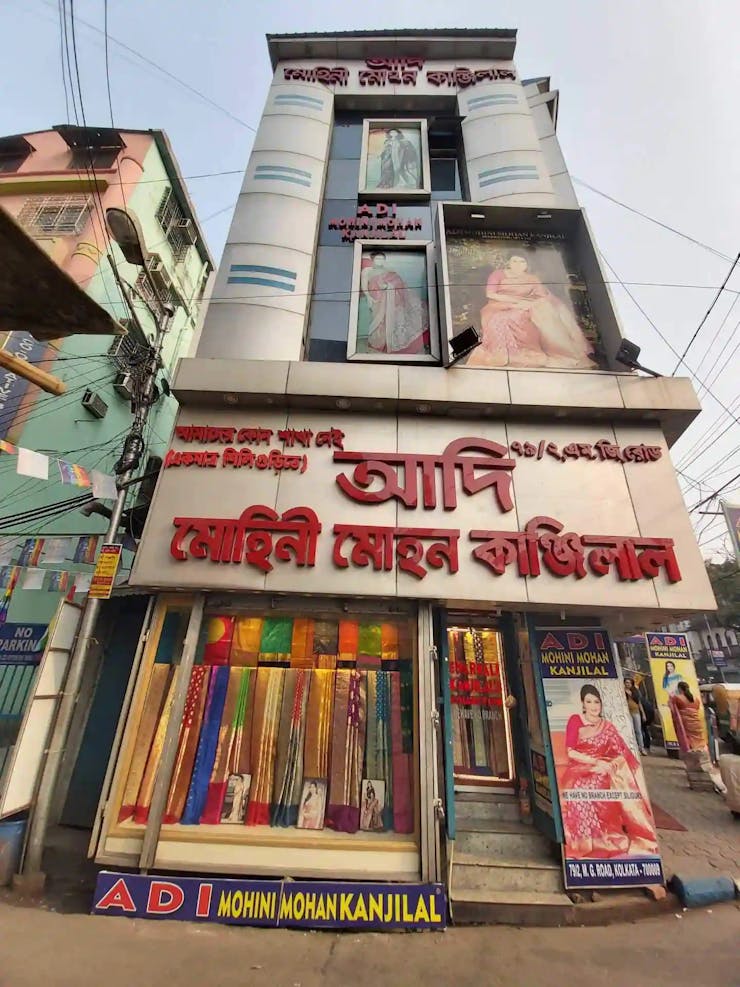 Must Read: 15 Awe-Inspiring Bengali Bridal Haldi Look For Glamorous Brides
2. Priya Gopal Bishoyi
If you are looking for exclusive banarasi sarees, then visit this shop. Priya Gopal Bishoyi is renowned banarasi saree shop in Kolkata. They have a vast collection of Bishnupuri and Murshidabad-style Banarasi saree. Their zardozi banarasi saree in vibrant hues can be a great addition to your wedding wardrobe.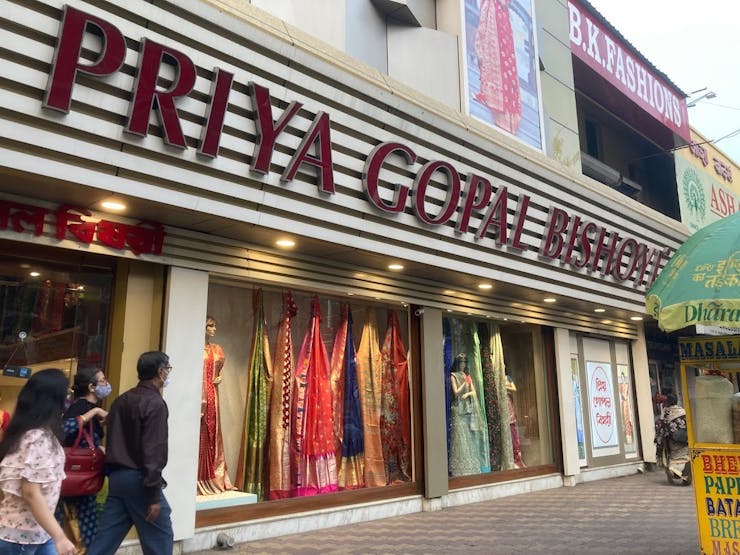 See More: Bookmark These Bride Getting Ready Photos For Your D-Day
3. Vyasdev Tolaram
Vyasdev Tolaram runs a benarasi shop in Kolkata since 1965. This heritage brand has a wide collection of best banarasi saree in Kolkata. Each of their wedding sarees is jazzed up with unique embroidery. You can purchase sarees from here by spending Rs. 8,000. Every banarasi saree in their store is breathtaking and is hard to be missed!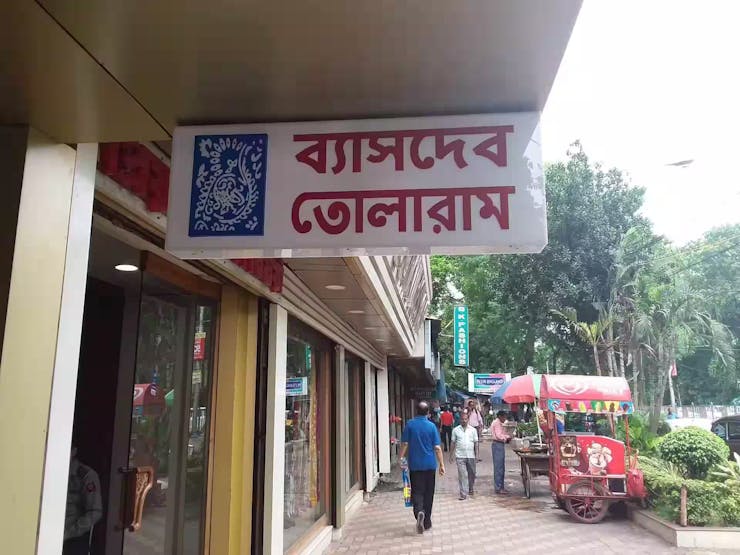 4. Adi Dhakeswari Bastralaya
This is the most popular banarasi saree store in Kolkata that has a wide variety of high-end silk sarees. This five-storied store can provide you with the dream wedding outfit at an affordable price. You can also look for cotton sarees, bridal dupattas, and shawls at this store for your haldi and mehndi ceremony.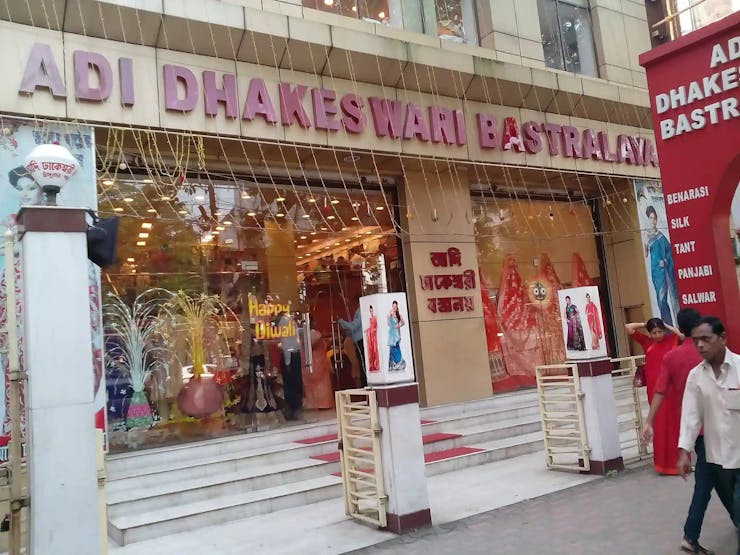 5. Saha Textile
Saha Textile is a very popular name in the list of banarasi saree stores. Here you can get reasonably beautiful silk sarees for brides. This store is also promoting the traditional weaves of Bengal. Therefore, here you can also shop handcrafted Bengali sarees with stunning designs. Their bridal banarasi sarees are sure to add a dose of elegant charm to your personality.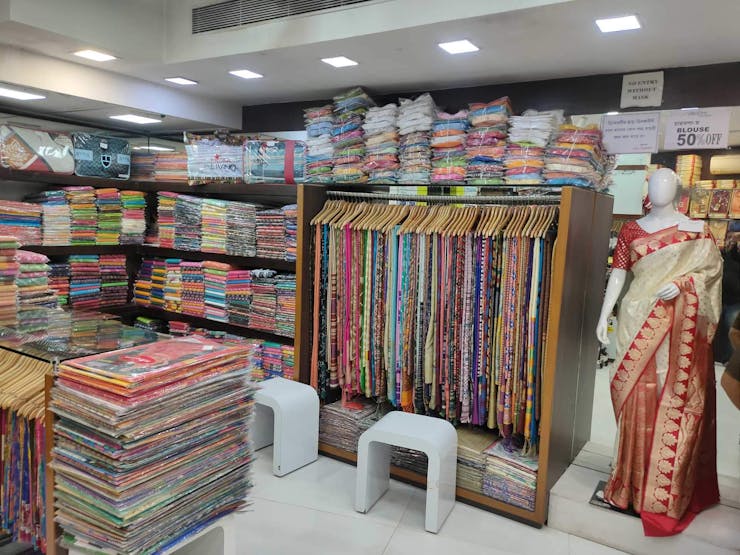 6. Saarang
This is an excellent place to buy the best benarasi in Kolkata. You may discover a wide range of contemporary silk sarees in this designer boutique. The zari work embroidery on each saree is unique and beautiful. Many celebrities have visited this store to buy their traditional weaves.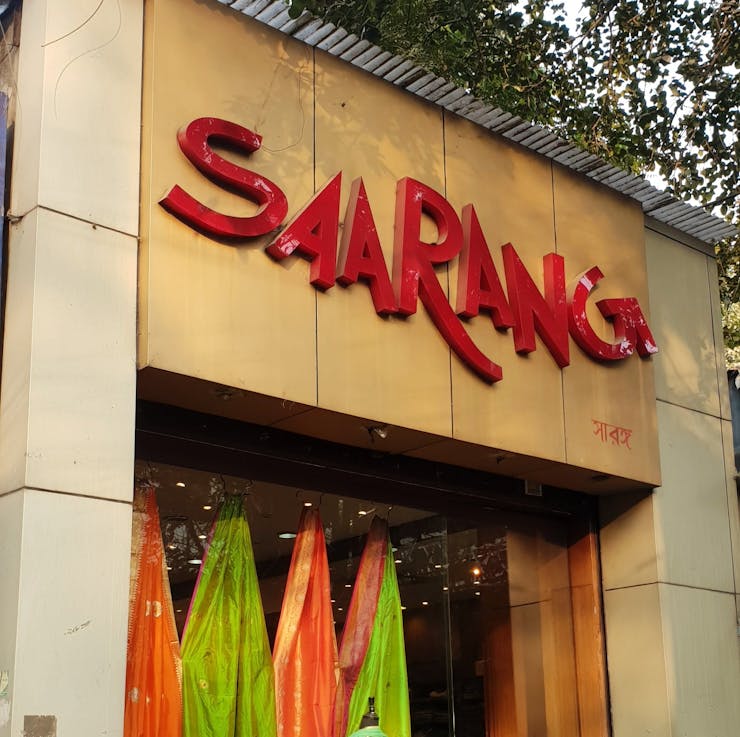 7. Jayalakshmi Heritage
Located at Golpark, Jayalakshmi Heritage is a renowned store of banarasi sarees. This place is a paradise for all saree lovers. Their banarasi sarees are exquisite and designed as per the latest trend. All their sarees are light-weighted and you can even continue to wear them for long hours after your wedding event.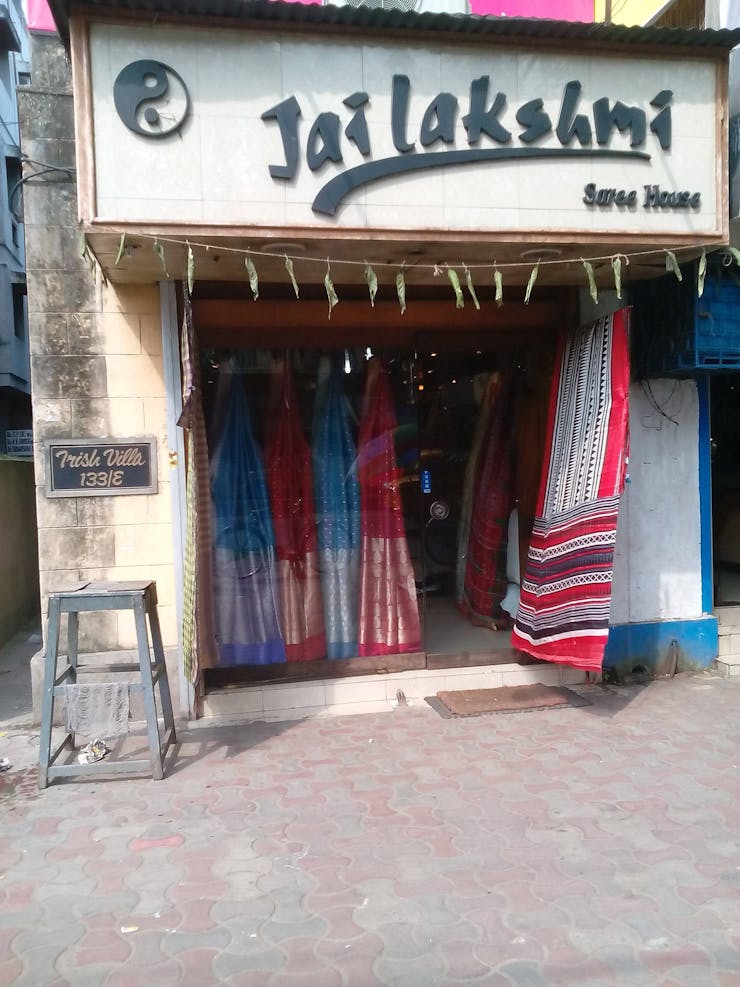 8. Bhojraj Creations
If you are looking for south Indian silk and organza sarees then visit this shop. This is the best benarasi shop in Kolkata that offers silk saree at an affordable price. This is the most trusted and oldest shop in Gariahat where you can discover a variety of bridal sarees in different colors and designs.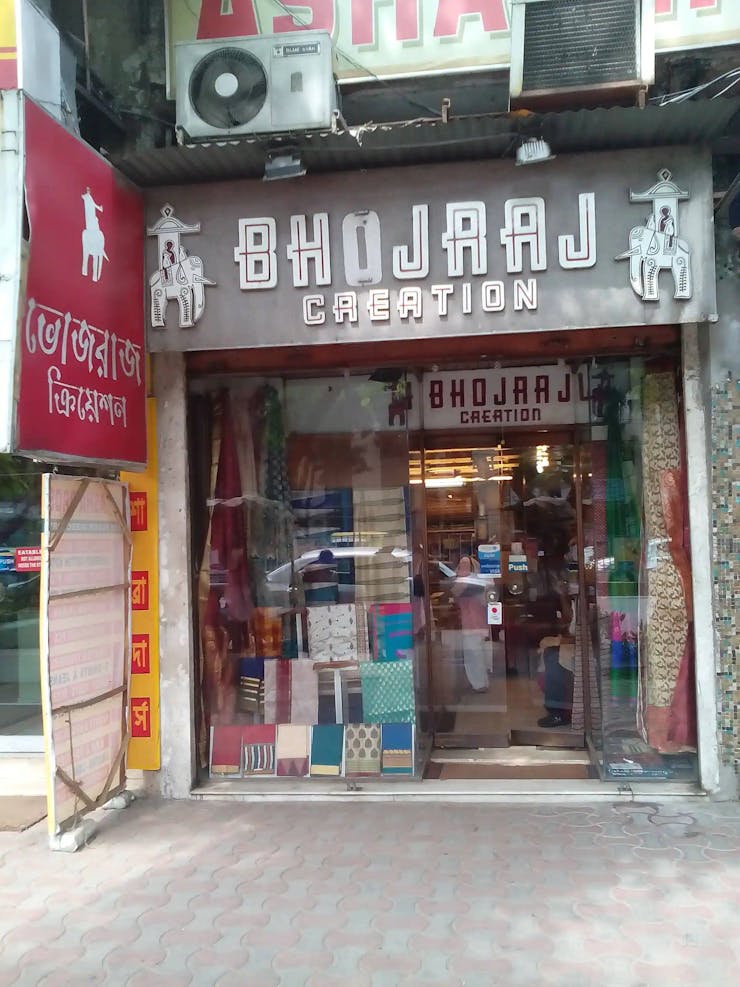 9. Banarasi Niketan
Banarasi Niketan is the best banarasi saree store in Kolkata for all millennial brides. They can provide unique color combinations and eye-catchy designs in banarasi. Their orange and green banarasi saree is always in demand for wedding occasions. They charge a fair price for each wedding saree and provide the quality fabric.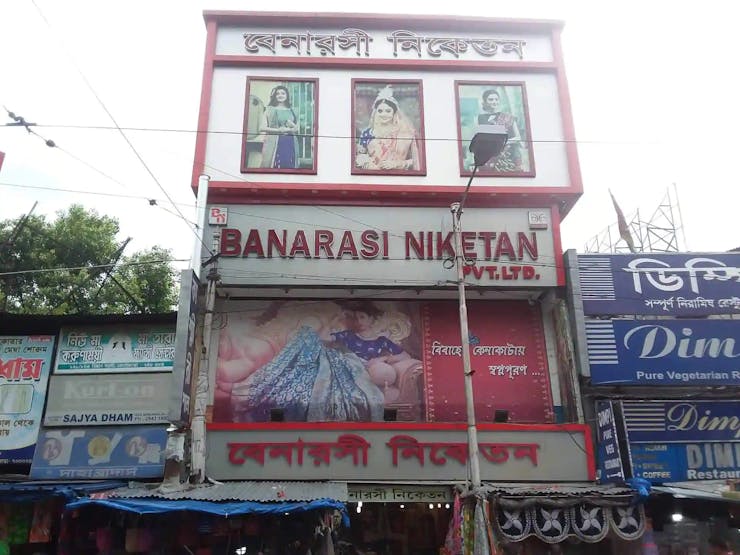 10. Ananda
Ananda is the first boutique store in Kolkata that houses a vast collection of high-end designer sarees for brides. Their luxurious Kanjeevaram and statement Banarasi can easily grab your attention at the first sight. Famous personalities like Indira Gandhi and Nargis have visited this place to buy their gorgeous sarees.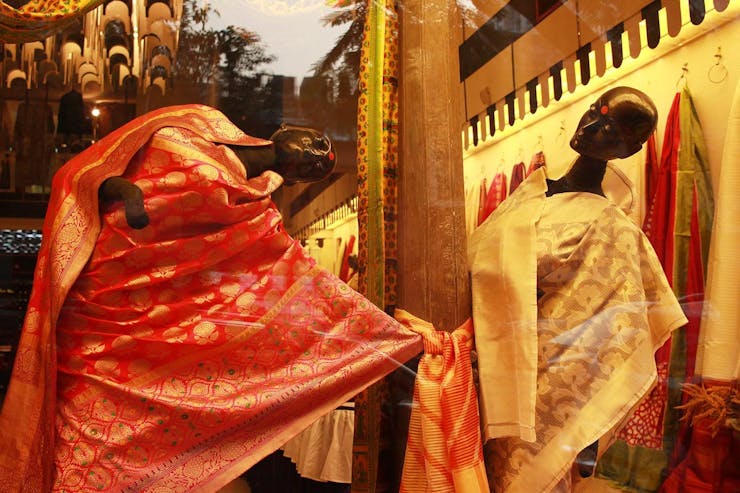 11. Indian Silk House
Indian Silk House is the first name when you are looking for both traditional as well as contemporary silk sarees. This is one of the oldest Banarasi saree stores on college street that offers you pure Katan, Tanchoi, and many varieties of silk fabrics. Their sarees look absolutely stunning and start at Rs.7000.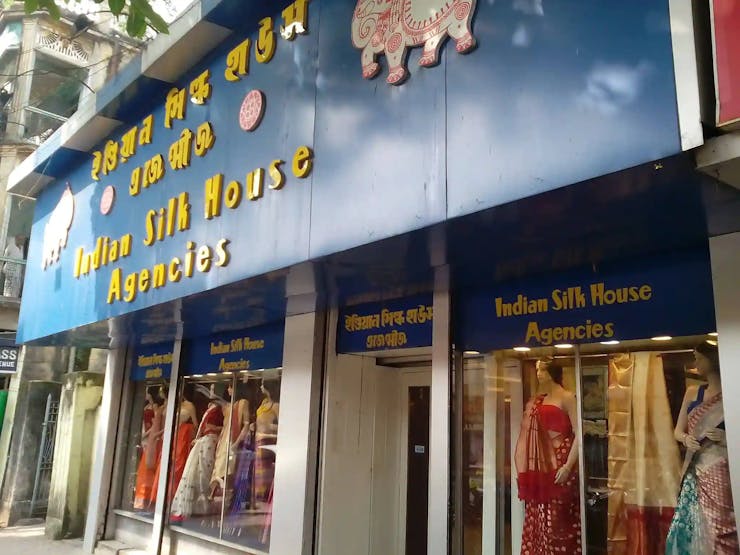 Frequently Asked Questions-
What Is Unique About Banarasi Saree?
A Banarasi saree is a beautiful Indian fabric that originated in the ancient city of Banaras. Its unique gold and silver embroidery gives it a classy and royal touch. These sarees are perfect to be worn on special occasions like weddings.
Why Is Banarasi Saree So Famous?
Banarasi sarees are famous for their gold and silver handwork. The intricate embroidery on the rich fabric makes it luxurious wedding attire.
How Can We Identify Pure Banarasi Saree?
To identify a pure banarasi saree turn it around and check the warp and weft grids on the saree. A pure banrasi saree will carry patterns like amru, ambi inspired by Mughal designs.
Which Fabric Is Used In Banarasi Saree?
Banarasi Sarees are made using soft mulberry silk fabric.
What Is The Average Price Of A Banarasi Saree In Kolkata?
Banarasi saree price in Kolkata depends on its designs and high-quality silk fabric. It will range between Rs.1500 to Rs.25000 or above.
Which Is The Most Preferred Banarasi Saree For Wedding?
Pure silk banarasi and bootidaar banarasi are considered the perfect option for a wedding.
Why Banarasi Saree Is So Heavy?
The rich zari embroidery all over the saree makes it heavy and gives a luxurious shine to the saree.