We Are Bookmarking Brides Maid Poses With Bride For 2022
This stunning guide on bridesmaid poses with bride can make your wedding album a treasure trove of memories. Scroll down this great list for inspo!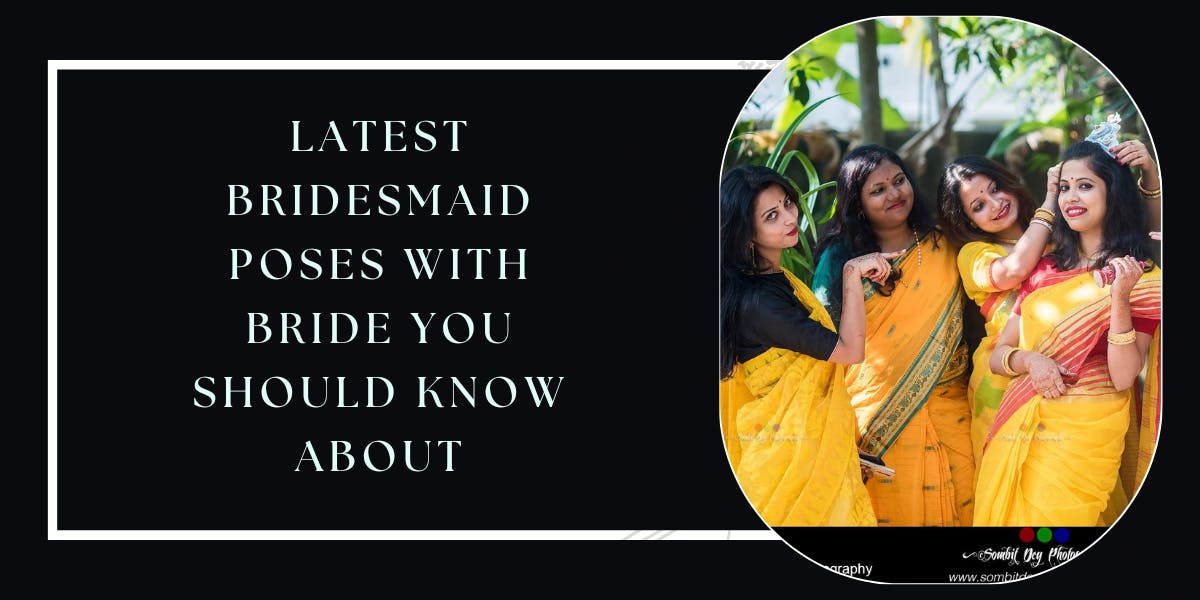 Bridesmaids are the support system of brides on their special day. Brides and their bridesmaids share a sweet and loving relationship. Their presence at a wedding can make the event more lively and joyful. It is the bridesmaids who make the bride feel comfortable during the wedding hours. Nowadays, it is common for the bride to have a group of bridesmaids who adds festivity to her biggest day of life. These emotional support givers must be honored to be a significant part of your special day. This is why the famous photographer in kolkata for wedding recommend you to have a group photo with your dearest bridesmaids.
These beautiful moments will never come back again. But always stay in your heart as the sweetest memories of life. Starting from the giggles to the fu n talk all moments can make for great candid shots.
So, if you are looking for some unique bridesmaid poses with bride, then keep reading this interesting guide till the end.
1. The Classic Dupatta Pose
There is nothing more aesthetic than a bride sitting under her veil. This beautiful pose of the bridesmaids helping the bride in placing her bridal veil makes an elegant shot. This is one of the classiest posts that a frame can hold.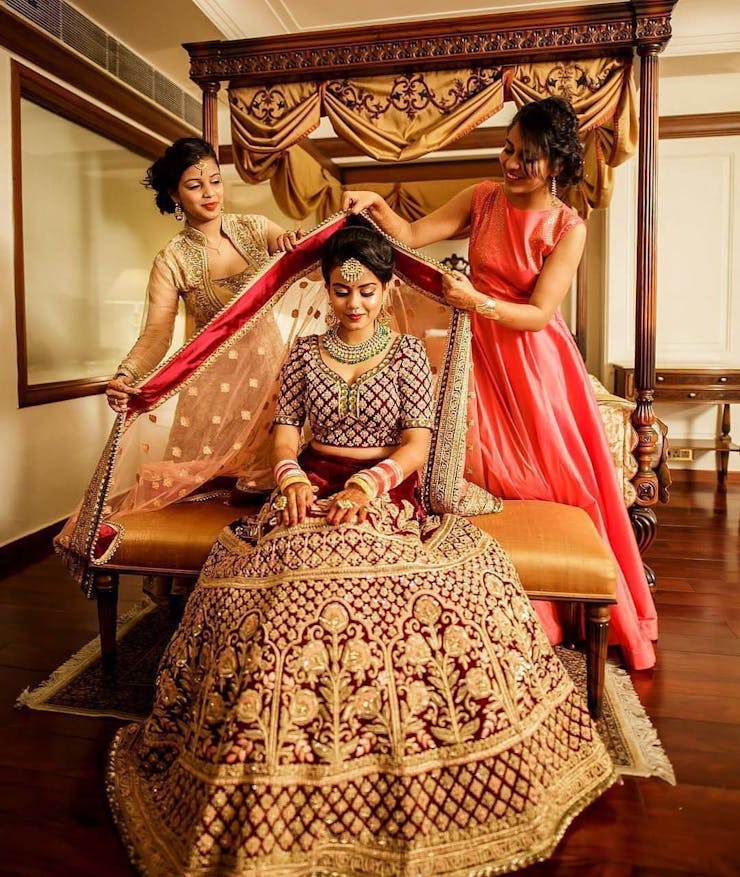 Recommended: Amazing Beach Pre-Wedding Photoshoot Ideas That Have To Be Saved!
2. A Perfect Group Shot
There is no doubt that brides share an amazing sisterhood with their bridesmaids. Hence, there must be a group picture depicting this beautiful relationship. This perfect group shot of the lovely ladies with their best friend is winning our hearts. You can hire the best wedding photographers in kolkata to click such an amazing group picture.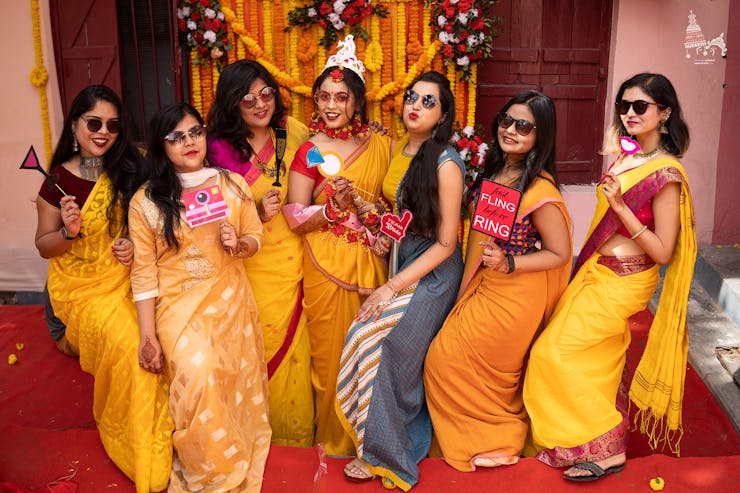 Must Read: 13 Stunning Reception Look For Bengali Bride In 2022
3. The Swag Wala Pose
These stylish girls gave us some major bridesmaid pose. You can use trendy props during the photoshoot to raise the style bar. This beautiful bride and her bridesmaid is depicting their reliable relationship. You can notice the fun vibe in this beautiful photo that has caught our attention.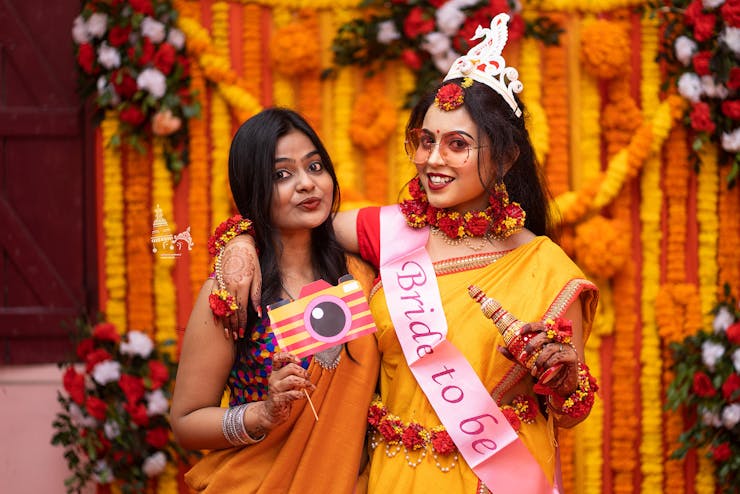 Also Read: 11 Beautiful Bengali Bridal Lehenga That Will Mesmerize you
4. Must-Have Bride Poses With Friends
Here is another wonderful picture that can bring shine to the face years after your marriage. Here the bride and her friend have used a marigold string to portray their beautiful companionship. Using flowers or traditional props in your photoshoot can make it an elegant pose.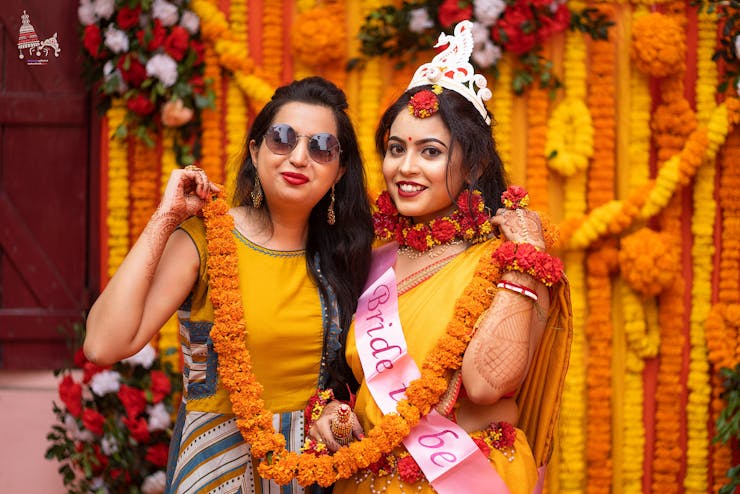 5. The Most Beautiful Mehndi Poses With Bridesmaids
Your mehndi ceremony is the best time to bring all your sassy queens together. A picture like this can help recreate the most beautiful childhood memories. Beautiful mehndi designs on the hands can result in a fantastic wedding photo.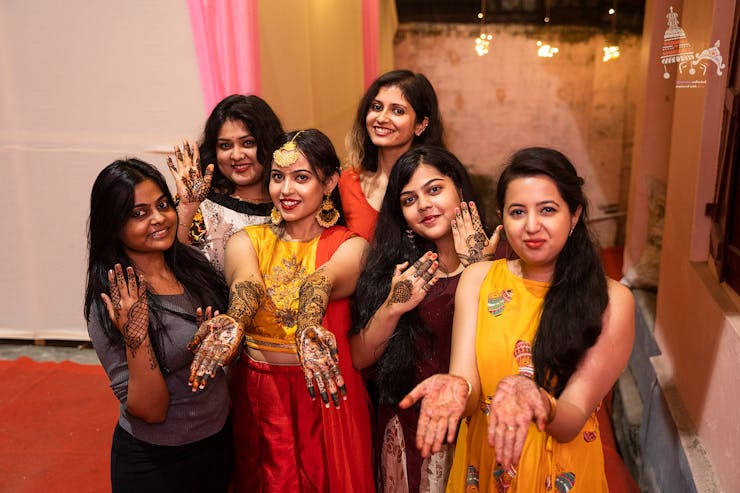 6. The Fun Moment With Your Glam Squad
Your bridesmaid can turn the stressful hours of the wedding into a fun moment. So why not capture the fun activity of your bride's squad to make a beautiful wedding memory? You must include a fun candid moment of your sisterhood to get the best memory for the rest of your life.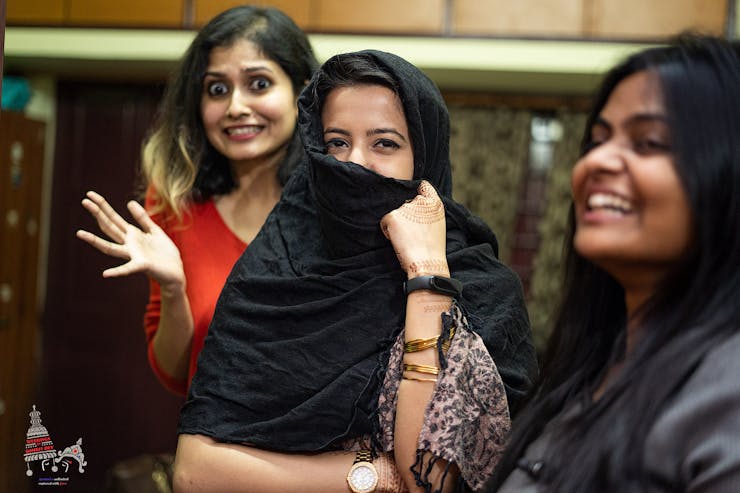 7. Smiling Poses For Bride And Bridesmaids
Smiling poses of brides are very popular in Indian wedding photography. But a bride with her bridesmaid smiling together in a picture frame looks beautiful. It is one of the trendiest poses seen on social media these days. These pretty girls smiling and posing for a selfy are looking pretty in the picture.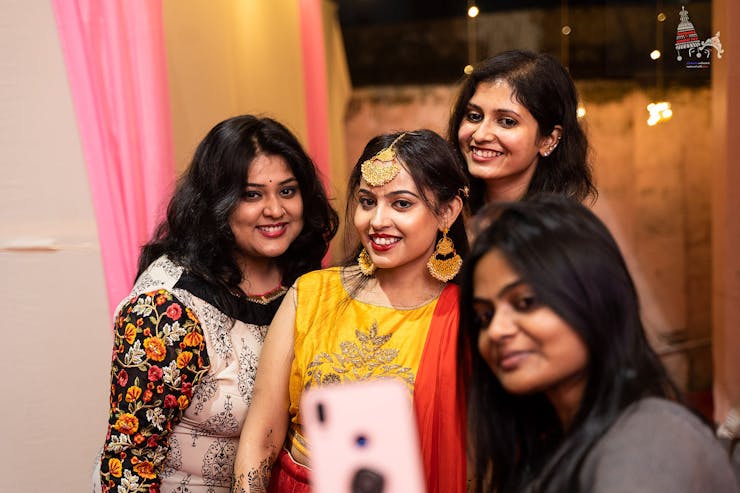 8. Poses With Quirky Props
Don't forget to include the quirky signboards in the photo shoot. Using a peppy signboard is a rising trend in Indian weddings that can add a fun vibe to the photo shoot. We suggest you add a colorful signboard in your photoshoot to keep the vibe upbeat and enjoyable.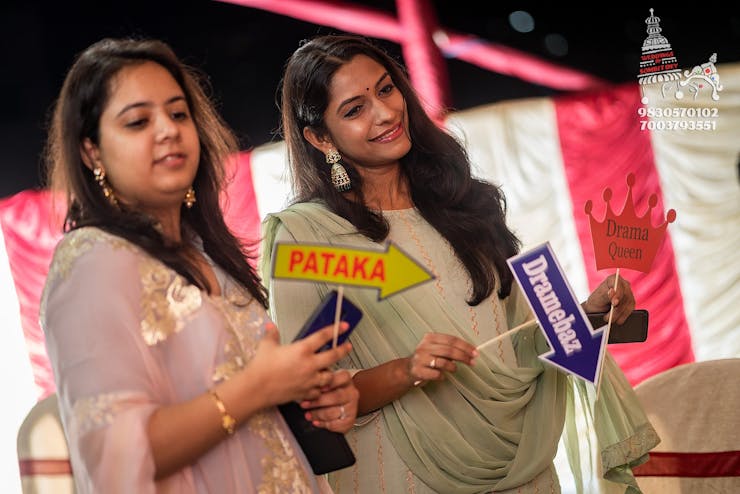 9. Go For Dramatic Bridesmaid Poses
Capturing a candid moment with your bridesmaids can give you a dramatic wedding photo. This is one of the best bride with bridesmaid photo ideas that looks dreamy as well as joyful. Such creative poses will make you smile after years when you will go through your wedding album.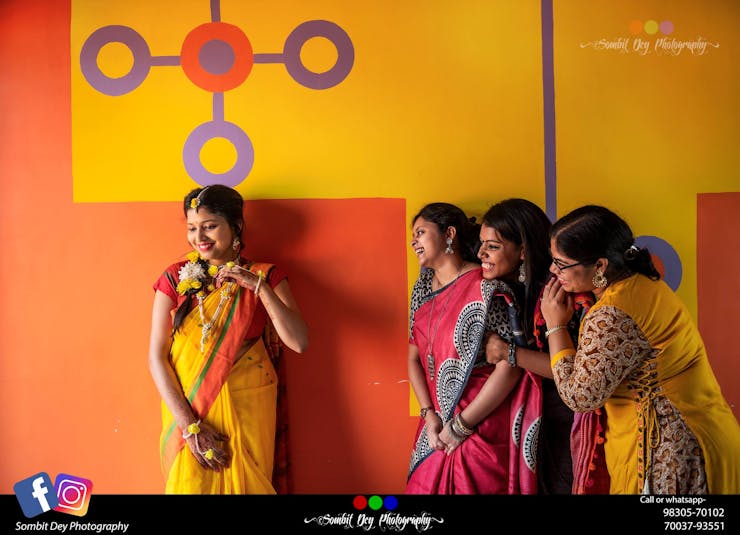 10. A Frame-Worthy Bridesmaids Pose
A traditional Bengali wedding is almost incomplete without your girl squad. This bride revealing her bridal look to the girl gang is making a splendid wedding story. Ask your bridesmaids to pose like a drama queen in front of the camera. And let the photographer capture the wonderful story.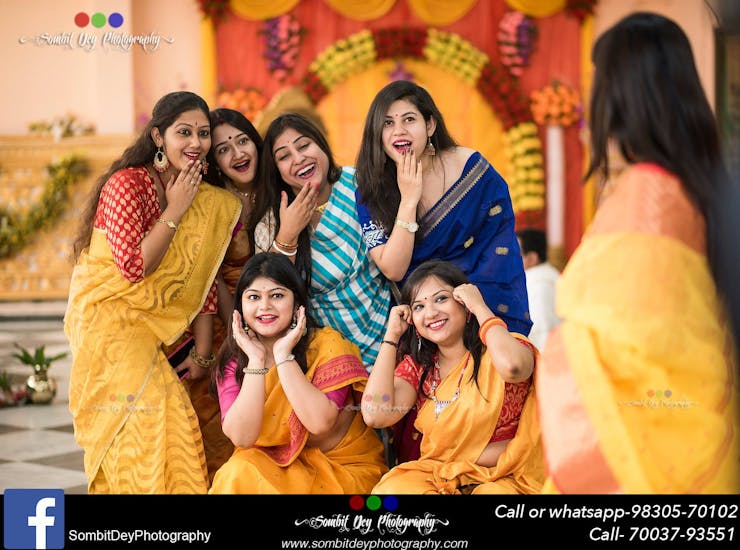 11. The Secret Talk Of The Bride Squad
Your bride's squad are the most excited people about your wedding. This dramatic picture where the secret gossip is taking place is revealing the beautiful bond they share. The bridesmaids should pose in a way to express how much they are eager to share the gossip with their lovely bride.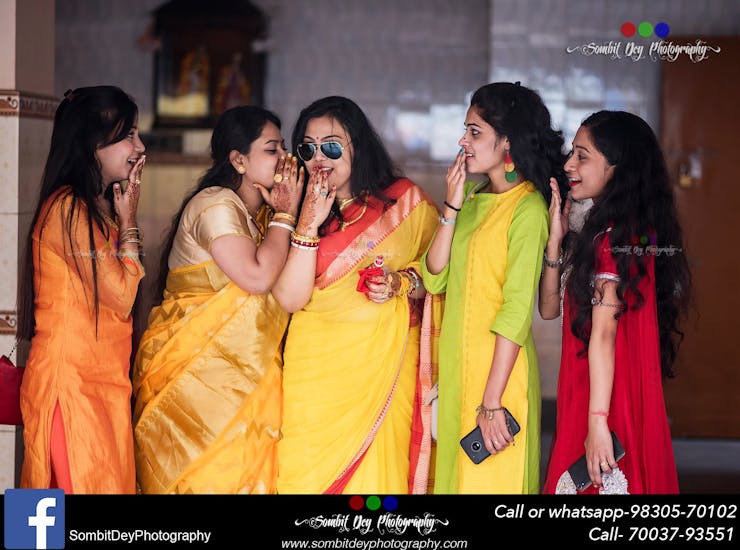 12. Go For A Fun Ride
How about taking an auto ride with your girl gang to click some fun field wedding photos? This is an amazing bride with friend photoshoot that looks adorable in the wedding album. Such amazing wedding photos contain the same vibe. Even if you revisit these photographs years later.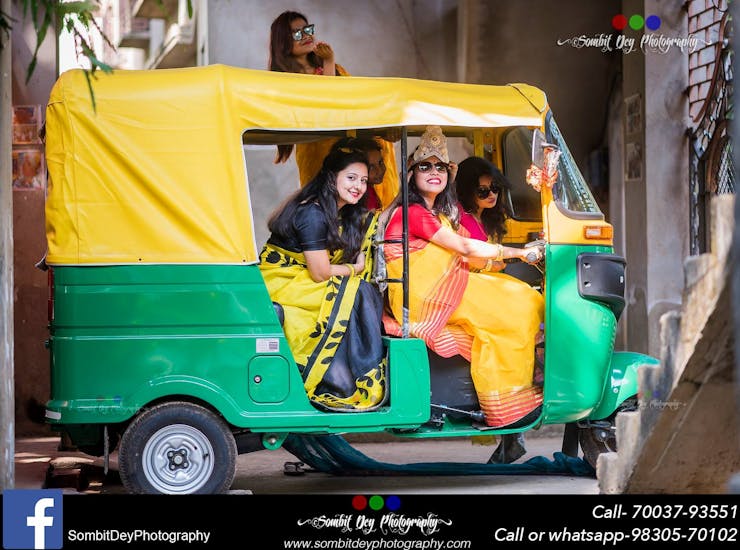 13. Here Is Our Lovely Princess Pose
Posing with your bridemaids at the Haldi event can give you some priceless memories. Brides are the centermost attraction at their wedding events. This bride is looking drop-dead gorgeous in her traditional bridal outfit. While her bridesmaids are pampering the bride with their love and happiness.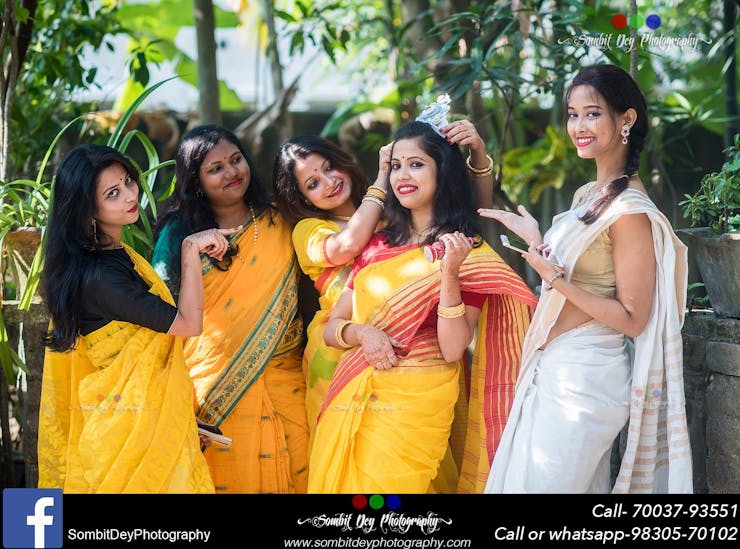 14. The Trending Pout Poses For Bridesmaids
If you want to try a simple yet trending bridesmaid pose then take inspiration from this one. Taking a pout face with your lovely bride can give you a gorgeous picture of your wedding day. There is no better feeling than clicking such poses with your besties on your beautiful day.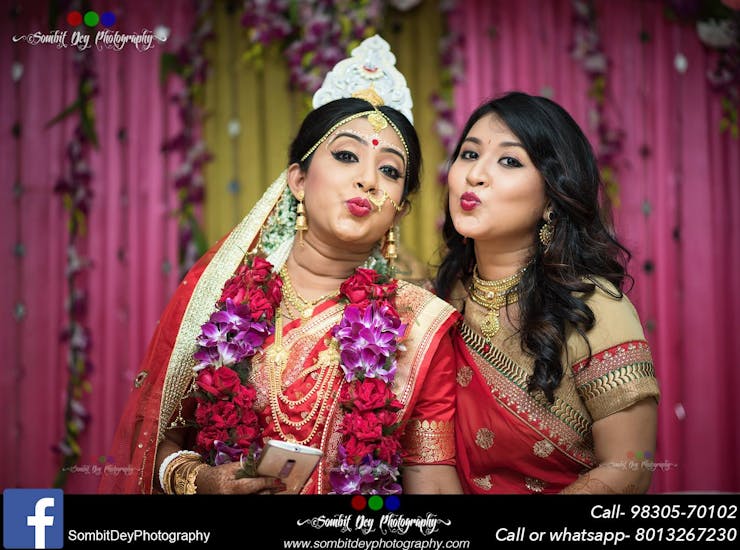 15. Let's Capture The Twining Team Of The Bride
This is one of the most gorgeous bridesmaids' pictures that we have seen. The classy bride standing in the center is in the limelight of the picture. While the bridesmaids are looking great in the twinning dresses. Their expression of happiness and joy for their lovely bride is clear in the picture frame.